Sometimes, you may want to view other people's Instagram stories and posts without revealing your identity. Unfortunately, Instagram does not provide such a feature to hide your presence as it will show anyone's footprint in the viewer list of stories. So, you may wonder if there is a way to view or even download Instagram stories and posts anonymously.
The good news is that you can do so with the help of an Instagram story viewer tool like Imginn. This Instagram viewer website claims that it makes it possible to view, download and archive IG stories and posts from any Instagram public account completely anonymously and invisibly.
But here you may ask that among many Instagram story viewer tools available on the market, Is Imginn the best or even the safe one to use? Will it assist you in achieving your Instagram marketing goals by providing a thorough competitor analysis?
We understand your concerns, and that is why we decided to provide an all-inclusive Imginn review to help you fully comprehend this Instagram viewer tool from different angles. Upon reading this review, you will learn how it works, what services it offers, and most importantly, if Imgnn is safe to use. Additionally, we'll introduce you to Aischedul, the best alternative to Imginn in case the Imginn website doesn't work properly. So, buckle up, and let's get started.
What Is Imginn Website
Imginn (also known as StoriesIG) is an online Instagram viewer tool that allows you to view and download public Instagram stories and posts anonymously and freely. In this way, with Imgin, you can view Instagram without having an IG account.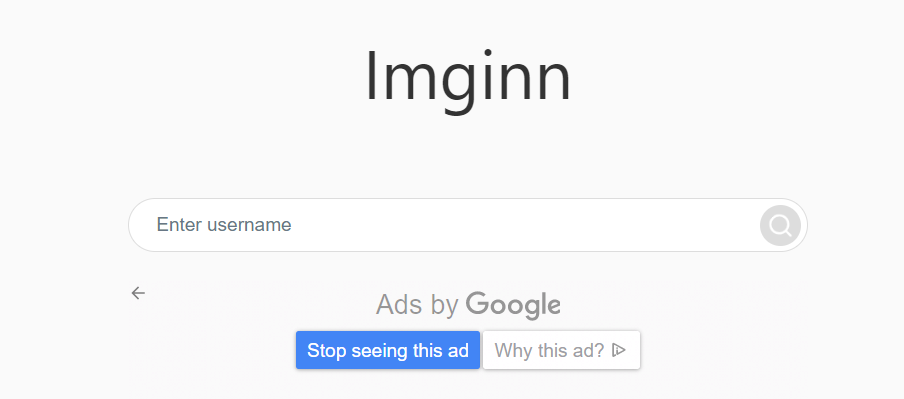 Using the Imginn search tool, you will be able to view public Instagram content freely, without having to register or authorize. Therefore, using Imgin, no one will know about your searching, viewing, or downloading activity on the social media platform.
The Imginn website not only lets you view and download Instagram content, but it also lets you remove or delete an IG account quickly.
To remove an account on the Imginn website, proceed as follows:
Go to the website (i.e., Imginn com)
Scroll down and click on "Remove Account" at the bottom of the page.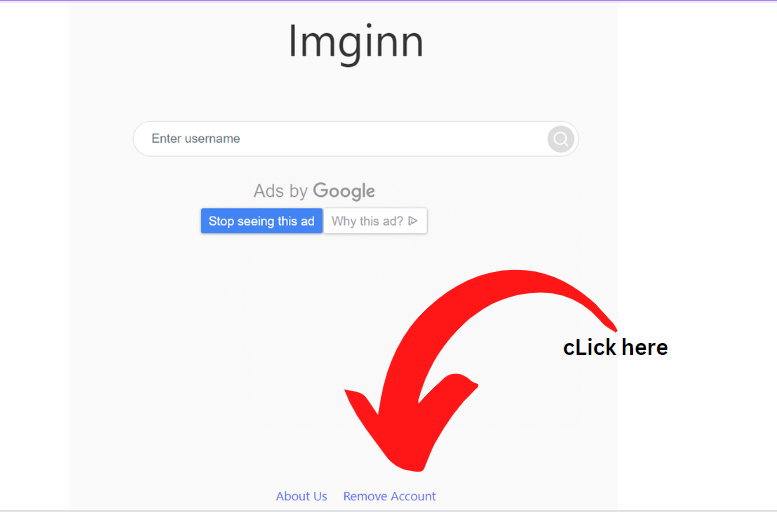 Now, enter the username or URL of your Instagram profile.
Next, enter your email address.
Finally, tap on the 'Submit' button.
Note: The process of removing an account on Inginn can take some days.
Also Read: Dumpor Review: Is It the Best Instagram Viewer Tool?
How Does Imginn Instagram Viewer Work
To use the service, you need to enter your desired username (or user link) into the search bar (as shown in the image below).
In its search bar, you can also type in the full name of the account holder and then press Enter. Imginn will find you a list of accounts with similar names and usernames from which you can choose the profile you want.

Wait a few seconds and now you can view public Instagram stories and posts anonymously and freely. You can also download any Instagram content with a single click.
That's it. Using this Imgin website is a no-brainer, so everyone can use it without hassles.
✨Note: with Imginn, you can only view public Instagram accounts. That is to say, with Imgin, you can not view private Instagram accounts.
The Imginn Instagram Viewer Features
Now, let's see what Imglnn has to offer: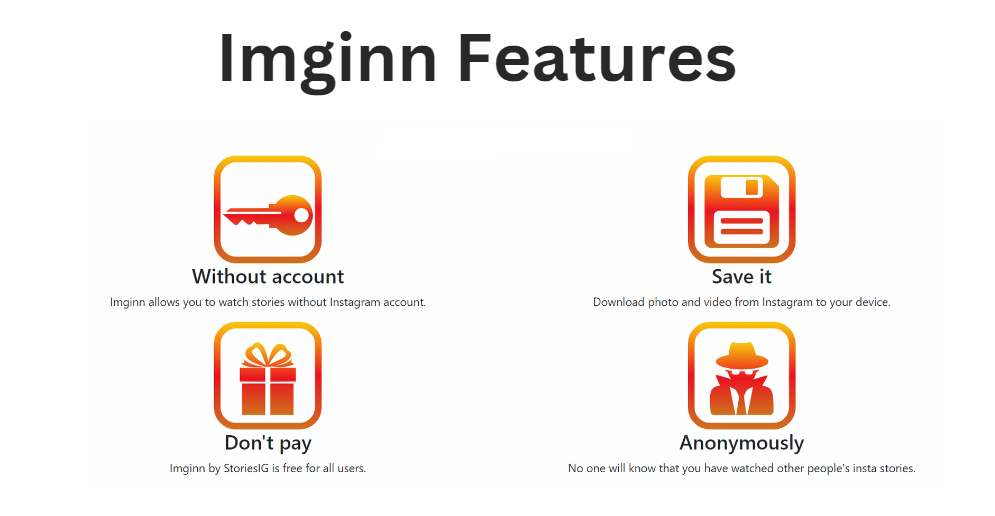 Instagram profile viewer and downloader. Almost any Instagram content that is publicly viewable, can be downloaded via the Imgin website. Moreover, there is no restriction on the amount of data you are able to download from Imgin.
It helps you download any Instagram content quickly and in high HD quality. More precisely, it lets you download public-enabled Instagram users' avatars, photos, videos, and posts.
It can show posts and videos from tagged accounts. With Imgin, you can also copy Instagram captions or comments.
Imiginn is 100% free of charge.
You can save your desired Instagram content on your computer's or your phone's hard drive.
Related Resource: SmiHub Review; All You Need to Know About This Free Instagram Viewer Tool
Imgnn Pros and Cons
Now, let's know more about Imginn Instagram viewer by examining its pros and cons in more detail:
Imgnn Pros
Using the Imginn Instagram viewer website is simple and easy to use.
No need to pay, 100% free
You do not need to create an account on Imgin.
The website does not demand any personal information accessing the platform.
Imgnn Cons
With Imgnn, you can not view or download any private Instagram content.
The Imginn website does not provide you with analytics; In this way, you can not see likes or view counts in posts.
There is a risk of hacking or privacy concerns as the website doesn't have any information about privacy or copyright issues.
You can not view or download Instagram Reels content as it does not support them.
There are many Google Ads on the website. In fact, the website depends on advertising revenue for its funding.
The website does not provide much information concerning the Imgnn Instagram service.
Email support is the only way to contact the Imgin service in case of a technical problem.
The website does not have separate menus to download a variety of Instagram content.
According to Scamadviser, the Imginn Instagram viewer website has received many negative reviews.
It is possible to find several similar tools with the name Imginn. As a result, it is not clear which one is the true Imginn.
There are times when Imginn not working properly or the site gives server errors.
Imagine offers very basic features and services, which aren't good enough if you plan to use Instagram for business.
With Imgin, you can not like or share the post of other users.
AiSchedul; The Top Imginn Alternative
If Imginn com is down and does not work properly, you can try AiSchedul as the top alternative to it. AiSchedul will beat out Imginn as it offers more than just Instagram web viewer and downloader tools.
Aischedul is an all-in-one Instagram management service equipped with powerful editing and scheduling tools. In this way, with AiSchedul you can edit your Instagram posts and stories directly online and download them afterward.
Additionally, with AiSchedul, you can schedule your Instagram posts ahead of time to publish them later automatically on the platform.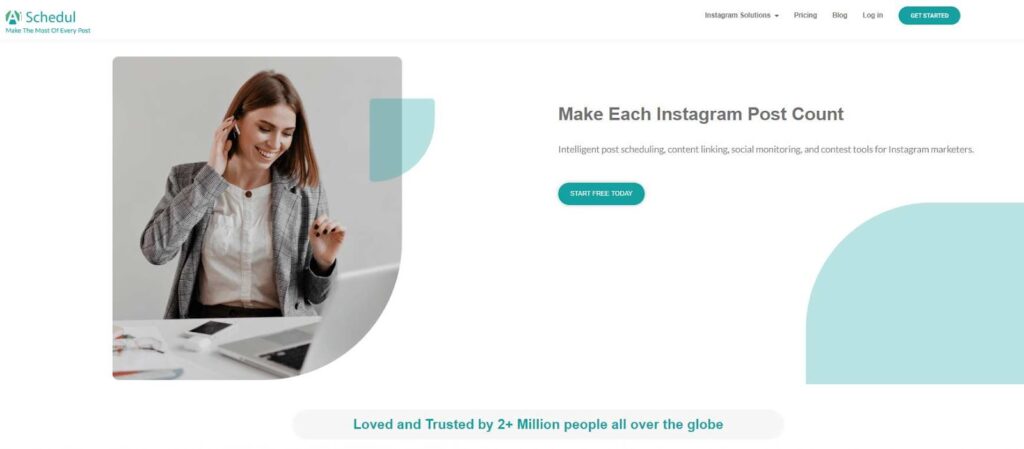 So, besides providing you with a powerful Instagram viewer and downloader tool, AiSchedul will help you gain targeted followers and increase your engagement rate.
How to Use The Aischedul Instagram Story Viewer and Downloader Tool
To use the AiSchedul Instagram viewer tool anonymously, you need to follow the steps below:
First, go to https://aischedul.com/instagram-story-downloader/
Next, enter the username of the IG user whose stories you want to check in the search bar (as shown in the image below) and then press the 'search' button.

That's it. Now, you can view any type of Instagram content anonymously and for Free, without having to register or reveal your IG account.
AiSchedul Reviews; What Are Its Customers Saying?
The best way to determine whether an Instagram viewer service is functioning is to read its user reviews on reliable sites like Trustpilot or Reddit. Unfortunately, we were unable to come across any first-hand Imgin reviews on any review websites!
However, we found positive reviews of Aischedul on Trustpilot. AiSchedul received a 4.8 Trust score from 5, meaning that 95% of its customers are satisfied using the service.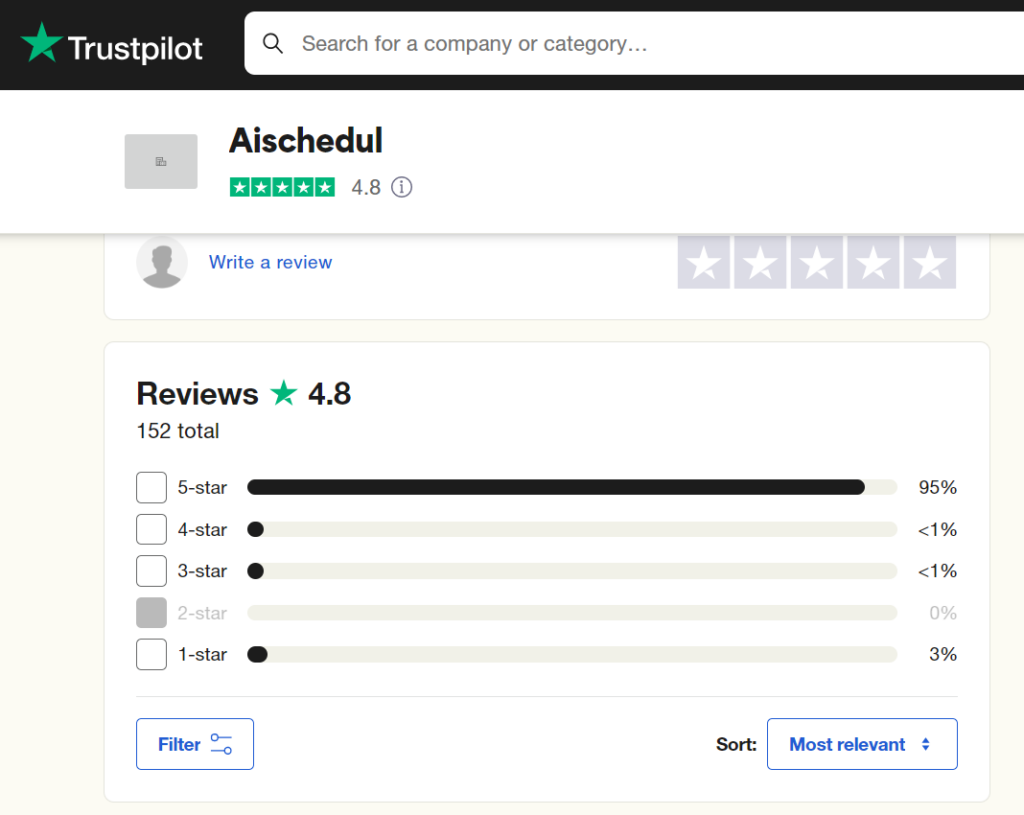 🎯Note: If you are interested in learning more about this powerful Instagram viewer and marketing tool, you can check out this AiSchedul Review for more information.
AiSchedul Features
Besides being a safe and reliable IG viewer and downloader tool, AiSchedul offers many useful Instagram marketing features and tools, including
Powerful Scheduling tool for publishing your content at the best time on Instagram.
Editing tools for your Instagram posts and stories
Converting YouTube or IGTV videos into Instagram posts easily and quickly.
Mass-deleting old or unwanted Instagram posts with a single click.
Moreover, AiSchedul helps you host the most effective giveaways on Instagram.
With AiSchedul, you can monitor and analyze your competitors' IG accounts and find trendy hashtags for your posts.
Upon signing up on AiSchedul for free, you can manage several IG accounts from your online dashboard and add as many links as you want to your Instagram bio, posts, and stories.
In case you need any help, their 24X7 customer support is there for assistance.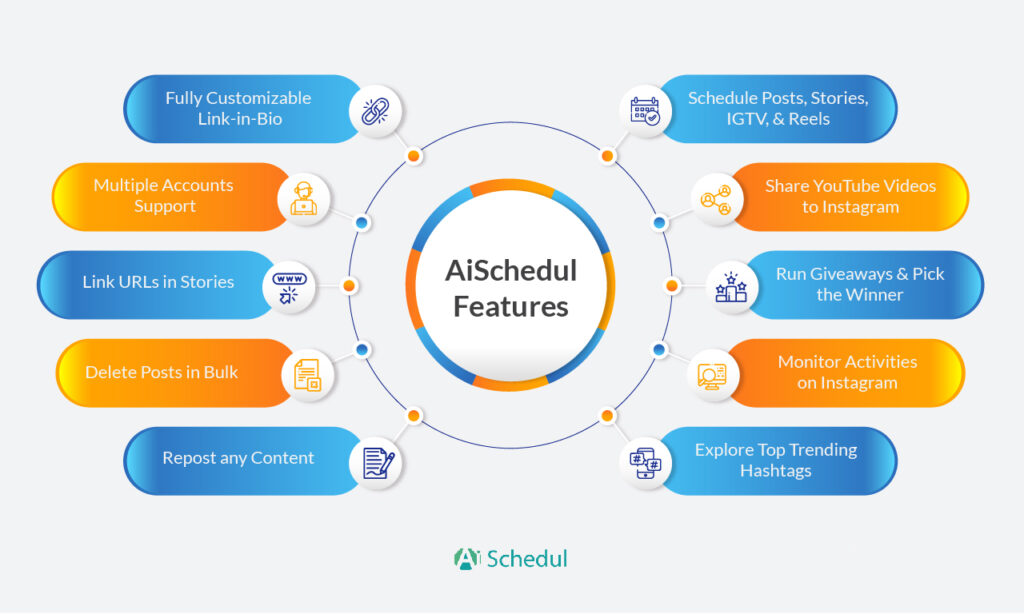 So, what are you waiting for? Try AiSchedul for Free now to see its effectiveness for your Instagram marketing strategies.
FAQs on Imginn
Now, it's time for some of your most frequently asked questions about the Imgin online Instagram web viewer tool. Take a look at them and find answers to your questions!
1. Is Imginn Anonymous?
Yes, many people love it because of its anonymity. Therefore, you can scroll and take the best of Instagram without logging into your IG account or revealing your identity.
2. Is Imginn Safe to Use?
No. We cannot guarantee your online security while browsing the website. The identity of the website owner is also hidden. As a result, there is a risk of being hacked. Also, no privacy statement is provided. So, another disadvantage of this Instagram viewer tool is privacy concerns.
Also, since there are many Imginn-named domains, we highly recommend utilizing the sites that appear at the top of Google search results to avoid falling prey to fraudulent or unsafe websites.
3. Is Imginn Down Now?
According to Notopening.com, Imginn.com sometimes goes down and does not respond to anyone.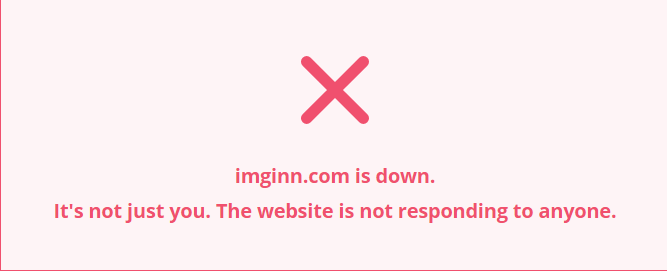 In this case, refreshing your browser (by pressing Ctrl + F5 at the same time) or clearing your browser's cache or cookies can help you troubleshoot the problem.
Also, If Imginn.com is restricting your access or blocking content from you, you can try a trusted VPN. Using a secure VPN will encrypt your connection while bypassing most website blocks.
If none of these work, you can try another anonymous Instagram viewer tool.
Are You Looking for a Reliable Instagram Story Viewer?
Note: What are the Giveaway prizes? Next, consider what you will be giving away, preferably a product that excites users and entices them to participate. Custom enamel pins make great Instagram campaign giveaways. You can customize a series of pins, and give different customized pins to different activities to expand your influence. Custom enamel pins no minimum at EnamelPins Inc.
4. Does Imginn.org Work the Same Way as Imginn.com?
Yes. They are actually the same. Moreover, we identified another website (imginn.io) that has the same function.
Imginn.io seems better than the other options as it provides you with separate search engines for viewing and downloading public Instagram profiles, photos, videos, Reels, Stories, and highlights.
All you need to do is to type the URL of the IG content into the search bar and then wait a few seconds to get quick, anonymous results.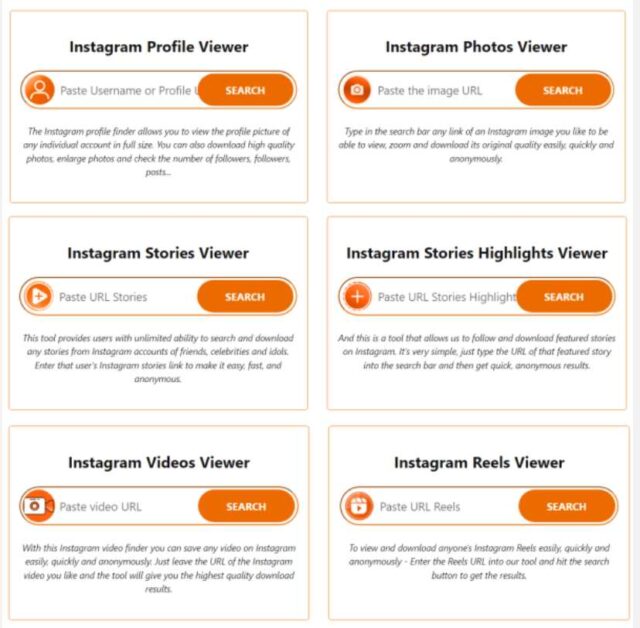 Final Note on Imgnn
In this article, we reviewed Imginn and explained how to use its tools and services. As mentioned, this website makes it possible to download Instagram photos and videos anonymously and freely. It is a handy tool that allows you to download stories and photos from Instagram to your hard drive.
However, given the risks and limitations associated with Imgin, we suggest using a more comprehensive and reliable viewer tool for your Instagram marketing strategy.
AiSchedul is the best Imginn alternative to use, which allows you to view and download Instagram stories and posts anonymously and freely. Promising 100% anonymity and security, AiSchedul is very easy to use and compatible with any device.
Moreover, AiSchedul is an all-in-one Instagram marketing tool that will help you attract the right target audience on the platform and boost your engagement rates.
More than 2 Million people all over the globe have already tested AiSchedul and are content with the results. So, why not try AiSchedul for free now to see how effective it can be for your Instagram marketing success?