Instagram is a picture-based social media platform and famous for its instant photos. Since the first launch in 2010, users only could upload square images. Actually, it became a significant impediment to Instagrammers. However, Instagram has eliminated this limitation, and photographers can upload pictures in landscape and portrait orientation. Still, Instagram automatically crops all vertical photos to a 4:5, and people consider how to post vertical photos on Instagram without cropping.
In the following, you will study how to resize an image for Instagram without cropping to make most of your photos.
You May Like:
How to Post Vertical Photos on Instagram Without Cropping?
The "portrait" or vertical aspect ratio on Instagram is 4:5 instead of more standard rates like 3:4 or 9:16. Therefore, Instagram crops all vertical posts to a 4:5 automatically, and you can not fit a full 9:16 photo or video into an Instagram post.  
But you may desire to show all the picture details to your audience, and every single pixel of your image may mean a lot to you.
On the other hand, Instagram marketers are too busy to crop every image they take, and photos play an essential role in Instagram marketing strategies. 
Consequently, it is vital to know how to post vertical photos on Instagram without cropping:
1. Resize Image for Instagram without Cropping
To resize the image for Instagram without cropping to 4:5, you can add a white background manually to change it into a square. This method works for pictures, videos, and GIFs. Actually, the problem is that adjusting your whole image into a square background makes them look smaller!
Besides, it is time-consuming to resize photos one by one.
Here, a safe and reliable Instagram 3rd party app will help you save time and upload images, GIFs, and videos you want in any size.
So if you want to know how to post vertical photos on Instagram without cropping, keep reading. 
2. How to Post Vertical Photos on Instagram Without Cropping with AiSchedul
AiSchedul is a full package of Instagram management tools, integrated with growth services, to help you schedule Instagram posts for free. 
You can add from 1 to 80 accounts to your single Aischedul dashboard and manage them all simultaneously. This app lets you import photos via Unsplash instead of uploading them. Then you can schedule and repost photos on Instagram quickly.
Also, you can add your photos to the Instagram story template and make most of your stories to increase the engagement rate.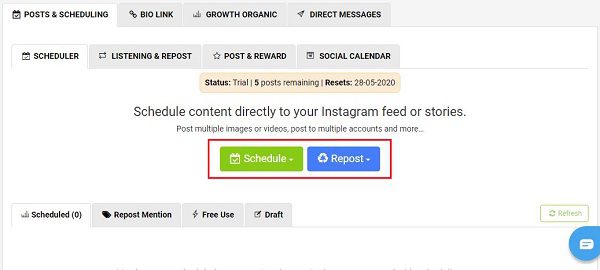 If you need to grasp how to post vertical photos on Instagram without cropping, it lets you fit a vertical or portrait image into a square background with white stripes on each side. 
After you select the image, it automatically adjusts the photo to the ideal size and changes the background to white! Also, you can change the background to your desired color!
Using Aischedul, you can rearrange existing Instagram photos and add multiple photos to one Instagram story.
As a result, you will love to draw on vertical screen space without cropping your images and uploading high-quality photos on Instagram in 3 simple steps.
So you can concentrate on framing shots at that moment without having stress about the Instagram crop.
Plus, you can find viral photos and trending content on Instagram and repost them instantly.
And wonderfully, it is entirely free, agile, and easy!
So, sign up for free and cash in on your AiSchedul feature.
FAQs about How to Post Vertical Photos on Instagram Without Cropping
Now you have precise information about how to post vertical photos on Instagram without cropping. However, there are some common questions relating to this subject that you will find answers to in the following.
#1 How to Post Horizontal Photos on Instagram Stories without Cropping?
To post horizontal photos on Instagram stories without cropping, AiSchedul will add background to your photos easily. Therefore, the whole image will look 4:5 on your feed. 
#2 How do You Post Entire Landscape and Portrait Photos on Instagram on a PC?
As you already know, Instagram doesn't allow users to post from a PC. However, using AiSchedul, you can post entire landscapes and portraits on Instagram, even on multiple accounts simultaneously. This is an excellent way to manage multiple Instagram accounts on PC and mobile.
#3 How to Post Videos on Instagram without Cropping or Trimming?
If your videos do not fit Instagram post format AiSchedul will post your videos on Instagram without cropping or trimming them. This app will add a background to your video automatically and you don't need to trim them and lose a part of it. It modifies the layout of the video in an IG-friendly aspect ratio.
Final Words 
Instagrammers uploading over 95 million photos daily prove the importance of images on the platform. Brands and industries are doing their best to find their place on Instagram.
AiSchedul will help you upload digital art on Instagram quickly and make huge money from your Instagram photos.