Wondering how to become a public figure on Instagram and generate more sales for your Instagram brand? Well, you obviously know that a public figure is a popular person who can impact people's mindsets and lead them to choose some specific lifestyles, products, and services. Roughly speaking, public figures are influencers and as you may already know, Instagram is a great place for influencer marketing. However, there are some special features for public figures on Instagram that'll be covered in the following article. So, stay tuned and make yourself a public figure on Instagram. 
You May Also Like: 
How to Get Public Figure on Instagram Bio?
As mentioned above, Instagram has some special features for public figures on Instagram. These features are related to your Instagram business category! Yes! Instagram knows public figures as a business category and by choosing this category, you'll have the opportunity to reach more people out there. 
But how to get a public figure on Instagram bio? Well, there are two ways to do so: 
Switch to a professional account,

Or use a Facebook page.
Let's see how to become an Instagram public figure by turning into a professional account. 
Step 1: First, go to your Instagram settings and tap on "Switch to a Professional Account".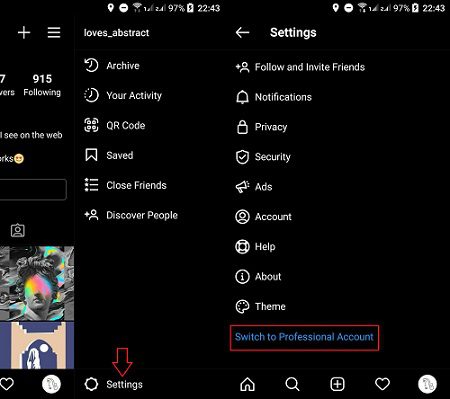 Here, Instagram informs you about the new features and services you can use. So, tap on Next and head to the second step. 
Step 2: Now, you see a list of business categories. Search for "Public Figure" and choose it for your account. Also, if you want people to know your business, check the item for being shown on your bio. And finally, tap on Next.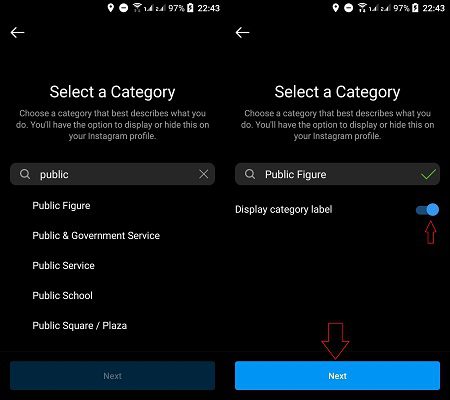 That's it! Now, people can see the public figure badge on your Instagram bio: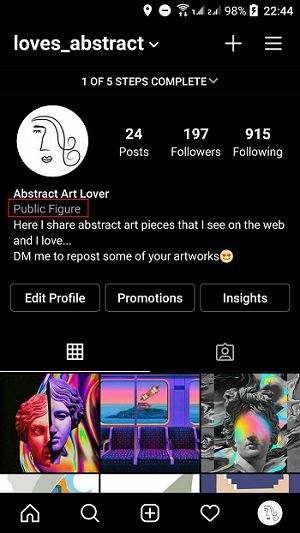 As for the second way, you must already have a professional Instagram account which can be created following the steps above. So, after you followed those steps, you just need to turn into a business account and connect to your Facebook catalog to become a creator. However, if you don't want to sell any products and services, just following the first steps would be enough for you.
Read More: Sell on Instagram | without a business | for Free
How to Make yourself a Public Figure on Instagram?
Now, all that remains is to get more followers, likes, and views on your Instagram account. Definitely, to be a successful public figure, you need to attract your target audiences and make yourself popular. But how can you do that? Here are 3 proven tips that'll help you through this goal.
#1 Use Instagram Management Services for More Followers
The very first thing to do is to get more followers. Actually, this is the toughest step in this process. You'll have to:
Learn about new Instagram updates,
Track your Instagram activity,
And more. But, keeping track of all these hacks needs a great deal of time and energy and doesn't result in real and instant growth. So, what can you do?
Well, I suggest you use an Instagram management service like AiGrow. AiGrow, which is one of the best Instagram growth services for Instagram marketers, addresses all your considerations about organic growth on Instagram. Using this amazing service, you reach 10K Instagram followers instantly and you'll have the chance to keep track of all the tips mentioned above. So, check out the complete review of AiGrow services, features, and packages, and make the right choice. Also, check the following video to know how to get more likes and followers on Instagram and become famous:
#2 Take the Most Out of Instagram DMs
As a public figure on Instagram, you have to keep in touch with your followers and even your prospective audiences. Well, for this purpose, what is better than DMs on Instagram? Using Instagram direct messages, you have the chance to simply:
Ask your followers for suggestion and ideas,
Send welcome messages to your new followers and thank them for following you in order to get closer to them,
Share blog posts and links to help them learn more about your business,
And more. But, sending DMs to thousands of followers one by one takes a great deal of time and gets harder by becoming more popular. So, I recommend you to send automated Instagram DMs to groups of followers and engage with them. Here, AiGrow is going to help. Providing you with the opportunity to send bulk and automated DMs, AiGrow helps you build a close relationship with your audiences and become more and more popular. So, sign up for free and give it a try right now!

#3 Optimize Your Instagram Bio
Another important part of your Instagram account as a public figure is your Instagram bio. Actually, we have previously illustrated the anatomy of a perfect Instagram profile. However, if I want to give you some quick tips, I would say:
Link your Instagram account to other social media channels and cross-promote your account,
Write an accurate and descriptive bio explaining what you do,
Make sure to get a public figure badge on your Instagram bio,
And add CTA buttons.
Trying all these tips, you will become a successful public figure on Instagram and you can attract more followers every day.
Final Thoughts on How to Become a Public Figure on Instagram
To sum it up, becoming a public figure on Instagram needs you to be patient, creative, and hard-working. Luckily, the official Instagram app helps you reach your goals much faster by choosing a category for your account. By adding the public figure badge to your bio, you have the chance to reach more people and get more likes and followers. However, to double your revenue, you can also use the 3 tips mentioned here and unlock new Instagram marketing achievements.