Previously, we discussed the best Facebook ad examples to help you develop a better FB ad strategy. But Facebook posts are just as important when it comes to attracting new followers. Some brands have succeeded in unlocking the formula of Facebook viral posts and putting their content in front of many Facebook users. In other words, they've mastered the art of sharing interactive Facebook posts ideas to boost engagement and gain maximum exposure.
Therefore, the focus of this post will be on Facebook viral posts developed by marketing experts and their teams. But our main question here is to find out how they did it. What crucial factors and ingredients in their content gained the attention of Facebook users and got them to act?
If you are interested in finding out the answers to these questions, continue reading this post. We are here to analyze the top eight viral Facebook posts and explain what made them so widely well-known.
Taking a close look at these viral Facebook posts can significantly improve the quality of content marketing you share on the platform. So stay with me as we go through it all!
Flat Vs. Viral Facebook Posts: How Do They Differ
Facebook viral posts have gained a lot of attention via likes, shares, and comments. In other words, the virality of Facebook posts is measured by the number of people who take action after seeing the post. For example, if one thousand people have seen the content you uploaded, but only two have liked or shared it, your content isn't viral despite being viewed by many. In this case, the post is just flat. Therefore, likes, comments, and shares increase the post's virality as it spreads.
But why do our posts fall flat, and how can we turn them into perfect viral posts? As there is no definitive answer to the question of what makes a flat Facebook post different from a viral one, let's focus on the eight most viral Facebook posts of history to uncover their main success factors and ingredients.
The 8 Most Viral Facebook Posts of All Time
Here are some branded viral posts that succeeded in connecting more deeply with their audience and driving an increase in their social shares. Taking a look at these viral Facebook posts will help you promote your content strategy to higher heights.
Example #1. Oreo
DIY recipes or content by Oreo are among the most popular Facebook viral posts in the online community. The company posts recipes for the Facebook community to try at home. Meanwhile, Oreo's followers comment their opinions on the post, making it even more popular!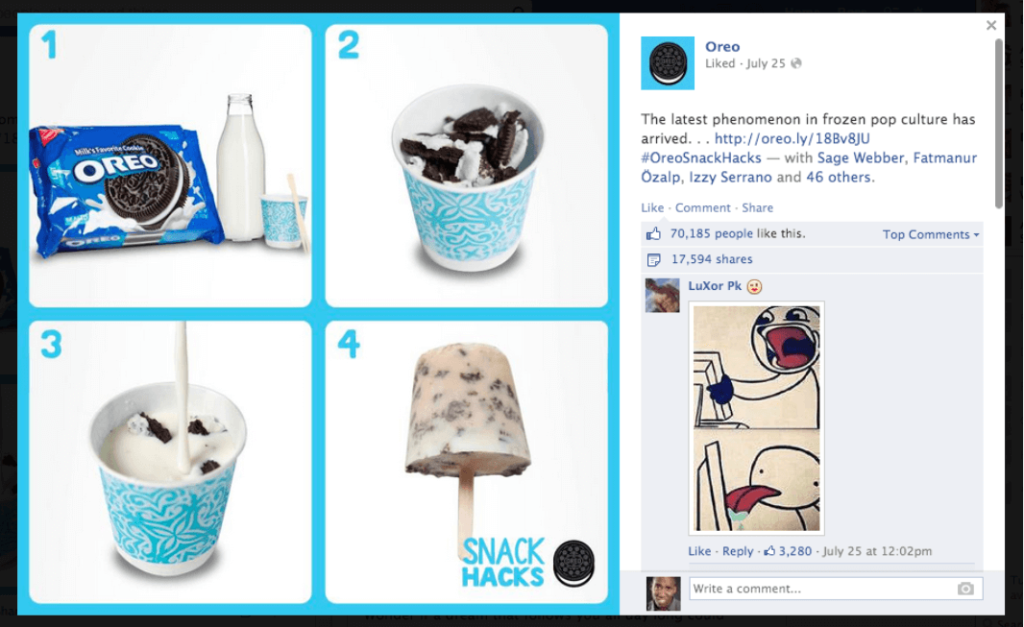 Pro Tip:
There is a constant desire for DIY content or recipes on Facebook. Therefore, if you have products that you can turn into DIY projects, you should take advantage of this opportunity by creating similar content on your Facebook business page to attract users' attention.
Example # 2. CONVERSE
This post by CONVERSE is on the list of the most viral posts on Facebook because people love, love. By sharing emotional content about love, this shoe company effectively associates the idea of love with its brand and establishes a deeper connection with its audience.
Pro Tip:
Focus on creating content that evokes a feeling in your audience. Content that inspires an emotional response makes all the difference between flat and most viral Facebook posts. Sharing posts filled with excitement, joy, love, or humor is an effective way to boost engagement and shares on your Facebook business page.
Example #3. Red Bull
Red Bull is a genius at producing excellent Facebook viral posts. This energy drinks brand doesn't just talk about the drink itself. Still, it shares content related to sports, adventure, and high-impact competitions to gain people's attention to their Facebook business pages.
Red Bull wins the viral posts on Facebook by understanding people don't just want to see ads but want exciting content featuring visuals and storytelling.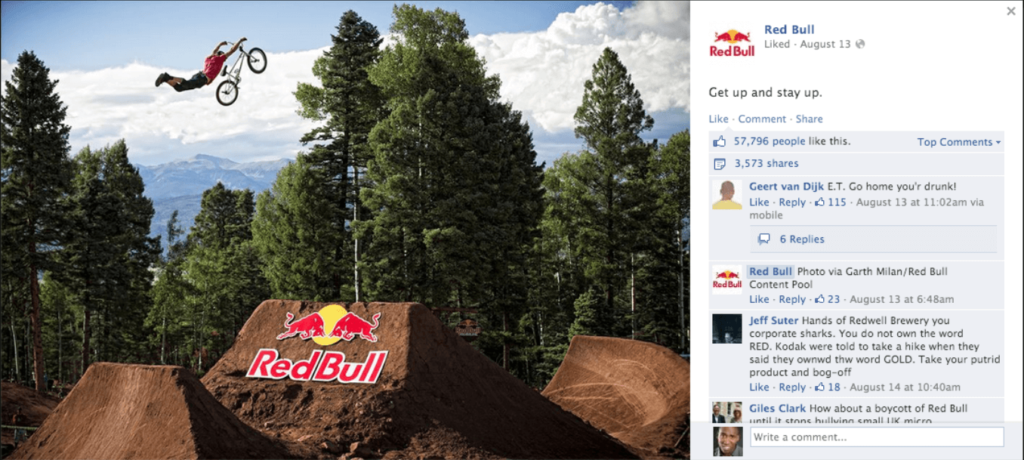 Pro Tip:
If you're interested in creating successful Facebook viral posts, you should do something never done before or that people never considered possible. In other words, providing content full of excitement, risk, and energy can be a powerful way to make content worth sharing. Remember that you will attract attention when you excite people, whether it is in a good or a shocking way.
Example #4. Buffalo Wild Wings
Sometimes brands create funny viral Facebook posts to increase their fan base on the social media platform. Buffalo Wild Wings uses a clever yet funny post to enhance its Facebook reach.
Pro Tip:
An intense feeling that a brand can evoke is happiness. An ability to make someone laugh can win their heart and inspire them to do anything.
Example #5. The Banana Republic
The Banana Republic shares its position on marriage equality in this post. In this way, the brand seeks to gain the attention and support of those in favor of this cause. Therefore, those who agree with the Banana Republic will share this content to demonstrate support for them and marriage equality, thus increasing the virality of this post and brand even further.
Pro Tip:
Taking a stance on political, social, or controversial issues is something that more and more brands embrace in their content marketing campaigns. Participate in Corporate Social Responsibility (CSR) activities regularly. Such actions create a positive impact in the minds of online users and the overall society. Including socially conscious approaches in your content strategy can bring viral success with millions of shares and likes on Facebook within days.
Example #6. Qwertee Shirt Trade UK
Qwertee Shirt runs daily contests on their Facebook business page. This strategy generates buzz, and each post receives many shares, comments, and likes. In fact, the contest rules require fans to like, share or comment as a means of boosting their chances of winning.
Pro Tip:
Everyone loves prizes. Thus, create contests on your Facebook business page relating to your products and services. Think about the most effective entry rules and compelling prizes to attract more participants. Run your Facebook contests daily if you find them useful.
Always remember that contests are an excellent way to reward your fans for their loyalty and commitment and encourage them to stay with you on your Facebook page.
Example #7. Social Pilot
Social Pilot uses effective CTAs in their Facebook posts to motivate viewers to interact with their content. As you can see in this example from SocialPilot's Facebook page, the CTA is to read the blog post.
Pro Tip:
People tend to take action when you tell them clearly what to do in social media posts. Thus, giving people instructions is a great way to make your post viral.
Usually, when you see a post on Facebook, the first reaction is to read the text and watch the video or image. After you've done that, you will usually scroll down your news feed until something entices you to interact. An effective call to action can mean the difference between thousands of clicks and Likes and no interaction at all.
Example # 8. Nike
Nike knows how to tell a story on social media. Long before it became a social media marketing trend, Nike nailed the art of brand storytelling. Constant sharing comes from its content strategy, effective use of hashtags (like #Believeinmore #JustDoIt, etc.,) and inspirational quotes from athletes and other sources. Additionally, the company takes a strong stance on social and environmental issues.
Pro Tip:
Reactive storytelling (i.e., taking a top-of-mind story and combining it with an appropriate marketing message) can make you stand out and put your post in front of thousands of people using Facebook.
Moreover, creating a consistent brand character is great for storytelling on Facebook and raising brand recognition. But only if done correctly! Think carefully about how your new brand character will tell stories. Please, don't make it overly promotional, or you'll lose the point.
How to Create Facebook Viral Posts
To be honest, there is no single formula for going viral on Facebook. However, there's a higher chance you will go viral if you follow these tips:
Tip 1. Follow Your Facebook Insights
You should know your audience and identify the content that best resonates with them and is valuable to them. Tracking your Facebook insights will help you to know your audience better. Additionally, it will help you understand the best timing and content strategy to use for your Facebook posts. You should continuously test and track different content strategies at the most optimal times to see which works well in getting the most engagement from your fans.
Tip 2. Ask for Help When Sharing Your Posts
Ask for help to increase your engagement rate. Ask family members, friends & customers for help to support your content when it is released. Sometimes a post only needs a little nudge to take off. As a result of this initial support, Facebook's news feed algorithm finds that many people watch and like your content. Accordingly, it concludes that your content is good and has to be shown to more viewers.
Tip 3. Run Facebook Ads to Make Viral Posts
If you believe you have created content that could go viral, take strategic action and don't leave it to chance. So, spend a few bucks running a Facebook ad for the post with the highest probability of being shared.
You can select people who like your page and their friends as your audience to target your Facebook fans. However, if you want to target a broader audience, you should choose another targeting option.
Using Facebook paid ads, you can ensure that your content will reach your target audience. Your Facebook paid marketing will result in organic views because they will tag, like, and share your content if it resonates with them.
Tip 4. Write a Good Copy
A copy is a text you write for your Facebook video or image post. Remember that your text is as important as the video or image you share. To make your copy more effective, keep it concise and sweet. Additionally, include clear CTAs to let your viewers know what you expect from them. You can also use relevant and strategic hashtags in your Facebook posts to increase your organic reach.
Tip 5. Get Personal And Make Viral Post
Your Facebook posts need to be personal if you want them to go viral. Facebook users will respond better if you are friendly and personal with them. Whether you are a business or not, people are drawn to the personal information you provide. Therefore, include information about relatable topics, including a job promotion, a family wedding or a newborn baby, and other personal news to get more likes and shares.
Tip 6. Think Outside the Box
If you're interested in creating successful Facebook viral posts, you should do something unique and innovative. Think outside the box to create incredibly engaging and original content.
Additionally, the examples and critical factors outlined previously can help you create viral content and increase sharing on Facebook. Moreover, it is recommended to check out our article on social media image sizes and specs that will help you create more visually appealing posts for virality on Facebook.
FAQs on Facebook Viral Posts
Here are some frequently asked questions about Facebook viral posts. You can explore them and find answers to your questions!
Q1. How to Find Viral Posts on Facebook?
Would you like to improve your fan page reach by finding Facebook viral posts in your niche? Post Planner makes it fast and easy to find the most viral Facebook posts in your industry.
Q2. What Makes Facebook Viral Posts So Important?
Facebook viral posts are the most effective Facebook advertising strategies that powerful brands employ to reach more new customers and success in their businesses. Since we can not cover all the benefits of viral posts on Facebook here, we will only focus on the most important ones:
Creating Facebook viral posts is the fastest and easiest way for brands and businesses to gain popularity overnight.
If you are a business whose post has gone viral on Facebook, your sales are bound to increase thanks to that Facebook viral post. Viral posts provide a greater possibility of converting more viewers into new customers and clients.
Going viral on Facebook is also a synonym for increased brand awareness and engagement.
Virality allows your marketing message to spread quickly and widely.
Q3. How Can Your Facebook Business Page Go Viral?
The first step is to create your Facebook business page to promote your brand. After setting up your Facebook business page, the most crucial step for your page to be viral is to share engaging and value-adding content. Use effective call-to-actions to tell viewers what you want them to do.
Q4. What Are the Best Content Formats for Facebook Viral posts?
If you look at the most popular Facebook posts over the past years, you'll notice a critical fact. Almost all Facebook viral posts were in the form of a video or image. There was only one article that made the top 15. Facebook users like to watch videos uploaded directly to Facebook, making your posts more shareable.
Conclusion
The post discusses the top 8 most viral posts on Facebook to inspire you to create your content viral. Moreover, we focused on Facebook viral posts and discussed crucial factors contributing to virality in this post. If you think we have missed something important on this list that you would like to share with us, please let us know in the comments below.
You can apply these tips and techniques in your Facebook posts to earn tons of mentions and shares on Facebook and drive the best results for your business or brand.