Appealing to 2.89 billion users a month, Facebook is officially the most prominent social network. Despite the remarkable number of users, however, reaching the right audience is an inevitable challenge for those who are trying to make money on Facebook. But that shouldn't stand in your way! You can create a Facebook ad to attract your target audience and drive engagement. But to do it effectively, you need to study the best Facebook ad examples. Only then can you develop the best Facebook ad strategy for your brand and business!
The profound impact of Facebook ads on users compelled us to dedicate an entire article to the best Facebook ad examples. In this article, we intend to showcase the best Facebook ads and explain why they performed so well! 
Yet before we begin with those Facebook ad examples, we believe it's best to provide some basic information about FB ads. We also hope to answer some of your questions regarding effective social media marketing on FB. 
Let's dive in then!
Facebook Ad Placements
A Facebook ad can mainly appear in three places.
Mobile News Feed

: A Facebook ad can appear in the news feed of the mobile application. Here, it blends in with other Facebook posts from followers and looks more organic.

Desktop News Feed

: Similarly, a Facebook ad could display on the desktop news feed. Naturally, these ads can lead to a higher engagement rate. 

Right column

: A right column ad, as the name suggests, will appear on the right side of the news feed. It's the most traditional placement for a Facebook ad. However, it doesn't perform that well. But, if you have to stick to a budget, a right column ad could work just fine. 
Boost your knowledge on social media: Top Tools to Schedule Social Media Posts.
Facebook Ad Formats
There are various ad formats you could use to promote your products and become famous on Facebook. Bear in mind that through different ad formats, you can also come up with new Facebook ad ideas. So, Use them and get the creative juices flowing! 
we won't go into the details since we have already discussed FB ad formats at length. Instead, we will briefly go through the most common ad formats. 
Photo Ads
If you need a single image to advertise your product or service, you can exploit Facebook photo ads. However, this image should stand out!
Video Ads
Videos can conveniently grab attention. So, in case you need to catch the users' eyes and give them a story, you can provide a video ad. 
Story Ads
This type of ad can perform exceptionally well since it will display in the stories. So, it doesn't look out of place or unnatural.
Carousel Ads
Carousel is a relatively new feature on Facebook. The carousel feature allows you to put up 10 images or videos from your products and services. Now, if you add a link to each one, you can conveniently drive traffic to your website!
Collection Ads
In this type of ad, we get one primary video or photo with a collection of four smaller images near the bottom. Since they are all displayed in one place, it can be a desirable format to showcase your services. 
Playable Ads
The playable ad format is designed for app developers. It caters specifically to their needs because it allows the developers to showcase their products. Besides, the audience gets to play an abbreviated version of the app inside the ad. Awesome, right? 
Don't forget that to see the optimal results, you need to have a clear grasp of social media image sizes. They help present your products and services in the best possible way.
Now, it's high time we turned our attention to the main subject. Let's get to the best Facebook ad examples and how they have managed to shine so brightly.
Best 19 Facebook Ad Examples
We all know that creating interactive Facebook posts won't cut it these days. We need ads on our side. However, crafting a Facebook ad can be genuinely confusing. To fully appreciate how to create Facebook ads that are creative and engaging, you need to learn from the best. And, it's important to follow their example since you may find the key to their roaring success!
Shall we start then?!
Facebook Ad Examples No 1: Starbucks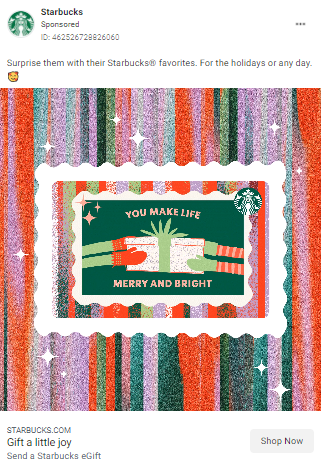 We came across this ad in the Facebook ad library. Wouldn't you agree that this Facebook ad is truly attention-grabbing?! But what makes it stand out and result in a favorable outcome?
Their use of dynamic colors in a short video, the timely offer, and the clear call-to-action button all go hand in hand. This ad presents a great opportunity to the audience! Don't forget that the 'Shop Now' button also plays its own part. It conveys a sort of urgency that can bring about more purchases!
Boost your knowledge on social media: Get Instagram Followers Fast and Free.
Facebook Ad Examples No 2: Nike
Moving on to the next Facebook ad example, we've got a simple design by Nike. As you can see, there are two images with two call-to-action buttons.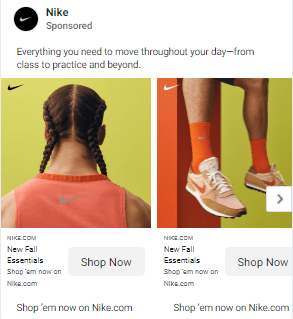 What would make this ad stand out among a sea of Facebook ad creatives is the simplicity and the contrast of colors. No matter if this ad is located on the right column or in the news feed, it will call attention to itself. And when it does, the potential customer knows exactly what to do because of the simple 'Shop Now' button. 
So, in case you're using photos, make sure the contrast of colors is appealing enough. Plus, remember that nothing can help you further than an excellent call-to-action button that employs some urgency with words like 'Now.'
Boost your knowledge on social media: Future of Becoming a Social Media Influencer.
Facebook Ad Examples No 3: MVMT
MVMT is an American watchmaking company that also offers other products like bracelets and sunglasses. This brand grew entirely from social media. So, it is safe to say that they know their way around growing a brand on social networks. These two Facebook ads will hopefully clarify how MVMT ads bring about positive outcomes. 
In one glance, you can understand the product they provide, the deal they offer, and what action you can take. These features alongside the button make this ad one of the best Facebook ad examples. Our suggestion for you is that if you have any deals to offer, make sure you write it in a different color or font; like what MVMT has done with the '50% OFF' offer. That, by itself, is pretty influential.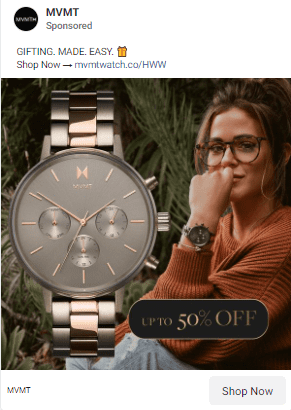 This MVMT ad is also distinctive, but not because it's colorful. It's distinctive because of the fascinating image quality. And it works because there's a CTA button right there. The 'free shipping + returns' offer is also a huge plus. What you can learn from this ad is that if you have a special offer, be clear about it. State it clearly, and direct the users' attention towards it.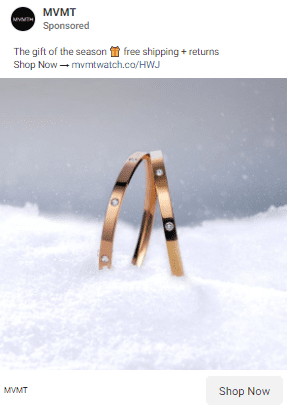 Boost your knowledge on social media: Outwit the New Instagram Algorithm.
Facebook Ad Examples No 4: The New York Times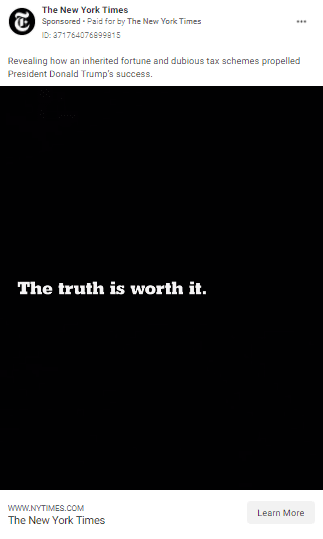 According to the Facebook ad library, this ad managed to get a mesmerizing result. However, it doesn't owe its resounding success to amazing visuals. 
This ad works because they don't seem to be selling membership or a product. They aim to present a notion, that is, 'The Truth is Worth it'. So, they start with an already-existing desire, a desire for the truth, and then they offer the solution. 
The key takeaway here is that for your Facebook ad to work, you don't need to necessarily stand out with the help of visuals. You can stick to a simple design with a powerful message that can resonate with your audience. After all, it is much easier to promote a movement. 
Boost your knowledge on social media: The Best Times to Post on Twitter.
Facebook Ad Examples No 5: Fashion Nova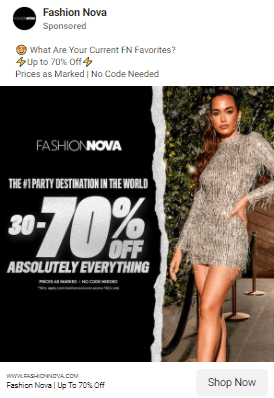 Fashion Nova ads are among the best Facebook ad examples to learn from. These ads work because they precisely showcase the type of product Fashion Nova sells, and they offer great discounts. Moreover, asking a question like 'What are your FN favorites?' is a brilliant move on the Fashion Nova side. 10 points for FN!
But perhaps the most important lesson you can learn here is to use a clear, bold font for your offers and discounts. Discounts are great motives for people of all ages; they do deserve all the attention they can get! And, don't forget that you could use this exact strategy to sell on Instagram. 
Facebook Ad Examples No 6: Canva
Allow me to let you in on a little secret. When users encounter a question, they pause to think. They pause! And that is your window of opportunity to grab their attention, introduce your services and direct them to a landing page. 
And this is what Canva has brilliantly done in this ad. They have asked a question to catch our attention, then we see an appealing video that ends with 'Try Canva Pro free for 30 days.' In short, everything about this ad works. Follow their lead and see where the path takes you!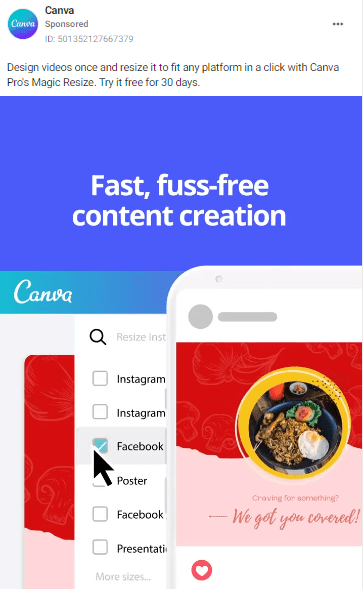 Keep in mind that once you reach success on Facebook, you can promote your other social media accounts as well. This way, you can grow your Twitter followers, or increase your IG engagement rate. 
Facebook Ad Examples No 7: Asana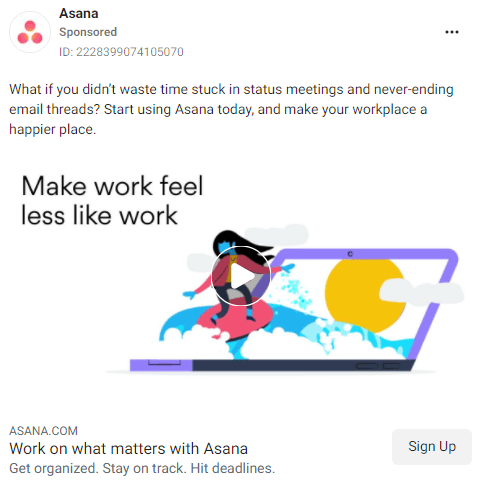 The creative video ad alongside the 'Sign Up' button all perform perfectly well. Moreover, the ad precisely describes what the platform offers. These features mean that you can quickly get all the information about Asana, and take a step towards improvement. 
Boost your knowledge on social media: Top Marketing Analytics Tools.
Facebook Ad Examples No 8: Grammarly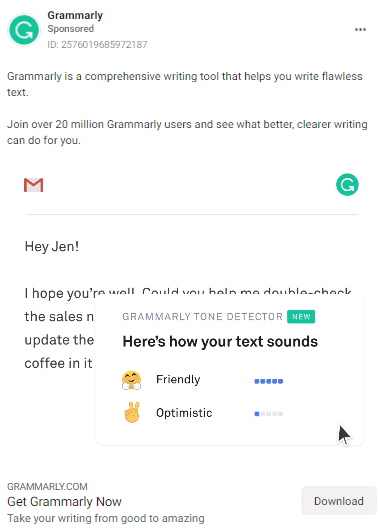 This Grammarly ad fits perfectly in our list of Facebook ad examples. In this video, Grammarly presents some of the most common mistakes we all might make and it comes up with a solution to solve them. And the solution is to 'Get Grammarly Now' which is a strong way to invite us to download the app to enjoy the many life-changing features it offers. 
Boost your knowledge on social media: Get Your Tweets More Seen.
Facebook Ad Examples No 9: Puma
This Puma ad successfully managed to grab our attention on the Facebook ad library. This ad works well for many reasons, and we would all do well if we took a page out of Puma's book!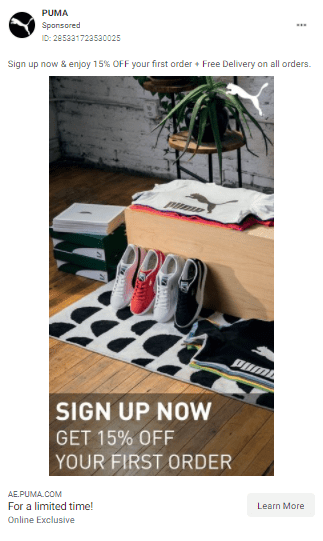 This Puma ad has employed various elements that many thriving Facebook ad campaigns use. First of all, the picture has an amazing quality and displays the Puma logo in different places. Secondly the bold 'Sign Up Now' goes well with the discount, and they succeed in capturing our undivided attention. And finally, the CTA that directs us to a landing page compliments this well-rounded ad. 
Boost your knowledge on social media: TikTok Hacks to Get Followers Faster.
Facebook Ad Examples No 10: Lululemon
'Why is this in our list of Facebook ad examples?' you may ask. The answer is quite straightforward. Lululemon ad creatives are smart! And, they are smart because they make us feel like our purchase would help the environment! So here again, we see a thriving brand counting on a movement to drive sales and engagement. And honestly, it works!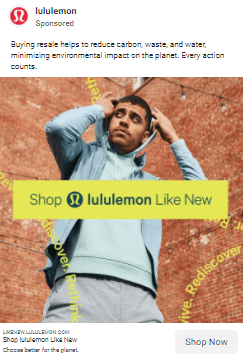 Boost your knowledge on social media: TikTok Ideas for Going Viral.
Facebook Ad Examples No 11: IKEA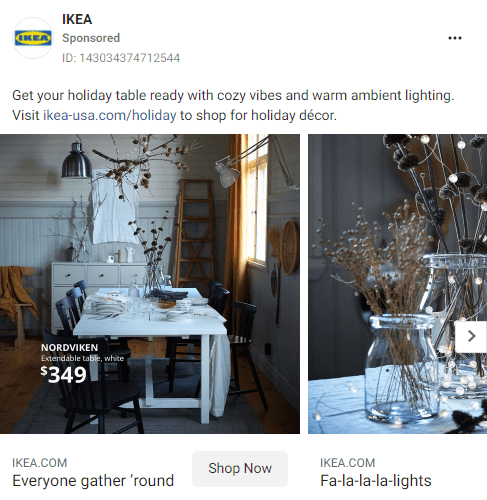 This is among the best Facebook examples on our list because this ad takes a rather different approach to advertising products. Instead of focusing on one item, this IKEA ad focuses on a group of products that will make up an excellent whole. Since there's separate pricing and a CTA button available for each picture, shopping becomes even easier for users. 
If you offer products and services, this type of ad is among the best Facebook ad ideas for your business. 
Boost your knowledge on social media: Twitter Bio Ideas to Attract More Followers. 
Facebook Ad Examples No 12: Square
This ad has a special place on this delicate list of Facebook ad examples because it employs an interesting element. This interesting element is the review you can see on the bottom left corner of the image.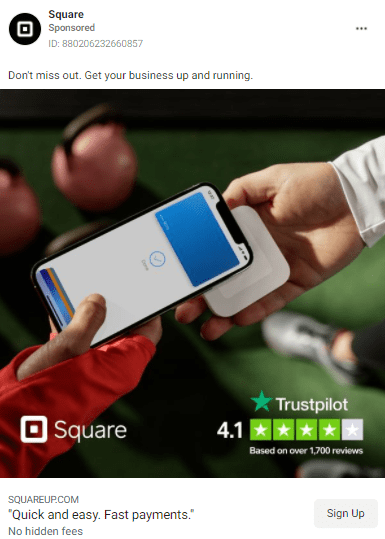 Although the image has nothing special to it, the review adds to the reliability of the brand. It is a sort of social proof that encourages users to sign up. 
There's no way for us to stress enough the importance of social proof. Suffice it to say that any form of social proof, whether it's a review or user-generated content, can go a long way. 
Boost your knowledge on social media: How to Sell on Instagram.
Facebook Ad Examples No 13: DAVIDsTEA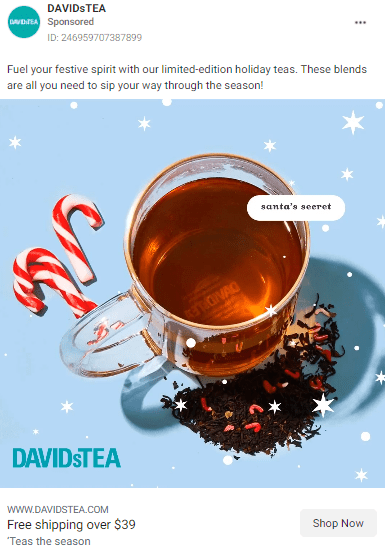 What we love about David's Tea ad creatives is that they're simple and timely. If the holidays are around the corner, you will get amazing herbs with the theme of holidays. And, the free shipping and discounts are there to sweeten the deal. However, the best feature is that you can gain all the information you need in one glance. 
So, if you want your ad to shine, you need to optimize it so that it would be simple yet informative.
Boost your knowledge on social media: How to Schedule IG Posts.
Facebook Ad Examples No 14: Samsung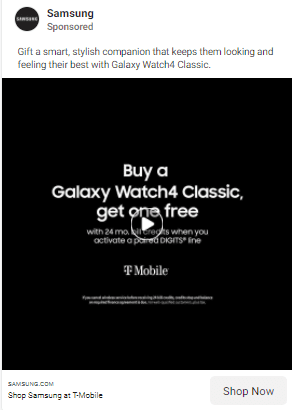 We have included this Samsung ad in our list of Facebook ad examples to remind you that there's no shame in simplicity. Whether you use a plain white background or a plain black background, your Facebook ad can still thrive. That is if you provide the right information, and use different fonts to capture attention. 
Boost your knowledge on social media: How to Get Sponsored on Instagram
Facebook Ad Examples No 15: The Economist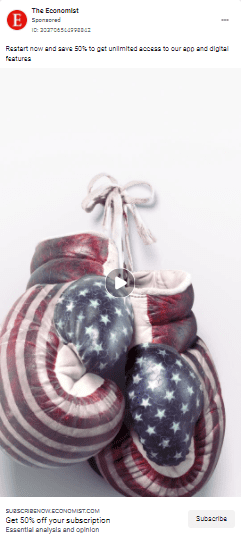 We don't intend to repeat ourselves or caption the obvious, but let us once more remind you of the power of short and sweet offers. In this ad also, some words such as 'Now', and 'Unlimited' draw a lot of attention to themselves. 
Generally, they have mentioned the offer clearly in several places and their video ad, set against a white background, helps promote it. So, follow their example, and you will see the amazing results you're looking for. 
Boost your knowledge of social media: Get Famous on TikTok.
Facebook Ad Examples No 16: Slack
Slack is a business communication platform that caters to the needs of organizations and teams. Honestly, all their Facebook ad creatives we saw on the ad library of Facebook had amazing elements. No wonder their ads perform so well, right?!
We have chosen this one because of the creative and intuitive video ad they have crafted! In this video, they enact some of the most irritating problems a business team might face and they resolve them through the platform's features.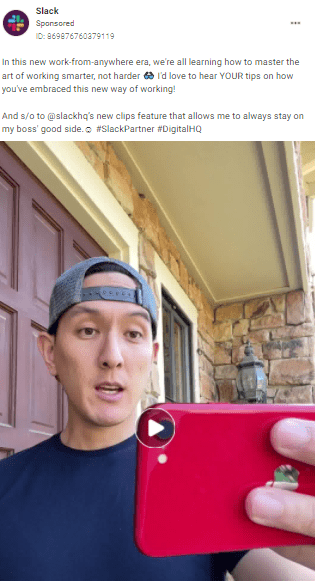 If you wish to genuinely promote your service or platform, you can exploit this type of video both as an interactive Facebook post and as a creative ad. 
Facebook Ad Examples No 17: ImperfectFoods
This ad might not be quite as successful as others, but there's something unique about it. And that is the objective facts that are included in the ad. The objective, scientific tone helps the plain design earn a lot of attention and trust from potential customers.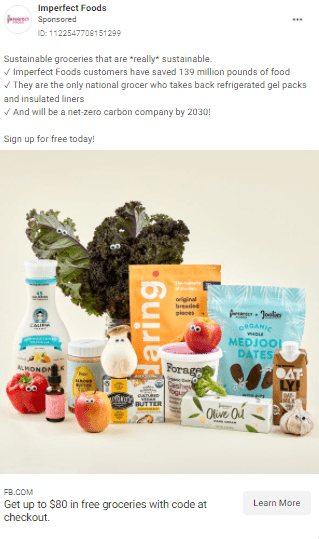 Boost your knowledge of social media: Instagram Post Ideas to Get Engagement.
Facebook Ad Examples No 18: Amazon 
Amazon needs no introduction, and considering how big their name is, it's no surprise that Amazon is on our list of Facebook ad examples. But, what can you learn from Amazon ad creatives?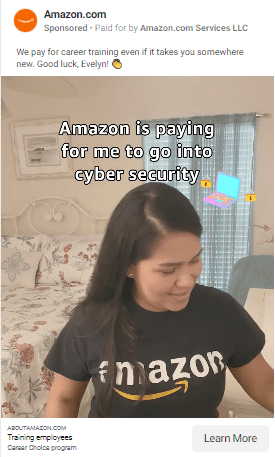 The key takeaway is using social proof. When the audience watches Amazon ads, they know that they don't need to depend on Amazon to get the facts. Instead, they can hear it from a customer, or generally, someone who has used Amazon services. In this particular ad, we can see that Amazon would like to raise awareness about something they have started. However, they don't do this by themselves, but by using the words of someone who has been at the receiving end of it. 
Boost your knowledge on social media: How to Mass Delete IG Posts.
Facebook Ad Examples No 19: Affordable Health Insurance
To conclude, we have decided to mention one of the best insurance Facebook ad examples. This photo ad is appealing, and can truly connect with us because of the imminent danger of Covid 19. Plus, with the pricing and CTA button available, we can make a decision conveniently and fast.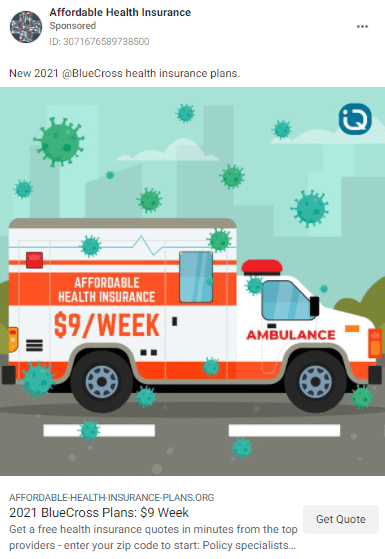 Boost your knowledge on social media: Become a Successful IG Content Creator.
Conclusion
In this article, we managed to cover everything about what makes the best Facebook ads work so well. There's a lesson you can learn from these Facebook ad examples, and you can visit the Facebook ad library if you need more. Maybe the next time we update this article, the name of your brand will be among the best Facebook ad examples!