Since its release, TikTok has become one of the most popular social media applications. Indeed, this platform is one of the top ten downloaded applications around the globe. Also, with more than one billion active users, TikTok is one of the best platforms to grow popularity. However, TikTok is a youth-centric application. So, it is vital for anyone looking for TikTok ideas to go viral to consider its niche. In general, we do not expect in-depth content on TikTok. Besides, TikTok allows only under 60 seconds videos. And the most popular TikTok ideas are usually those that are entertaining and brief. 
Going viral on TikTok can be a very smooth path, as TikTok has meritocratic algorithms for picking up the videos. This means that everyone has a chance, and only quality content will find a way to get famous on TikTok. However, TikTok popularity requires a great deal of concentration and innovation. If you are looking for creative TikTok ideas to go viral, here is the right place. In the following, we will introduce X generic yet highly effective TikTok ideas to boost your account!

TikTok Room Ideas
If you have actively followed TikTok trends, you have seen people showing off with their room decorations. There are not in general following some specific rules for this. However, they follow some kind of generality to make their rooms trendy. They usually do not explain how they achieved this. In this section, we are going to take an in-depth view of TikTok room ideas. As TikTok decoration videos are usually abrupt, the key elements are subtle. We have selected the best TikTok ideas to make your room a TikTok room.
#1 String Lights
LED lights are so popular among TikTokers, one of the most fantastic TikTok room ideas is to decorate your room with color-changing LED lights. You can use LED stripes to decorate your bedroom or around your house. They are not expensive. However, they can make a great deal of difference to your room's aesthetics.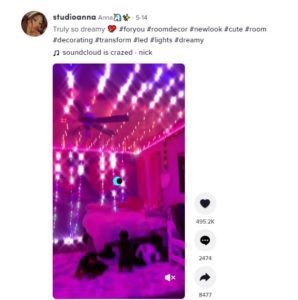 Read more about TikTok: What's the Best Time to Post on TikTok in 2021
#2 Galaxy Projectors
Galaxy projectors are trending on both Instagram and TikTok. Galaxy projectors are among the most popular TikTok ideas if you want your room to look more trendy. You can enjoy the magnificent light while taking TikTok videos in your room.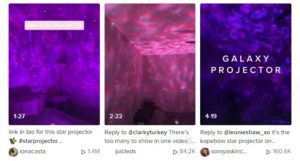 #3 Plants
One of the important TikTok trends is the use of plants. You can do with a few plants in the corner of your room if you're looking for TikTok ideas to decorate your room.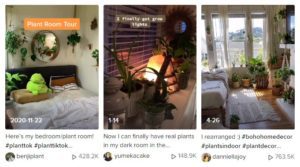 Read more about TikTok: How to Convert TikTok Videos to Instagram Posts
#4 Photo Walls
People have always kept photographs in their bedrooms and homes. On the other hand, photo collections are one of the newest and most popular TikTok room ideas. Consider turning one of your bedroom walls into a photo wall if you want your room to be trendy on TikTok. Strings and glue can be used to hang your small Polaroid pictures on the wall.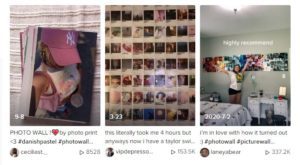 Learn more about social media: 1000 Instagram Followers Free Trial
#5 Wall Stickers
Another popular item among TikTokers is wall stickers. They look cute on your wall and are simple to take down. A mix of wall stickers and LED lights may be just what you need to give your room an ultra-modern look.
#6 Standing mirrors
Teenagers and young adults are increasingly fond of standing mirrors and oversized mirrors. If you're looking for trendy TikTok ideas but don't want to clutter up your space, consider replacing your mirror with a large one!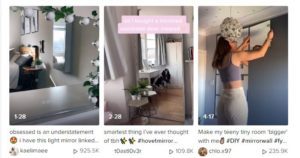 Read more about TikTok: How to link Instagram to TikTok: The Ultimate Guide

#7 Curtain Fairy Lights
And, once again, it's all about the lights. Curtain fairy lights are LED light strips that give your look a magnificent, dreamy appearance. Fairy lights are also popular among TikTok users and are reasonably priced.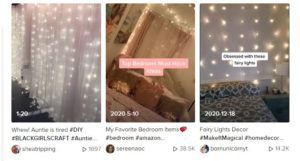 #8 Jewelry Stands
Jewelry stands are another example of a low-cost, cute item that can make a big difference. If you're looking for low-cost TikTok ideas, jewelry stands, and boxes are excellent choices.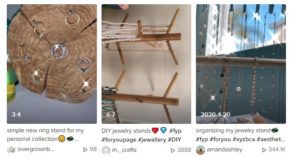 TikTok Party Theme
Parties with a TikTok theme are probably one of the best things you can do if you want to be a TikTok star. You and your birthday party could go viral on TikTok if you use creative TikTok ideas. Teens and even young adults are currently obsessed with TikTok party videos. We've listed a few TikTok party ideas below to make your birthday party TikTok trendy!
#9  Make TikTok Invitation Card
Electronic cards are becoming increasingly popular among social media users. What's better than making a TikTok invitation electronic card if you're planning a birthday party with a TikTok theme? Make a video to announce the date and location of your party, and if you want, post it to your TikTok account! However, please ensure that your personal information is kept private. You can make your invitation video go viral by using popular songs and dances.

#10 Use TikTok Party Decoration
Preparing a set of lovely TikTok decorations is one of the best TikTok ideas. Online, you can find TikTok party packages. Birthday supplies with the TikTok theme and logo, such as balloons, plates, and napkins, are usually included in these packages. Furthermore, you can purchase individual items to ensure that you have everything you require.


#11 TikTok Cake Ideas
Well, the birthday cake is the most crucial element of a birthday party. It makes sense to add a TikTok topper to your cake to make it harmonious with other things in your room. Make sure to check out for as many cake designs as possible. 
#12 TikTok Challenge Party Games
You can either use TikTok challenge cards or make your own TikTok challenges to do at your party. You can lip-sync and dance on TikTok and challenge others to do the same. This is one of the most useful TikTok party ideas for going viral. Make your party theme worthy of your time and money! Create TikTok challenges and games, and make sure to use the right TikTok hashtags to make your party go viral!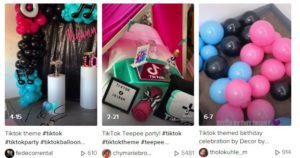 TikTok Ideas For Your Account
If you want to go viral on TikTok and become a TikTok star, your account info can be one of the most critical factors. It is vital to pick up the perfect username and have an engaging TikTok bio. In this part, we are going to give you a few sample TikTok ideas to go viral. But before anything, make sure you know about what you want to post to your TikTok account. It is important to know what you want your content to be before taking any further steps. 
Username Ideas
When you first sign up for TikTok, you are usually given a default name. However, you may feel the need to change your username in your TikTok settings after a while. Choosing the right TikTok username will help you gain more followers on TikTok. We'll go over TikTok usernames that are organized by account type in the sections below. However, when deciding on a name, make sure to include something unique and personal.

#13 TikTok Username Idea: Dance
Here are a few suggested TikTok username ideas, if you are a TikTok dance creator. 
#14 TikTok Username Idea: Sports

#15 TikTok Username Ideas: Entertainment
#16 TikTok Username ideas: Beauty and skincare

#17 TikTok name Ideas: Fashion and Clothing

#18 TikTok name Ideas: Home and Decoration
TikTok Bio Ideas
TikTok bio is one of the essential elements of your account. A good bio can attract many people and turn potential visitors into followers. If you aim to go viral on TikTok, you must be very careful with your TikTok bio. In general, a bio is something very personal and must be unique. However, in this section, we will give a few generic TikTok bio ideas to help you pick your words more wisely. 
#19 Describe Your Account
The most important thing that a visitor must know before following your account is its purpose. So what you must describe in your TikTok bio is what your account is for. Moreover, make sure to point out your activities clearly and creatively.

#20 Use Emojis
In general, TikTok is an entertainment, social media app. There is no need to look serious about your work. Make sure to use related emojis. Emojis will give your followers a sense of intimacy. Try to be funny and relevant at the same time while choosing emojis.
#21 Add a Link
TikTok allows you to add a link to your TikTok bio. It is an excellent TikTok idea to add a link or a landing page to your account. It makes you more professional, and indeed it will help you go viral faster. You can use the MyUrls service to create an elegant landing page for your websites and social media accounts.

TikTok Caption Ideas
There are occasions on which we don't know what to write under a video. You may find generic TikTok caption ideas online. However, it is not recommended to use typical captions under your videos. The most important video element is the caption. You must use a caption that is as unique as your post. You can use catchy and trendy hashtags as the descriptions of your posts on the internet. In the following, we will provide you with a complete list of popular TikTok caption ideas. However, please note that it is not recommended to use the exact quotes in most cases. Make sure to use them in a creative and relevant manner. 
TikTok Caption Ideas With Friends

#22 Rain or Shine. I will always be here for you
#23 Sometimes, being with your best friend is all the therapy you need!
#24 It's me and my Best Friend for Life!
#25 You and I are more than friends. We're like a really small gang.
#25 Friendship isn't about who you've known the longest. It's about who walked into your life and said, I am here for you and proved it.
#26 There comes a time when you have to stop crossing oceans for people who wouldn't jump puddles for you.
#27 I'm truly grateful to have you.
#28 Best Friends make good times better and hard times easier!
#29 Finding friends with the same mental disorder: priceless!
#30 A true friend accepts who you are, but also helps you become who you should be.
#31 Best friends are hard to find because the very best is already mine.
TikTok Food Caption Ideas

#32 Good food, good mood
#33 All you need is love. But a little chocolate now and then doesn't hurt.
#34 If more of us valued food and cheer and song above hoarded gold, it would be a merrier world.
#35 One cannot think well, love well, sleep well, if one has not dined well.
#36 I love you like a fat kid loves cake!
#37 Ask not what you can do for your country. Ask what's for lunch.
#38 After a good dinner one can forgive anybody, even one's own relations.
#39 The only time to eat diet food is while you're waiting for the steak to cook.

TikTok Dance Captions

#40 "Hand in hand, on the edge of the sand, they danced by the light of the moon."
#41 Dance is the hidden language of the soul.
#42 Nobody cares if you can't dance well. Just get up and dance. Great dancers are great because of their passion.
#43 The job of feet is walking, but their hobby is dancing.
#44 To dance is to be out of yourself. Larger, more beautiful, more powerful… This is power, it is glory on earth and it is yours for the taking.
#45 Every day brings a chance for you to draw in a breath, kick off your shoes, and dance.
#46 Any kind of dancing is better than no dancing at all.
#47 Dancing is creating a sculpture that is visible only for a moment.
#48 Dancing is surely the most basic and relevant of all forms of expression. Nothing else can so effectively give outward form to an inner experience.
#49 Daily dance uplifts the soul to spiritual realms.
#50 Dance me to the end of love!
Wrapping Up
Going viral on TikTok would be a wish for every Tiktoker. However, it needs creativity, plan and innovative ideas. We hope the above details could inspire you to create a brand new trend on TikTok, go viral and fly off the chart.