With over one billion active users, TikTok is one of the fastest-growing social media platforms. Many people make money on TikTok, and many others have managed to gain extraordinary fame on this platform. One of the deciding factors in becoming famous on TikTok is timing. That's why learning about the best time to post on TikTok is a great spot to promote your business. 
The question of timing, on the other hand, is not an easy one to answer immediately. When it comes to TikTok scheduling, there are numerous statistical factors that you need to consider. These factors are not those that are important in other social media platforms such as LinkedIn and Facebook. Finding the most efficient TikTok calendar for your account may necessitate even more complex data analysis. And, to be fair and honest, you'll need to personalize that calendar at some point.
Nevertheless, studying the methods and reasoning behind TikTok posting time can help you a great deal in figuring out what's suitable for you with acceptable accuracy. In this article, we will delve deep into the best time to post on TikTok.
How Long Do Users Spend on TikTok?
According to some research, users spend an average of 89 minutes per day and they open the application 19 times on a daily basis. Because 89 minutes per day is not excessively long, knowing the density of this timing in determining the best time to post on TikTok becomes increasingly important. There are, of course, some TikTok schedules that TikTok users prefer. Many factors influence this, including the average age of users, their preferred content, and finally their Timezone. So, before taking any further steps, make sure to locate the Timezone of your niche community.
Also, people spend almost the same amount of time on Instagram. However, Facebook, with users spending more than 2 hours, takes the lead. Indeed, it could be a big deal for marketers to increase their chance of seeing ads and content on Instagram and Facebook too. Although these social media are essentially different, many creators consider linking all social media accounts.
The Importance of Knowing the Best Time to Post on Tiktok 
You have heard many people talk about the best times to post on Instagram, Facebook, and all other social media. But why is this such a big deal?? Well, simply because no matter what your niche is, you're competing to reach and attract a target audience. You are, in effect, fighting for a few seconds of attention. 
So, you're fighting an uphill battle if you don't post when your audience is active on the platform. That is, even if you have the best TikTok ideas for going viral and use the most trending TikTok hashtags but don't post it when your followers are online, then you have denied your content the attention it deserves. That's why knowing when to post on TikTok matters. 
Boost Your Knowledge on Social Media: The Best Time to Post on LinkedIn to Get Better Results
What Is the Best Time to Post on TikTok?
'When is the best time to post on TikTok?' you keep asking. As we have explained before, there is nothing such as the best time to post on TikTok. However, there are generic timings that are typically considered good times to post on TikTok due to certain factors. Check out the list below to find the best TikTok post times in Eastern Standard Time (EST):
6 to 10 in the morning

7 to 11 in the evening
Best Time to Post on Different Days of the Week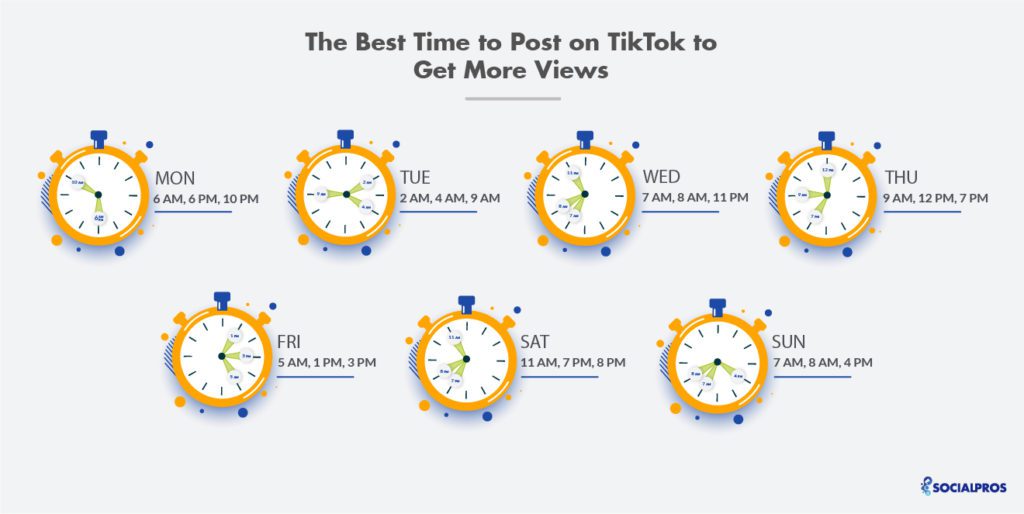 Considering Influencer Marketing Hub research, the best times to post on TikTok for each day of the week is as below:
The best time to post on TikTok on Monday: 6 AM, 6 PM, and 10 PM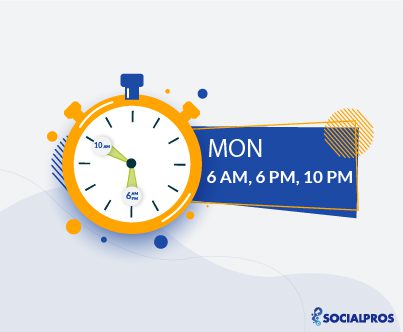 The best time to post on TikTok on Tuesday: 2 AM, 4 AM, and 9 AM is the ideal posting time.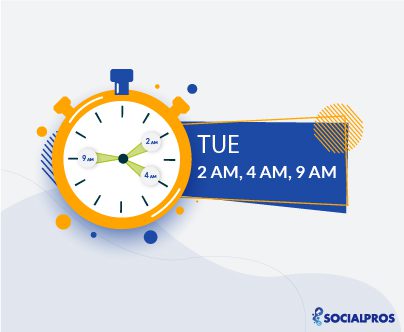 And, The best time to post on TikTok on Wednesday: 7 AM, 8 AM, and 11 PM.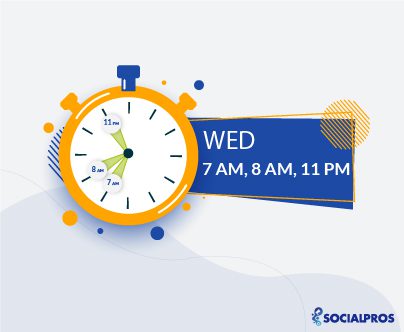 The best time to post on Tik Tok on a Thursday: 9 AM, 12 PM, and 7 PM.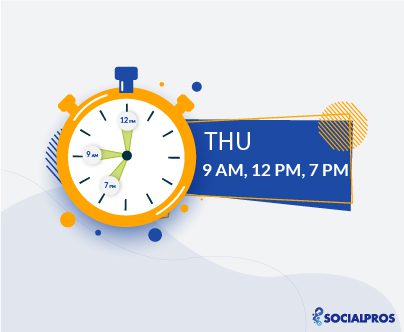 Fri:

On Friday, you can enjoy 5 AM, 1 PM, and 3 PM.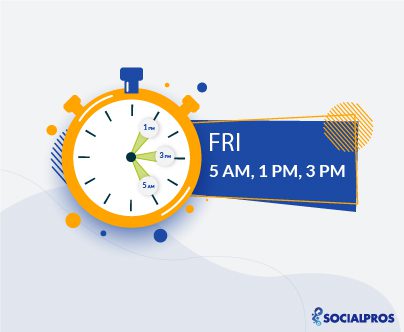 Sat

: On this day, posting at 11 AM, 7 PM, and 8 PM is ideal.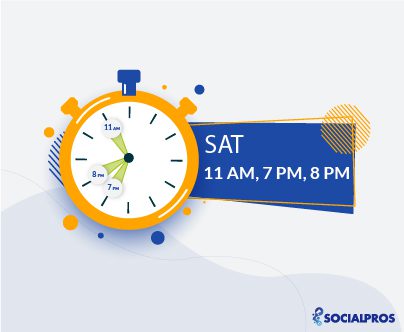 Sun:

on Sunday 7 AM, 8 AM, and 4 PM perform best.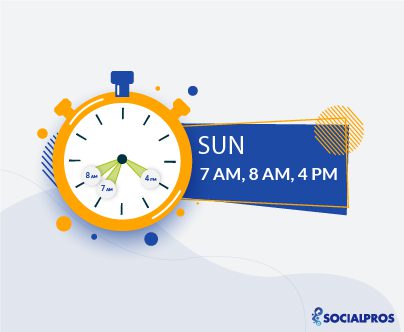 Also, the highest levels of engagement occur at 9 am on Tuesday, 12 pm on Thursday, and 5 am on Friday. 
Remember, these are the best times to post on TikTok for a general user. However, every business and audience is different from the others. So if you want to identify the best time to post on TikTok, you need to know your audiences and analyze them. Then, you will turn your TikTok into a lead generation machine.
How to Identify the Best Time to Post on TikTok for Your Audience
If you don't know what time to post on TikTok for your specific audience, you need to take some steps. Therefore, go through the following tips to get to know more about your audience.
#1 Get a Pro Account to Know the Best Time to Post on TikTok
For seeing your TikTok times to post, you must first upgrade to a TikTok Professional account to get access to TikTok analytics. To do so, you must: 
Tap the three dots at the top-right of your profile.

Then, tap on 'Manage my account.'

Next, select 'Switch to Pro Account' to begin the process.

Pick your account type and complete the process following the directions.
Then, it'll send you back to your account menu. And you'll get a notification defining that you've upgraded to a TikTok pro account.
Presently, you see 'Analytics' in your menu. In the analytics segment, you'll notice three tabs:
Overview:

It provides an overview of your video views, followers, and profile views.

Content:

In this part, you can see metrics on your feed, like views, likes, comments, and average watch time.

Followers:

Here, you can find reports about your follower growth, the content they've engaged with, and their location.
#2 Check the Time Your Audience Is Engaged
After analyzing your followers and identifying their location, it's time to figure out when they are most engaged. So, head over to the Followers tab and observe their activity. If you have followers in various time zones, you must adapt yourself to posting on TikTok according to their times. Therefore, you can use free online tools like The Time Zone Converter to do this.
Also, you can at least take the average estimated time. For instance, many people check their social media right after they wake up. However, it seems challenging, but the morning time in Toronto differs from Madrid. In this case, you must schedule content about an eight-hour time difference to get the instant result.
#3 Observe the Average Watch Time of Each Content
Another way to discover the best time to post on TikTok is to see your successful or most engaging content. To begin, press "Content" at the top of the TikTok analytics page. Then, you'll see how your posts have run over the last week. Moreover, it is the best way to see the numbers of views, likes, comments, and shares. Most importantly, you can detect the average watch time and the location of the post's viewers. 
Now, to identify the best time to post on TikTok, you must compare the results of the time and day you shared the post. DIY data mining!
For instance, if all of your Wednesday evening posts are the highest-performing ones, you understand it's one of the best times to post on TikTok!
Boost Your Knowledge on TikTok: Convert TikTok Videos to Instagram Posts
Create A TikTok Calendar
Consistency is another important factor in TikTok posting time. Let's get a better understanding of how often to post on TikTok now that you've learned about the best time to post on TikTok. In general, quality takes precedence over quantity. Furthermore, unlike other social media applications, TikTok's algorithm is not based on a timeline. This means that no matter how long a video has been posted, it has a chance to go viral on TikTok. This fact suggests that one does not need to be preoccupied with the frequency of their posts. However, posting at specific times a day has many good impacts on your account growth.
How often to post on TikTok
In general, some popular TikTokers post up to ten times per day on TikTok. However, if you're just starting out on your path, this may be a little too much. The general rule is to post at least one time per day. Doing so shows your commitment to your TikTok content and has a subconscious effect on your audience. Besides, it automatically keeps them waiting for your next day's video. If you post every day on a regular basis at a specific time, you will have a higher chance of going viral among your niche community. Besides, you can persuade them to follow you after a few times of appearing in their FYPs. 
The Ideal Post Frequency on TikTok
Still, posting once per day is good if you are at the beginning of your way. However, as your accounts get larger, you need to increase your presence steadily. The ideal time to post on TikTok is between one to three posts every day. You can schedule your TikTok posts purposefully to be posted on your personalized best time to post on TikTok regarding your niche audience. 
How to schedule TikTok posts
Before we get into the different ways of scheduling TikTok posts, let's talk about the importance of TikTok schedulers. Everyone can manually schedule their TikTok posts. This implies that you agree to post specific content at specific times. This method, however, is usually stressful. If you make a commitment to post at a certain time each day, you'll find yourself rushing to post a probably mediocre video at the last minute. And above being stressful, it can be energy-consuming to focus on different things at the same time. 
Here is where we recommend you to get yourself a social media scheduler. It has been long since Instagram schedulers such as AiSchedul and Instagram creator studio became increasingly popular among creators and even normal users. So TikTok schedulers help you arrange your TikTok posts and any time and post them on a regular basis according to a personalized TikTok calendar. In the following, we have prepared a list of the top 10 TikTok schedulers that you can use to post your content at the best times to post on TikTok. 
#1 SocialPilot
SocialPlot is one of the first TikTok schedulers out there. You can use SocialPilot on different TikTok accounts at the same time. Besides, there is a free 14 days trial that you can use without payment information. The interface is also easy to work with and user-friendly.
#2 Later
Later is the most popular TikTok scheduler now. You can plan your TikTok posts earlier to post them later. Besides, later has got a good reputation among TikTok creators. That's because it's a built-in video editor that you can use to create your videos before scheduling them in your TikTok calendar for the best times to post on TikTok.
#3 CrowdFire
Crowdfire is another TikTok assistant available for creators. There is no automated publishing. On the other hand, CrowdFire sends you reminders on when to post on your account. Moreover, CrowdFire provides you with a free suggested plan. 
#4 TikTok Scheduler
And finally, TikTok scheduler is a management tool that can help you schedule and post your TikTok videos and have a personal TikTok calendar based on the best times to post on TikTok for you. 
#4 Planly
Planly
is a freemium social media post-scheduling tool and the ultimate solution for content creators, entrepreneurs, and those working with a social media team. With Planly's unique feature set, managing captivating content across all of your platforms is easier.
On Planly, you can easily set up posts on social media platforms such as Instagram, TikTok, Twitter, Pinterest, LinkedIn, Facebook & Google Business Profile. Profit from features such as reel scheduling and auto-posting without push notifications so you can plan out posts in one simple step quickly.
Bottom Line
Growing your followers on TikTok depends on several factors. One of these crucial factors is knowing the best time to post on TikTok, especially if you want to build your brand there. In this case, with the least effort possible, you'll get the best outcome if you pay attention to TikTok best timing that suits you. Using TikTok schedulers can be a great help while trying to have your own personalized calendar. It will be easier for you to manage your content if you are not too preoccupied with the timing.