Did you know that Instagram has its own content management and scheduling tool called the Instagram creator studio? Have you asked yourself who exactly are the creators? Creator Studio has once been the most popular scheduler for Facebook. However, in its recent updates, it has included Instagram in its, services too.
There is no doubt that the creator studio for Instagram holds many features to manage their Instagram account and schedule their posts. Many people choose to use the creator studio to improve their account management. However, creator studio is only available to public accounts and, most precisely, Instagram creator accounts. So if this is your issue, keep reading! This article reveals whatever you need to know about the Instagram creator studio. Moreover, we will introduce the best alternative for those who do not want to make their accounts public.
Who Are Instagram Creators?
Firstly, let's start with one basic question. When are we talking about services for Instagram creators? Who is the target community? In recent years, many Instagram influencers have announced Instagram as their main platform, and so the need for Instagram follower apps has increased. That's exactly why Instagram is offering such extraordinary features to creators. There are very conspicuous differences between business owners and Instagram influencers. These differences are the main motivation for Instagram to recognize creators as an independent category to fulfill their needs precisely. Creator accounts were once only available to users who had more than 10k followers. But now, anyone can have them. In short, the creators are exactly Instagram users who produce original content and looking for audiences.
There are many beneficial things about having a creator account. For instance, in the business accounts, you get weekly growth data on your account. However, in creator accounts, one gets daily reports on their posts. Moreover, Instagram creators get some demographic data about their audience, which is extremely useful in post-scheduling.
And finally, there is the Instagram Creator Studio is a scheduling platform available only for Instagram creator accounts. We are going to give this exceptional assistant a whole section. But for now, let's focus on how to change your account into an Instagram creator profile.
How to change to a Creator account?
Let's now look at the steps you ought to take if you want to switch to a creator account. To make your Instagram creator profile, you should take the following steps.
Log in to your IG account on your phone, and tap on the little

profile picture icon

.

On the top right of your profile, click on the

hamburger icon

(three parallel lines).

From the menu, choose

Settings

.

In Settings, go to the

Accounts

section.

If your account is personal, tap on the

Switch to Professional account

at the bottom.

If you have switched from a personal account, choose the

Creator

box on the screen.

Else, if you already have a business account, tap

Switch account Type

at the bottom.

Tap on

Switch to Creator Account

.
ٌWarning: turning your private Instagram account into a creator\business account makes it public.
An Introduction to Instagram Creator Studio
We have mentioned the Instagram creator studio as a feature for Instagram creator accounts. Now let's get into details about what Instagram creator is and how you can use it. In 2017 Facebook launched its first creator app, which was going to help websites and business owners with their customer services. Finally, in 2019, they gave Instagram accounts access to the creator studio too. In general, Instagram creator studio is a growth app from Facebook. Its features are beneficial for those who wish to improve their posting strategies and manage their accounts like a pro or manage their DMs flexibly.
How To Connect Your IG Account to Creator Studio
The first step is to switch your Instagram account to an Instagram creator account. Use the steps that we have already mentioned. After you made sure of this, then take the following steps to connect your account to the Instagram creator studio: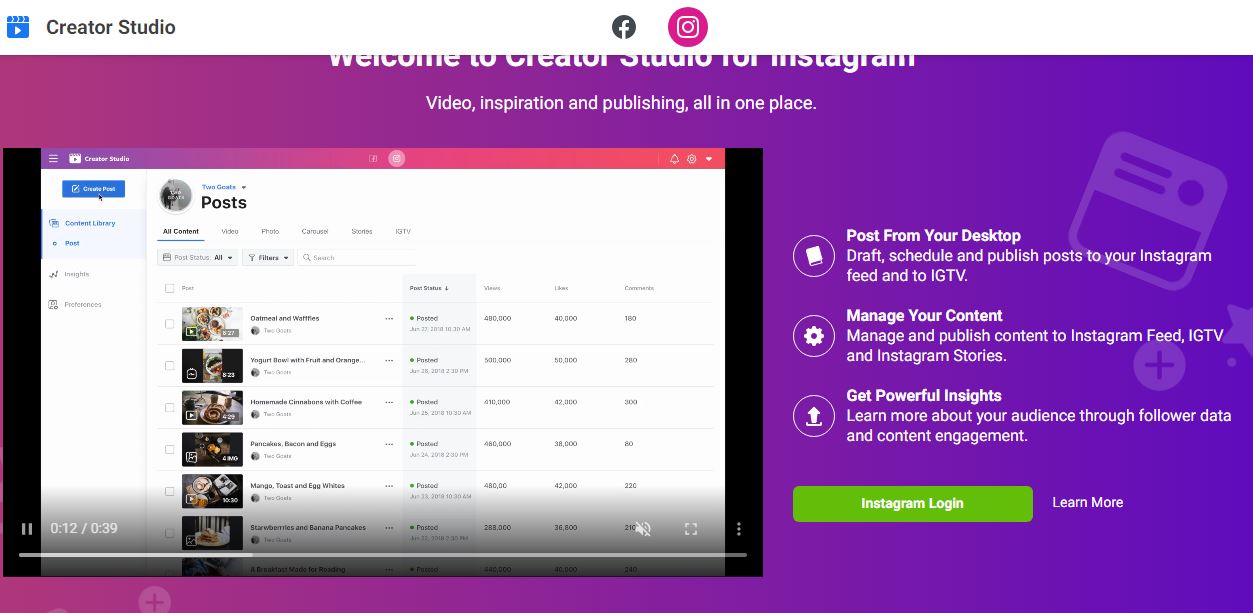 Go to the

Creator Studio

on your desktop.

From the bar on the top, choose the

Instagram icon

.

Use the green button

Instagram Login

to get into your account.
After entering your username and password, you will be automatically connected to the Instagram Creator Studio. Please note that if you have a Facebook account connected to your Instagram account, you can log in to the creator studio with your Facebook account.
How To Use Instagram Creator Studio 
Now that you have connected to the Creator Studio safely, it's time to take a deeper look into its features and services. Using Instagram Creator Studio, you can manage your IGTV, Posts, Stories, and DMs on your desktop!
#1 Schedule your Feed and IGTV 
There is the green button Create Post on the left side of your screen. Using it, you can post on your Instagram feed and IGTV. This is, in general, a great privilege as it is not possible to post from a PC on the native Instagram web application. 
2 #Schedule Posts on Feed 
First of all, we will give a detailed explanation of how you can schedule or create an Instagram post on your feed. After Clicking on the
Create post
, choose
Instagram Feed
.
Then you will be able to upload your content directly from your PC. You can also add a caption and your location. 
At the bottom of the window, you can see the Publish button in the image below. By clicking on it, you can publish your content immediately. However, there is something even more interesting there. If you click on the arrow beside the button, you can see that you have three options: It is always essential for Instagram creators to post on a tight timetable according to their account's analysis. That's why it is important to schedule Instagram posts before actually posting them. As you can see below, using the creator studio for Instagram, you can set the exact date and time you want your content to appear in your feed. You can also save your post as a draft using the third option if you are unsure!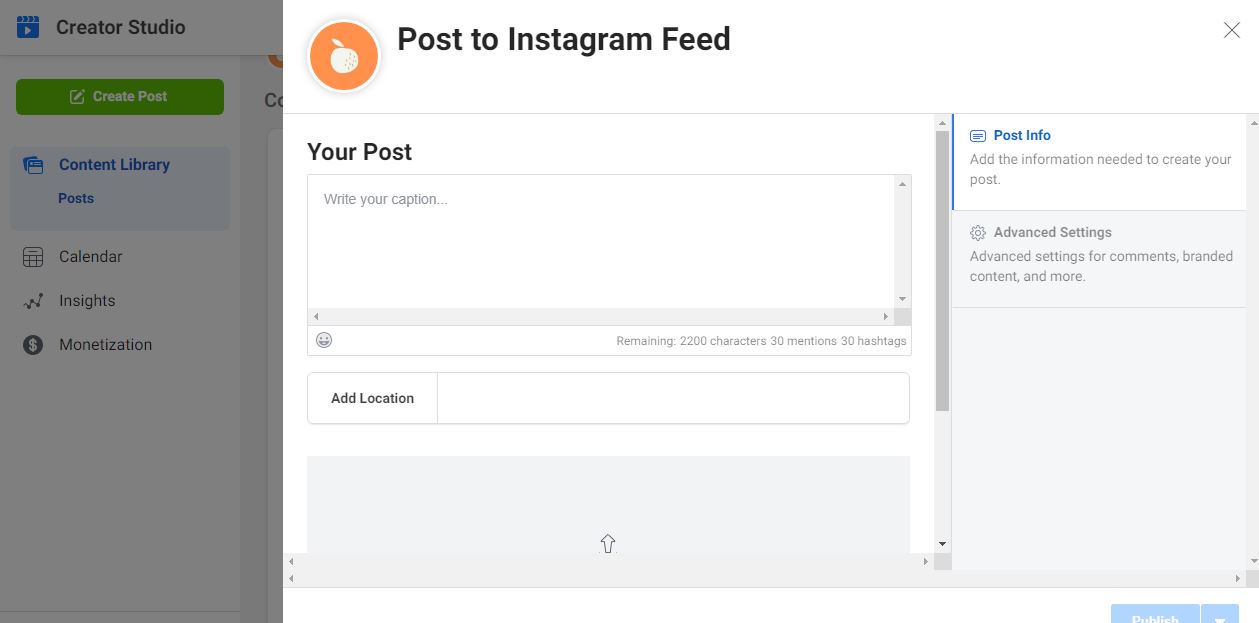 # Schedule IGTV
Many Instagram creators edit and save their IGTV videos on their computers, and it is usually hard for them to convert their large files to their phones. So, Instagrammers normally prefer to upload to their IGTV from the computer as well. The Instagram Creator Studio has solved this problem for creator accounts. You can upload and schedule your IGTV series from your desktop using the creator studio. To create an IGTV post, click on the Create Post button on the left side of your screen, and this time, choose IGTV. In the appeared window, you can upload your mp4 file from your desktop and add a caption and a title to your post.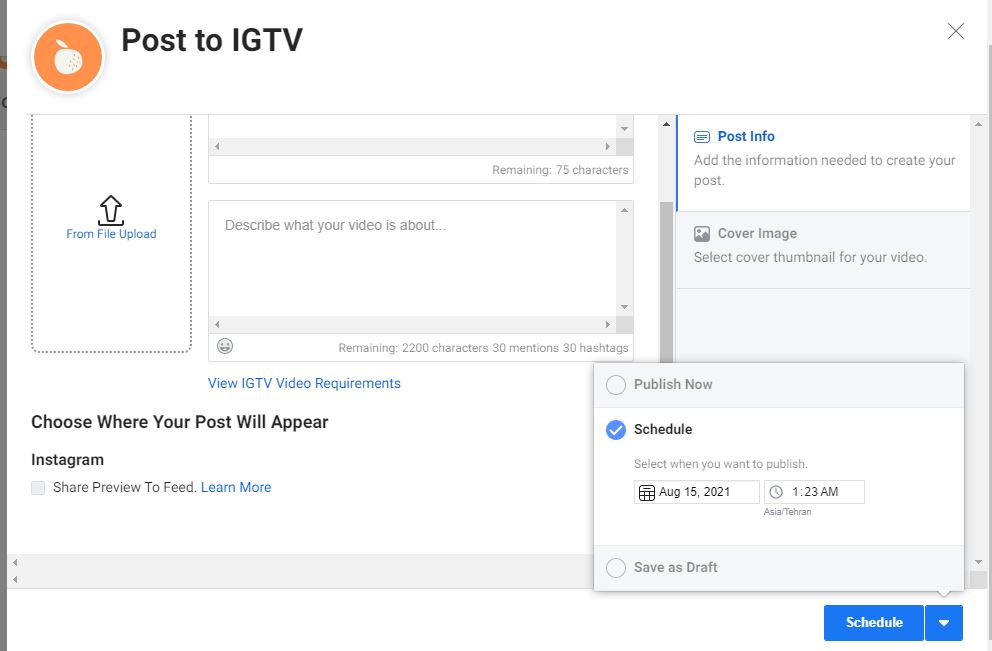 Warning: Just as on the native app, you can choose to preview your IGTV post on your feed as well. Be careful to check the related box at the bottom of the window.
After making all the arrangements, you can publish your IGTV post immediately using the Publish button at the bottom right of your screen. However, by clicking on the arrow beside the button, you can save your IGTV post as a draft or schedule it. Set the date and time you intend your post to be published as in the picture above. And click on the Schedule button. 
#2 Content Library
On the left side of your screen, you can find the Content Library tab. The content library gives you an overview of your IG stories, videos, photos, and IGTV all in one place. By clicking on each category, you can see all posts belonging to that category with their related statistics. For instance, you will see how many people have interacted with your post and how they interacted. 
How to Schedule Instagram Posts on a Private Account
As we have explained in previous sections, the Instagram creator studio is only available for creator accounts. However, Instagram business and particularly creator accounts make a private account public. In general, we regard creators who create original content for their audience, whether they are influencers or artists. Sometimes we create, but we want to keep it private. Unfortunately, there is no native way to access creator studio features from a private account. However, there are always Alternatives!
AiSchedul is a reliable Instagram scheduler that helps you manage your Instagram account like a pro and from your desktop. It offers all the Instagram Creator Studio's features and is also available for private accounts. Its interface is so user-friendly that anyone can find their way easily as soon as they connect their accounts. In the following, we are going to give a step-by-step guide on how to use AiSchedul. However, we highly recommend you to read this thorough AiSchedul review as well.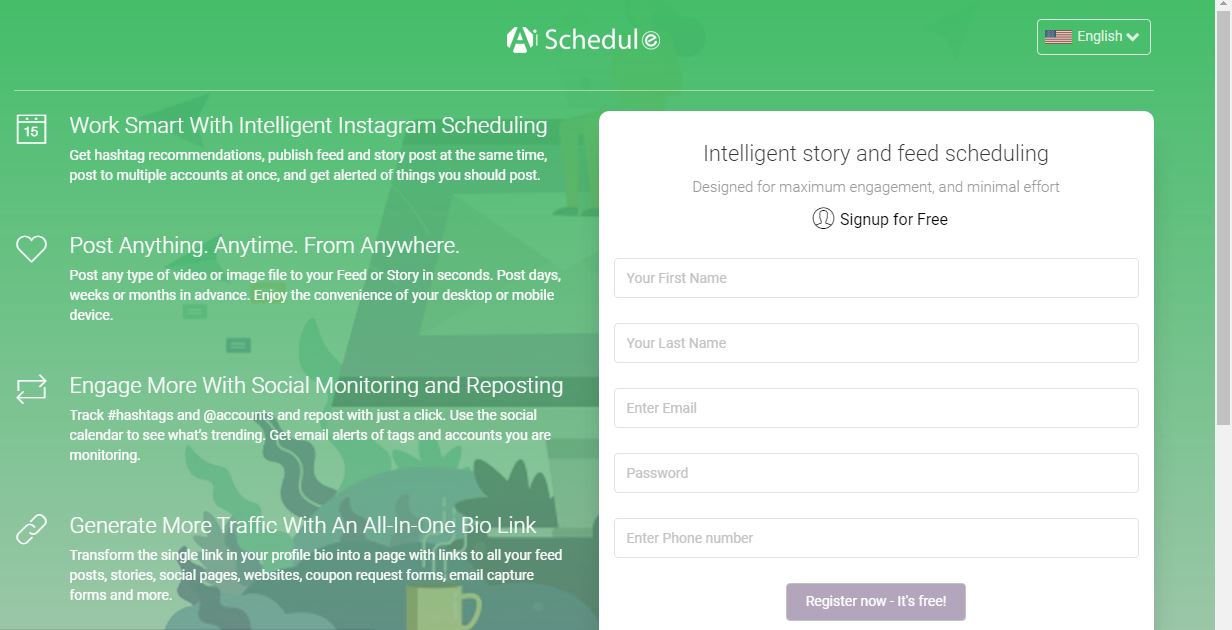 Take the following steps to connect your Instagram account to AiSchedul for free:
Go to

schedule, and on the top right of your screen, click

 on

Get Started

.

Fill the required fields and get into your AiSchedul account. 

On your Dashboard, click on the Add Instagram Account button to add as many accounts as you wish.
Note: Using AiSchedul, you can manage multiple Instagram accounts on your PC. 
After you added the account, click on the

Manage Account

button.
And here we are. You now have full access to AiSchedul scheduling features. You can get the analytics of your posts, make IGTV series, send mass DMs, and even share YouTube videos on your Instagram and do it all from your desktop! So why not create a free account and give it a try?
Wrap Up
Instagram creator studio is a great scheduling tool offered by Facebook. It has many social media management tools to help creators make money from their content using daily analysis. However, creator accounts are public. That's why we also introduced the best third-party alternative to the Instagram creator studio, which is AiSchedul. AiSchedul is also available on your browser. If you had any issues with the statements above, please feel free to call our highly professional support team. They are available and more than willing to help you with your problems.
And be sure to check out more of our blogs: