Instagram is a wonderful space to find friends and communicate with people worldwide and grow followers to promote business. The best part of it is that you can find new followers and customers borderless. However, you might consider how to find people on Instagram who fit your niche.
Of course, to build a brand on Instagram, you can interact with many people out there, but are they relevant to you or your brand's characteristics? Therefore, it is essential to find people on Instagram referring to your niche or industry because you need them to follow you back, which requires a mutual connection. 
This article will guide you on how to find people on Instagram and increase your engagement. So, stay tuned.
How to Find People on Instagram that Might Follow You?
One of the things that increase your engagement rate is to find people on Instagram and grow followers organically. In the following, you will read the tactics and crafts you can cash in on to find someone on Instagram.
1. Follow Your Competitors and Influencers' Followers
If you consider how to find people on Instagram that might follow you, the best and most exciting way is to follow other user's followers. Still, not everyone's!
Therefore, you can find your competitors' followers because they already follow the account in your niche or industry. 
Finding your favorite Instagram influencers is the best option to find someone on Instagram that might follow you. In this case, you can search the influencer's username in the Instagram search bar and follow their followers. 
2. Search Hashtags in Your Niche
Most probably, your potential customers and followers apply the same hashtags you use in your captions. For instance, if you are a jewelry designer, you can search for #jewel, #art, #luxury, #designer, #jewelrydesigner, etc.
Also, you can identify the best Instagram hashtags for followers to find people on Instagram. 
3. Look for Geotags
If you have a local business, an excellent choice for you is to search for local influencers and then follow their followers. Also, you can use Geotags in your posts and easily find someone on Instagram by location. It is a brilliant opportunity to find people on Instagram, so you can discover great places that followers hang around. You can send Instagram messages and build a bond.    
4. Inspect Comments
Reading comments of your competitors or favorite influencers is fun. You can get the idea about your future feed from the followers' point of view because this shows that they like the post and take time to leave a comment. Moreover, you can find your potential followers in the list of comments. 
Also Read: How to Get Comments On Instagram for Free?
5. Find the Instagram user by email
Instagram profile search is a way to find people on Instagram by their email. However, there is no option on the platform that allows you to do that. Although, some users might have added the Email button or written their emails in their profile. On the other hand, Influencers Clubs are a good choice for finding individual and bulk Instagram profiles by email. 
In fact, it is best to apply the CTA button in your Instagram bio using words like "sign-up," "register," and "download" to lead audiences toward your freebie or join them in your captions to get emails.
Keep Reading: Best Free Instagram Profile Analysis Tool to Use in 2021
All the above tactics are brilliant to find people on Instagram but take much time so that a potent third-party app will be your hero! 
How to Find People on Instagram that Might Follow You Quickly
AiGrow is the best Instagram management tool for business marketers to increase their engagement rate on Instagram.
This platform is IG-friendly and helps you add a contact button on Instagram, get comments and likes for each post, get email addresses from Instagram followers, and boost followers.


Utilizing this phenomenal Instagram growth service, you'll get a 7-day free trial, generate email leads using Instagram, and get 8000 likes instantly and from REAL people. 
Therefore, you can enormously inflate your credibility and increase your conversion rate. 
AiGrow, executed with a steadfast Instagram account manager, concentrates on new ways to get followers on Instagram.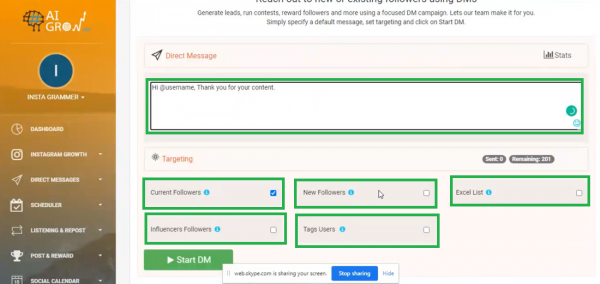 This app will manually plan your content, send mass DMs to your influencers' followers, and engage with followers in your niche. 
Sign up for free like the wind and call on your free trial!
Furthermore, you can get five days of unlimited growth just for $5 to experiment with all its features limitlessly.
FAQs About How to Find People on Instagram 
Now, you know how to find people on Instagram that might follow you. However, some questions might occur in your mind that you can get their answer.
1. How do I find people I might like to follow on Instagram?
Instagrammers can find people they might like to follow in Search and Explore.
To do so:
Tap on the bottom of the Instagram page to go to Search and Explore.

Scroll down to explore posts you might like from the accounts you're not already following.

Select the Instagram search bar at the top to search for people, places, hashtags, and events that interest you.
2. How do you get random people to follow you on Instagram?
On Instagram, random people search for the pictures by the hashtags, so most of the time, it's because of hashtags you use. When you follow certain types of pages, people related to that page also follow you to increase their followers. 
Keep Reading: Why You Get Random Followers on Instagram and How To Stop
3. How do you find people that don't follow you back on Instagram?
Open the Users tab and get access to all Instagram accounts you follow. Tap on "Not followers" and view a list of all users that don't follow you back.
4. What happens when you get 1000 followers on Instagram?
Growth is always a good sign of a successful, promoting account, and once you have 1,000 followers, you can monetize your Instagram and make big bucks. Using AiGrow, you can quickly gain 1000 free Instagram followers trial for real followers.
Final Words
Instagram marketers try to do their best to boost engagement and grow followers on Instagram. Actually, their main goal is to make money and bring the bacon home. However, to find people on Instagram, all Instagrammers need a precise plan to reach their goal quickly and efficiently.