Undoubtedly, the ability to interact with others on Instagram is fantastic for business and pleasure. Also, if you want to contact other users, followers, or customers privately and grow your followers on Instagram, Instagram messages are the best for you. So, if you have ever wanted to learn how to "like" a message on Instagram, then this is the article for you.
As an Instagram marketer, to communicate with your audience more effectively, you need to make most of your DMs and know how to like a message on Instagram and react to them.
So, let's dive in!
You May Like:
How to Like a Message on Instagram
Considering how to like a message on Instagram, go through the following steps:
Go to your Instagram app. In your main Instagram page, tap on the arrow or the paper airplane

in the upper right corner of the screen. If you have unread messages, you will see a red ribbon with a number on top of the icon. 

Tap on the chat you want to see. 

To like the message, double-tap on it. When you like the message, you can double-tap it again to undo the "like." 
Below the Instagram posts and comments, there is a heart icon that you can tap to like that post or comment. Therefore, liking a comment or post is different from how to like a message on Instagram. 
Keep Reading: An Easier Way to Manage Instagram DM Notifications
How to React to Messages on Instagram
Instagram now provides new chat themes, the ability to forward and quote messages, and vanish mode available for both Android and iOS users. Therefore, you need to update your Instagram app and start using them instantly on your phone.
How to React to Messages on Instagram with Emojis
In the following, you will read how to react to messages on Instagram with emojis:
Open the Instagram app.

Go to the Direct Message section and open a conversation.

Select and hold the message that you want to react to.

You will notice a set of emoji reactions on the screen.

Select the emoji that you want.
How to Replace Emoji Reactions 
You can replace the default emoji reactions with your favorite ones by following steps.
Go to an Instagram chat.

Touch and hold the message.

Then, choose and hold the emoji you want to replace.

Please select your favorite emoji & add it to the popup.

Tap on the checkmark or 'Done' button to save changes.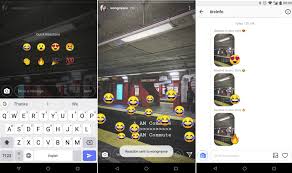 Change the Double-Tap Reaction on Instagram
When you double-tap a message on Instagram, it adds a red heart reaction. Though, you can change it to other emojis you desire.
Select an Instagram chat.

Tap and hold the message.

Touch and hold the heart emoji once the emoji pop-up appears

Then, choose your favorite emoji and press Done.
Unreact to Messages on Instagram
Sometimes, you may react to messages or add an irrelevant reaction accidentally. Therefore, you can touch the emoji below the message and tap the emoji on the next screen to remove the reaction.
Also Read: How to Access DMs on Instagram Online
What Do the Symbols Mean on Instagram Direct Message
If you don't have a clue about the symbols on Instagram direct messages and have been questioning what they imply, read the following tips.
Arrow or Paper Plane icon:

This navigates you to the Instagram Direct Message section.

Camera:

This is the

Instagram Camera feature built with filters to send directly to someone in a message.

Gallery:

You can tap Gallery and select a picture to send.

Microphone:

  You can record a voice message with the Microphone button.

Stickers:

Select Stickers to send GIFs and stickers, like emojis.
How to Send and Like a Message on Instagram Quickly
AiGrow, an All-in-one Instagram management tool, will help you grow and promote your Instagram page manually, so it is precisely according to IG Algorithm, and in a nutshell, it is IG friendly. Therefore, to have a solid relationship with your followers, you'd better send DM to your followers and customers, set an auto-reply, and send it to your selected customers. Additionally, you can see your DM in your emails, and if you check your email, your DM won't get "seen" for your sender. Here are some of AiGrow's features: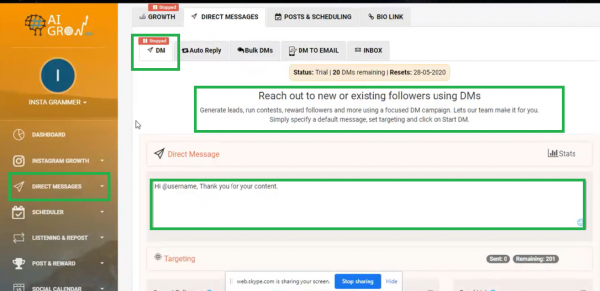 You can sign-up for a free account and test all the features.
FAQs about How to Like a Message on Instagram in 2021
Now, everything is crystal clear about how to like a message on Instagram or react to them. However, there are some common questions that here you can get their answers.
1) Why can't I like my Instagram messages?
Make sure your Instagram app is updated as the recent updates help in finding shortcuts quickly. You can like a message by just double-clicking that.
2) What is the direct message icon on Instagram?
It exists next to the Search icon in the top right corner. So, you can directly change the chat color for each chat window.
Final Words on How to Like a Message on Instagram in 2021
Instagram is a fast-moving social media platform and always looking to design faster ways of interacting. On the other hand, Instagram DM is one of the best methods of communicating with your audience and incredibly powerful in promoting and selling your product. Making most of Instagram features help you build your brand on Instagram strongly.