The 'link in bio' feature on Instagram is crucial for businesses, influencers, and content creators as it provides a way to direct traffic to external websites, blog posts, or products. However, there are times when you may encounter issues and your Instagram link in bio not working as expected.
Instagram's link-in-bio feature allows you to add a clickable URL to your profile. But sometimes, the link in bio Instagram does not function properly and users ask 'Why is the link in my Instagram bio not clickable.'
In such a situation, the link may be visible on your profile, but nothing happens when you click or tap on it. In this article, we are going to give you easy and quick fixes on why the Instagram link in bio not working.
?Note: If you are looking for an ultimate solution for your Instagram link in bio not working correctly, we will introduce you to one of the best IG tools that allows you to add multiple clickable links to your Instagram bio. Then you can get started with Myurls for free and set up multiple links for your Instagram bio.
So, without further ado, let's jump right into the matter.
What Does Link in Bio Mean on Instagram?
What does link in bio mean? As its name implies, the Instagram link in bio is a very helpful feature that allows you to add a clickable link to your Instagram bio. Through the link in bio Instagram, you can take your followers to your website, product page, or another important external page.
It is also a very beneficial feature for Instagram Influencers as it boosts your online visibility and traffic. It also increases the engagement rate and the number of blog visitors.
Additionally, if you use Instagram for business, this Instagram link in bio is essential for driving traffic to your website and increasing your leads and sales from Instagram.
So, when your Instagram links not working properly, it can result in huge losses for you. But don't worry as we are here to help you see why are Instagram links not working and solve the problem.
Continue reading this article to resolve your 'Instagram links not working' issue immediately.
Why Are Instagram Links In Bio Not Working
There might be some possible reasons when an Instagram link not working. It is important to spot the reasons. Because once you detect the reason, fixing links in the Instagram bio not working is no big deal.
Wanna know why the Instagram link in bio not working? Here are some possible reasons why your Instagram link in bio isn't working:
The link in bio service you chose stopped working.
You are not putting the link in the right section.
The link might not be formatted correctly.
Your link is broken or no longer active.
You have not updated your Instagram yet to the latest version.
A bug caused your Instagram link in bio not working.
You utilized redirected links, which Instagram considers harmful or spam.
The link in bio violates Instagram community guidelines and Instagram blocked your link in bio.
You have a full Instagram cache.
It fails to load because of a faulty or poor Internet connection
The characters of the Link in bio exceeded the limit.
You have account violations or limitations.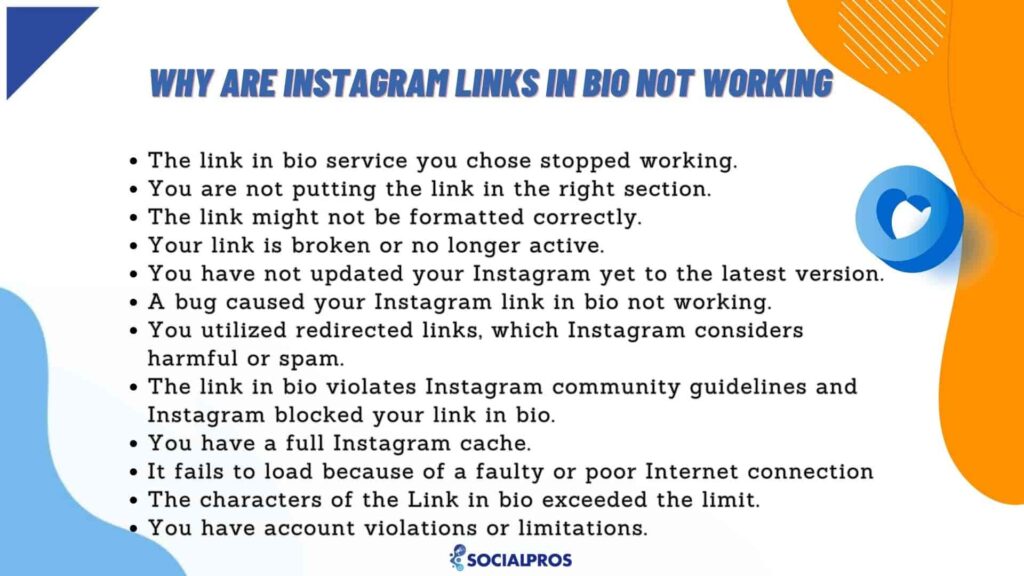 First, we will talk about the possible reasons, then let you know how to fix them. So stay tuned!
Read on our site: 1000 Free Instagram Followers Trial [Are They Real Followers or Fake?]
#1. Link In Bio Service You Chose Stopped Working
Do you use any third-party platform or service to add links in bio other than Instagram itself? If yes, maybe it stopped working. This can be as simple as that. A year ago, Linktree stopped working and did harm many businesses, especially the small ones. Maybe your case is the same.
If you ask 'What can I do if the link in my bio service stoped working?' To be honest, there isn't much you can do about it. However, if you use a reputable link in bio tool and know how to put a link in Instagram bio, you may avoid such issues. We recommend that you select the, MyURLs an appropriate Instagram link in bio service.
#2. Incorrect Format Causes Links Not Working on Instagram
Having the wrong format for your link is one of the most common reasons for why are Instagram links not working. To avoid this problem, ensure that you have entered the full URL, including 'https://' or 'http://' at the beginning. Double-check for any typos or special characters in the link.
#3. Your Instagram Bio link Not Working Because You Did Not Put The Link In The Right Section
Why is the link in my instagram bio not clickable? If you do not put the link in the right section, it will become part of your bio, not a link to be clicked on. Therefore, it can be another possible reason for the Instagram link in bio not working.
Some users just type the link in their bio alongside the rest of their information. When the link does not get blue and no one can click on it, they wonder why the Instagram link in bio not working.
So, you should add your Instagram link in bio to the website field, not the Biofield of your Instagram profile.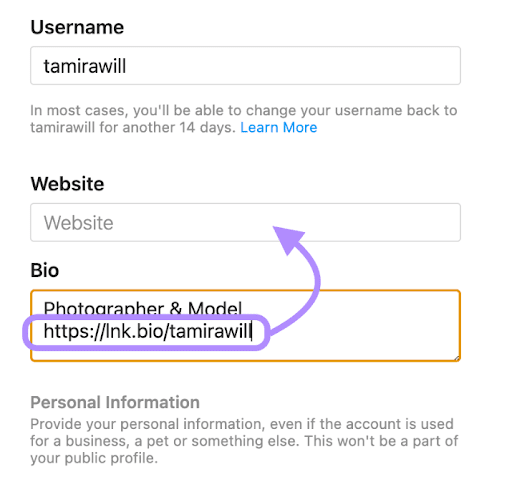 But Where is the right section to put the link in? Here is how to put a link in instagram bio. Ensure that you add your link in bio through these steps;
Open your Instagram mobile app and go to your Instagram profile.
Tap on 'Edit Profile'.
Then tap on 'Add link'
Now you can add the URL of your website.
Finally, tap Done to save your link in bio.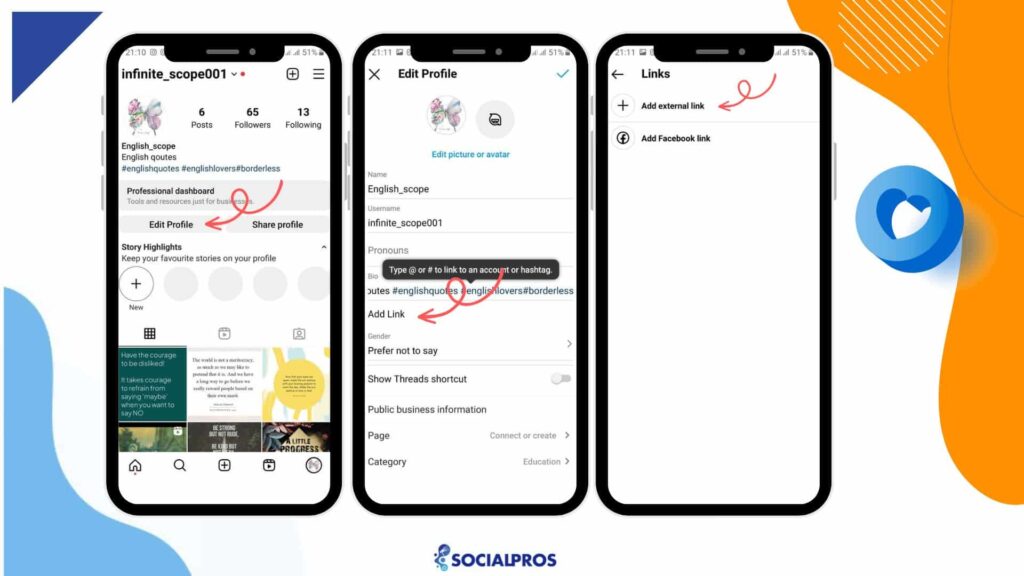 It's all done! Now, your Instagram link in bio will appear below your biography and will be clickable/tappable on both desktops and mobile devices!
On your Instagram bio, you can include up to five clickable links. You can also give each of them a unique title.
#4. Broken or Dead Links Is Why Aren't Links Working on Instagram
Sometimes, Instagram website link in bio not working. If the webpage you are linking to is no longer available or has been moved, your link in bio will not work. Check the linked page's URL to ensure it is still active.
#5. A Bug Caused Your Instagram Link In Bio Not Working
Some users reported that when they click the Instagram link in bio, they get redirected to the Instagram app. That is a bug that causes your Instagram link in bio not working properly.
If this bug belongs to Instagram, just wait a couple of hours. It will work. If it is the app you use to add a link in bio, call the support and let them know. They will fix it for you in a few hours.
#6. Instagram Link In Bio Not Working Because It Fails To Load
Sometimes Instagram link in bio not loading and when you click on them a white page without any content comes up. Chances are that the Instagram link in bio not working due to a poor internet connection. So, make sure the internet is not too slow to load the Instagram link in bio.
#7. Instagram Blocked Your Link In Bio
When you receive the 'Link not allowed' message from Instagram, it means Instagram blocked your link in bio. In fact, Instagram has become quite cautious about the Instagram link in bio. The reason for this is that they see a lot of spam accounts.
In addition to knowing how to put a link in Instagram bio, you should be aware of Instagram's link constraints. For example, Instagram blocks:
Websites that spammers link to in their profiles
Links to websites with explicit content
Links that appear on several accounts within a short period
Shortened links
Fake website names
Domain names using elements or misspellings of Instagram
Links to Snapchat or Telegram. Links to Telegram and Snapchat in user profiles will no longer be permitted by Instagram.
Esty links like shopname.etsy.com. The best option is to use a format that doesn't include the word 'etsy' at all.
What to do if your site isn't spammy, and perhaps it's even been allowed before? In such a situation you may ask why am i getting a 'link not allowed' error on Instagram.
Earlier we mentioned that the Instagram link in bio not working simply because of your WiFi connection to Instagram. To solve this problem, change your IP. If the message still shows up, try other solutions.
#8. Try Facebook Debugger to Fix Your Instagram Links Not Working
If your URL is blocked on Instagram and you know that your link is not spammy or broken, then try Facebook debugger. Facebook Debugger is not intended to fix issues specifically related to Instagram links but it may help users.
Remember that you must have connected your Instagram to Facebook before you try the Facebook debugger. Also, it is a good idea to run your link in bio Instagram through the FB debugger before posting.
#9. Use Myurls As An Ultimate Solution For Your Instagram Link In Bio Not Working
Our top solution for your Instagram link in bio not working is to use Myurls. Myurls is one of the best link in bio tools on the market. Using Myurls you can share a single link to multiple destinations. Additionally, you can customize it to fit your preferences and brand theme.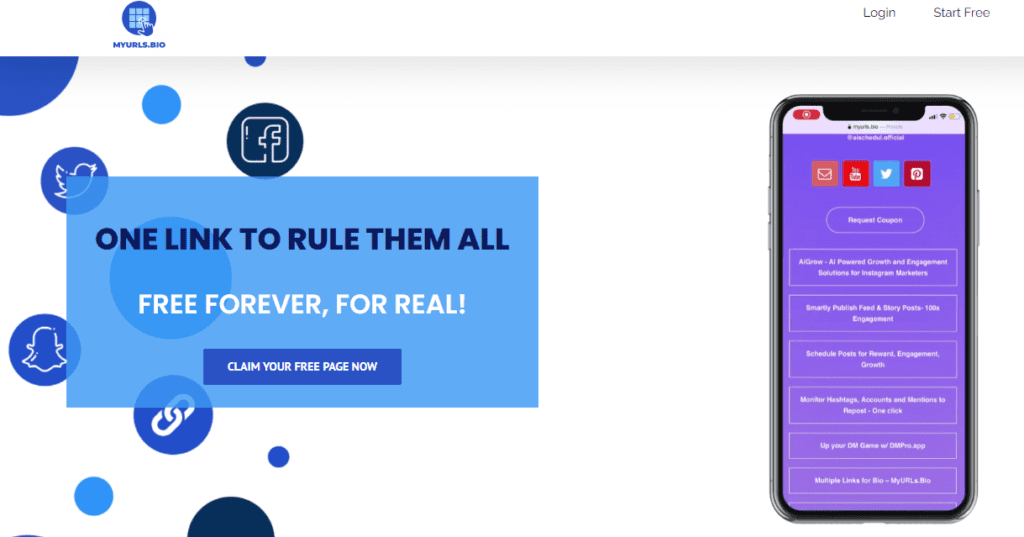 The primary feature of MyURLs is the ability to manage multiple links under one landing page. This means you can list all your important links, such as your website, social media profiles, blog, online store, etc., in one place.
Myurls not only fixes your problem (within its customer support) but also;
Enables you to specify a link to each of your Instagram posts.
It also provides a service to link all your social media accounts.
Furthermore, Myurls lets you lead your followers to turn them into your customer with its feature of 'contact me.' with this feature, you can gather contact information from your followers and run a campaign, and lead them.
You can usually add a profile picture, a short bio, and choose from various themes to make your landing page visually appealing.
Additionally, Myurls may offer link tracking and analytics features, allowing you to monitor the performance of each link. You can see how many clicks each link receives, which can help you gauge the effectiveness of your promotional efforts.
Troubleshooting Instagram Link In Bio Issues
You've already learned why aren't links working on instagram. You will now learn how to troubleshoot when the Instagram link in your bio is not working. So, keep reading because they may answer the majority of your Instagram bio link troubles.
#10. Check Your Internet Connection
A weak or unstable internet connection can interfere with the functionality of your link in bio. Make sure you are connected to a stable network before attempting to troubleshoot.
#11. Clear Your Instagram Cache
Another possible reason for the Instagram link in bio not working is that your Instagram cache on your Android, iOS, or windows device is full. Outdated cache files can cause issues with website loading. So, clear your browser cache and also the Instagram cache on your phone to try accessing the link in bio again.
You must clear the Instagram cache on your iOS or Android devices. If you don't know how to clear your Instagram cache, check out this guide: How To Clear Instagram Cache In 2022 [On Android, iPhone, And Browsers]
#12. Update Instagram App
Have you updated your Instagram? When was the last time you did that? Ensure that you are using the latest version of the Instagram app. Outdated versions may have bugs that affect link functionality. Maybe that is why your Instagram link in bio not working or you can not add a link to your Instagram bio at all.
Try to keep your Instagram updated, especially if you have Instagram for business. Some features like a link in bio feature can level up your income.
#13. Try a Different Browser
Switching to a different browser can help determine if the issue is browser-specific. Try accessing your link in bio through popular browsers like Chrome, Safari, or Firefox.
#14. Disable VPN or Proxy
Virtual private networks (VPNs) or proxies can sometimes cause conflicts with Instagram's servers. Temporarily disable these services and check if the link works.
#15. Reauthorize Third-Party Apps
If you are using any third-party apps or tools to manage your link in bio, try revoking access and reauthorizing them.
#16. Test on Another Device
Verify if the issue persists on another device. This will help identify whether the problem lies with your device or the Instagram app.
How To Fix 'Instagram Link In Bio' Error With The New Facebook Live Chat?
If you have an Instagram business account and you are connected to a Facebook business page, you might want to try this solution if the Instagram link in bio not working properly.
Here are the steps you need to go through:
Visit Facebook business support (facebook.com/business/help) – if you can't find it, search Facebook ads support, and from there, you'll find a link for it.
When you land on the page, click on 'Get Assistance.'
Fill out all the information they ask for, and click on the box to explain your issue in more detail.
It will lead you to a Facebook live chat with a real person who can help you resolve the issue. It may help to fix your link in bio Instagram error too.
Why Instagram Links not Working on IG Stories?
The other frequently asked question is to how fix Instragram links not working on IG Stories. In this case, you'd better try to update your Instagram app.
But if you still have problem with Instagram links not working, try turning off and on your mobile device. If it still doesn't work, it is more likely that you are experiencing a random bug on the app and Instagram will fix it soon.
Pro Tip: To find out if Instagram bugs are causing your Instagram bio links not working, you can search on Twitter to see if others are experiencing the same issue. If you see tons of tweets concerning Instagram bio link not working, you can make sure the app is to blame and Instagram will fix it shortly.
Summary: Instagram Link Not Working
Having your Instagram link in bio not working can be frustrating, but There is always a reason behind it. You can fix your Instagram link in bio as soon as you spot the reason. With the troubleshooting steps outlined in this article, you can identify and resolve the issues.
So, first, detect the problem, sit down to fix it, and rock your business. Always ensure your link adheres to Instagram's guidelines and be cautious with third-party tools to maintain a smooth link in bio experience.
Just have it in mind that whatever the problem is, MyURLs can fix it.
FAQs
In this post, we focused on how to fix the Instagram links not working problem. Throughout the article, we answered many of your questions. We invite you to take a look at the other most frequently asked questions as we attempted to address more related queries on this topic. Ready to begin?
Q1: How Can I Put Links On My Instagram Posts?
With Myurls, there is no limit to where your link can be used. As mentioned earlier, it enables you to specify a link to each of your Instagram posts.
Get started with Myurls for free now to see how it makes it easier for you to link on Instagram.
Q2: How Can I Better Showcase My Brand On My Instagram Bio?
BrandID will help you show the world who you are as a brand. It will help you design a perfect bio for your brand on Instagram.
It is a very easy-to-use design tool that will catch people's attention on your IG page, helping to grow your brand highly professionally on this competitive platform.
Q3: My Link in Bio Was Working Fine, But Now It's Not. What Could be the Reason?
There could be several reasons for this issue. Check your link's format, the page it points to, and your account status for any violations.
Q4: Can Using a URL Shortener Cause Problems with my Link in bio?
Yes, using certain URL shorteners may trigger Instagram's spam filters, leading to disabled links. Stick to reputable URL shorteners if necessary.
Q5: My Link Works On Desktop But Not On The Instagram App. How Do I Fix It?
Try clearing your app cache, updating the Instagram app, or checking your internet connection to resolve this issue.
Q6: Is There A Character Limit For The Link In Bio?
Yes, Instagram imposes a character limit for the link. Ensure your URL doesn't exceed this limit.