Having billions of daily active users, Instagram is a great place to promote your business and run brand awareness campaigns. Right now, most of the business monsters have an Instagram account, selling their products and services through the platform and turning their followers into customers. So, why don't you try to be among them? Don't know where to start? Don't worry; all you need is to use the best Instagram marketing tools. 
Actually, there are some Instagram tools that must belong to your toolkit in order to create eye-catching posts and stories, analyze your performance, and manage your accounts. By the way, a type of tool that should be used to get better results is Instagram marketing tools that will turn you into a professional Instagram marketer. 
In the following, I will introduce the best Instagram marketing tools for different groups and purposes. Using them, you'll definitely get one step closer to your business goals on Instagram. So, stay tuned. 
The Best Instagram Marketing Tools to Grow Organically
Looking for a complete package of tools that enables you to manage your Instagram accounts professionally and get local followers using its features? The following app can be a great choice for you. 
#1 AiGrow – Best Tool to Get Real Results in Instagram Marketing 
One of the best Instagram marketing tools you can find out there is AiGrow. Their platform offers a powerful Instagram management service that allows you to grow your followers, boost your Instagram engagement, and organically grow your Instagram. 

Using this tool, you'll benefit from having AI-powered tools to identify your potential customers, a dedicated Instagram manager that will help you in attracting your target audience, and a great package of management tools including a scheduler, a monitoring app, and an all-in-one Instagram bio URL.
Undoubtedly, this is one of the most complete Instagram management tools you can find over the internet. Additionally, since all actions are done manually by an Instagram marketing expert, you'll not be shadowbanned for exceeding the Instagram daily limits. 
AiGrow Prices:
AiGrow's Instagram marketing packages start at $75/month. It promises you to grow your followers in a short period of time, automate your Instagram direct messages and create you 2-3 posts/week. Plus, you get free access to the scheduler, repost tool, all-in-one bio link, and monitoring tools. 
Best Free Instagram Marketing Tools
If you have just started your business and don't have enough money to promote your startup business on Instagram using professional Instagram marketing tools, here's a free option for you. 
#2 Instagram Business Accounts 
Without any doubt, one of the best tools to manage your Instagram accounts is Instagram itself. Instagram has many amazing features for those who are running business accounts and these features make it to be one of the best Instagram marketing tools for sure.
If you turn your Instagram account into a business one, you will be able to:
And more. Although you will not be able to schedule posts or share content on multiple accounts simultaneously, you can connect your Instagram account to a Facebook page and share your Instagram posts there or vice versa. So, if you are looking for a safe and free tool to manage your business on Instagram, just try Instagram business accounts instead of wasting time on free third-parties that may not work at all. 
The Best Social Media Marketing Tools
Instagram is not the only platform you use to grow your business and looking for a marketing tool to manage all your social media accounts with? Keep on reading!
#3 Buffer
One of the best social media marketing tools to use is Buffer. Buffer can be a scheduling app allowing you to schedule posts to be published on almost all social media platforms such as Instagram, Facebook, Pinterest, etc. Or it can be an analytics tool, letting you analyze your performance on various channels.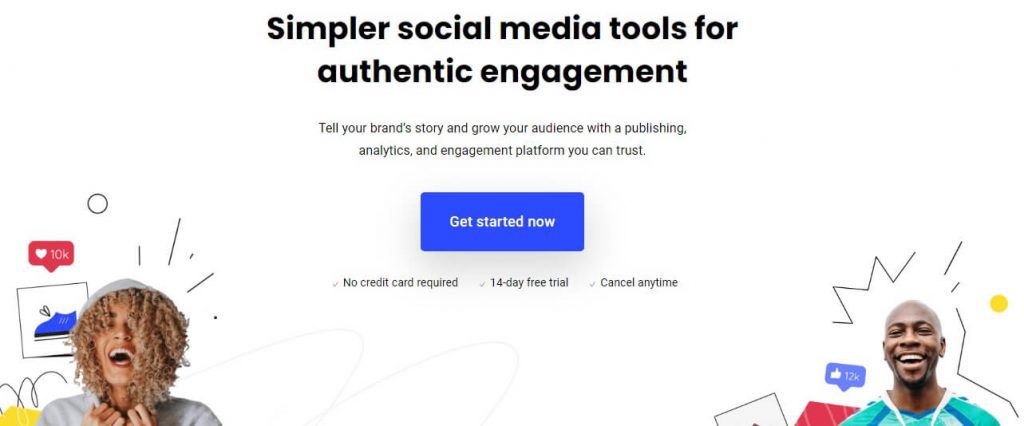 Unfortunately, as a scheduler, this platform works like a reminder for posting on Instagram. Using it, you schedule a time to publish your posts on Instagram. Then, based on the chosen time, Buffer sends you a reminder to avoid forgetting to post. However, for other social media networks, it automatically uploads the content at the scheduled time. By the way, it can be helpful in managing your content strategy on different social media networks from a single place. 
Buffer Prices
Buffer's scheduler is totally free if you want to connect just one social media account. However, if you want to manage more accounts, the prices start from $15/month with a 14-day free trial. As an analyzing tool, the pro packages start from $35/month, letting you analyze up to 8 social media accounts. 
Best Instagram Marketing Tools for Social Media Teams 
Do you have a professional social media team to manage your accounts? If so, the following platform will be one of the best Instagram marketing tools for you. 
#4 Socialinsight – Fast Acting in Instagram Marketing
One of the other platforms that offer many Instagram marketing features is Socialinsight. This platform enables you to schedule posts, manage your Instagram accounts using a PC, analyze your followers, and measure your engagement rate. But what makes it a good choice for social media teams is that you can add your team members to the platform. This way, you can manage your Instagram account without sharing the login information. 
Socialinsight Prices
The Socialimsight prices start from $29/month and a 14-days free trial is also available.
Best Marketing Tools to Run UGC & Influencer Campaigns
If you are looking for a platform to collect UGC content from all over the web, the following app may be a good fit for your marketing strategies. 
#5 Olapic – safe and effective marketing on Instagram
Olapic is a visual content collector that will help you run an effective user-generated content campaign on Instagram. This app collects all UGC videos in real-time and publishes them on your social media channels. Also, analyzing your performance, it predicts which posts will turn to be evergreen posts with more engagement. Apart from this, it is considered to be an influencer marketing platform that discovers the best influencer for your business. It also predicts your performance in case of cooperating with the suggested influencers. So, if you are a fan of word-of-mouth marketing strategy, keep Olapic in mind. 

Final Thoughts
In a nutshell, to guarantee your business success on Instagram, you have to use the best Instagram marketing tools and leverage your strategies to win the marketplace. Here, I introduced 5 of the best Instagram tools for different purposes. Read the article meticulously and make the best choice for your needs. Also, if you know any other tools that might help, feel free to share it with us in the comments.