Thinking about a way to share your thoughts or a short sentence to affect your followers on Instagram? Instagram notes may be what you want! Do you want to poke your friends with a few words but don't know how? Instagram notes ideas can be found here!
Instagram has recently launched a new feature called Instagram Notes. Notes are different from Instagram captions. This feature allows users to share brief notes on Instagram without sharing a post or video.
IG notes are designed for both ordinary and business Instagram accounts. But it may not be available for everyone. You can share up to 60 characters with your followers or close friends using IG Notes, which is accessible on your direct message.
In this article, we will bring you the best Instagram Notes Ideas and how to share a note on Instagram.
The Best Instagram Notes Ideas (A Quick Answer to Whom Are Eager to Start a Conversation)
If you are bored and want to start a sweet and funny conversation with your followers, you can make them speak with you using Instagram leave a note ideas. To do so, you need a little bit of creativity and humor! Here are some Instagram notes ideas for you:
Question of the Day: Post a thought-provoking question and encourage your followers to share their opinions in the DMs.
Fill in the Blank: Create a sentence with a blank space and ask your followers to complete it.
This or That: Present two options and ask your followers to choose their preference.
Daily Gratitude: Post something you're grateful for each day and encourage your followers to do the same.
Would You Rather: Present two difficult choices and ask your followers which one they'd choose and why.
Book/Movie Recommendations: Share your current favorite book or movie and ask for recommendations from your followers.
Fun Facts: Share interesting facts related to a specific topic and ask your followers if they knew these facts.
Motivational Quotes: Share inspiring quotes and ask your followers what motivates them.
Favorite Recipe: Share a recipe you love and ask your followers for their go-to recipes.
Travel Bucket List: Share your dream travel destinations and ask your followers to share theirs.
These are some interesting Instagram note ideas you can inspire. But if you don't know about the notes feature on Instagram or want more ideas for specific topics, keep reading.
What Is Instagram Notes Feature?
IG Notes is a new feature introduced on December 13, 2022. This feature allows you to create short notes and share them with specific people on Instagram. These people can then reply to your notes through messages.
Some believe that notes are a new way of sliding into DMs on Instagram. You can share your note with either your followers or your Close Friends. After you share your note, it will be visible on the Chats list for up to 24 hours and then disappear.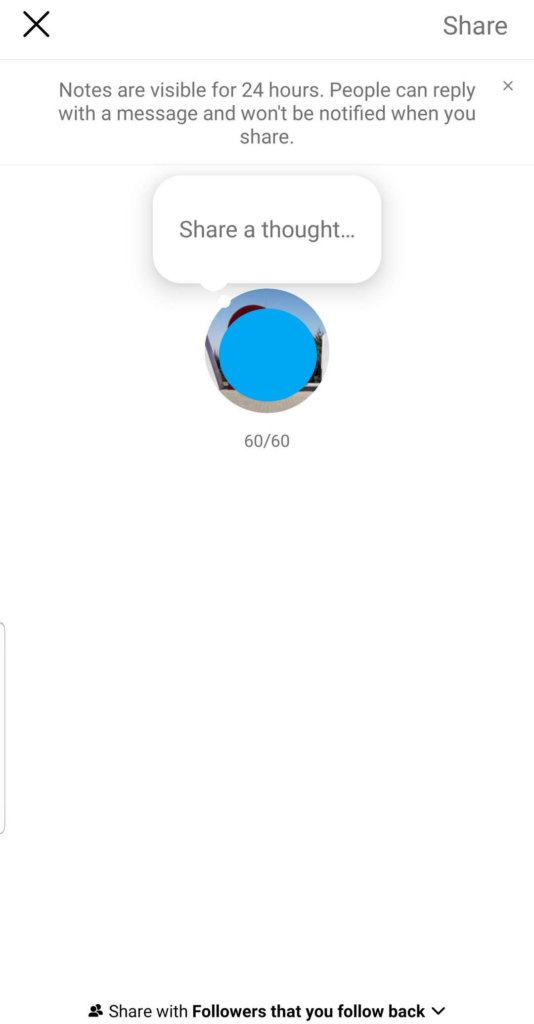 If someone replies to your note, only you and that person will be able to see the conversation. You can leave a new note at any time by tapping 'Leave a new note.' The new IG note will be replaced by the old one. You can mention people in the note you share.
Instagram notes are comparable to WhatsApp's status feature. Since you can only put up to 60 characters on your IG note, try to pick the greatest Instagram notes ideas. Continue reading to learn how to make a note.
Read More on Instagram: 1000 Instagram Followers Free Trial
How To Leave A Note On Instagram?
It's a good idea to share an Instagram note with your friends or Instagram followers with whom you've never had the chance to chat. It's a good idea to leave your offer and any tempting deals if you use Instagram for business and want to sell your goods.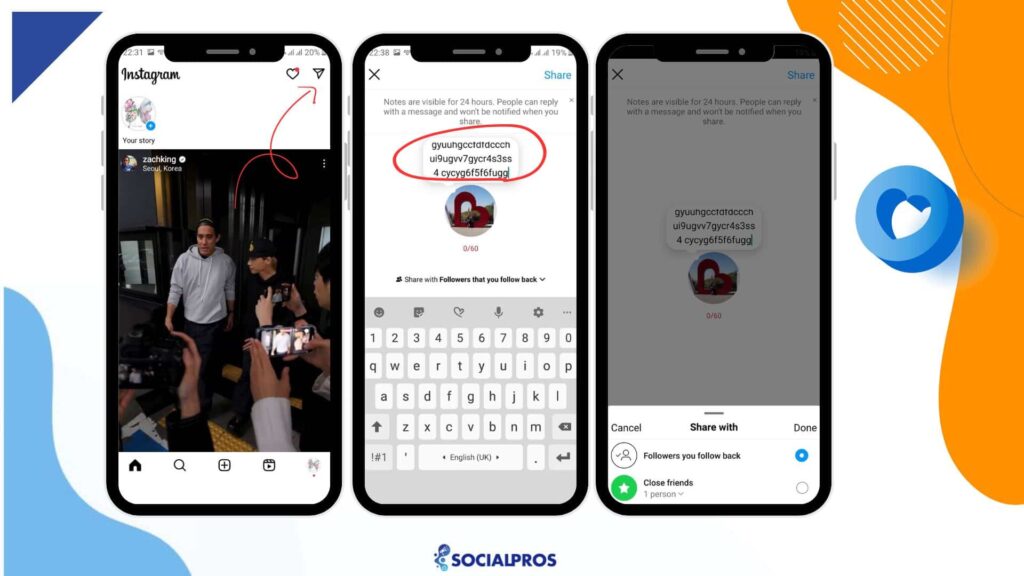 To create Instagram Notes,
First, log in to your account,
Then, go to your Chats list where you receive and send DMs on Instagram,
After that, at the top of your messages, tap your profile picture that includes a '+' sign,
Then, select 'Share a thought' to enter a note of up to 60 characters.
When you click the Notes icon, a pop-up window will appear where you can type in your notes. You can write anything you want in the notes, such as your thoughts, a question, or any other information you think is engaging or interesting. Remember that it must only include 60 characters.
Do you need Instagram Notes Ideas? Continue reading.
Read More on Instagram: Best Instagram Unfollow Apps: Who Unfollowed Me Instagram?
Instagram Notes Ideas
Many people want to use IG notes to make the best impact. But what are some creative ways to use Instagram Notes?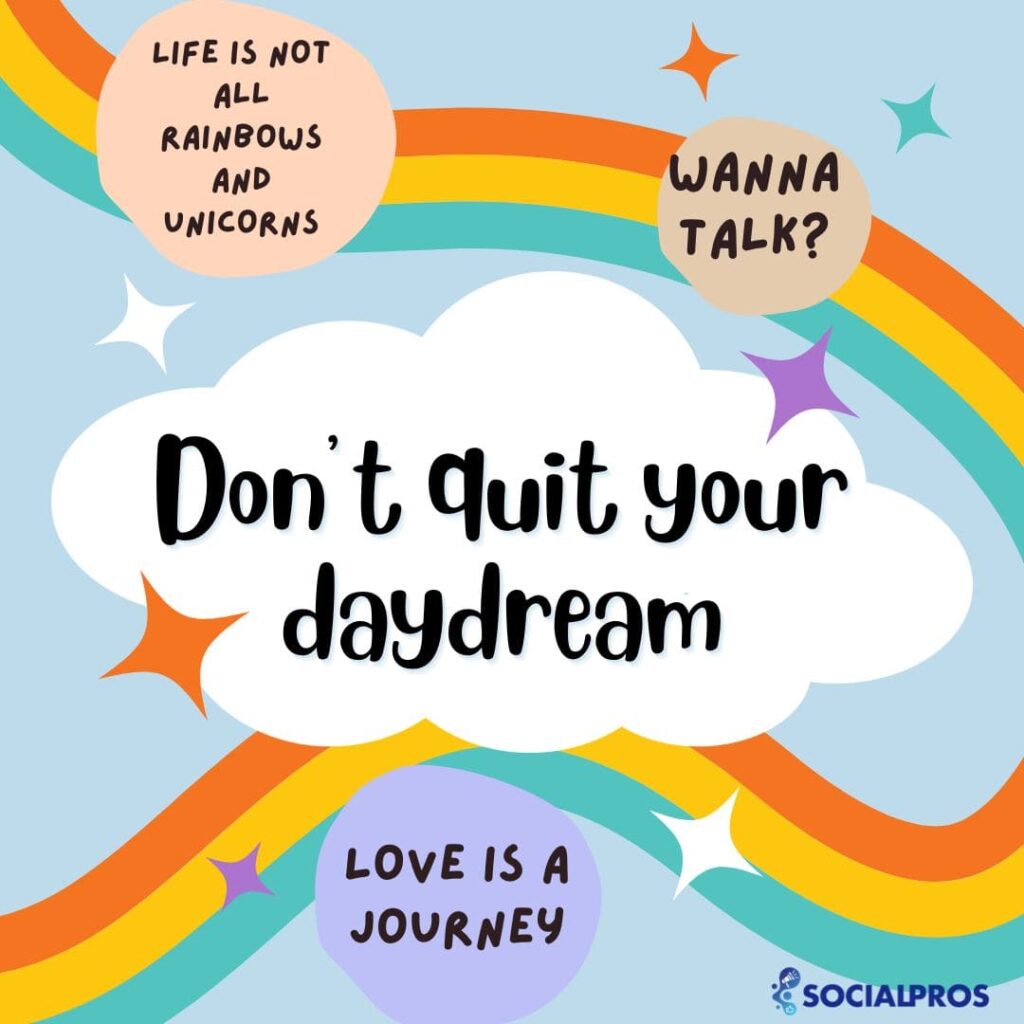 For IG notes, you can:
Request public feedback on a topic.
Ask your followers, 'Tell what you're up to.'
Share your life updates.
Write a joke or wordplay.
Share a meaningful quote.
Share some nonsense words or sentences.
Share your thoughts on a hot topic.
Put just emojis.
Share announcements about special offers and discounts.
Include CTAs asking people to watch your Stories, for example.
Request book recommendations or any other recommendations.
These can give you the best Instagram Notes Ideas, but if you need more ideas or don't know how to play with words and leave an effective note on Instagram, we gathered unique IG Notes ideas here. Hold on tight!
Instagram Notes Ideas For Everyone
Using pre-made notes can be a great way to break the ice and start a conversation with your followers, but it's important to customize them to fit your unique style and personality.
Wanna talk?
Add me to your Close friends (CFS on Instagram)
Anybody awake
Traveling to ….
Anyone from ….?
Movie tonight?
Ask me anything
I prefer gin > beer
On battery-saver mode now
It's 4 am. Why am I still awake?
Netflix suggestions, anyone?
Going live at … tomorrow
I love birds
'I'm on the edge of Glory'
When it comes to using notes or captions on Instagram, it's important to make sure they reflect your personality and values, as well as resonate with your audience. Inspirational notes can be a good idea for everyone to put on IG notes.
Inspirational Instagram Notes Ideas
Inspirational IG notes can be a great idea to put on Instagram, especially if they align with your brand and values. Many people enjoy motivational quotes and messages that help them feel inspired and motivated.
If you want to stimulate your friends and followers on Instagram, inspirational notes are a good idea to share on your IG note. Here are some of them.
Don't quit your daydream.
Dream big.
Follow your heart.
Choose to be happy.
Take a leap.
Make it happen.
Keep going strong.
Trust the process.
Go big or go home.
Be spiritually active.
Believe in yourself and your dreams.
Create a life you love.
Let your light shine bright.
Spread kindness wherever you go.
Embrace the journey, not just the destination.
Stay true to who you are.
Take risks and chase your passions.
Choose happiness every day.
Love yourself first, and everything else falls into line.
Focus on progress, not perfection.
Find joy in the little things.
Life is a gift, cherish every moment.
Be the change you wish to see in the world.
Success is not final, failure is not fatal.
Your only limit is the one you set for yourself.
Posting inspirational notes for Instagram can also help you connect with your followers on a deeper level and create a positive and uplifting atmosphere on your Instagram page.
However, it's important to make sure the inspirational content you post is authentic and genuine. If you truly believe in the messages you're sharing, posting inspirational Instagram notes can be a great idea.
Read More on Instagram: How to Add Music to Instagram Posts, Stories & Reels
Best Quotes For Instagram Notes
Leaving quotes on Instagram can be a good idea, especially if they are relevant to your content and align with your personal values. Quotes can add depth and meaning to your posts, and they can inspire and motivate your followers.
Here are some ideas for quotes for notes on Instagram:
'Be the change you wish to see in the world.' – Mahatma Gandhi
'I have a dream.' – Martin Luther King Jr.
'The only way to do great work is to love what you do.' – Steve Jobs
'The greatest glory in living lies not in never falling, but in rising every time we fall.' – Nelson Mandela
'Not all those who wander are lost.' – J.R.R. Tolkien
'Believe you can and you're halfway there.' – Theodore Roosevelt
'The best way to predict the future is to create it.' – Peter Drucker
'Success is not final, failure is not fatal: it is the courage to continue that counts.' – Winston Churchill
'Life is not all rainbows and unicorns.' – J. Sterling
'Be yourself, everyone else is taken.'
'Dream big and dare to fail.'
'Believe in yourself and all that you are.'
'Life is too short to waste time hating anyone.'
'The best way out is always through.'
'Life is 10% what happens to you and 90% how you react to it.'
'You don't have to be great to start, but you have to start to be great.'
Leaving quotes on Instagram notes can be a good way to add variety and interest to your content and connect with your audience on a deeper level. But if you want to spice up your notes, you can leave Funny Instagram notes and crack your followers up.
Read more on Instagram: The Best Instagram Followers Apps (35 Safe & Free Android & IOS Apps)
Funny Notes To Write On Instagram
If you want to leave humorous notes and engage your audience in a light-hearted way, then funny notes could be a good fit. They may help you connect with your followers and showcase your personality.
Be careful when you follow the masses. Sometimes the M is silent.
If you fall, I will be there. Signed: Floor.
I don't suffer from insanity, I enjoy every minute of it.
I used to be indecisive, but now I'm not sure.
I'm not arguing, I'm just explaining why I'm right.
Can't adult today, I need a nap.
Life is too short for bad coffee.
My hobbies include eating and complaining.
I put the "pro" in procrastination.
I don't always have a witty caption, but when I do, it's on Instagram.
I woke up like this… disheveled and sleepy.
My heart says yes, but my bank account says no.
I'm not lazy, I'm energy efficient.
I need a six-month vacation twice a year.
When life gives you lemons, add vodka.
I'm not weird, I'm a limited edition.
My diet starts tomorrow… as always.
I'm not short, I'm just concentrated awesome.
I'm not ignoring you, I'm just in airplane mode.
My mood depends on how good my hair looks.
I don't always have my life together, but my Instagram does.
Whether or not these notes are a good idea to put on Instagram depends on your personal preferences and the type of content you share on Instagram.
Instagram Note Ideas (Love)
If you have a personal account and you want to share your feelings and love with someone, then love notes can be a good idea. But, if you have a business account or your audience is not interested in personal topics, then it may not be appropriate to post love notes on your Instagram.
Some Instagram notes ideas about love:
You light up my life.
Love is all we need.
Together is a beautiful place.
You're my happy place.
You complete me.
Forever and always.
Love is a journey.
You're my soulmate.
Love is the answer.
I choose you.
Always on my mind.
Love is in the air.
Heart full of love.
Love never dies.
Two hearts, one soul.
In your arms, I'm home.
Love is a sweet journey.
I'm addicted to your love.
Love is a beautiful adventure.
You stole my heart.
My heart beats for you.
You're my forever.
Love is my favorite color.
Love is a magical thing.
Instagram Note Idea (Book Recommendation)
If you're a voracious reader, leave book recommendations to your Instagram Notes. Simply include the book's title, author, and any personal comments you may have regarding the books you own. 'Today's book recommendation,' or 'Read the book,' should come first. The book's title and, if desired, the author's name should come next.
'The Alchemist' by Paulo Coelho
'The Power of Now' by Eckhart Tolle
'To Kill a Mockingbird' by Harper Lee
'The Great Gatsby' by F. Scott Fitzgerald
'The 7 Habits of Highly Effective People' by Stephen R. Covey
'The Catcher in the Rye' by J.D. Salinger
'1984' by George Orwell
'The Art of War' by Sun Tzu
'The Four Agreements' by Don Miguel Ruiz
'The Hitchhiker's Guide to the Galaxy' by Douglas Adams
'The Secret Life of Bees' by Sue Monk Kidd
'Pride and Prejudice' by Jane Austen
'The Lord of the Rings' by J.R.R. Tolkien
'The Girl with the Dragon Tattoo' by Stieg Larsson
'The Hunger Games' by Suzanne Collins
You can also ask a book recommendation from fellow bookworms. So, if you enjoy reading, use Instagram Notes to get book recommendations.
Read more: Influencers Gone Wild: Shocking Tales of Misconduct & Scandal in Influencer Marketing
Notes Ideas For Instagram (Fitness Goals)
If you are a fitness influencer, create fitness-focused Instagram Notes and leave exercise tips and motivational quotes. Use IG notes to stay motivated on your fitness journey.
Some Instagram notes Ideas for fitness are:
Stronger every day
Fit for life
Healthy mind, healthy body
Sweat is magic
Consistency is key
Train like a beast
No pain, no gain
Fitness is a lifestyle
Dedication pays off
Sweat, smile, repeat
Fit and fabulous
Never give up
Push harder, go further
Train insane or remain the same
Strive for progress, not perfection
You can also use Instagram Notes to jot down self-care ideas, mindfulness advice, and motivational affirmations.
Conclusion
In this article, we gathered the best creative Instagram Notes ideas for you. IG Notes is a useful feature that allows users to share their thought and start conversations with their friends. So, get creative and tailor it to your interests, hobbies, and goals.
While using notes or captions on Instagram can be a great tool for engagement and connection, it's important to use them strategically and thoughtfully to make the most impact.
FAQs
1. Why is Instagram Notes useful?
Instagram Notes is useful for several reasons. First, it can be helpful for users who are looking for inspiration or ideas. Second, Instagram Notes is a private feature, which means that only the users you want can see the notes. This makes it a useful tool for users who want to get feedback from specific users.
2. Why can't I see notes on Instagram?
This function does not always work for all accounts, and you may be wondering how to fix the Instagram notes feature not showing/working. First, make sure your Instagram app is up to date. Another reason is that not all locations have this function. You can report the issue to Instagram and request that they resolve it for you.