Businesses use influencer marketing to grow their brands and reach more audiences. So, the best-matched businesses and influencers should find each other to make a beneficial deal.
‌But we all know how this process can be challenging and time-consuming. Klear is one of the top influencer marketing marketplaces and platforms that promises a good solution to this problem. Some years ago, it wasn't an influencer marketplace, but after a while, it became an influencer marketing platform. 
Avigdor brothers are owners of the Klear. In the beginning, the name of the company was Twtrland. It sounds like a horrifying episode of the black mirror! Twtrland was the analytical platform designed to provide more insight into Twitter accounts.
But, when influencer marketing became hot, they branched out into an influencer marketplace named Klear.
Now, let's dive into this influencer marketing platform, its reviews, pros, cons, and alternatives for Klear. However, if you're already familiar with the platform and are looking for the best alternative for it, click on the button below to get started with Ainfluencer; the best free Klear alternative.
What Is Klear
Klear claims to be one of the best Instagram marketing platforms to boost your business engagement. This marketplace promises users to find appropriate influencers to make a deal with them.
When people hear about the Klear app, some of them think it is written like a clear influencer! But it's not correct, it's Klear be careful!

Klear Features
Now you know what Klear is, let's go for its features. Klear has some useful features, including
Influencer discovery tool
Campaign analytics
Demographic information
Social media monitoring tools
Klear guarantees that all of its influencer campaigns are easily managed and they will run in the best way.
What's more, this platform lets Instagram influencers share their content on its website for brand approval.
Klear Review
Whenever you want to buy a service, the best way to find out if it is legit or not is to read all the reviews that users write about the platform.
According to the users' experience with the Klear platform on reliable websites like Capterra, G2, and Trustpilot, lots of reviews have been written about the Klear influencer marketplace.
Let's read about the Klear reviews, pros, and cons.
Users believe that Klear is a good influencer marketplace platform, although, some of them faced problems while using Klear.
Here is Klear influencer platform review.
First, it is supposedly an all-in-one influencer marketing platform.
Rik. V has already used this platform and says that this influencer marketplace is a good influencer service and campaign. However, according to him, the Klear platform is not cost-effective.

Now, let's see what the opinion of Gerald H. is:
He says Klear is very helpful to find the right influencer.

Other verified users in G2 also reported the following feedback about the platform:
Although Klear customers think that the platform has a good search engine for finding micro-influencers, we encountered the following complaints in our extensive research:
Klear has a reasonably limited influencer database.
Moreover, it doesn't have a very detailed search filter.
This platform doesn't give users the contact information of influencers.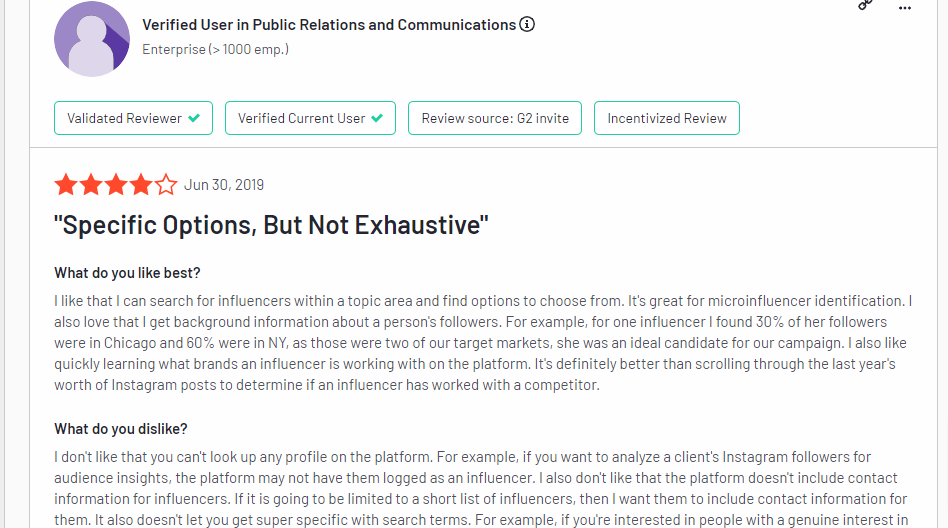 Daniel Rosenfeld has also stated the following negative points concerning the Klear platform:
It has lots of bugs.
Klear doesn't offer good customer service.
This platform has poor management support.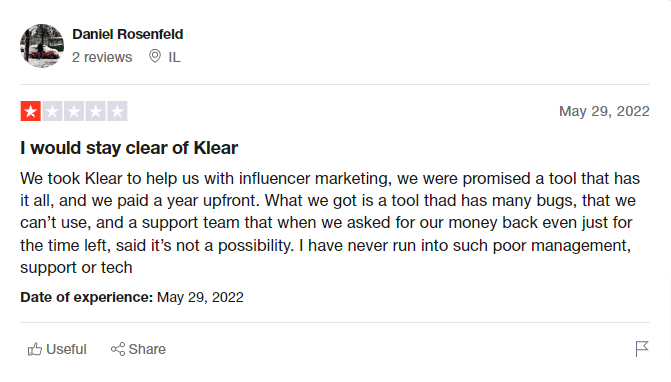 Klear Pros
Users write about the pros of the Klear Influencer marketing platform by mentioning these positive points, including
It is a good resource for marketers.
Klear is helpful to optimize your influencer activities.
This platform runs an effective influencer campaign.
Klear Cons
Based on the research, we are collecting a list of Klear's cons here.
The predetermined category doesn't allow users to add any more detailed search filters, so it is often impossible to find the right match.
Its dashboard is not easy to use. Generally, Klear is not user-friendly.
Finding the right and relevant influencers is not easy on the Klear dashboard.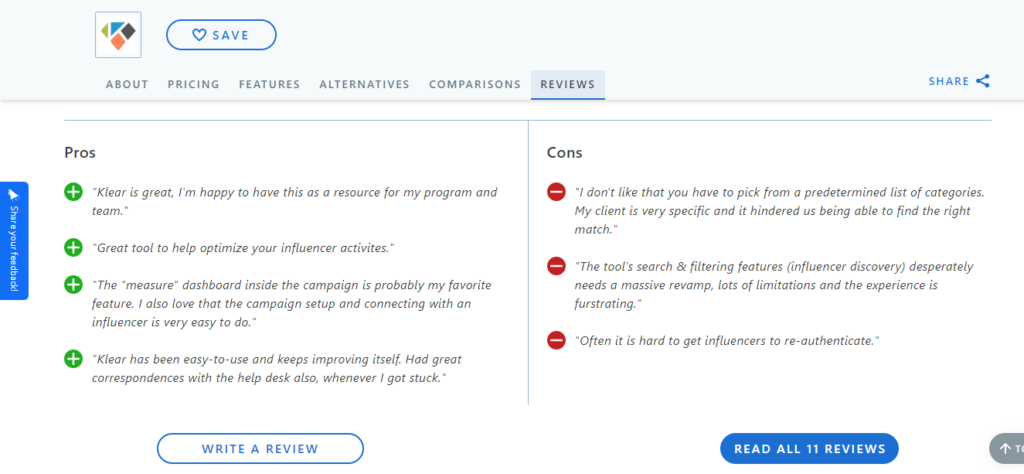 Klear Pricing
Klear does not include details about plans and pricing on its website. The only plan available is custom-built, tailored to each customer or business, and for this service, you're required to schedule a live demo at Klear's pricing page. You're going to have to go to the pricing section of Klear's website and input some info to schedule a demo.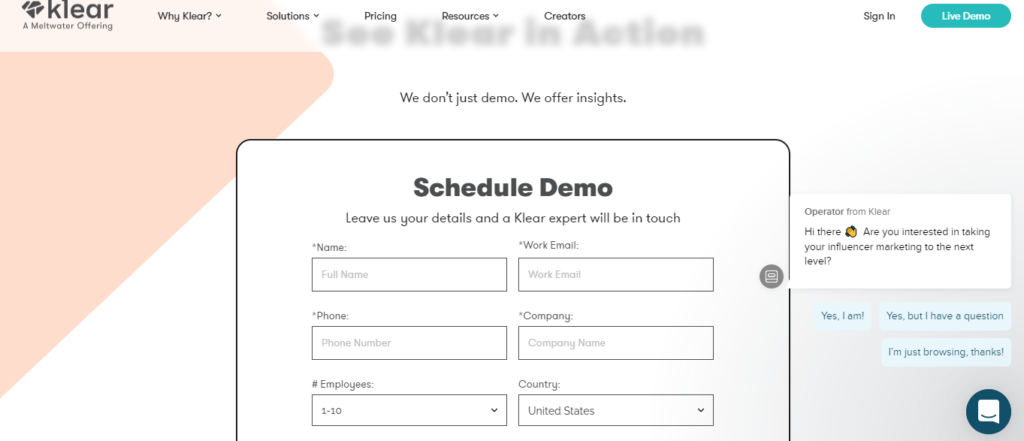 Best Alternative For Klear
If you don't want to use the Klear marketing platform for any reason, you should find out the best alternatives for Klear. We are going to provide you with the best alternatives for Klear, so continue reading to find them.
Ainfluencer
As a brand or an influencer, you need the right channel to find one another and stand out in the fierce competition. Marketing hubs like 'Ainfluencer' have made it much easier to connect with the right brands and influencers.
On the other hand, in terms of growing your Instagram brand and boosting your engagement, the Ainfluencer Instagram marketing platform is the safest, easiest, and fastest one that you can find.

It lets brands connect with over a thousand influencers on Instagram of different types with different niches. Ainfluencer helps small and large businesses to run an influencer campaign.
Let's watch this YouTube video to know more about how Ainfluencer helps businesses.
Also, Ainfluencer helps businesses to pick the right influencer. This strong influencer marketplace provides you with the best and most relevant search filters and one of the biggest databases so you will get the best results.
Ainfluencer Features
Ainfluencer has amazing and beneficial features including
Page audit
Content Library
Custom influencer search filters
Ad content scheduler
Ad campaigns analysis
Built-in chat system for a smart workflow
Ainfluencer Review
let's see what real customers think about Ainfluencer. By the way, if you want to know more about this platform, you can check out our complete Ainfluencer review.
Based on the Trustpilot reviews, most of the people had a great experience using Ainfluencer. As reported by them, Ainfluencer
Offers cost-effective influencer marketing campaigns
Has a safe and secure payment
Is super fast and easy to use
Lets you post personalized offers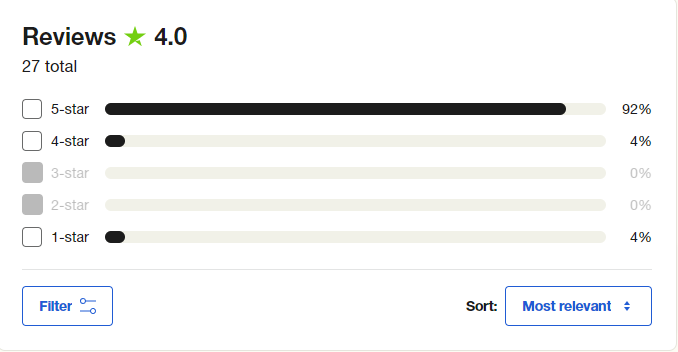 Cyavash N believes that Ainfluencer is the best marketplace for brands to find influencers. In his opinion:
It is a most useful influencer marketplace, safe, and fast.
Runs a great Instagram influencer campaign. Also, it has a great DIY idea.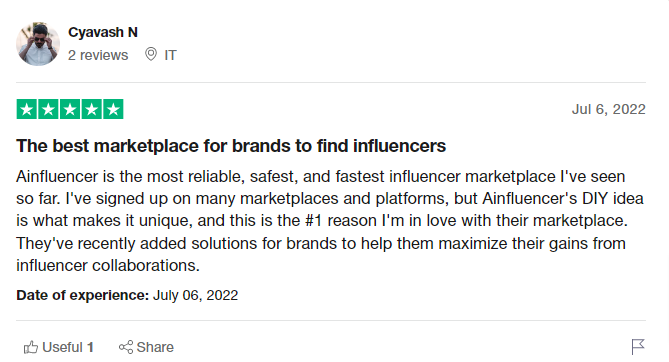 Jorge Uziel used Ainfluencer
Ainfluencer is very fast and easy to use. Also, all of its plans run on time.
Moreover, it is very reliable.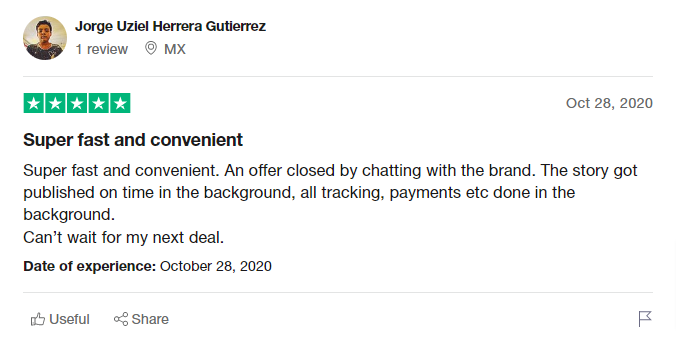 In another review, Setayesh S. said that Ainfluencer is an excellent and safe platform.
"Another advantage of Ainfluencer's platform is that it's beneficial for startups since you do not have to pay unless your ad is successfully published. You have successfully used Ainfluencer, keep up the good work!"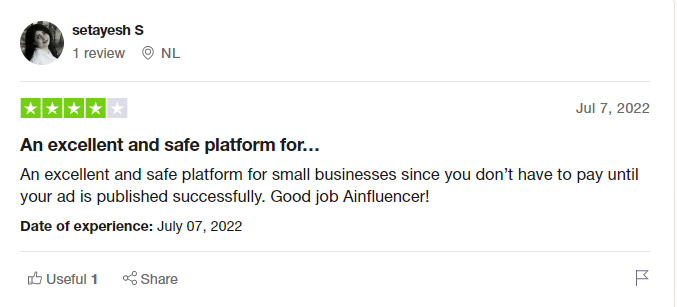 Also, Ainfluencer is the best influencer marketing platform for those brands looking for ambassadors.
Ainfluenecr Pricing
The best option of Ainfluencer is that you can use all of the features that we mentioned earlier for free! This means you can save tons of time on finding your niche influencers and save your money by using this platform for free.
So, save your time and money and, sign up on Ainfluencer now!
Ninja Outreach
Ninja Outreach is one of the other alternatives for Klear. All in all, Ninja Outreach is a good influencer marketplace for Instagram and YouTube.
Honestly, using Ninja Outreach is better for large businesses, because it is an expensive app.

Ninja Outreach Features
Campaign Management
Contact Management
Digital Asset Management
Direct Mail Management
Ninja Outreach Review
So, you know what is Ninja outreach and what its features are, now we are going to provide you with Ninja Outreach's customer reviews.
According to Trustpilot:
This is a high-value influencer marketplace.
On the other hand, there was a problem, and some emails missing.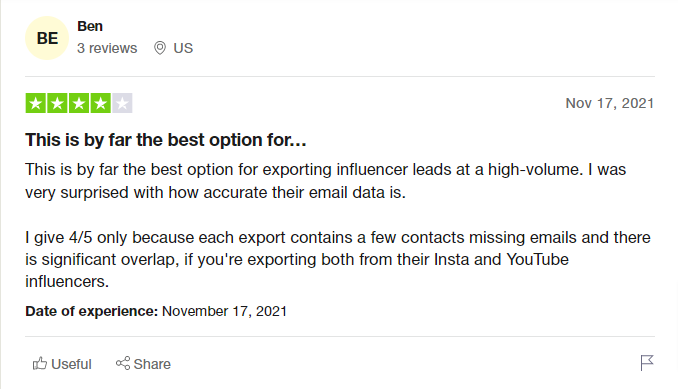 Some of them believe that it is a scam.
Ninja outreach is very expensive.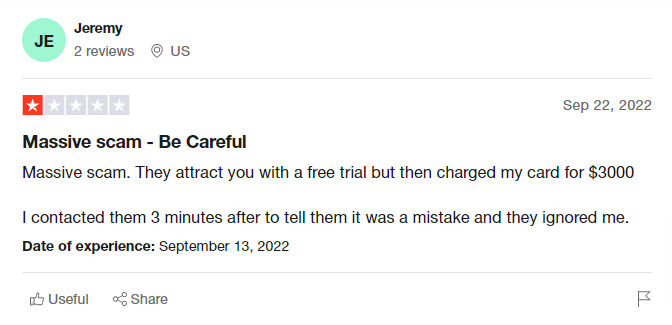 Ninja Outreach Pricing
Ninja has two pricing models, a monthly plan and an annual plan that are divided into 2 plans: Flex and Pro.
The monthly Flex plan is $299 billed per month $119 billed yearly The yearly Pro plan is $499 billed monthly and $199 billed yearly.
Grin
Grin is a new influencer marketing platform that aims to help marketers identify and collaborate with relevant influencers.
The platform has features, such as a search engine that lets you seek out influencers according to their specialty or location.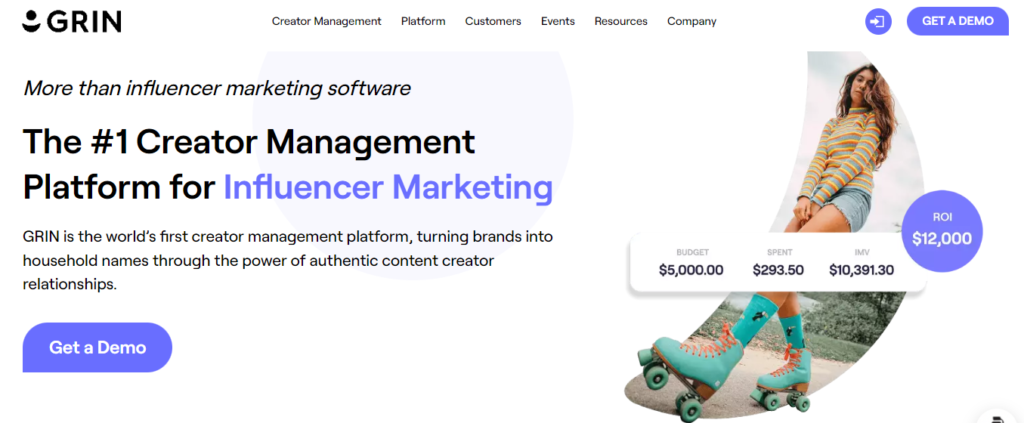 Grin Features
Influencer recruitment and influencer segmentation
Data importing and exporting tools and campaigns
Audience analysis user-generated content (UGC)
Reporting and analytics
Grin Review
Grin has been a big help to my company-managed partnerships, despite the recent update of the software being relatively buggy. However, many of its customers have mentioned these drawbacks in their reviews.
It is better to have one place to view all my campaigns, instead of having to watch them one by one. I'd like to be able to duplicate a duplicate partnership.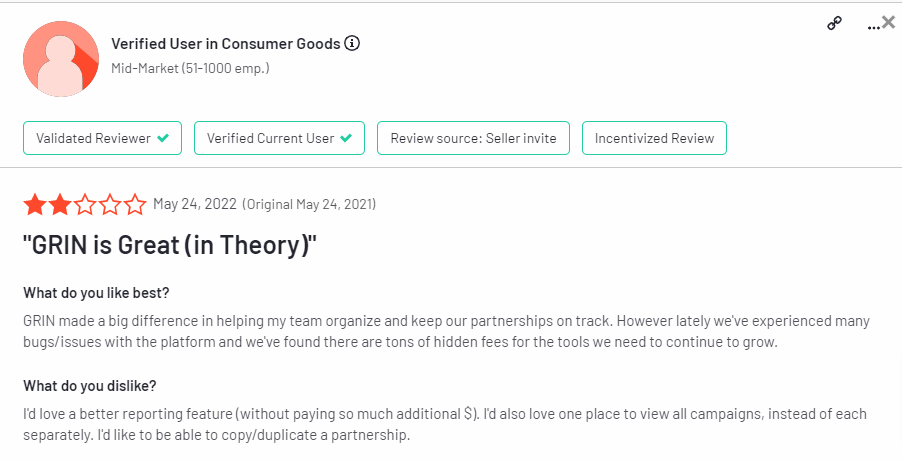 Formative tool, helping to sort out influencers' templates makes it easier to communicate.
Although it is said that, Grin would be fully automated, it's not.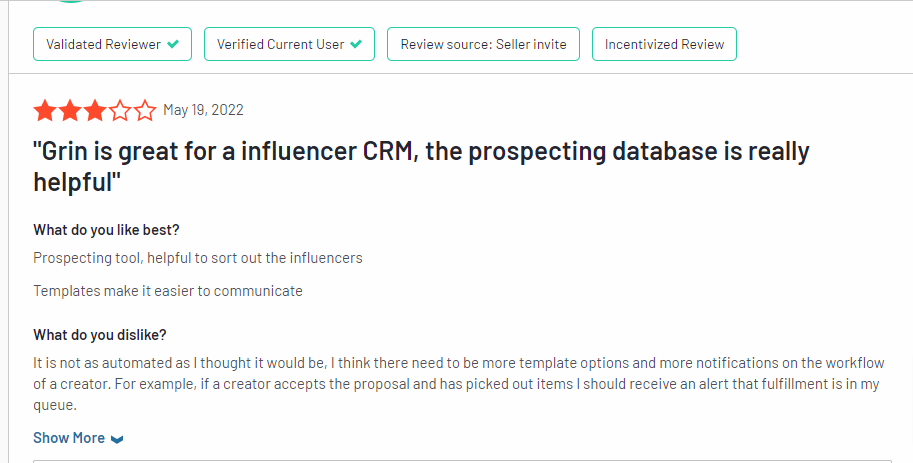 Grin Pricing
Grin doesn't post pricing information on its site. You need to use their demo on their website to find out about their pricing programs and let them know about your business details.
Upfluence
Upfluence is the leading influencer marketing platform for e-commerce and family-run businesses. With Upfluence, brands and companies can find their target market influencers using as many keywords as necessary.
It also covers all the leading social media platforms for finding bloggers and influencers, including Instagram, TikTok, Twitter, Facebook, Twitch, and Pinterest.

Upfluence Feature
Influencer scoring and influencer collaboration
Celebrity analysis Influencer segmentation
User-generated content Influencer
Analytics tools data importing and exporting.
Upfluence Review
To know more about Upfluence customers' experiences, let's take a peek at the overall review rating of this script.
The mailing tool is effective for mass bulks, helping us to contact a huge number of influencers every week.
The Upfluence system doesn't have a sufficient number of creators, so users are forced to continue using it all the time. As far as we're concerned, the Upfluence system has a lot to offer in the domestic marketplace.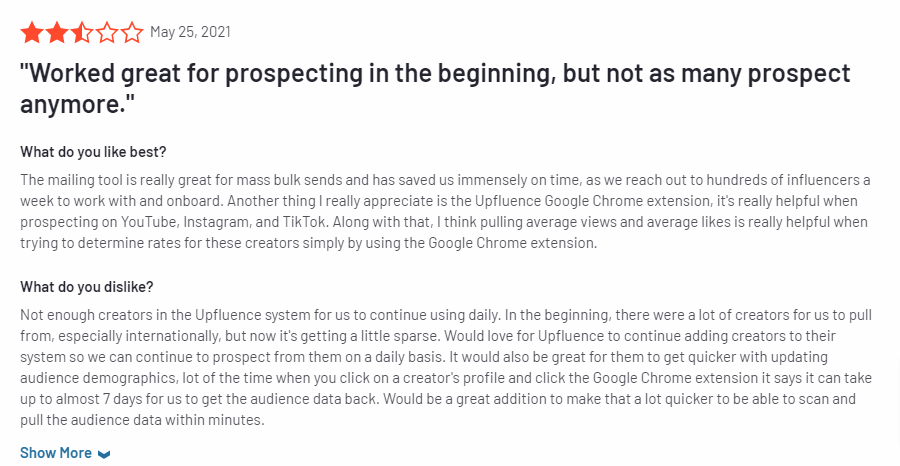 There was an email address available for communication outside of Instagram, it was easy to embed the platform into influencers' profiles to enable them to pull information directly from their profiles.
The search procedure had difficulty authenticating influencers, so we ended up collecting data based on backend metrics during programming. The search function was difficult to locate specific influencers by their handles.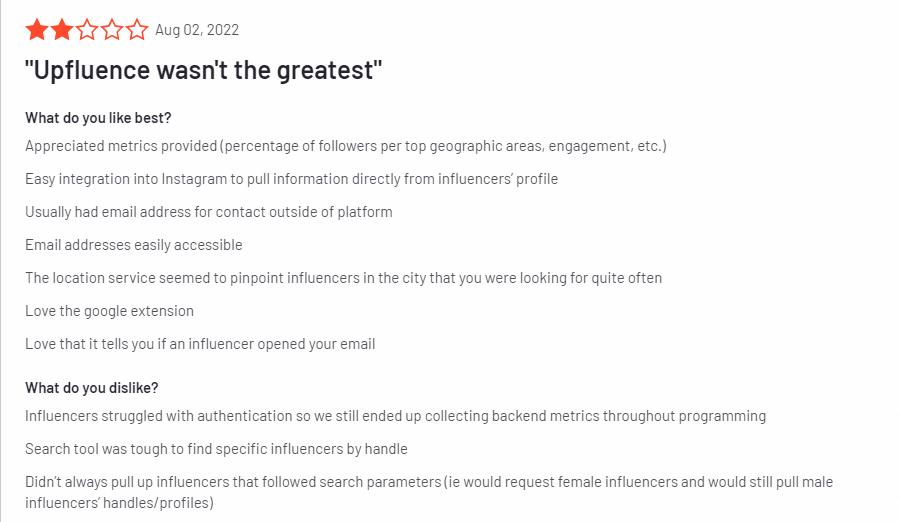 Upfluence Pricing
Upfluence does not provide pricing information on its website. To obtain current prices, contact them on their website, under the pricing tab.
Aspire.Io
Aspire is an influencer marketing platform for e-commerce companies to help them work with influencers, run marketing campaigns, and associate advertisements. With this service, you can identify influencers using relevant keywords, hashtags, and mentions. The last platform included in this information is the list of Klear options for Aspire.io.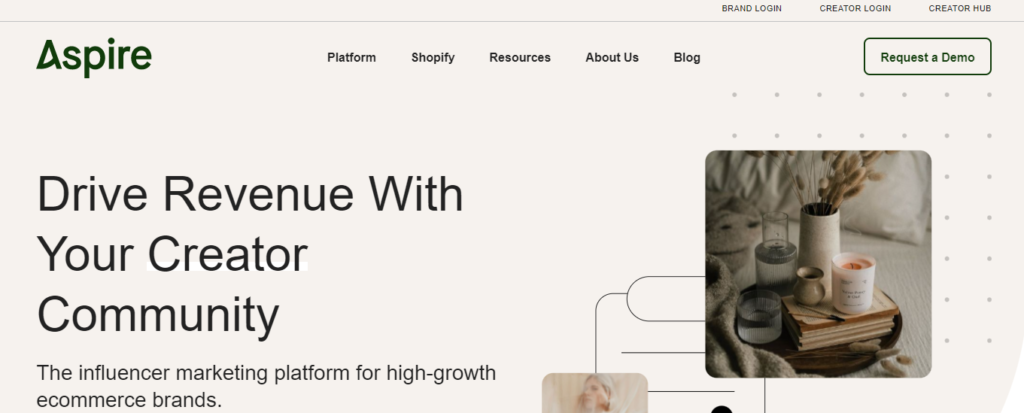 Aspire.io Feature
Here are the unique features provided by Aspire when compared with other platforms we have mentioned.
Influencer discovery and influencer relationship
management campaign management
Contact database analytic tracking content management
Aspire Review
Now, it's Aspire Review's turn, based on the G2 reviews.
Influencers when they're included in different activities based on where you are with your collab get allocated to various phases. This does get a little messy with multiple posts.
Trying to find a specific account on YouTube can be challenging, as is creating a direct link.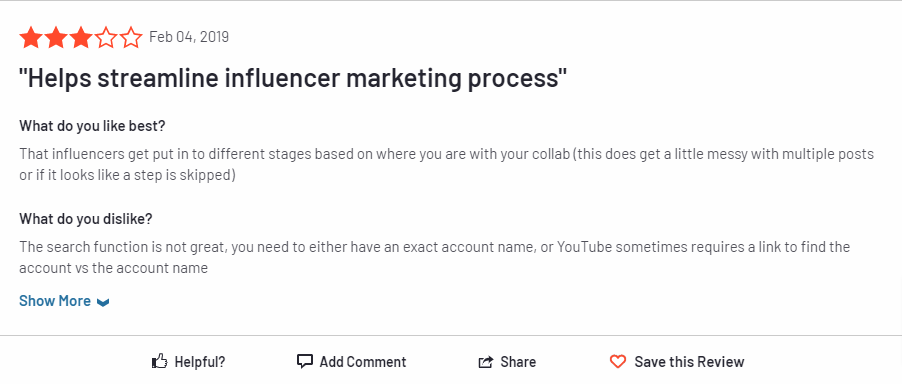 The best thing about the program is that all your documentation, contracts, messages, materials, and data for each influencer are in one location. This is very convenient when working with large groups of influencers.
The client was faced with the problem that finding high-quality creators was a challenging task. This is something that we've witnessed increasingly over the past year. It would also be good to have a more robust contest or analysis competitor.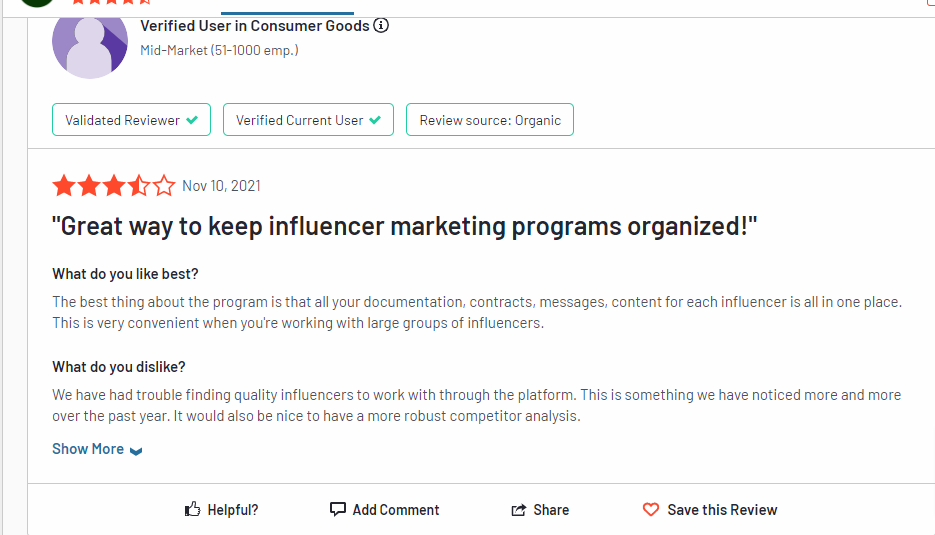 Aspire.io Pricing
This platform does not offer a choice of prices on its website. So to compare it to klear pricing, you need to schedule a time to demo their product through their website. Submit your contact information, and they will contact you with pricing information.
FAQ
Let's read the questions that people also ask about the Klear Instagram marketplace.
#1. How Much Does Klear Cost?
It's challenging to find pricing information on the website; therefore, you should contact them via email. The basic pricing structure begins at $249 monthly.
#2. How Many Influencers Are On Klear?
Klear has around 200 million social media profiles and over 60,000 categories.
#3. How Is Klear?
Klear is one of the influencer marketing platforms with millions of influencers. Because it's expensive, you can use other alternatives with lower costs like Ainfluencer.
Conclusion
Overall, among influencer marketing tools accessible online today, Klear is one of them, and we discussed every aspect of it.
By starting your online empire on the right foot at minimal risk factors, effort, and time, you should be well-known on social media. Also, you need to be cognizant of what platform will be there for you from start to end.
Ideally, you should thoroughly examine the reviews and features of each tool to make an intelligent option. Based on what we discussed in this article, Ainfluencer stands out quite well in comparison to other alternatives as a smart, dependable influencer marketing platform.