One of the best ways to learn more about getting more Instagram followers is to look at the most followed Instagram accounts. The actual Instagram account reigns supreme, but after it, there is a mixture of celebrities taking up the top 25 spots on the platform.
I've already covered most followed non-celebrity Instagram accounts, most followed fashion Instagram accounts, and even the most popular food Instagram accounts. Now, I'm going to cover the most popular pages on Instagram based on the number of followers. Take a look at these top Instagram pages. Here's an infographic to cast a glance: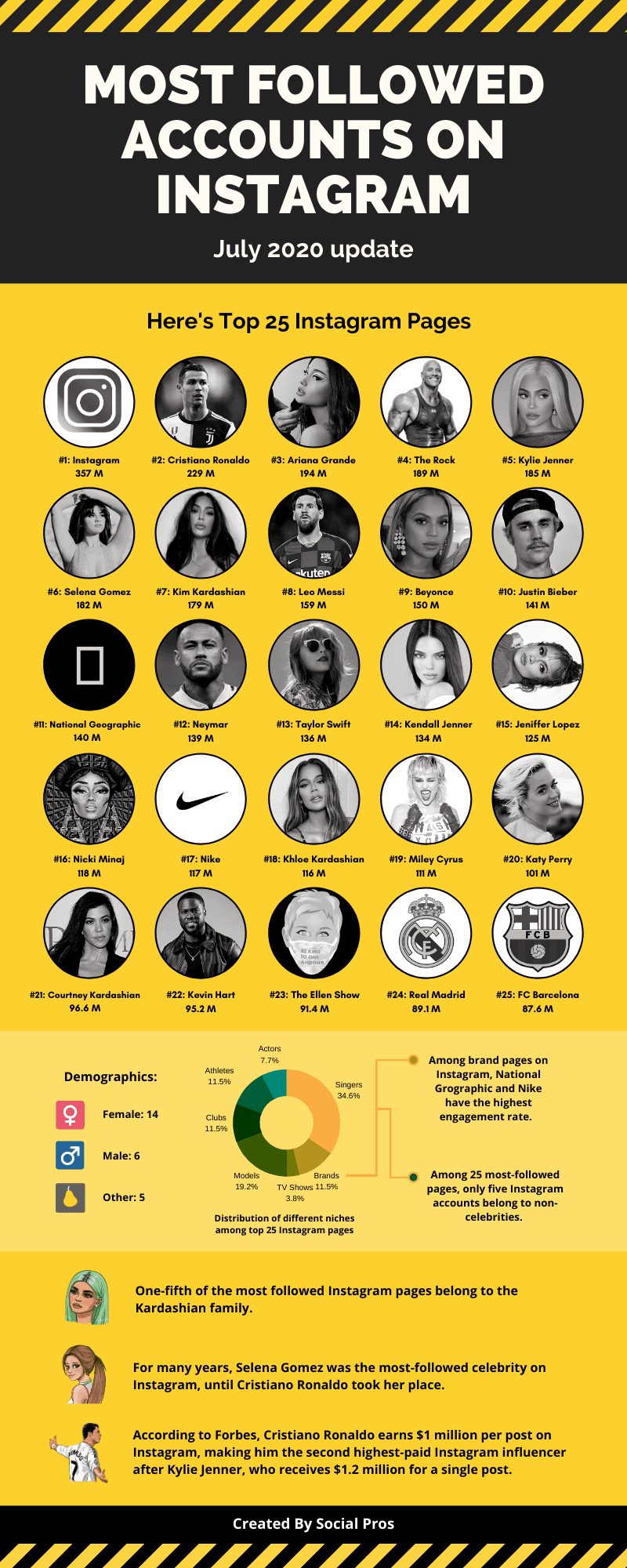 Most Followed Accounts on Instagram
Here are the top 25 accounts on Instagram:
1- Instagram – 357M Followers

The most followed page on the platform doesn't belong to a celebrity; the official account of Instagram has stayed at the top of the list for a very long time. Perhaps it's safe to say that @instagarm is the largest community that shares user-generated content on Instagram.
It publishes a variety of contents of celebrities with millions of followers (whom you are about to read about in the following) and also unknown artists. Their works are like hidden gems discovered by other Instagrammers when they get featured on an Instagram page.

This page covers weird trends on Instagram as well. Every week, Instagram shares different stories all over the globe. You can test your chance using hashtags like #ThisWeekOnInstagram, #HelloFrom, and #WeeklyFluff to be featured by the most followed page on Instagram.
https://www.instagram.com/p/CCq1D_cMYMF/?utm_source=ig_web_copy_link

Having more than 229 million followers, the legendary footballer Cristiano Ronaldo holds the second place on the list of most-followed accounts on Instagram. Just like his professional life, he's the number one mega-influencer on the platform and earns nearly $1 million per post.
Although, it's worth mentioning that CR7 is not the highest-paid influencer. Want to know who is the most expensive celebrity influencer? Read the following, and you'll find out soon.
https://www.instagram.com/p/CBfyEClDLD8/?utm_source=ig_web_copy_link

The famous pop star, Ariana Grande, finally took the place from Selena Gomez and became the most followed singer on the platform. Ariana publishes many selfies and behind the scene videos and photos, keeping her fans updated about her latest work.
https://www.instagram.com/p/CAtQOJVFoVY/?utm_source=ig_web_copy_link
4- The Rock – 189M Followers

Here comes The Rock! With over 189 million followers, the favorite actor, athlete, and singer really rock it on Instagram. The Rock's page is filled with regrammed videos of his fans in the gym or himself, revealing how to be a great wrestler.
Following The Rock's Insta is both fun and great for those who want to know how to become a fitness influencer on Instagram and make money.
https://www.instagram.com/p/CCEKdtnlswj/?utm_source=ig_web_copy_link

Remember when I told you CR7 is not the highest-paid influencer? Well, here she is. Kylie Jenner receives $1.2 million per post, making her one of the youngest billionaires in the USA. Kylie runs a cosmetics brand, "@kyliecosmetic," and shares many photos of herself and her family who are also in this list.
View this post on Instagram

Once, Kylie held the record of the most liked picture on Instagram (18 million) for her post in which she announced the arrival of her baby girl, stormy. However, in a month, the record was broken by an egg known as the "Instagram egg." This egg's selfie now has more than 54.4 million likes!

For many years, Selena Gomez held the second position in the list of most-followed Instagram accounts. But after she suddenly reduced her activity on the platform, she fell behind competitors. Just like other mega-influencers on this list, Selena works with major brands such as Puma. She also has her own line of beauty products called "Rare."

Related article: How Selena Gomez Become the Most Followed Person On Instagram

The second member of the Kardashian-Jenner family on our list is Kim Kardashian. Just like her sister, Kim's page is filled with selfies and family photos and the promotional posts of her clothing products, @skims.
View this post on Instagram
8- Leo Messi – 159M Followers

With almost 70 million fewer followers than his traditional competitor, FCB's superstar Leo Messi holds the eighth position. Follow Leo to watch videos of his magical moves in matches and training.
View this post on Instagram
9- Beyonce – 150M Followers

Currently, Queen B has more than 150 million on Instagram. Beyonce collaborates with many brands such as Adidas, and she even promotes her IVY PARK line on the platform, which is a sub-brand of Adidas.
View this post on Instagram

Over 141 million beliebers follow JB on the platform. The pop star regularly shares photos of his wife, his baby sister, and his favorite hockey team!

After Instagram, National Geographic is the most-followed non-celebrity page on the platform. National Geographic has several other sub-pages such as National Geographic Travel, National Geographic Wild, which are also very popular.
National Geographics welcomes user-generated content. If you are a photographer, you can use their hashtags and get featured on one of their pages.
12- Neymar – 139M Followers

Neymar Junior is another football player on the list of most-followed Instagram accounts. This Brazilian star shares funny videos of himself and other teammates.
View this post on Instagram

With her stunning videos and a variety of entertaining content, Taylor Swift is one of the best music influencers on Instagram. No wonder Tay Tay has over 136 million followers, making her the 13th (her favorite number!) person on the list.
View this post on Instagram

The Victoria Secret angel, Kendall Jenner is another Kardashian-Jenner on the list. Kendall has more than 134 million followers and partners up with many brands for paid posts.
View this post on Instagram

JLO shares posts while she is dancing, working out, and of course, singing. Also, she's a big fan of staying updated on the community and tries the latest Instagram challenges!

Nicki Minaj, or as she calls herself "Barbie," is the first rapper on our list with over 118 million followers!
View this post on Instagram
17 – Nike – 117M Followers

With almost 117 million followers, another great brand on Instagram is Nike! Just like National Geographic, Nike has several subpages that also do a great job of engaging with followers.

Yes, another Kardashian on the list. The media personality Khloe Kardashian ranks 18th in the list.
View this post on Instagram

Miley shows off her £1m insured tongue in many of her Instagram posts. She currently has 111 million followers.
View this post on Instagram
20- Katy Perry – 101M Followers

Katy Perry spreads lights and joy to her 101 million fans by sharing funny and entertaining content!

Instagram can't get enough of Kardashians. Kourtney Kardashian is the fifth member of the Kardashian-Jenner family on the list!
View this post on Instagram
22- Kevin Hart – 95.2M Followers

Finally another actor! Just like his movies, Kevin Hart makes you laugh on Instagram too.

Keep up with the latest news and clips of the popular Ellen Show, on her Instagram page! This is the only TV show on the top 25 most-followed accounts on Instagram!

See a galaxy of stars on Real Madrid C.F. and enjoy keeping up with your favorite football club.
View this post on Instagram

Just like La Liga, FCB and Real Madrid have their own close competition on Instagram to be the first popular club. FCB only has two million fewer followers than its traditional rival.
https://www.instagram.com/p/CCQSrXtKalL/?utm_source=ig_web_copy_link
How to get famous on Instagram and be among the most followed Instagram accounts?
Being among the most followed Instagram accounts is a tough job. Not everyone has the budget or the fame of these people or brands. Still, this is not an impossible job! There are many Instagrammers such as Nusr-et,  Amanda Cerny, and Zach King, who managed to get millions of followers and became public figures! You can be one of these Instagrammers too! But remember, this is not going to be a comfortable journey. However, if you take the right way, it's going to be more promising for you!
A great way to start is to use Instagram managing tools such as AiGrow that will boost your engagement and get you real and engaged followers. Let's take a closer look:
AiGrow: A great tool to become well-known

As mentioned above, AiGrow is an Instagram managing tool that will take care of your promotional activities on Instagram. If you want to get famous, you probably don't have enough time to handle your Instagram account. Why? Because it's a full-time job! You may not be familiar with content creating for Instagram marketing strategies or using popular hashtags to get famous on Instagram. That's why you need to use a safe Instagram growth hacking app.
Don't get me wrong; I'm not talking about Instagram bots. In AiGrow, all of your page's promotional activities are done by a human expert who acts as your Instagram virtual assistant. As these assistants are professionals in Instagram marketing and know exactly how the Instagram algorithm works, your account won't get banned because of crossing Instagram's daily limits or breaking copyright rules such as not giving photo credit on Instagram properly.

Moreover, AiGrow has many other promotional tools such as a comprehensive scheduler (with the ability to add external links to Instagram Stories and posts), a Social Calendar, and DM to email, which come free if you purchase VIP or Pro Managed Instagram marketing packages. To see all the features of this great app, sign up for AiGrow for free!
Conclusion on most-followed Instagram accounts
No matter if you have one follower or 1,000 followers on Instagram, you can increase your engagement on Instagram and become a most-followed account. It's a dream for every Instagrammer, but only a few are brave enough to follow their dreams.