Note: Not interested in the details and want to start a new experience on Instagram? Click the button below.
[maxbutton id="30″ ]
As you might know, Instagram is an application that is created to be used on your smartphones. So, Instagram is not designed for users to take full advantage of the features available when working with it on their computer.
Therefore, when you try to use Instagram on your computer, the only thing that you can do is scrolling through your newsfeed and checking your notifications.
But a lot of users work from their desktop computers most of the day, and this is where the right Instagram online web viewer will provide a much more productive Instagram experience.
Here we are going to compare two perfect Instagram viewers, Picdeer and Picbear. And finally, in the end, we will introduce you to a better Instagram online web viewer with more features.
Picdeer
One of the best Instagram online viewers is Picdeer. Picdeer is a free service that allows you to browse and download Instagram public content. You can also share Instagram posts on your favorite social networks. This platform is so simple and convenient.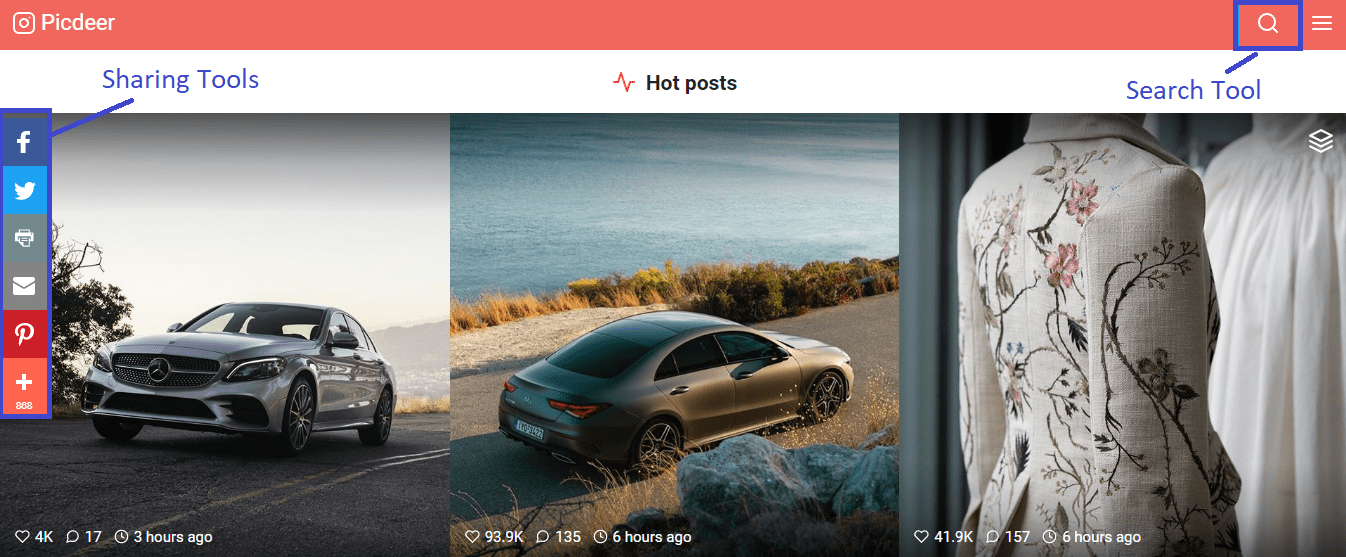 Picdeer Review
The website is only 1 Year and 4 Days old. However, it is a very young website, but it is deemed to be popular by Alexa with 10944. Having a high ranking in Alexa is a good sign. Not only does the website have a lot of visitors. Also, several other websites link to this site, meaning that it is considered relevant by others.
This platform received a trust score of 100% from the Scamadviser website, which means you can be sure that this site is legit and trustworthy.
How does Picdeer work?
Working with this platform is very easy and quick. On the home page, you can find some of the hottest posts on Instagram. If you are looking for a specific hashtag or post, you can use its search tool on the right above side. Also, you can share any post you want on your favorite social network by the bar located on the left side. Downloading posts are also available on this platform.
Picbear
Picbear is an Instagram Online Viewer that can easily browse users, location, stories, followers, hashtags, popular content, and statistics. Not only does Picbear help you monitor your Instagram account engagement, but it also allows you to organize your followers into individual lists. This will help you to sift through their posts and find fascinating insights.

Picbear Review
The website is only 235 Days days old. This can be considered very young. This website isn't as popular as Picdeer by Alexa. But, still, it is one of the best Instagram online viewers out there.
This platform received a trust score of 95% from the Scamadviser website, which indicates the site is safe for shopping and leaving your data.
How does Picbear work?
Working with this platform is easy too. You can see different Instagram listings such as Instagram feeds by hashtags and popular Instagram accounts on the home page. You can always look for what you are specifically looking for by the search bar on the home page and also share whatever you want by the sharing tool located on the left side. You can also download any post you like by Picbear.
Are There Any Better Instagram Web Viewers?
Actually, "Yes." It is named AiGrow. It's a simple Google Chrome Extension that provides you with an amazing Instagram experience nearly identical to Instagram on your mobile. They have an extra feature called "AiSchedul." It's an Intelligent story and feed scheduler designed for maximum engagement and minimal effort. This feature can help you upload your photos straight from your desktop in the same way you do on your smartphone. 
In terms of security, the platform has is so strong which uses a direct connection to Instagram to protect your account and keep your login details secure.
Do you know any other Instagram web viewers? drop us a comment below 😉