Why won't Instagram let me like posts? If you are asking this, then don't panic! This is a typical question for many Instagrammers. You may have received a message, "We restrict certain activities to protect our community." This shows that Instagram action blocked you.
Sometimes Instagram blocks users from specific actions such as liking photos, leaving comments, and following accounts. Instagram bans or action blocks users to prevent using Instagram bots or spamming. However, this happens to many clean users that unintentionally crossed the Instagram lines. To know why this exactly happened and find a way to get rid of it, keep reading!
You May Like:
Why Won't Instagram Let Me Like Posts?
Instagram will not always clarify the reason you can't like on Instagram. It can happen to any user, so you don't have to panic. However, there are some significant reasons that you can't like on Instagram:
1. Why Won't Instagram Let Me Like Posts? Because of Using Instagram Bots 
If you have hired an Instagram bot to like pictures and comments, this is a natural reaction of the platform. So, if you ask, 'Why can't I like anything on Instagram?', that is because Instagram hates Autobots, and it catches you red-handed. Actually, Instagram bots violate Instagram terms of use. Consequently, Instagram blocks you from liking.
2. You Can't Like on Instagram for Crossing Instagram Daily Limits 
Yes, Instagram's daily limits exist! If you like and comment on many posts rapidly and without considering these limits, you have acted like an Instagram Automation tool. If you exceed it, you have violated Instagram policies unintentionally.
These behaviors may cause Instagram to block you from liking:
Liking images too fast

Commenting on photos too fast 

Following/Unfollowing too many people in a short time

Sending bulk DM's in a short time to multiple users
Therefore, Instagram will assume that you are a spammer and will block your actions. 
3. Instagram Won't Let Me Like Posts By Mistake
In some rare cases, Instagram blocked you from liking accidentally. You may say I don't use bots, don't do any scammy stuff, or violate rules. Then why can't I like anything on Instagram? 
Sometimes, the only problem was that it'd been a long time you logged in. So, you have been "Temporarily Like Blocked." 
How to Fix If Instagram Blocked From Liking
Instagram may block you from liking for a few hours, but this time can be extended to days. The most common mistake someone can make in this situation is to force its actions on Instagram. This can only make your case worse.
Therefore, ensure to read all the below solutions to adopt the one that better suits your needs:

1# Do the Basics to Solve '
Why Won't Instagram Let Me Like Posts?'
Before checking for more serious solutions, try to do the basic ones. For instance:
It happens that you can't like on Instagram because Instagram blocked your IP address from liking, not your account. So a quick and easy solution is to switch from your Wi-Fi to cellular data or use a VPN.

Suppose you wonder why can't I like comments on Instagram? Hold all Instagram actions! This means no liking, commenting, and following accounts for 24 to 48 hours. You can log in, but I recommend you wait and accept your digital penalty of spamming behavior.

Instagram blocked you from liking because you are flagged as a spammer. Therefore, you can link your Instagram to other social media channels like Facebook, Pinterest, or Twitter. This will prove that you are a real human and not a spamming bot.
2# Uninstall Your Instagram Bot
Deactivate the 3rd-party app that caused Instagram to block you from liking. Try not to do it again very often since they could give you Shadowban for a few days. You do everything to Increase Instagram Engagement Rate but using them and your interactions would drop dramatically.
3# Report Your Issue
If any of the above solutions don't rescue your account within 24 hours, and still you can't like on Instagram, report it to the platform. Therefore, go to the settings menu and ask them, 'Why can't I like anything on Instagram?' 
4# Hire A Reliable Instagram Account Manager
Hire a reliable Instagram account manager to solve the issue! All Instagram marketers need to post and engage with their audience frequently and continuously. Therefore, you need to utilize an all-in-one Instagram management service that is safe and secure! The one that functions according to the Instagram algorithm and terms of use. Then you don't have to worry if you are violating Instagram policies that lead to a disaster!
As you have reviewed all these solutions, in the following, I am going to tell you how to attract the target audience without facing the 'Instagram won't let me like posts' situation.
How to Attract Target Audiences Without Being Like-Blocked?
AiGrow is a powerful Instagram growth service that helps you grow followers organically.
This app has an expert Instagram account manager that interacts with your audience considering the Instagram daily limits. It will like and comment on your followers' posts to interact with them.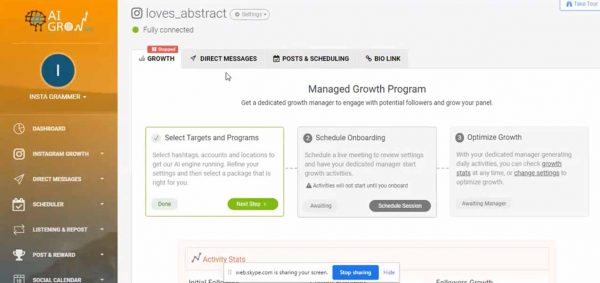 Additionally, whenever someone leaves a comment below one of your posts, your account manager replies to them in a few minutes, resulting in building trust, boosting the engagement rate, and increasing your sales conversion.
Moreover, you can send bulk messages in 3 seconds without getting banned.
Above all, using this wonderful app you can get comments on Instagram for free.
So sign up for free and let AiGrow account manager like and comment on your audience's posts and observe getting 8000 likes for Instagram.
Final Words 
If you can't like on Instagram and Instagram blocked you from liking, go through the above solutions step by step. However, the best solution is prevention. Therefore, use an IG-friendly app such as AiGrow to like, comment, and interact with your followers mind-free.