Are you an avid Instagram user who enjoys creating short, engaging video content? If so, you might be interested in exploring monetization opportunities and learning how to get paid for reels on Instagram.
On Instagram, you may monetize your account in a variety of ways. For example, influencers can make money on Instagram by having a certain number of followers. But instagram paying for reels is different from other methods. You can get paid for reels if the number of views you get increases by a certain number of views!
Monetizing IG reels may not be as easy as it seems! In this article, we'll be exploring the different ways you can get paid for creating reels on Instagram, as well as tips for creating high-quality content that resonates with your audience.
So, do you want to know how to make money on Instagram reels? Keep reading.
How To Get Paid For Reels On Instagram
Instagram is constantly adding new features and capabilities. Monetizing online is appealing to anybody; even students can make money on Instagram. To stand out from the crowd, brands, and businesses market their products using Instagram ads or Instagram Promotion programs.
Ever since Instagram launched Reels in 2020, it has become one of the most popular features of the app. These brief videos, originally designed to rival TikTok, offer more than just a way to kill time. With their extensive reach and growing popularity, Instagram Reels have emerged as one of the most effective methods of making money on the platform.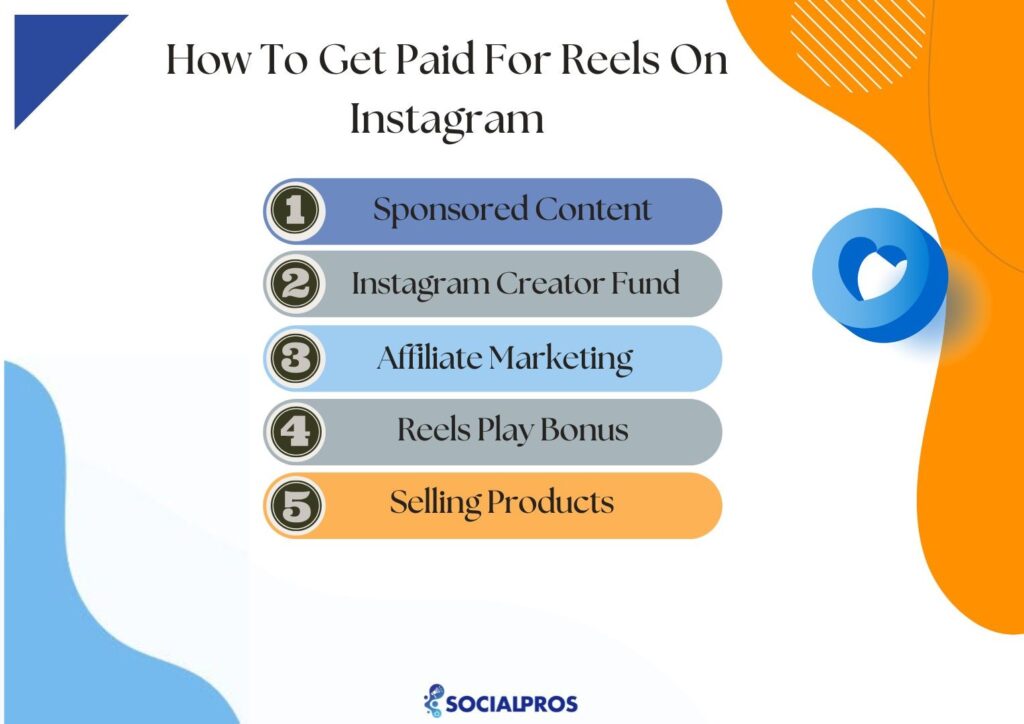 Using different ways, you can monetize your Reels on Instagram.
1. Sponsored Content
One of the most popular ways to get paid for your reels on Instagram is through sponsored content. Brands are looking for ambassadors and creators who can help them reach their target audience, and Instagram Reels provides an excellent platform.
If you have a large following and regularly create engaging content, brands might reach out to you to collaborate on sponsored content.
2. Instagram Creator Fund
In August 2021, Instagram launched the Creator Fund, a program that pays eligible creators for their content. To be eligible, you must meet specific criteria, including having at least 100,000 followers, being over 18 years old, and meeting specific content guidelines. If you're eligible, you can apply to join the Creator Fund and receive payment for your reels.
3. Affiliate Marketing
Another way to monetize your reels is through affiliate marketing. By partnering with brands and promoting their products in your reels, you can earn a commission on any sales that result from your content.
4. Selling Products
If you have a product or service that you're trying to promote, Instagram Reels can be an effective way to reach your target audience. By creating engaging reels that showcase your product or service, you can drive traffic to your website from the Instagram store and increase sales.
This is how to get paid for reels on Instagram, but there is another way that really gets popular to monetize IG reels. To get paid for reels on Instagram using this way, you need to be part of the Instagram Creator Incentive program. The program is currently only available in select countries and to eligible creators who meet certain criteria.
Then you can get paid on IG Reels under the Reels Play Bonus program. Keep reading to know how to get paid for reels on Instagram with the reels play bonus.
How To Monetize Instagram Reels Under Reels Play Bonus Program
Instagram Reels Play Bonus enables creators to earn money based on the number of times their Reels are viewed. The Reels Play Bonus is a payment that creators get when their Reels reach a particular number of views within a certain length of time.
You should be qualified to receive payment for reels on Instagram. There are certain requirements, like:
You need to have an Instagram account with an established audience.
Creators need to produce original content that adheres to Instagram's community guidelines.
You need to be at least 18 years old.
Creators need to have a minimum of 100,000 followers.
Instagram's monetization guidelines must be followed.
You need to have fewer than one million followers.
Once you meet these criteria, you can apply for the Instagram Creator Fund program. If your application is accepted, you will be able to monetize your reels by earning a share of the advertising revenue generated by your content. Keep in mind that the amount you earn may vary depending on the number of views and engagement your reels receive.
Steps To Monetize Instagram Reels With The Reels Play Bonus
Here are the steps on how to monetize Instagram reels with the Reels Play Bonus:
Create engaging reel content that meets the Instagram Creator Fund guidelines.
Publish your reels and make sure they comply with Instagram's community guidelines.
Once your reels meet the eligibility criteria, you will receive a notification from Instagram to participate in the Reels Play Bonus program.
If you choose to participate, you will need to provide Instagram with your payment information to receive your bonus payments.
Keep creating high-quality reels content that meets the eligibility criteria to continue earning the Reels Play Bonus.
Does Instagram Pay For Reels
The Reels Play Bonus program is currently available in select countries and to eligible creators who meet certain criteria. The bonus amount varies based on the number of eligible views and engagements your reels receive. You can track your Reels Play Bonus earnings in the "Earnings" section of the Instagram Creator Studio.
People who attempted the Instagram reels play bonus reveal that they received payment for their reels. If you post reels and Instagram offers you the bonus, accept it, said Kitty Parker, a user who reported her payouts on Twitter. She receives these payments and receives 20–30k monthly views on average.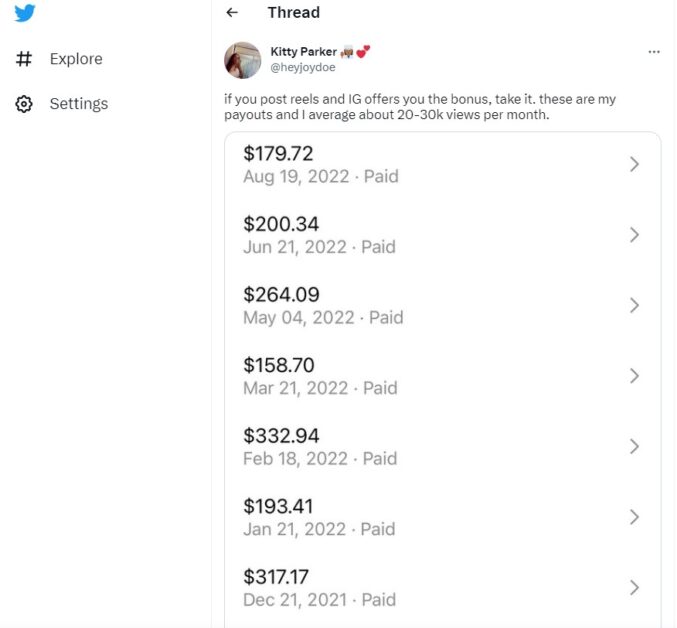 How to Make an Instagram Reel
Instagram Reels is a popular feature that allows users to create short, entertaining videos to share with their followers. Now that you've learned how to get paid for reels on Instagram let's know how to make an IG Reel. Here's a step-by-step guide to help you get started.
Open the Instagram Camera by tapping the camera icon in the top left corner of the Instagram home screen.
Choose the Reels by swiping left until you see the 'Reels' option. Tap on 'Reels' to start creating your reel.
Choose Your Music and add music to your videos.
Once you have chosen your music, it's time to start recording your video. To begin, tap and hold the record button in the middle of the screen.
After you've finished recording your video, you can edit it to add effects, filters, and text.
To make your Instagram Reel more discoverable, add a caption and relevant IG hashtags.
Once you're happy with your Instagram Reel, it's time to share it with your followers. You can do this by tapping on the arrow icon in the bottom right corner of the screen. From there, you can add a caption, tag other users, and share your reel to your feed or story.
Tips For Making A Great Instagram Reel
Now that you know how to monetize your Instagram Reels, let's explore some tips for creating engaging content that resonates with your audience. Here are some tips to help you make a great Instagram Reel:
1. Be Authentic
Authenticity is key to creating engaging reels that resonate with your audience. Don't be afraid to show your personality, and don't try to be someone you're not. Your followers will appreciate your honesty, and it will help build trust with your audience.
2. Use Trending Music
Using trending music is an effective way to get your content in front of a larger audience. By using music that's popular on the platform, you increase the chances of your content being discovered and shared.
3. Keep it Short and Sweet
Instagram Reels are short-form content, so it's essential to keep your videos concise and to the point. Make sure your content is engaging and captures your audience's attention within the first few seconds.
4. Use Hashtags
Hashtags are a powerful tool for getting your content discovered on Instagram. Make sure to include relevant hashtags in your reels to increase the chances of your content being discovered by new audiences.
Instagram Reels is a great way to create short, entertaining videos that your followers will love. By following the steps and experimenting with different video formats and editing tools, you can create Reels that are both fun and effective.
Conclusion On How To Make Money On Instagram Reels
In conclusion, Instagram Reels offer a unique opportunity for creators to monetize their content and reach a larger audience. Whether you're collaborating with brands, participating in the Creator Fund, or promoting your products or services, there are many ways to get paid for your reels on Instagram. By following the tips outlined in this article and staying up-to-date with the latest trends and guidelines, you can create engaging content that resonates with your audience and helps you achieve your goals.
Now that you know how to get paid for reels on Instagram, what are you waiting for? Start creating your reels today and see how you can monetize your content on Instagram!
FAQs on How To Monetize Instagram Reels
1. How does Instagram count play on Reels?
Every time someone watches your Reel, Instagram counts it as a 'play' or 'view.'
2. What happens when you get 1,000 views on Reels?
According to the views you receive on your Reels, Instagram gives out Play Bonuses. Earnings on Reels are available to qualified creators who have a business or creative account and at least 1,000 monthly views.