Mother-child Instagram growth service — or mother-slave, as they call it — is a method to promote a single Instagram page (the mother account) using a number of other Instagram subpages (child accounts).
This might seem a little bit bizarre, but many account managers use this method to get more likes on Instagram, along with protecting their main account in case they cross any Instagram daily limits. While others prefer to use the best Instagram growth services like AiGrow to grow on IG.
In this article, we're going to explain this method in more detail, and we will tell you if it really works. So, without any further ado, let's jump right in! 
What Is the Mother-child Growth Method on Instagram and Why People Use It? 
As mentioned above, the mother-child method is the idea of using many supportive Instagram accounts (child accounts) to promote one targeted Instagram page, aka the mother account.   
The goal of the mother-child Instagram growth service is to keep the mother account safe from the ever-changing Instagram algorithm.
As you may know, in recent years, Instagram has increased concerns about the user experiences on the platform, and as a result, it added more value to the quality of engagement. 
In other words, Instagram bots or buying Likes are no longer a safe Instagram growth hack.
On the other hand, measures like uploading Instagram posts at the best times or using the best hashtags alone cannot guarantee the increase of engagement on Instagram.
That's why to boost engagement in a safe way; some users came up with the mother-child Instagram growth service. Of course, it is one of the many available approaches.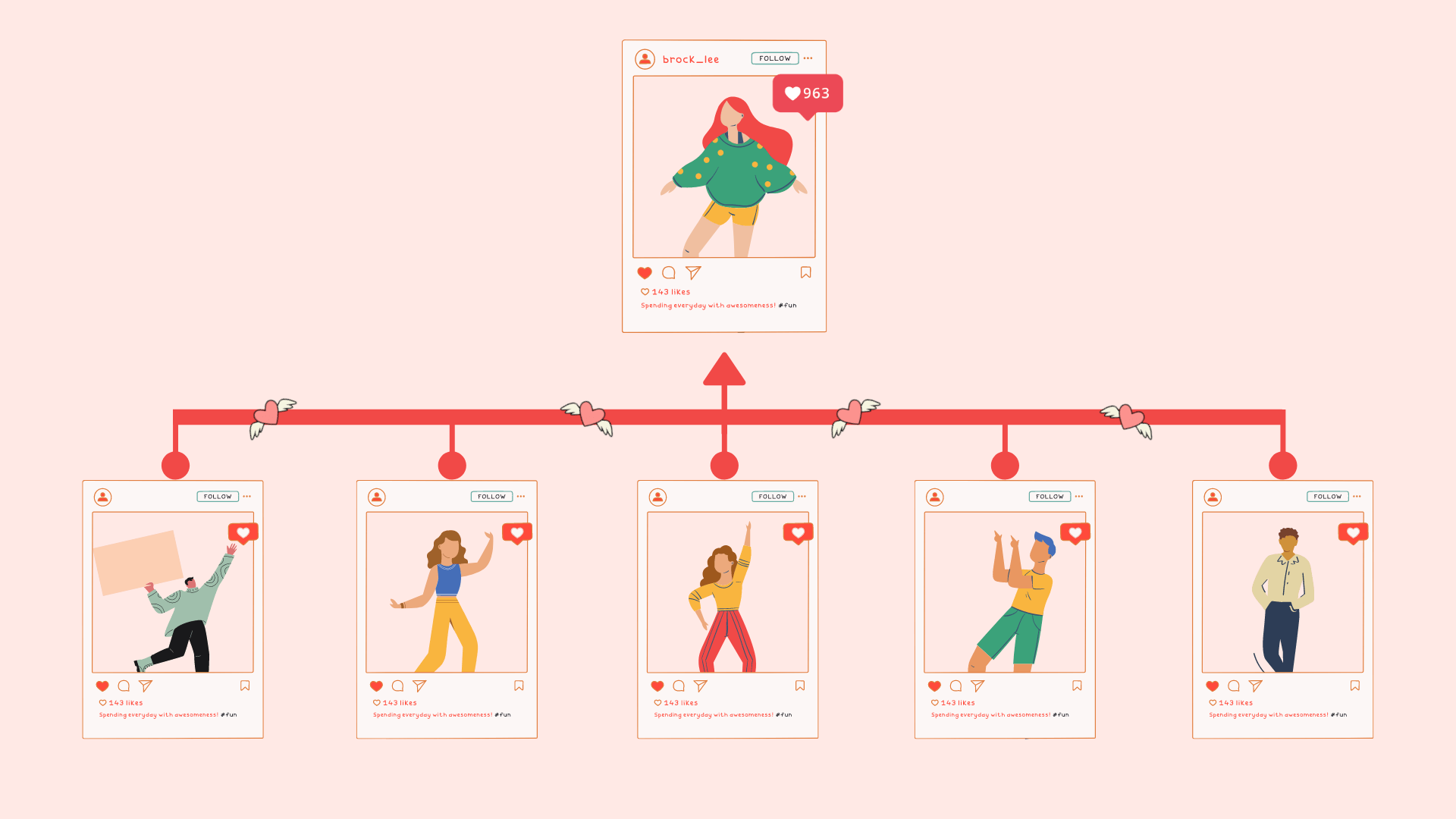 In this method, the mother account does not participate in any type of promotional activity. It just sits back and waits for the flows of Likes and follows that the child accounts bring. 
How?
Say you are a model and want to promote your Instagram page. This account acts as a hub for your business and a place where people can reach you. Since Instagram has increased it's restrictions for daily activities and might ban you from crossing them, you don't want to risk it and carry out all of the promotional activities in this main (mother) account.
If you want to use the mother-child method, you should set up several other accounts (maybe only one or 100, it's up to you), and start promoting the main page from there. 
For example, you can make several fan pages, give tips about modeling on another page, or upload the latest news about the fashion world in another. 
All of these pages (child accounts) have the opportunity to feature your main page and lead followers to it. 
This way, the Instagrammers are 100% sure that the mother account stays safe and sound.
Building fan pages for celebrities is one of the most common examples of using this method. 
So, how many child accounts do you need to grow the mother account effectively?
The answer is, the more, the better.
Some mother pages have more than 100 child accounts! Crazy, right? 
Does The Mother-Child Method Work On Instagram?
You might think the mother/child's Instagram growth service is pretty cool. Well, it kind of is, but the problem is, are you able to run up to 100 accounts to promote only one targeted account?
Think about it for a moment; to effectively carry out Instagram mother-child growth service, not only should you manage multiple child accounts, but also you should take care of the mother account, and that's pretty much a full-time job.
You may think this is unnecessary as you are growing the mother account using child accounts. 
But even if you're doing a great job promoting all those child accounts and leading hundreds of followers to the mother account, what will happen if they find the mother account not Interesting at all? 
Besides having an impressive number of followers, it is essential to have effective content strategies, put aside some time to take eye-catching photos or make engaging videos, think about writing a great caption, and eventually, schedule all the posts and Stories. 
How can you find enough time for all of these tasks?
To solve this problem, some companies offer the Instagram mother-child method growth service. 
These apps are supposed to take care of your child accounts.
Where's the problem with that? 
The problem is, they use the dangerous old-fashioned fully-automated growth methods, aka bots.
And we know for a fact that bots do not work anymore. 
What will happen when you use bulk child accounts is that they get banned one by one by Instagram. 
You might replace them with fresh child accounts, but how much energy and time do you have to grow those new accounts to eventually grow the mother account? Is it really worth it?
You see, it's a vicious circle, a loop that leads you nowhere. 
So, what's the best way to grow an Instagram account hassle-free?
What Are The Other Ways to Grow Your Instagram Other than the Mother-child Method?
Don't worry, except the bots and related methods such as mother/child growth services or buying Likes, there are many authentic ways that you can try to grow your Instagram page organically, without needing to promote multiple child accounts simultaneously.
Also, using these alternative methods, you don't need to be worried about getting banned.
Here's a list of things that you can do:
1- Use Safe Instagram Growth services
Not all apps are equal when it comes to Instagram growth. 
Although Instagram bots are not a safe option anymore, there are still other ways to promote an account effectively using growth apps.
And they actually work!
Let me give you an example.
AiGrow: The Safe Method to Grow Instagram Page
AiGrow is an amazing service that offers you organic growth. All the promotional activities that AiGrow does for your account are manual. Meaning, using this app, an actual human being who acts as your virtual assistant and is an expert in Instagram marketing, takes care of your account exclusively. 
The good thing about this method is that you can be sure that your account is not in danger of being banned.
Using AiGrow, you don't have to have 100 accounts to promote one single one eventually. 
This not only cuts your expenses and saves you a tremendous amount of time, but by focusing only on one account worth investing in, you get way better results compared to the mother-child growth method service.  
Let's compare one of the mother-child growth services with one of the most popular AiGrow services.
This is the list of pricing for one of the Instagram mother-child growth services: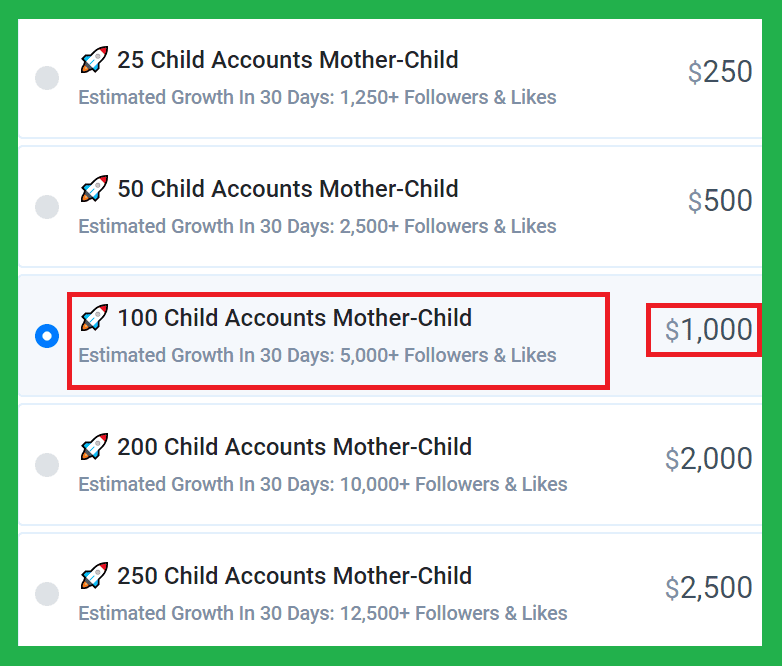 For a thousand bucks per month, this app gives you an estimated 5,000 followers AND likes. 
And that's using 100 child accounts!
Also, it's not clear that you'll get 5,000 followers or 5,000 Likes? 
Anyway, do you prefer to have several posts with 4K or 5K Likes or have 2,000 quality and enthusiastic followers who will engage with your content for real?
Now let's see some of the AiGrow packages:
AiGrow offers its Pro-managed packages in four different plans; weekly, monthly, quarterly, and annually. So, you can choose the package that best suits your goal and budget.
As you may very well see, AiGrow's plans are reasonably-priced compared to that of mother child Instagram service. 
What's even more interesting is that in addition to organic growth that you get via real followers, you get access to a variety of features such as a dedicated growth team, giveaway picker contests, automated scheduler,  bio link tool, automated DMs, bulk post delete, and many more! Isn't that fascinating?
The good thing about these followers is that as they are attracted to your page organically, they are 100% real and engaging. 
Meaning that your Instagram engagement boosts as soon as you start using these packages. 
Now, let's see a real-life example of an account that uses one of these packages: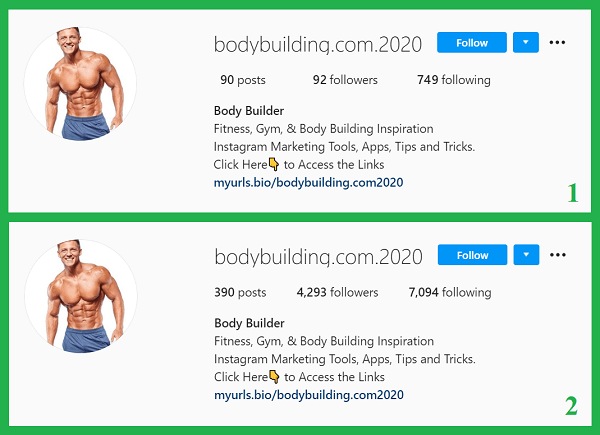 As you can see, this account has outstanding growth from 92 followers at the beginning to 4,293 followers after a couple of months.
As you can see, these packages can grow your single account in a sustainable way, without the danger of being blocked by Instagram.
Moreover, if you compare the prices and results, you'll see how much AiGrow is budget friendlier and more practical.
Even if you insist on using the mother-child method, you can still get help from AiGrow. It's better to have a couple of high-quality child accounts to support the mother account, rather than having hundreds of low-quality ones.   
2- Consider Influencer Marketing
Another safe and secure way to grow your following is to collaborate with Instagram influencers, especially the micro ones.
When it comes to engagement, micro-influencers can make a difference with their loyal and interested followers.
Also, micro-influencers are much more affordable. 
If you think about it, a micro-influencer can bring you more real followers with the same amount of money than 100 of mother-child accounts.
Actually, the average money you should pay to an influencer for a promotional package is about $200. 
But the benefits of a deal with a micro-influencer is beyond spending less money.
Look at these charts from Marketly about the relationship between the number of followers and Likes and comments on Instagram.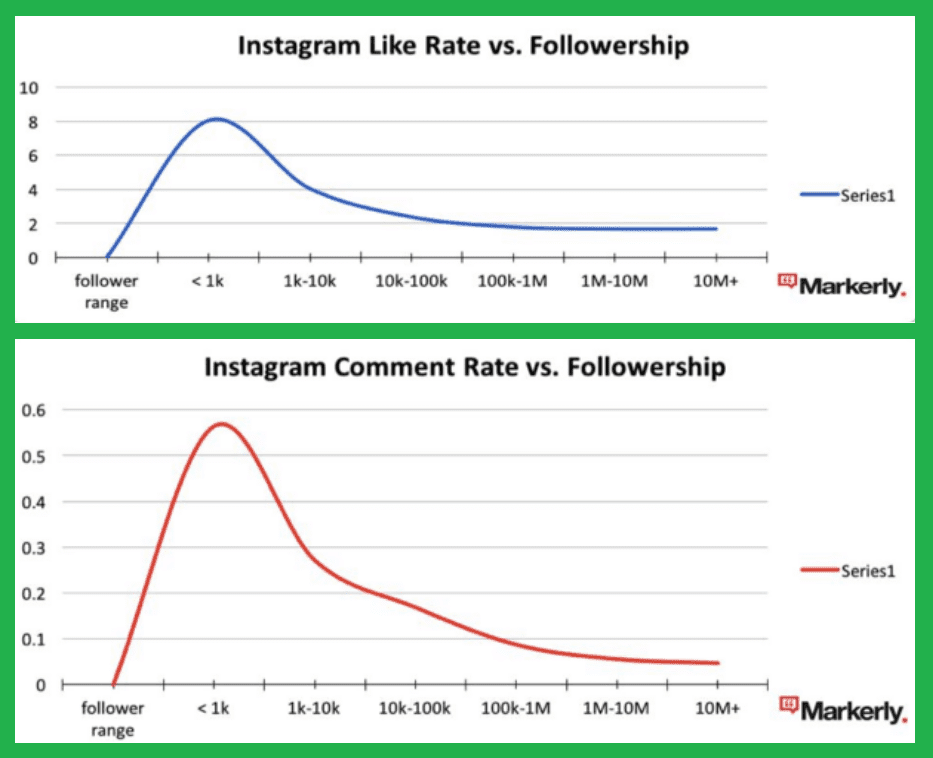 As you can see, surprisingly, the more followers users have, the less Instagram Like and Comments they receive.
So, working with the micro-influencers can bring you more engagement! That's why many major brands, such as Coca Cola and GoPro, use micro-influencer campaigns to increase their social media engagement.
And the good thing is, no matter what your niche is, you can find your suitable influencer on Instagram, from music influencers to foodies influencers.
A good place to find them is to look them up at Ainfluencer, where you can find hundreds of influencers with many different sizes of audiences, ready to be matched with brands. 
Even if you dream about becoming an influencer yourself, you can still partner up with your future colleagues to receive a shoutout from them.   
3- Run a Contest or Giveaway
If you want to grow your fanbase on Instagram quickly, running a contest or giveaway is a fantastic way.
Why? Because people love competition and receiving free stuff.
When you design a contest or giveaway and set rules such as "like this post" or "mention three of your friends," you start to espouse your page to more people who are willing to follow you.
And don't forget to add an element of emergency to your post, something like a deadline for the contest or a limited offer.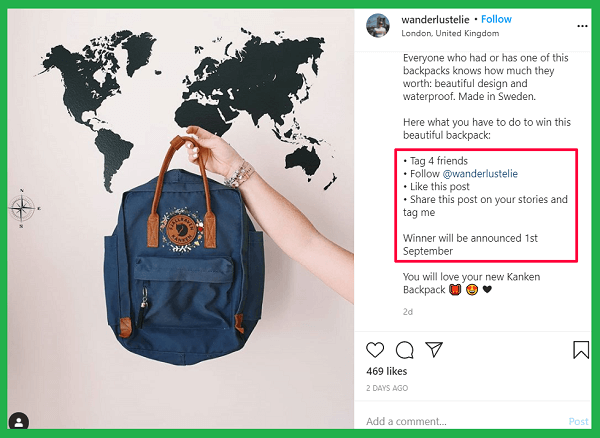 Thinking about running a contest makes you nervous? Don't know how you should manage it? That's ok. AiGrow has a feature called "Post & Reward."
Using this tool, you can easily manage your Instagram giveaways and contests most conveniently.
Watch this video from AiGrow that walks you through the "Post & Reward" feature:
4- Use Instagram Ads
If money is not an issue for you, an excellent shortcut to gain followers instead of the notorious mother-child Instagram growth method is Instagram advertising. 
Using Instagram insights, you can access valuable information about your audience, such as age groups of your followers, and see which group is the majority. 
Moreover, you can see what days of week and hours of the day your followers are more online so that you use that information to design your ad.  
Just like Facebook ads, you can select a particular city or country that you're willing to use the ads to go live. This way, you can gain local followers.
Instagram ads can be helpful; however, there are some problems when using this type of marketing. 
First, Instagram ads are getting more expensive, and you might not be able to afford them if you have a tight budget. So, you may be better off using Instagram managed services such as AiGrow that I've mentioned earlier, as it offers guaranteed results. 
Secondly, compared to micro-influencer campaigns, Instagram ads are less realistic and authentic. 
What I mean is the chance that people accept an indirect ad presented by influencers is much higher compared to when they see the phrase "Paid Partnership" on the posts. 
And finally, many people (including me) change their Facebook settings to avoid seeing Instagram ads on their feed (Facebook powers Instagram ads). So, you may miss many potential customers, even if you invest in Instagram ads. 
FAQs on Mother Child Instagram Growth
So far, we've discussed different aspects of using Instagram mother child method in addition to providing you with better alternatives to it. Now, it's time for your most frequently questions to deepen your understanding, and prepare you ready as ever for your Instagram growth.
#1 Does Mother Slave Method Get Your IG Account Banned or Deleted?
Probably not. But do mind that Instagram is getting smarter and more sensitive when it comes to its policies day by day. A great number of users have reported that their child accounts have been banned in the process. Some even have complained that their mother account, too, got banned. 
#2 How Many Followers Can I Get Using Instagram Mother Child Method Service?
The amount of followers one can get through this growth method, if it works at all these days, depends on several factors. Two main factors that can affect your growth using mother child method on Instagram are the number of child accounts and the quality of the mother account. 
Number of Child Accounts:
Obviously, the more child account one owns, the higher are the chances to achieve wider audience.
Yet, there's one point that you need to remember. One of the reasons mother slave method on Instagram doesn't work is the low quality of these child accounts. Many people think it is only the number of these child accounts that matter, while in truth, the quality of them matter as well. 
Quality of the Mother Account:
No matter how much money you invest in buying child accounts, you're not going to get the results you want with the mother/child method if the quality of the mother account is low. Therefore, you need to keep an eye on the content you post on your mother account to make sure they are of high quality.
Pro Tip: As you may notice, using mother slave method for Instagram growth is expensive, time-consuming, and complicated. Basically, you need to handle a lot of accounts at the same time which leads to less time for producing good content for your main account. 
Therefore, why not use an all-in-one Instagram growth service instead like AiGrow? It's cost-efficient, and offers more features!
Final words on Grow Instagram Followers by Mother-Child Method
Growing your Instagram page does not have to be difficult as the mother-child method is. There's a good reason why people sometimes call this method the mother-slave method!
Using alternative solutions such as Instagram managed services, you can quickly grow your followers in the safest way possible. 
So, why not start now and give AiGrow a try;100% guaranteed results!