The title of this article may catch your attention if you want to use the Upfluence marketplace to find social media influencers.
If you're unsure whether Upfluence can help your influencer marketing campaign, you've come to the right place to get enough information about the service you consider purchasing.
As a business, you should find the top influencer marketing platforms and marketplaces to be able to choose your ideal influencers quickly and easily.
Now, you don't need to search on lots of websites to find different reviews, because we have collected all the Upfluence reviews here. Then, you can better decide if you want to be a customer of Upfluence or not!
Note: Save your time and money using the Ainfluencer marketplace to reach your target audience.
What Is Upfluence
Upfluence is a social media marketing platform that claims it can boost your business engagement. Moreover, It promises to enable brands to connect with social media influencers.
With Upfluence, brands can identify relevant influencers, create custom campaigns, and track results.
Upinfluence claims that it makes it easy for brands to get the most out of their social media marketing campaigns.
Moreover, you can use the Upfluence chrome plugin, when you want to use this platform.

Now, you can see its dashboard and Upfluence logo in the picture above.
Upfluence Features
Influence scoring and influencer collaboration.
Celebrity analysis Influencer segmentation.
User-generated content Influencer.
Analytics tools and data importing and exporting.
Upfluence Reviews
Now let's go for the Upfluence reviews, those people who have used this marketplace, share their ideas on reliable websites like Capterra.
Upfluence is a social media platform that allows companies to connect with influencers. However, in its reviews, many users have found that it is not the best platform for influencer marketing.
According to recent Upfluence reviews, the platform is not the best option for influencer marketing. While it may have a large database of influencers, the quality of these influencers is not guaranteed.
In addition, a verified reviewer in Capterra said that the platform does not offer any tools to help brands manage their campaigns or measure ROI.
As a result, many brands are choosing to work with other influencer marketing platforms that can offer more comprehensive services.
Also, according to Upfluence reviews, it has too many bugs.

Bettina S. find out this platform easy to use in terms of finding influencers. On the other hand, the price of the Upfluencer is very different from the suggested cost of its influencers.

Upfluence Reviews: Pros and Cons
In the following, we are going to talk about the advantages and disadvantages of the Upfluence influencer marketplace.
Upfluence Reviews: Pros
It improves working efficiency.
This influencer marketplace is easy to use.
It is said that Upfluence is good at identification, selection, approval, contracting, and reporting. Useful data for influencers and benchmarks.
Upfluence Reviews: Cons
If you use VPN, Upfluence has very poor speed.
Database mismatches/errors can only be corrected by customer service. So, if you don't have enough time you'd better not use Upfluence.
It is a kind of scamming because we signed up for a month to month, and got trapped into a 12-month contract. It was presented in such a way that you thought it was a monthly payment.
It doesn't work well. Also, this influencer marketplace is confusing.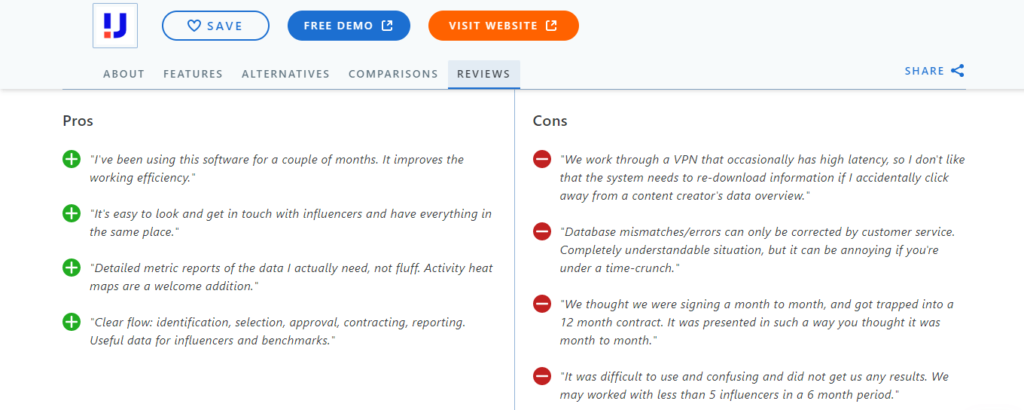 Upfluence Pricing
If you want to know how much Upfluence costs, unfortunately, we should mention that Upfluence does not offer prices on its site.
To get the current Upfluence price, speak to them on their site, under the pricing tab.
Ainfluencer is the Best Alternative for Upfuencer
The age of influencer marketing has finally arrived. With platforms like Instagram and YouTube, businesses of all sizes can connect with top-tier influencers to help promote their products and services.
The Ainfluencer Instagram influencer marketplace is one of the most popular and essential platforms for finding and working with social media influencers.
The marketplace allows users to search for, find, and contact social media influencers with the desired skill set.
The platform also provides detailed profiles of each influencer to ensure that businesses are making informed decisions on working with the right influencers.
Additionally, the Ainfluencer marketplace offers a generous commission rate for all transactions completed through the platform.

All in all, Ainfluencer is the best alternative for Upfluence. Now let's delve into some of its features to help you see for yourself.
Ainfluencer Features
Now let's talk about the most useful and amazing features of Ainfluencer:
Ainfluencer has a completely free plan for users.
It is reliable because it tracks the campaign, makes sure an influencer's audience is real and holds funds until you confirm the necessary material, etc.
What's more, Ainfluencer is easy to use and fast.
This platform is not a simple robot-based app, it takes advantage of very powerful AI technology plus very professional experts to help users discover influencers.
Ainfluencer helps track performance from start to finish. You are able to get real-time analytics and the exact count of likes, comments, and bio-link clicks for each post.
It lets you scale your efforts with macro-influencers and micro-influencers.
You can find the best brands looking for ambassadors there and top influencers that want to be brand ambassadors.
Also, brands can create marketplace ads.
How Does Ainfluencer Work
Ainfluencer is an online marketplace that connects businesses with influencers. It's a great way for businesses to find influencers who can help them reach their target audience and achieve their marketing goals.
Here's how it works:
Businesses create a campaign on Ainfluencer.
Select the criteria they're looking for in an influencer.
Then, Ainfluencer matches them with a list of potential influencers.
Businesses can then view the profiles of these influencers.
Now, decide who they want to work with.
If you are interested to know more about how Ainfluencer works; we recommend watching this tutorial video below:
Ainfluencer Reviews
According to the Ainfluencer reviews that users wrote on Trustpilot, Ainfluencer users find this platform reliable and reputable.
We don't say Ainfluencer is the best influencer marketplace, because you should judge it after reading the reviews.
But we promise that after reading the Ainfluencer reviews you will believe that it is the best choice.
Setayesh S. said: 'An excellent and safe platform for small businesses since you don't have to pay until your ad is published successfully. Good job Ainfluencer!An excellent and safe platform for small businesses since you don't have to pay until your ad is published successfully. Good job Ainfluencer!'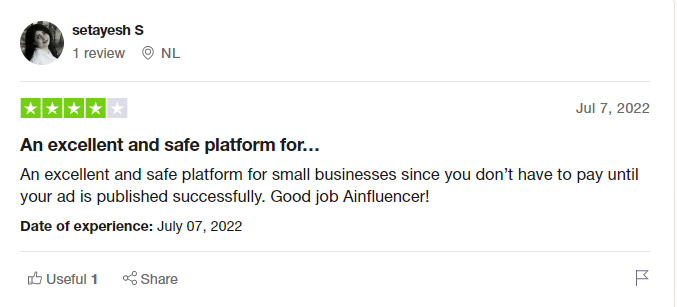 Cyavash N. believes: 'Ainfluencer is the most reliable, safest, and fastest influencer marketplace I've seen so far. I've signed up on many marketplaces and platforms, but Ainfluencer's DIY idea is what makes it unique, and this is the #1 reason I'm in love with their marketplace.
They've recently added solutions for brands to help them maximize their gains from influencer collaborations.'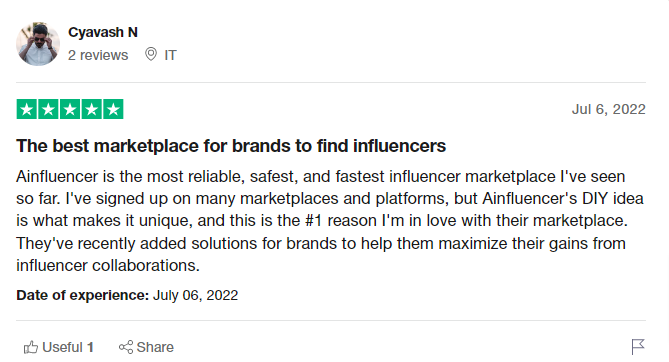 Petter Oakley write his idea about Ainfluencer: 'An excellent and safe platform for small businesses since you don't have to pay until your ad is published successfully. Good job Ainfluencer'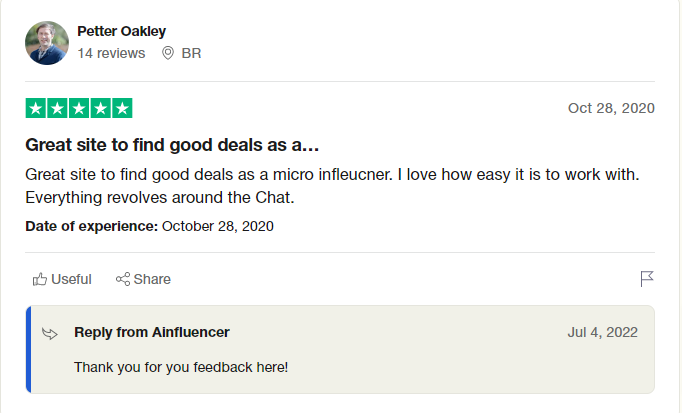 Ainfluencer Pricing
Currently, Ainfluencer provides 100 percent free marketing services for your influencer campaign. Since Ainfluencer is a DIY influencer marketplace, advertisers can peruse the marketplace prominently to define their preferences and locate influencers, all free of charge.
Ainfluencer provides several pricing plans and options for those individuals and organizations who don't have enough time to complete the task themselves.
They can set it and Ainfluencer will have them.
DIY
With an Ainfluencer's free DIY plan, you can access all the following features: Unlimited Influencer Discovery (200,000 profiles) Unlimited Ads, campaigns automated, invites unlimited offers, chat payment, and post-Analytics
Bootcamp
This initial plan, offered to Ainfluencers for $149, includes a strategy session and kick-off, a target audience, material for ad copies, up to three video edits of your creative content, and influencer recommendations.
Starter 5
This plan will do all the work for you to set up and run five campaigns for only $1500. This plan offers you: 5 Influencer posts per Feed Story Post Ad copy, creatives, invitations, negotiation, and so on. You get to examine every influencer post campaign report before approving it.
Starter 15
The last pricing plan provided by Ainfluencer is called Starter 15, which costs 3500 dollars. This package includes the creation of all influencer Post copies, visual creatives, invitations, bargaining, etc. You can then observe your completed influencer post campaigns in an easy-to-use dashboard.
FAQs on Upfluence Reviews
Now, let's read quickly the questions and answers that people also ask about Upfluence and influencer marketing.
#1- How Do I Use the Upfluence Extension in Chrome?
You should download the Upfluence chrome plugin, then go to the social media profile of the influencers who you want to know more about them.
#2- Which Platform Is Best for Influencers?
َAinfluencer is the best Instagram influencer marketplace that you can find.
This all-in-one influencer marketplace has a completely free plan for users. On the other hand, it has too many useful features to help you to find the best influencer with powerful niches.
Conclusion
All in all, now you know every detail about the Upfluence influencer marketplace. According to the users' experience, we provided you with a complete guide to Upfluence reviews, pros, and cons.
Fortunately, now you know the best Upfluence alternative. Ainfluencer is like a special star in the world of influencer marketing. So, by using it your brand will be a star too.