No comments! Obviously, it is not a pleasant phrase speaking of Instagram! As an Instagram marketer, you try to do your best to get comments and likes, but it jogs your memory into getting Instagram comments app when you get fewer comments than expected.
Comments for Instagram have a significant effect on getting more engagement and building your brand on Instagram. It raises brand and Instagram page visibility effectively and fast, boosts your profits in the long run, and finally makes you and your brand popular. Also, you will get extensive satisfaction because of a well-done job. Therefore, it covers all the motives why you stayed on Instagram in the first place.
This article will help you to discover your proper Instagram Comments App. 
So, stay tuned!
You May Like:
10 Best Instagram Comments App
Having more Instagram comments rockets your page to Instagram glory. Therefore, it is a strategic approach to get Instagram Comments Apps and cash in on Instagram auto Comments. Though, the challenge is how to select one!?
An Instagram comments app essentially serves three purposes:
auto-respond to comments left on your own posts

auto comment on other users' posts

boost post engagement
Hence, in the following, you will read about the 10 best Instagram Comments App helping you make your decision. 
1. AiGrow
AiGrow is the best Instagram Comments App and an all-in-one Instagram management tool. It will let you get free Instagram comments in a blink!
You can add up to 80 accounts to your single dashboard and run them simultaneously. 
Indeed, you can track your comments on Instagram for free and search Instagram comments by username.
Additionally, provided with a precise Instagram account manager, the time someone leaves a comment on your posts, your account manager responds to them instantly and manually, which ends in building trust, boosting the engagement rate, and increasing your sales conversion. 
If you want real, active engagement on your content and comments that are going to show others how terrific your posts are, then you need to consider giving AiGrow a go. 
It is a safe and complete IG-friendly package to boost Instagram's growth and engagement in a nutshell. So, to test all its features unlimitedly, get five days of unlimited growth just for $5. Therefore, sign up for free and use your free trial. 


2. Shortstack
Short Stack is a social media tool that lets you create comment-based contests and competitions.
Actually, hosting contests and giveaways are a fantastic way to boost your engagement on Instagram. ShortStack automatically pulls in all of the comments on your Instagram. Therefore, it may violate Instagram terms of use, and your account will be action blocked sooner or later.
3. SubPals
SubPals is a service that helps Instagramers get more likes, Instagram auto comments, and views. However, the followers are random and won't indeed buy or engage. As a result, fake followers and low engagement from followers can damage the organic reach of your future feed.
4. Ingramer
Ingramer is an Instagram bot that comes with various features to help your profile grow. It has got multiple ways to get auto comments on Instagram very fast. However, this app doesn't link any of their social media names, and as it is too fast and not IG friendly, Instagram might ban your account. 
5. Jarvee
Jarvee is an Instagram Comments App and a social media automation tool that searches for photos in your niche and leaves an auto comment on Instagram. Actually, this is a total automation job, and they seem like the perfect solution for a busy manager. Still, any Instagram automation has the risk of violating the platform's terms of use!
6. Wolfgram 
Wolfgram is a WordPress extension to Display your Instagram Feed. This app is also an Instagram auto comments app with Instagram comments Pods to get comments on Instagram, get likes on Instagram, and more! 
7. Upleap
Upleap in an Instagram comments app that comments on and likes other users' posts. Also, Upleap increases viewing Instagram stories and follows other people. However, this app uses the Instagram automation strategy that violates Instagram terms of use, too!
Also Read: 5 Best Repost Apps for Instagram Stories
8. Skweezer
Skweezer is an Instagram Comments App that lets you buy Instagram Followers, Views, Comments, and Likes. Unfortunately, they also offer you automatic delivery of likes and Instagram comments. 

9. DigiSMM
DigiSMM helps you receive views and comments automatically on Instagram. This app will promise you followers, but after a short time, your followers will drop! As a matter of fact, it does not guarantee real followers, and many of them are ghost followers, so that you may lose your money.
10. Poprey
Poprey provides you an option to buy random and custom Instagram comments. However, this Instagram auto Comments App's motto is "Getting people to comment on your page is hard work, so why not make it automatic?". The same tale of getting banned by Instagram! On the other hand, it has no customer support chat, including negative reviews across the web.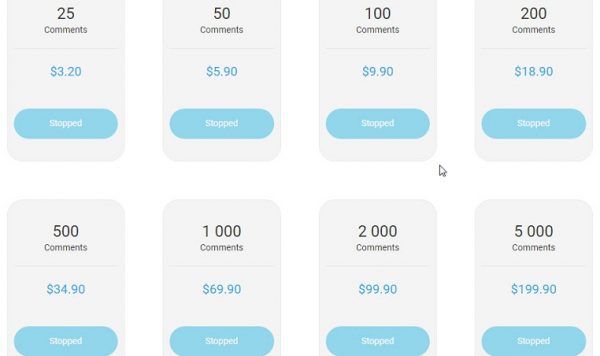 Final Words on Best Instagram Comments App
Now, you have vast information about the best Instagram comments apps. Instagram comments apps will help you socialize with your friends, followers, and customers and make millions of new online ones globally! 
Time is money! Go ahead and pick the best Instagram Comments App, especially when you're on Instagram.