Having 2.9 billion monthly active users, Facebook has become one of the most widely embraced social media. Some exploit Facebook to gain an income, some to gain publicity, and the majority use it to keep in touch with their friends. At any rate, you need to learn how to download Facebook photos. 
Some users get to a point where they just stay on Facebook because they can't lose all the posts they have put up there. And, they don't know how to download Facebook photos either. 
Linking your social media accounts could be a relatively easy way to assure that the content or photos remain safe and sound once one account is deactivated. But generally, social media accounts are not the best places for storing your photos. If you know how to download all Facebook photos, you can have a safe offline copy of all your photos. 
In this article, we aim to provide a complete guide on how to download all Facebook photos, whether you prefer the mobile application or the Facebook web. 
So let's dive in.
Excellent Hacks on H
ow to Save
Photos
from Facebook
Have you ever wanted to save a photo from Facebook and just couldn't see a 'save' option anywhere? Well, it's not that complicated. In the following, you'll read about some great hacks to save photos from Facebook to cash in on. 
How to Save
Pictures
 from Facebook Web
After you log into your Facebook using your credentials, locate the picture you would like to save. Open it and click on three horizontal dots that you can see on the top right side of the post. As you click on it, some options will appear. Among them, there's a 'download' option that allows you to download this photo in the highest resolution.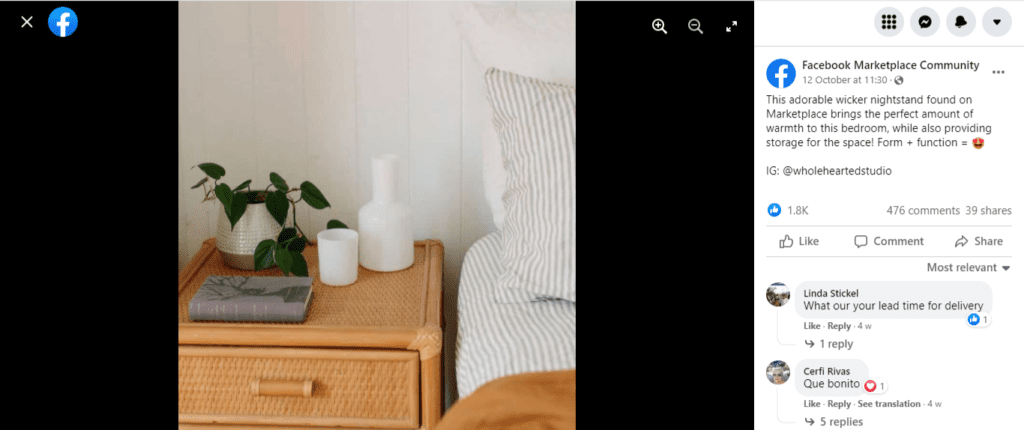 Read more about Facebook: The Essential Guide to Facebook Ad Strategy
How to Save Photos from Facebook Mobile Application
If you're using the Facebook application, open the image. Now tap and hold it until a list appears. Then, tap on 'save to phone,' and you're done!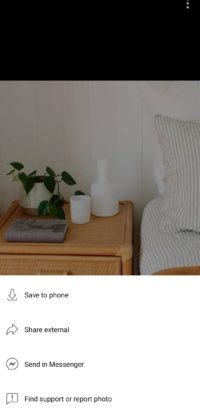 Outstanding Facebook Photo Download Hacks for Marketers
Downloading photos from Facebook would be a huge concern for busy marketers. If you wish to download all the photos you have put up so far, that's an entirely different story from saving only one. When you have hundreds of posts, you can't keep saving photo after photo, hoping the list ends. In the following, you will learn some methods on 'how to download all photos from Facebook' no matter if you are using the web or mobile app. Then, you can easily keep and make the most of your downloaded pictures from Facebook.
Extend your knowledge about Social media: Instagram Followers App: 20 Safe & Free Apps [No Verification, No Survey]
How to Download Facebook Photos from Facebook Web
Learning how to download all photos from the Facebook web is a must. It is also like a piece of cake. Let's go through the process step by step.
First off, log in with your phone number/email and password. When you've entered your home page, look for the small down arrow on the top right corner, next to the bell icon. 
If this is a personal page, click on the 'Settings & privacy.'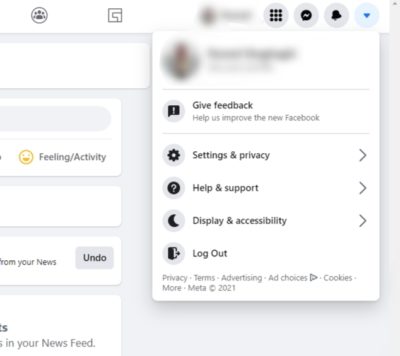 At this point, a list will appear; on top of which, you can see a 'Settings' option. Click on 'Settings.'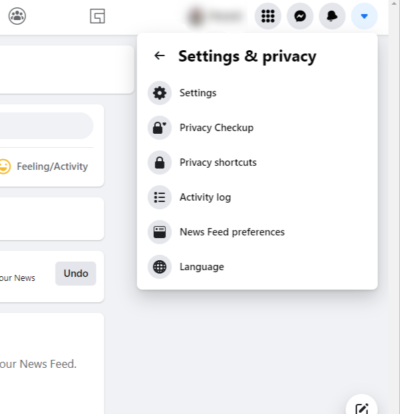 Now in the list on the left side, click on 'Your Facebook information.' Here, you can easily pick the 'Download your information' option.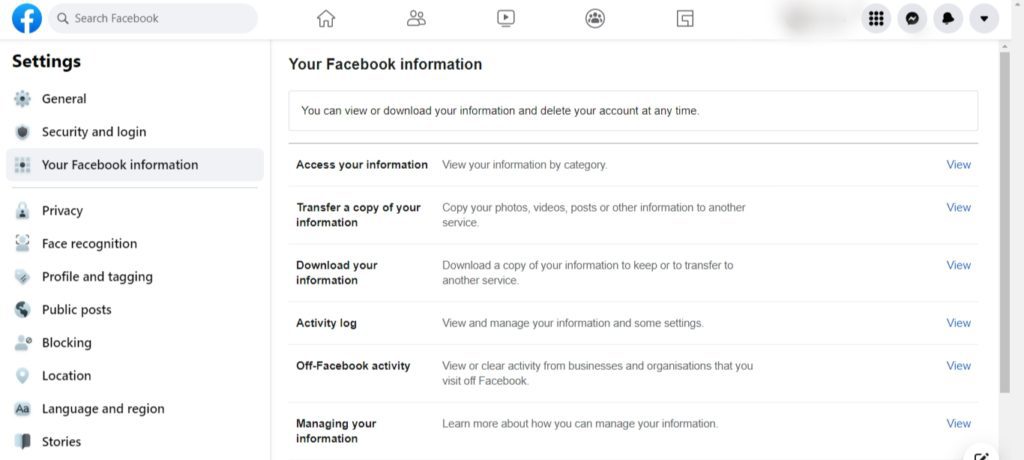 When you specify the date range, media quality, format and remove the ticks for the items you don't need a copy of, you can click on the 'Create File.'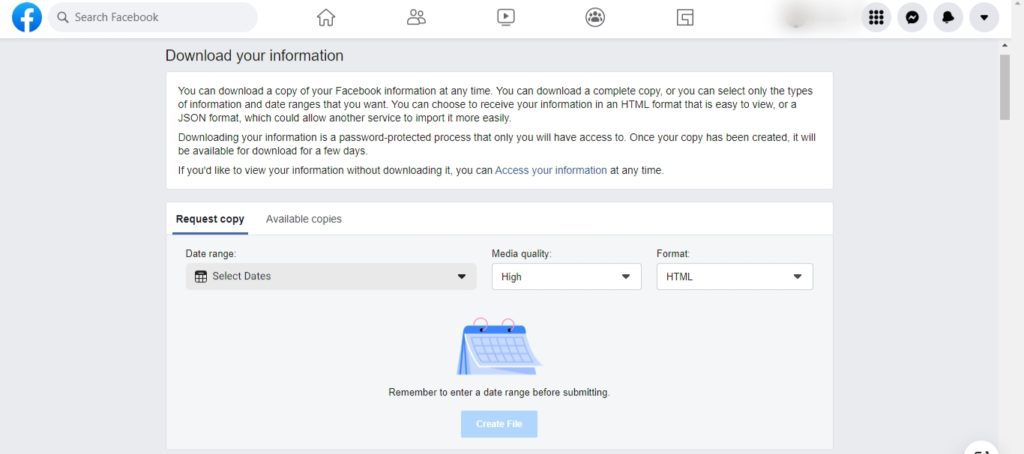 However, this file won't be instantly ready. Facebook will prepare a copy of all your information, including your photos. And as soon as the file is ready, Facebook will notify you through Email, and you can go back and conveniently download it.
If you have a business page, the process isn't that different either. Select 'Settings,' click on 'General,' then 'download page.' All you need to do at this point is to click on 'Create File.' Facebook will let you know when the file is ready. This downloaded file contains all the information you have on your account; however, you can search for images and move them to another folder. 
Extend your knowledge about Social media: 1000 Instagram Followers Free Trial
How to Download Facebook Photos from Facebook Mobile Application
Facebook photo download on the mobile application is straightforward. First, open the application, and log into your account. Now, on the top right corner, you will see three horizontal lines; tap on them. When the new page appears, scroll down until you come to 'Settings.'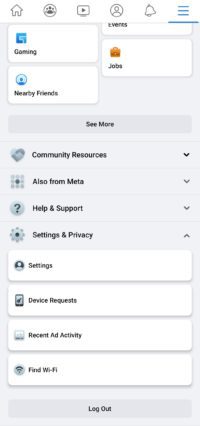 Then tap on 'Download your Information.'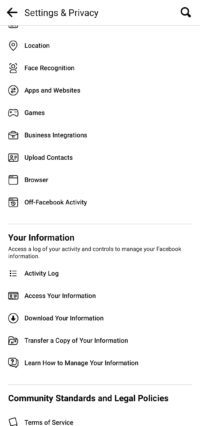 And, in the 'Request copy' section, scroll down until you can see 'Create File.' Make sure you have set the date range and the media quality to what you want. You also get to deselect what you won't need a copy of. At last, Facebook will send you an email to inform you that the file is ready. You can access it under 'available files.'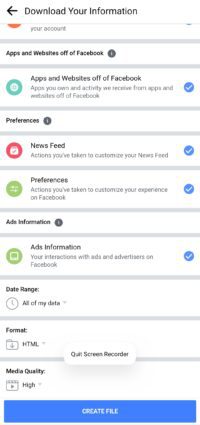 Extend your knowledge about Social media: Instagram Unfollow App: 10 Safe Apps for Mass Unfollowing
How to Download Facebook Albums
In order to download an entire photo album you have previously shared, log into your Facebook account through the Facebook web. All you need to do now is locate the photo album in your 'Photos,' click on the three dots on the photo album and download it. Easy, right? 
Facebook Image Downloader Application and Chrome Extension
'Are there any applications or platforms to make a downloading photo from Facebook easier?' you may ask. Yes, there are, and you have come to the right place. Below, we reveal some Facebook photo download apps that help you download pictures from Facebook.
#1 Download Videos and Photos: Facebook & Instagram
Whether you want to download Facebook photos and videos or Instagram photos and videos, this app is the perfect option. This Facebook image downloader allows you to enter the URL, download an image or video, and conveniently download multiple photos and videos. 
#2 DownAlbum:
Facebook Image Downloader

Chrome Extension

Out of the several extensions, Chrome offers the users, DownAlbum is one of the best. It helps you download any number of photos and videos or photo albums on Facebook. And its features don't end here. You can also download the images and videos on Instagram, Twitter, Pinterest, and Ask.fm. One extension for all these social media! Convenient, right? If you're interested, you can add this Facebook image downloader of Chrome extension and learn how to download all photos from Facebook here.
#3 Odrive
Odrive is an online cloud manager. Indeed, you can store all your files, including your documents and photos, on Odrive. This platform, as you have already guessed, is not a dedicated Facebook image downloader. However, using it, you can sync everything you use online, and your Facebook photos are no exception. If you sign up for Odrive via Facebook, you will be able to see a folder on Odrive with all your photos. You can download Facebook photos one by one or install the application on your phone and sync up the photos in one tap.
Extend your knowledge about Social media: How to Get More Followers on Instagram
Last Words on Facebook Photo Download 
Deactivating or deleting your Facebook account can be emotional, but knowing how to download all photos from Facebook can make it a bit easier. It helps you reassure that you're not losing your connection to your precious memories, at least. And, if you used it for business reasons or to gather customer insights, it's still good to know that all the time and effort you put in for creating content is not going down the drain by deactivation. Fortunately, there are many ways for Facebook photo download. It's on you to choose one that works best for you.