In today's Instagram marketing, everyone is trying to pass themselves off as a growth service company, and even, an organic one! IGClerk is not an exception! But do they know the minimum standards for a genuine Instagram solution?
If you want to know how IG Clerk works and whether it is worth your time and money to grow your Instagram following, you've come to the right place. Taking the time to read this IGClerk review can help you pick the growth tool that is most suitable for your brand.
Therefore, in continuation of our series covering Instagram growth services, we will focus on the IG Clerk review today. We will analyze its key features, pros, and cons to see whether it qualifies as one of the 20 best Instagram growth services in 2022 or not.
In this post, we will also explain why AiGrow comes as a superior alternative to IG Clerk in growing your Instagram account safely and organically. So, let's dive into the IG Clerk reviews and learn everything there is to know about this growth tool.
What Are The Best Instagram Growth Services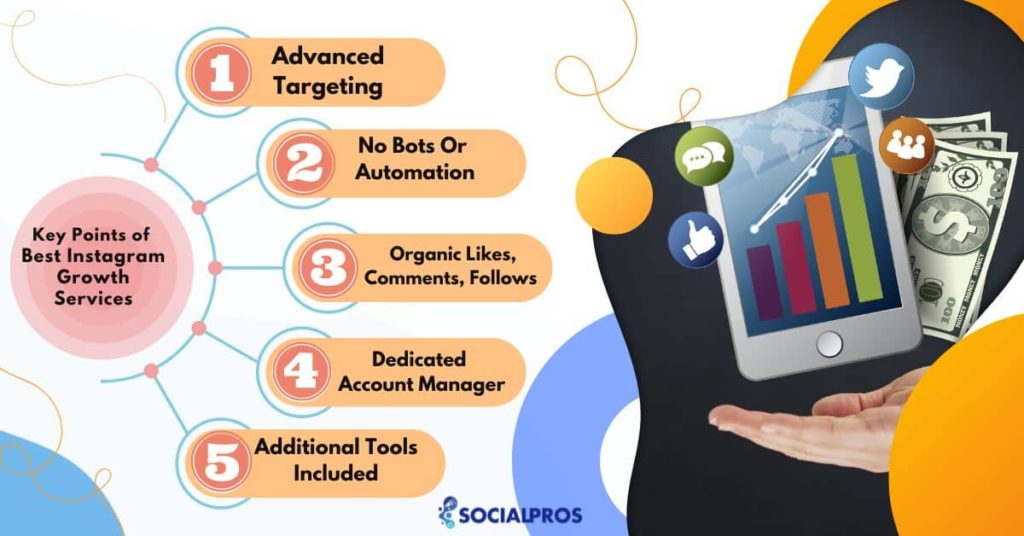 Instagram becomes increasingly competitive every day. Therefore, to stay ahead of the Instagram competition, you need to attract your target audience to the platform and keep them satisfied and engaged on your page.
You're more likely to make money with your Instagram page if you have engaged, targeted, organic followers. Moreover, you will gain more exposure by having an increased following.
One of the best ways to get more followers on Instagram is to employ proven Instagram growth tools worth it. Services that place a high value on clients' well-being while they use organic and manual growth strategies.
However, it is essential to be aware that many Instagram growth services and companies like IG Clerk may put you at risk of being banned or deleted by Instagram for the kind of automated activity they conduct on your behalf. In fact, they are Instagram bots who sell fake Instagram followers and engagement for their clients.
The only reliable way to detect proven, manual services from spammy ones is to do your due research and increase your knowledge about them. Thus, we conducted a series of thorough reviews at SocialPros.co to help you choose the best Instagram automation tools for your online business success. Hence, continue reading this review to find out if IGClerk is a scam or a good option.
What Is IG Clerk
So, what is IGClerk, or what does it claim to be? This tool is an Instagram growth service that claims to use manual growth strategies to help its clients grow Instagram followers organically. It promises authentic, safe, and %100 organic Instagram growth for its users.
But how can they make such a claim? Do they have the ability to manually like, follow, and comment on posts when they don't offer users a dedicated account manager, as seen in the image below? So they undeniably employ bots. Keep away from them!
IG Clerk is a relatively new service (launched in 2019) that allegedly uses 'Instagram clerks' to grow its clients' accounts. However, it does not clarify what IGClerk assistants do to enhance your account or how its team can handle multiple clients at once.IG Clerk claims to be completely compliant with Instagram's terms of use, so your account won't be suspended or deleted if you use the service. But, we are suspicious of their bold claims. Thus, keep reading this complete IGClerk review to determine how valid these claims and promises are.
Popamatic Vs. IG Clerk
Popamatic was an Instagram growth platform that was shut down by Instagram for violating its terms of service. When you visit the Popamatic website, you will see the following message redirecting you to 'IG Clerk' as their new website.
There is no doubt that the design of the IG Clerk website looks quite similar to Popamatic, and much of the wording is almost identical as well. Even its team page is identical to the list IGClerk displays on its website!
Therefore, IGClerk is a modified version of Popamatic that was shut down for violating Instagram's terms of service. Additionally, people trying to sign up on IG Clerk have reported that registration is completely closed. In addition, there is no customer support available to assist users during the setup process.
Could Instagram be putting pressure on IG Clerk to shut down as well? Whatever the case may be, it is not good news for users who want to grow Instagram followers organically on the IgClerk platform.
In contrast, everything is clear with AiGrow. The features, tools, and method of operation are all transparent. When you sign up for AiGrow, your account manager will get in touch with you. You will access the amazing dashboard and utilize its valuable features.
How to Use IG Clerk
When we attempted to log in to the IGClerk free trial to evaluate its functionality, we faced this unusual message:
However, if you insist on using this tool, we recommend getting started with IG Clerk by using its free trial at first. It is important to note that this Instagram growth service free trial is limited to five targets and no account manager!
IGClerk Features
One of the worst aspects of IG Clerk is its website's lack of transparency. Also, their claims of organic growth are contradicted by the absence of an account manager! According to their website, IGClerk's limited features are as follows:
It allegedly offers email support and priority support, depending on your package.
Supposedly manual and organic IG growth service.
The 7-day free trial which is unavailable!
It includes analytical reports.
IG Clerk Pricing
They have a lower price point of $19 a month. According to the contract, this is a one-time payment, so you should be prepared to pay upfront. You will get five targets for this price! but not an account manager.
Their second price point is $69 per month, which can also be billed all at once. At this price point, they offer source reports, but still no account manager.
You can access an account manager for $199 per month, which makes for a costly package. So, using IGClerk is just a waste of money!
IG Clerk Reviews
Trustpilot has one review of IGClerk, which is highly unfavorable. It means that the service is a scam, and you should avoid it at all costs. Additionally, we didn't find any reviews about IG Clerk on Reddit or any IG reviews on this novice service!
This service is poorly unknown and has very few reviews elsewhere. As a result, we do not recommend it for those concerned about their online reputation and credibility.
IG Clerk Pros & Cons
Like any other company, IG Clerk has its unique pros and cons. It will be easier for you to decide if this service will meet your needs by looking at its advantages and disadvantages.
Pros
It offers a seven-day free trial. (If only it works!)
IG Clerk has a secure HTTPS Website
It provides visible pricing for its packages.
They have included an FAQ page below their prices.
Cons
This IG growth service is more likely to be a bot.
Lack of online reviews
Poor customer support. There is no evidence that they offer round-the-clock customer service on their website.
There is no registration process available at this time.
Getting your refund can be challenging. According to the website, you can get a refund at the company's discretion. But they do not provide any further information in this regard.
IG Clerk Introduces some people as its team members; however, there is no information about their expertise or role within the company. I think they have tried to fool people with a fake team page like this.
Its business registry/location is unknown.
IGClerk is a relatively new service with no proven record of success on credible review websites like Trustpilot.
The terms 'gram', 'insta,' and 'IG' belong to Instagram through legal copyright. Therefore, any infringement of these terms would be illegal, and IG Clerk violates this rule.
There is no active blog on the website.
AiGrow: The Best Alternative to IG Clerk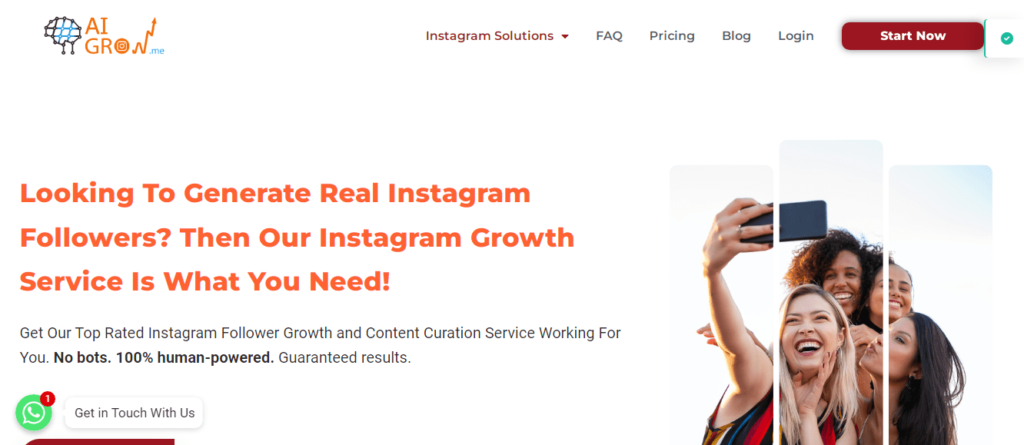 AiGrow is our top recommended organic Instagram growth service for you. Why? Because AiGrow offers a combination of advanced AI-powered technology plus professional human resources to grow your Instagram account organically and safely.
AiGrow compared to IGClerk, is a complete platform that provides a wide range of helpful features. It gives you great freedom to customize your growth activities on Instagram. Additionally, AiGrow's experts will take care of your growth strategies regularly.
After signing up, AiGrow will assign you a dedicated account manager to perform manual growth strategies based on the Instagram algorithm. Therefore, when using AiGrow, you don't need to worry about being banned or suspended by Instagram.
Moreover, With an excellent user rating on Trustpilot and Scamadviser, AiGrow is also an established and well-reputed Instagram growth service. It also offers 24/7 customer support via live chat, email, and phone. If you are interested to learn more about this fantastic service, you can check out our complete AiGrow review.
Grow your Instagram safely with AiGrow.
How Does AiGrow Work
Sign up on AiGrow. The signing-up process is pretty simple. Once you have signed up, you can access AiGrow's dashboard.
Upon entering your online dashboard, click on 'growth' at the top of the page to select the package that best suits your needs.
Next, AiGrow asks you to identify relevant hashtags or target accounts based on gender, location, competitor accounts, etc., to help AiGrow's AI engine find qualified followers for your profile. So, using AiGrow, you do not need to worry about bots or fake or inactive followers. AiGrow will hyper-target Instagram users interested in your content or whatever you offer.
Then, AiGrow connects you to your account manager. Dedicated account managers are responsible for taking care of clients' accounts. They perform strategic manual activities on the account to bring organic and safe growth to your IG profile.
You can contact AiGrow's customer representatives via email if you have any unanswered questions. They are available 24×7 to help users solve any possible issues and offer free one-on-one appointments to help set up your account.
Then what are you waiting for? Guarantee your success with AiGrow right now!
AiGrow Features
Let's take a closer look at some of the valuable features offered by AiGrow:
Automated DMs: With automated DMs, you can send mass DMs on Instagram and interact with your followers. You can check your DMs in your email inbox and respond to them with text/media.
Content Scheduling Tool: AiGrow has a powerful scheduling tool that allows you to publish your posts at the best time on Instagram.
Managed Instagram service
Content Repost Tool: You can easily repost viral or user-generated content with this feature, generating lots of shares and likes for your Instagram page.
AiGrow's Hashtag Generator Tool: It allows you to explore the most recurring hashtags in your industry and use a variation of them on your posts.
Social Calendar
Post & Reward
PostMate Feature: You can create Instagram posts, schedule them, and design them. Ideal for companies with a lot to do! PostMate delivers weekly content creation and scheduling to keep your Instagram page relevant and fresh.
Advanced Targeting Options
Dedicated Account Manager:
24×7 Customer Support
Mass Delete Instagram Posts
AiGrow's Giveaway Picker Tool allows you to host giveaways on Instagram, pick your random winners among entrants, etc.
Manual Growth Activities
Instagram Unfollow App
Instagram Analytics Tool + Social Monitoring Tool
Integrated Bio-Linking Tool
AiGrow offers all the tools and features you may need to grow your audience organically and safely on Instagram.
Watch this video to get an idea of the AiGrow users' experiences:
Get more out of Instagram with AiGrow.
AiGrow Pricing
AiGrow provides a wide range of pricing options. Using AiGrow, you will be able to hire a professional account manager. It is therefore well worth the cost. To see all AiGrow's growth packages, click here.
AiGrow is also offering a one-week package for new users. The first weekly package costs only $29 with the discount code, and you can cancel it at any time.
AiGrow Vs. IG Clerk; Final Verdict.
| | | |
| --- | --- | --- |
| Features | IG Clerk | AiGrow |
| Organic growth | ❌ | ✅ |
| Personal account manager | ❌ | ✅ |
| Real engagement | ❌ | ✅ |
| Providing Instagram content strategy assistance | ❌ | ✅ |
| Sustainable growth | ❌ | ✅ |
| Designed templates for content (feeds/stories). | ❌ | ✅ |
| Instagram scheduling tool | ❌ | ✅ |
| All-in-One Bio-Link Tool | ❌ | ✅ |
| Instagram post deleter tool | ❌ | ✅ |
| Instagram unfollow tool | ❌ | ✅ |
| Social Media Monitoring Tool | ❌ | ✅ |
| Human-driven + advanced-AI growth strategies | ❌ | ✅ |
| Active blog | ❌ | ✅ |
| 24/7 customer service | ❌ | ✅ |
AiGrow Vs. IGClerk
FAQs on IG Clerk
Here are some frequently asked questions about IG Clerk. Check them out to learn more.
Q1. Is IG Clerk Legit and Safe to Use?
According to our analysis, IG Clerk isn't safe to use, and you shouldn't sign up for it if you want to have a successful Instagram business account.
A big red flag is that they do not require your Instagram password. If they were organic and did things manually by their staff, they would need your password to access your account. Therefore, it is evident that IG Clerk is a generic Instagram bot.
Moreover, they are copyrighting Instagram's name by using the phrase 'IG' for their brand. A few bots and other companies related to Instagram have been shut down for violating the company's legal copyright. Thus, using IGClerk is extremely risky.
Also, IG Clerk is a modified version of Popamatic that was banned for violating Instagram and Facebook terms of service. Accordingly, this tool has no record of success, and you are more likely to be at risk than to benefit from using it.
Q2. Is There a Coupon Code for the IG Clerk Service?
No. We could not find any discount coupon code for IGClerk on the web. The Igclerk website offers discounts only for users who add more than two IG accounts to their IG Clerk dashboard.
Final Note on IG Clerk
In conclusion of our IG Clerk review, we should say it is not safe to use. Despite their claims and promises, they do not use that much human engagement. Also, neither of their two growth plans includes an account manager. Who is performing the organic growth, then?
A large part of their growth activities is automated (similar to their previous version, i.e., Popamatic), which will jeopardize your Instagram business account. Some recent reports also confirm that IGClerk is no longer operating and has been deactivated by Instagram. Thus, we think IGClerk is a scam that you should stay away from.
In this review, AiGrow is the best recommended IG alternative for you. With AiGrow, you'll give your Instagram the proper attention, leading to great results. It is an easy-to-use platform that you can use on any browser. Many Instagram users have already tried it out, and it has proven to be a well-liked choice. AiGrow is entirely legit, affordable, and with 24/7 customer support. It won't let you down. You can be sure of that.
Give AiGrow a try now and get guaranteed results.