As you search for an Instagram tool to help you reach a vast number of new followers, you have come across Instaforce, a tool that uses real Instagram users to help you grow your following organically.
Well, that's how they describe themselves! We, however, are here to investigate Instaforce reviews to see whether they live up to their claims and evaluate its features to see if it qualifies to be ranked among the best Instagram growth services?
The following will evaluate Instaforce's legitimacy, how to use it, customer reviews, and introduce you to a better alternative – AiGrow Instagram growth agency – if you are not convinced to use Instaforce by the end of this article.
Real Instagram Followers: Why You Need Them
Having a large number of real followers indicates that you have a committed community of people who support and believe in your business. Since followers normally see your posts, it's important to have ones that are interested in what you post.
The consistent growth of your Instagram account will increase social proof, which leads to getting more followers over time. Additionally, getting your follower count up and more engagement on your posts may help you get your content onto the Explore page, which can greatly expand your reach.
Due to these factors, people are seeking out an Instagram growth service. However, not all provide real Instagram growth that actually help you.
Do you want a steady flow of organic followers? click here.
What Is Instaforce
Instaforce is yet another Instagram growth company that claims to assist Instagram users with their accounts. However, many Instaforce reviews reject all of the claims mentioned on their website.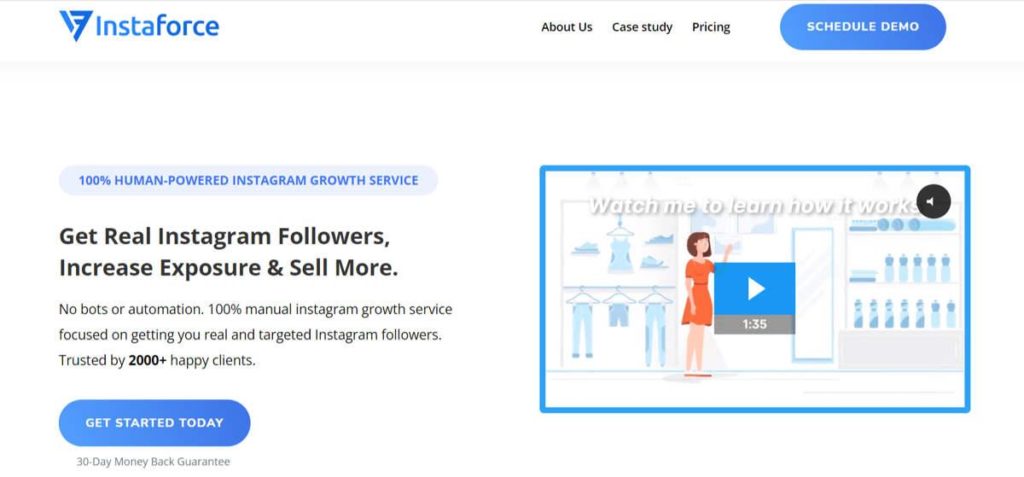 For example, Instagram growth service-Instaforce-claims that it can help grow your followers organically without using bots or automation. Instagram no longer allows bots, software, or automation, so they claim they rely only on manual methods.
However, this just isn't possible given that carrying out all of these operations requires a sizable workforce, and the About Us page only shows that they have eight employees on their team.
How Does Instaforce Work
Instaforce Instagram service aims to increase your exposure on Instagram. The company claims that you can expect to boost any potential revenue you're looking to earn or get sponsored on Instagram due to these new followers.

They claim to use human resources to follow/unfollow accounts and provide real, targeted followers for you.
According to their website, once you've signed up for Insta Force, you'll receive a questionnaire asking you about your preferences, as well as your niche, goals, and target audience. After that, they will ask for your password so that they may access your account and begin administering it.
Additionally, InstaForce offers a full money-back guarantee. According to their website, if you don't gain 400+ new followers within the first 30 days of using their service, they will refund your money.
While the service may seem promising, is it really worth the risk to rely on them to get you more followers on Instagram? Let's take a closer look and find out!
How To Use Instaforce
You can go to the website with the address Instaforce.co and sign up for their service. There is only one monthly pricing plan of $125 available for you.
A plan that is supposed to get you your own Instagram account manager who will assist you in increasing your follower count by targeting people who have an interest in your brand.
However, you must first complete a questionnaire about your niche and target audience, then wait for an account manager to contact you.
According to InstaForce reviews, there is a suspicion of using bots. For example, in the screenshot below of this Trustpilot review, it says that the user's account was suspended and that there was just one person that you could contact! So, we can say that they use bots for their activities!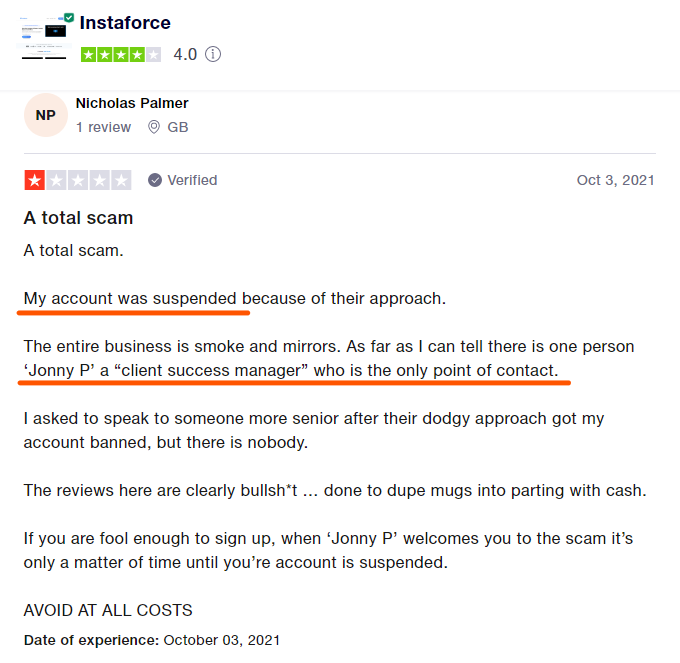 Note: The company's website features a video aimed at explaining how the service works, but it is poorly designed and fails to represent the service accurately.
InstaForce Service Features
Yet if you dare to sign up for this spammy service, we investigate Insta force features here. However, there aren't enough tools to help individuals manage their Instagram profiles professionally. For example, features such as the link in bio tool, the DM tool, mass unfollowing, and deleting posts will make Instagram users' jobs easier, which Instaforce does not provide.

As we move forward, let's look at what the only service Instaforce has to offer:
Instagram Account Managers to Do Targeted Instagram Growth!
For targeted Instagram growth, Instaforce claims to work according to your questionnaire and account preferences. Supposedly, their method involves manually following and unfollowing users by Instagram managers.
Here are the promises that Instaforce makes:
Weekly growth reports
100% manual work
100% safe and Instagram compliant.
Note: Once you complete registration, it can take up to 48 hours for an account manager to contact you! Furthermore, their website shows a small team size, which may be concerning, especially when you consider the amount of work they claim to do for the companies they assist.
If you want a more comprehensive Instagram growth service, click here.
Insta force Pricing Plans
One of the things that really gets under your skin about Instaforce is the company's packaging and the fact that they only care about one pricing. It may appear simple because it is just one package, yet it limits the user's options!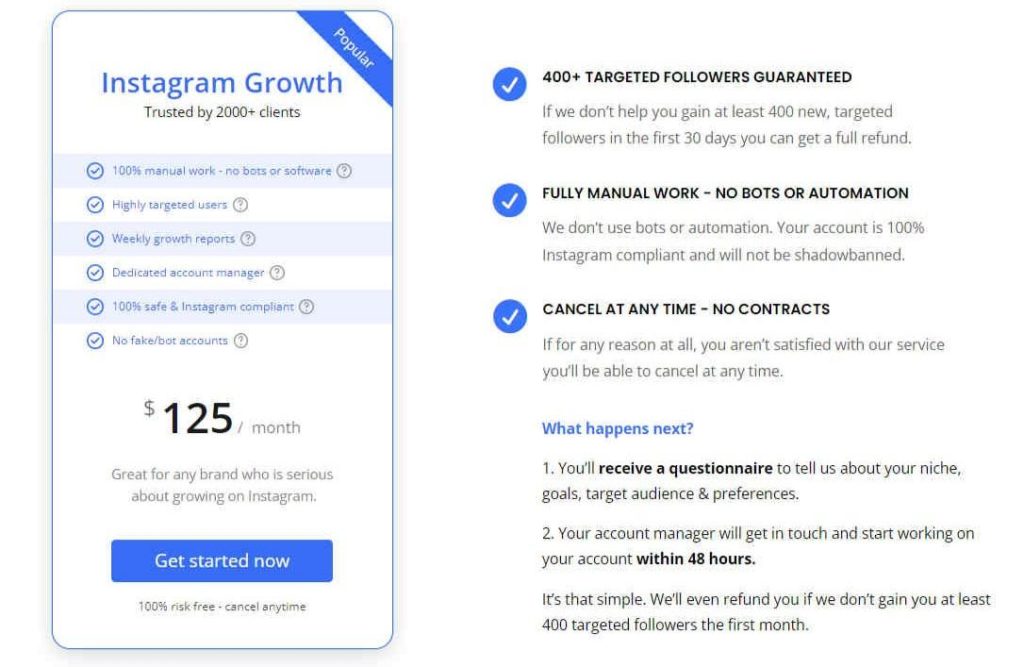 Instaforce's pricing plan is one of the most expensive for a mere Instagram growth service we have seen. They only offer one pricing plan, which costs $125/month.
Note: We are disappointed with the fact that they only have one pricing option. This shows they're making things too simple by putting all their features into one package.
AiGrow, on the other hand, provides Instagram users with more features and more packages. One of the things that AiGrow considers is the size of your company. For example, if you are a startup and don't want to spend lots of money, you can start with its starter package. Also, if you want more features, you can choose the premium package at a reasonable price.
Instaforce Reviews
There are many generic and non-helpful Instaforce reviews on the web, so we assume they're probably fake or written by company employees. Here are some of them on Trustpilot: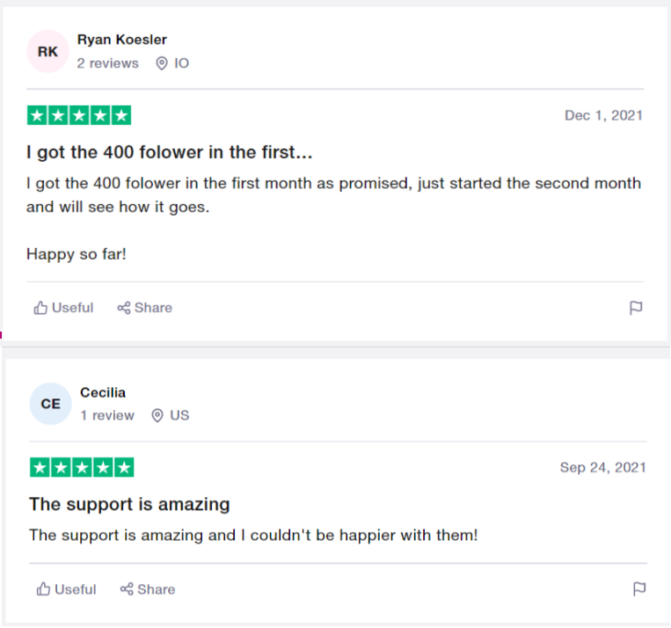 "I got the 400 followers in the first month as promised, just started the second month, and will see how it goes. Happy so far!"
"The support is amazing and I couldn't be happier with them!"
We have also found complaints from customers that claimed this Instagram followers company's services were difficult to cancel and gave no results: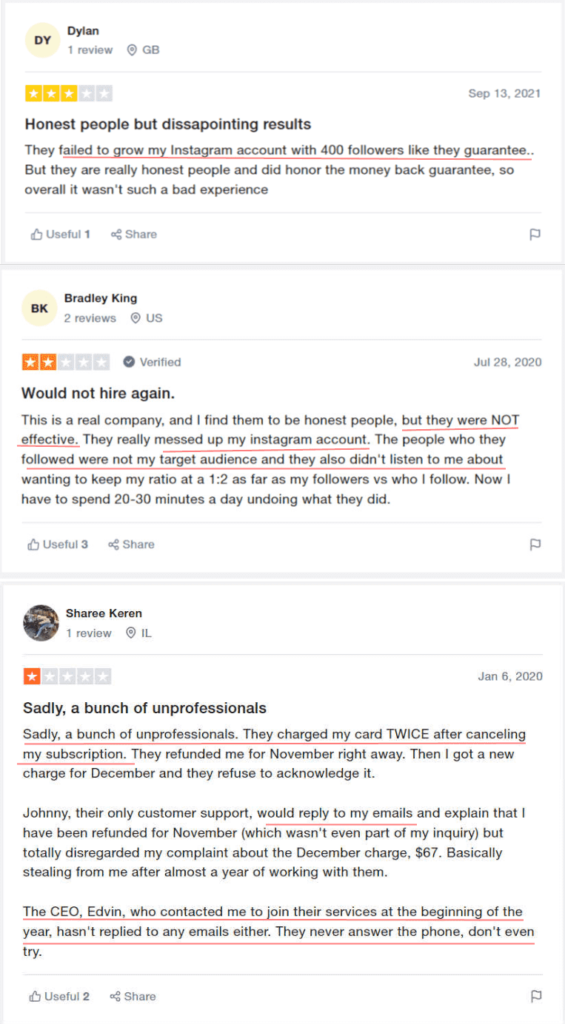 The following are some of the most common complaints we heard about this service:
They do not keep their promises.
It is not an efficient Instagram growth service.
They do not provide you with targeted, high-quality followers.
As a result of using the service, your Instagram account may be banned or deleted.
They do not have very professional team members.
You may be overcharged without receiving any results.
They provide very terrible customer service.
Instaforce Pros & Cons
According to customer reviews, here are some of the pros and cons of using Insta force:

Pros

Cons
Fraudulent Reviews
Customer service is slow and the start-up time is long
It is likely an Instagram bot
There is not a lot of onsite information
No live chat support
Lack of features and efficiency
The Best Alternative To Instaforce; AiGrow
To provide you with an alternative to Instaforce, we want to introduce you to a real Instagram growth service that will allow you to rely on it to grow your account without worrying about its negative effects.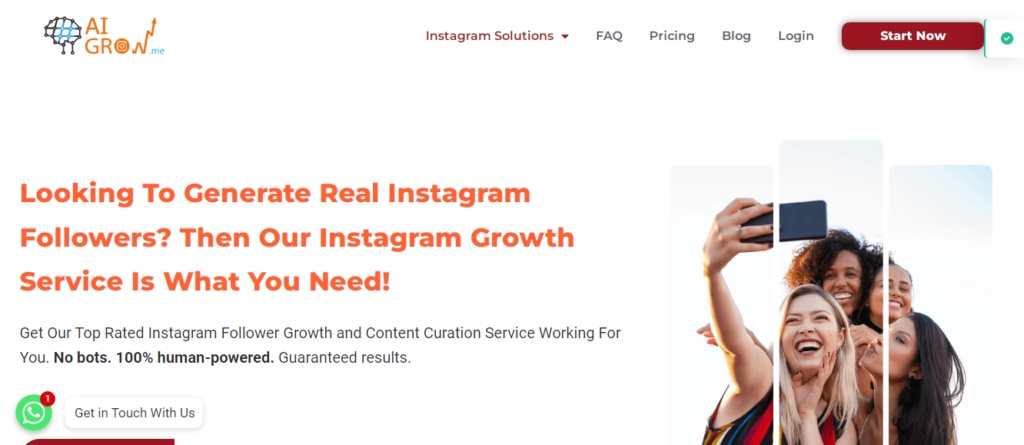 So if you find that Instaforce is not a good fit for you, think of it as a blessing that you found out in advance rather than wasting your money.
AiGrow is a comprehensive growth solution with a lot of positive feedback from Trustpilot users. AiGrow reviews are also positive, as evidenced by this one on the Hoothemes website.
When compared with AiGrow, Instaforce fails to provide its users with an audience that is relevant to their goals.
| Features | Instaforce | AiGrow |
| --- | --- | --- |
| Growth plans | ✅ | ✅ |
| Manual growth activities(follow/unfollow, likes, comments) | ✅ | ✅ |
| Content design template (feed/stories) | ❌ | ✅ |
| Content plan calendar | ❌ | ✅ |
| Account manager | ✅ | ✅ |
| Schedule feed plans | ❌ | ✅ |
| Multiple links in Bio | ❌ | ✅ |
| Bulk Unfollow plans | ❌ | ✅ |
| Bulk post delete plans | ❌ | ✅ |
| Analytics | ✅ | ✅ |
| Bulk DMs | ❌ | ✅ |
| Giveaway picker tool | ❌ | ✅ |
| Trustpilot score | 4 | 4.6 |
Our solution for you to bring you the best possible result is AiGrow VIP growth service. It has a number of affordable pricing plans with a variety of features, tailored to meet the individual needs of your business for sustainable growth.
Try AiGrow's growth plans and boost your engagement.
Let's look at the features in more detail. We're confident you'll be interested in what this service has to offer and how it works.
AiGrow Features
AiGrow, a top Instagram marketing company, offers the best Instagram growth service, as well as a variety of other solutions, including:
Instagram Content Scheduler
multiple Instagram links in the bio
Post and reward
Content calendar
Automated DMs
Youtube video in IGTV
Instagram content creation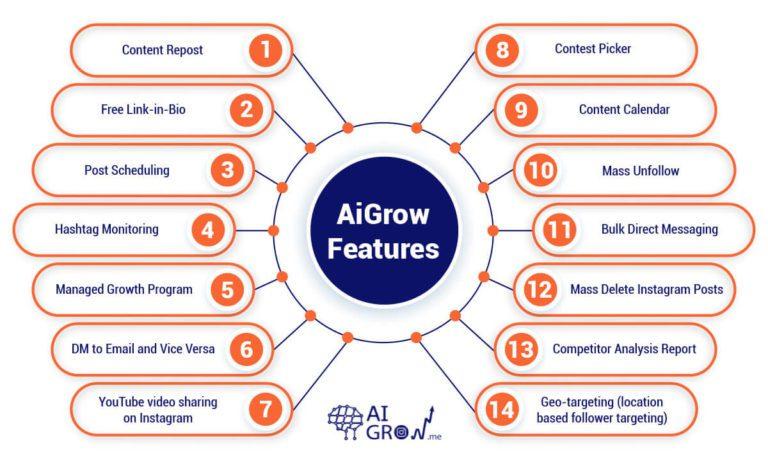 Before Aigrow team starts working on your account, you will be provided with a walkthrough session. During this session, an Instagram account manager will discuss all issues related to your page with you and outline what Aigrow can do for you.
In addition, you will receive a daily and weekly activity report of your Instagram account that gives you an accurate overview of the work they've been doing on your behalf.
Sign up for AiGrow to drive organic followers to your page.
Get more out of Instagarm with AiGrow
How To Get Started With AiGrow
Start using Aigrow in a few easy steps:
Using your email address, sign up for AiGrow's website.
You can connect as many accounts as you want on your dashboard by clicking 'Add Instagram Account'.
Click "Manage."

4. To target your audience, you can specify hashtags, locations, and competitor accounts on the 'Growth' tab.
5. Your assigned manager can then perform specific activities (likes and follows) on your behalf.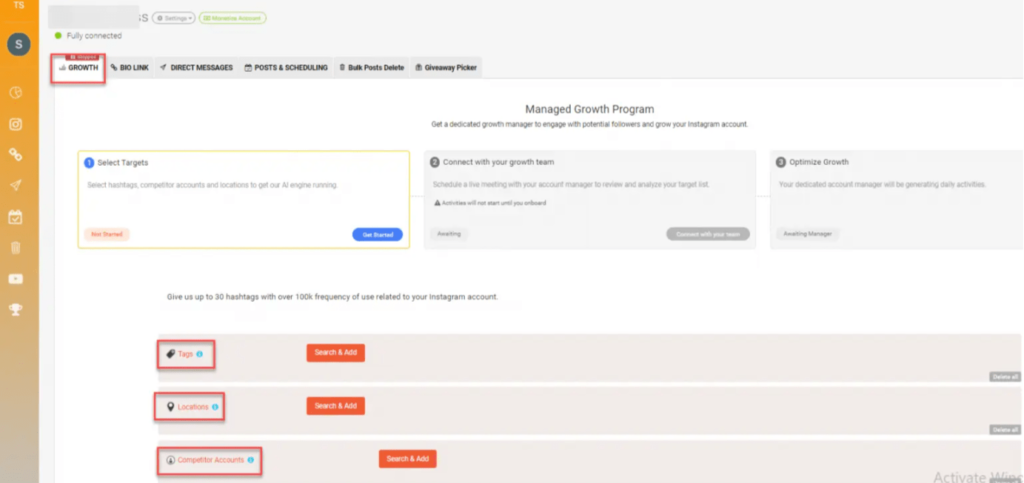 6. After you've completed the steps, click 'Start Growth.'
So, sign up and schedule a meeting with your Instagram manager now.
FAQs
Here, we address anything that this post might overlook. In case you have any further inquiries, feel free and ask in the comment section.
Q1. Is Instaforce Legit & Get You Real Followers?
There is a lack of evidence that InstaForce can deliver on its claims. A quick Google search reveals many negative reviews from customers.
If you are wondering if Instaforce is a scam or a legit company, you need to know that It is not clear how this small team can deliver so many followers to customers in a safe and trustworthy manner. There is also no solid evidence provided on the website of the company that the followers they provide are real people.
Overall, despite Instaforce's safe-looking website and assurances of safety and security, their claims about improving your Instagram account seem suspicious.
Q2. Comparing Instaforce With Similar Services, Is It Affordable?
Our "instaforce" review found that the company has relatively high prices when compared to similar services. However, if they can deliver the type of results they claim, the cost may be justified. Some companies claiming to grow your Instagram following may use random followers on Instagram to grow your account. So it is best to conduct extensive research before engaging in such services.
Q3. Using Instaforce, How Long Until You Get Your Engagement?
According to Instaforce, after you've signed up for the service and paid for your subscription, it can take two days for the company to process your order and set up your account.
They also mention that they only use follows and likes to attract people to your account. However, we do not believe that they are actually able to implement this policy every time because of the facts we mentioned earlier in this article.
Conclusion: Why Should You Not Use Instaforce
Instaforce is an Instagram marketing tool that claims to have a lot of success with clients but does not disclose the exact methods it uses to achieve those results.
The website Instaforce.co boasts of delivering followers to users' Instagram accounts, but there is no concrete evidence that these followers are genuine and real people, or that they are not actually bots or fake accounts.
Based on our observations and analysis in this Instaforce review, we have come to the conclusion that Instaforce is not worth engaging.
We recommend you consider using AiGrow instead, as it provides a reliable Instagram growth service with affordable prices and excellent customer service.