Instagram stories are the best tools to share your untold tales with other users. How to narrate these captivating tales makes you different from others. An appropriate Instagram story size allows your photographs to be displayed in their finest quality. The size of an Instagram story is significant when it comes to giving better experiences to users.
Social media image sizes and specs most impact attracting people to your content. Since the number of people using Instagram stories to drive engagement levels constantly increases, you must pay more attention to the Instagram story dimension. You can schedule and share as many stories as you'd like if you want to be more visible to your followers or increase exposure on Instagram Explore, but consider what the ideal size for an IG story is.
💥Note: This article also exposes you to the best Instagram Scheduler on the market; AiSchedul.
What Are Instagram Stories?
IG Stories are practical and useful tools enabling users to share their moments through vertical images and videos lasting only 24 hours. These Instagram stories appear as highlighted rings around the profiles and notify your followers that you have new story posts.
You can view new stories by tapping on these small, colorful rings. This will let you know the content of the recently shared experiences. When you share a CFS on Instagram, the rings are green; when you share a Story with all your followers, the rings are red.
You can check who views your insta stories while you include them as story highlights. All the photos and videos you share as Instagram stories will disappear after 24 hours unless you add them as story highlights. The followers and users are not allowed to leave public comments, but they can send DMs to the author.
Why Are Instagram Story Dimensions Significant?
Instagram has created these dimensions and sizes to ensure that your story is uploaded with the highest quality. These dimensions are also compatible with most smartphones, ensuring that your video, image, or gif will be visible correctly across various operating systems and screen resolutions.
Following the ideal Instagram Story dimensions also:
Make your brand appear more professional
Guarantees that the content is high-quality
Inhibit unnecessary pixelation
If you don't stick to these dimensions, your pictures or videos will be cropped, and the content that you wished to share won't be visible as intended. That's why it's great to set the size of your pictures and videos using an Instagram photo editing app. In general, choosing the correct IG story dimensions can help you provide your followers with a better and more desirable experience.
Ideal IG Story Dimensions (Instagram Stories Specs)
Since many Instagram users are unaware of the size of an Instagram story, they frequently ask, 'What is the size of an Instagram story?' Instagram stories with a width of 1080 pixels and a height of 1920 pixels (1080 x 1920, or 1080p Instagram story resolution), are the greatest story sizes.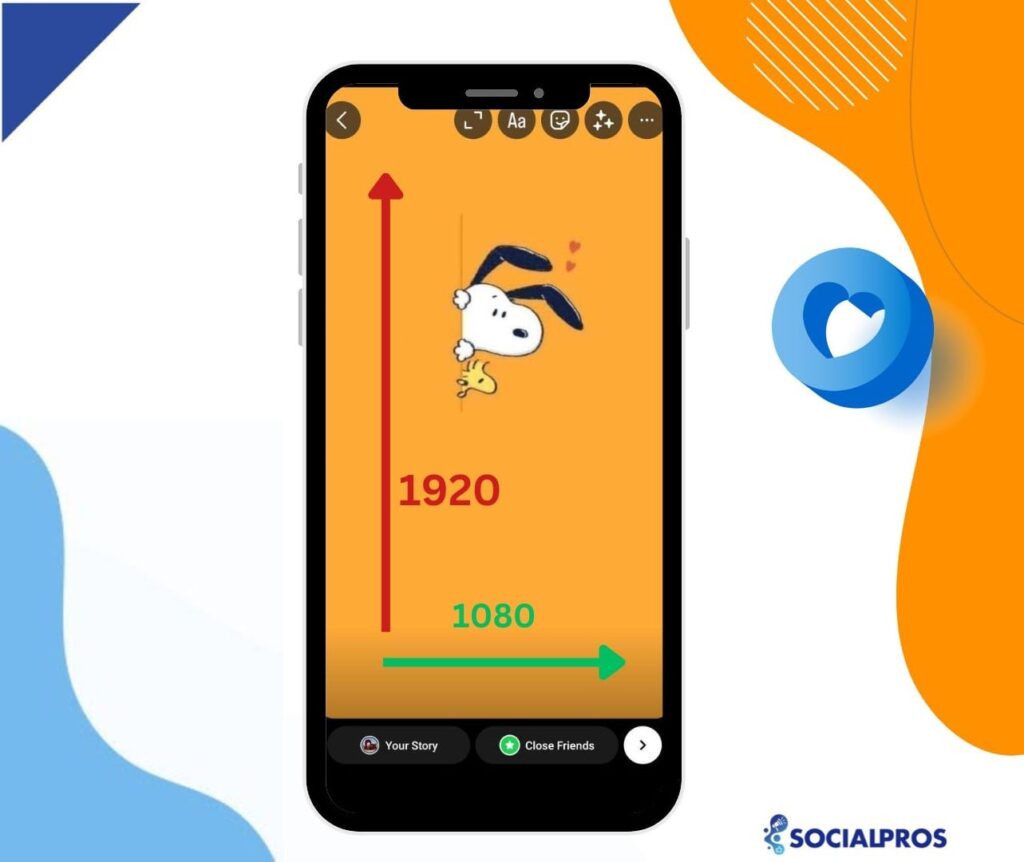 This Instagram story px size must be completed with a 9:16 Instagram story aspect ratio. It is highly significant to choose the Instagram story size ratio and Instagram story px size carefully to provide the users with a pleasant experience. If you upload videos and images vertically, they look nice.
IG stories specs can remarkably affect the final result of your jobs so invest time in choosing the best Instagram story dimensions.
The Instagram story format is dependent on its content. The format of the picture files shall be JPG or PNG, and their size shall be under 30 MB. The format of video files must be MP4, MOV, or GIF. They shall be 15 seconds long, and their size must be under 4 GB.
If the account is public, Instagram stories are visible to everyone, but if the account is private, only followers can see the IG stories. If you do not stick to the Instagram story dimensions, the platform cannot depict your Instagram stories correctly, and your stories will remain ineffective.
Choosing the optimal Instagram story size helps you depict your content with the highest quality. Additionally, the appropriate size of Instagram stories helps prevent pixelated or cropped posts. The Instagram story size also contributes to making your brand stand out from the others.
How to Create Insta Stories?
It is not difficult to create and share a new Instagram story, it is just enough to tap on your story choice at the top left and choose the camera option on your cell phone. Your phone camera will let you record a video or choose a picture from your gallery and share it vertically. Creating photos using Boomerang can help you to apply special effects.
You can use your phone's entire screen space by sharing vertical content on Instagram stories. Be creative when using Instagram stories. Written text, shoutouts, templates, and questions can be included in your stories. You can also choose pictures and videos from your gallery and change their size using photo and video editing apps before setting them as your stories.
The Best Tips about Instagram Story Dimensions
IG stories are highly flexible since you can make use of different features to make them attractive and cheerful. You can provide your follower with the latest information and details, promote your brand, sell your designated products and services and make use of them for influencer marketing.
The following are some best tips to help you answer 'What is Instagram story size'?
1. Use High-Quality Content
By providing top-notch content, you can uphold professionalism standards. Because Instagram resizes movies and photos as they are uploaded, the quality of blurry photographs deteriorates further. Before sharing, be sure that your photographs are at least 72 PPI (pixels per inch).
2. Stick to Correct IG Story Dimensions
There's no need to waste time on the correct Instagram story dimensions. You shall not be worried about IG story size if you record vertical videos or images using your smartphone. However, Instagram will resize your horizontal content to create the correct size. The final results in such cases will not have good quality. Thus, your Instagram story aspect ratio should be 9:16.
3. Use Vertical Content
Unlike ordinary Instagram posts, which are adaptable in dimension and orientation, Instagram stories dimensions can be more efficient with vertical content. If the format of your images or videos is horizontal, upload them as ordinary posts.
4. Utilize Editing Apps
Editing apps such as Canva, Adobe Spark and Lumen5 can help you to produce high-quality content while sticking to correct Instagram story dimensions. These apps enable you to add specifications, upload and edit content and include graphics.
5. Use AiSchedul
If you are tired of manually scheduling your Instagram stories, AiSchedul, the cutting-edge AI-powered tool designed to simplify and enhance your story scheduling experience. AiSchedul is a comprehensive platform that offers a range of features to help you schedule, manage, and optimize your social media stories effortlessly.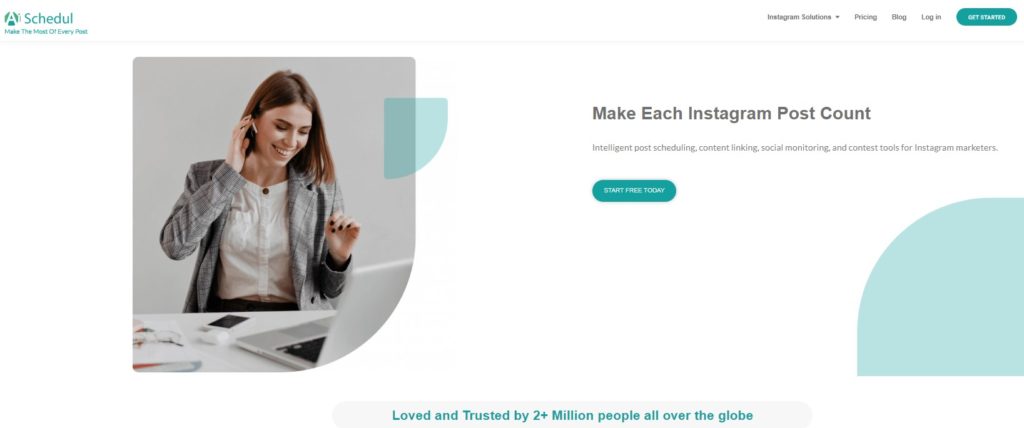 Whether you're an individual influencer, an Instagram manager, or a business owner, AiSchedul has got you covered. AiSchedul can revolutionize your story scheduling process.
AiSchedul provides a user-friendly interface that simplifies the scheduling process. You can easily upload your stories, add tags, include IG hashtags and mentions, and choose the best posting time on Instagram. AiSchedul takes care of the rest, ensuring your stories are published at the right time.
By the Batch Scheduling feature of AiSchedul you can save even more time by scheduling multiple stories in advance. AiSchedul allows you to create a queue of stories and set specific intervals between each post. This feature is perfect for planning your content in advance and maintaining a consistent presence on social media. To know more about AiSchedul read this AiSchedul review.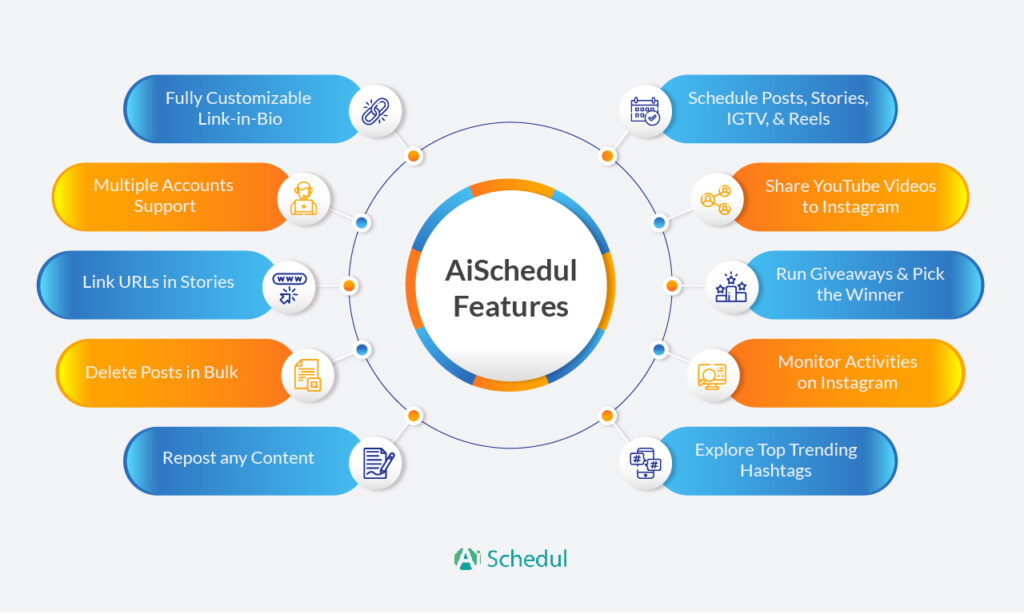 Try AiSchedul today and experience the convenience and effectiveness of AI-powered story scheduling. Take your social media presence to the next level and unlock your true potential in the digital world.Say goodbye to manual posting and hello to automated efficiency with AiSchedul.
6. Keep Files at Most 30 MB
To make your superior quality content for stories, you must adhere to the file limit. Your files should be at most 30 MB.
Instagram Story Size Conclusion
It is an easy task to create an Instagram story, but choosing the correct Instagram story size can be challenging. The best idea is to share the most important and appealing ideas with your followers without overwhelming them.
You can get help from robust visuals and powerful graphics to make the most of the 15-second game. Stories are a strong tool to attract followers and keep them engaged while creating your brand image. Be aware of using the correct Instagram story dimensions and Instagram story size so that your IG stories don't look unprofessional and unappealing.
FAQs on Instagram Story Size
Q1. What is the best Instagram story size?
The width of an effective Instagram story size must be 1080 pixels and its height shall be 1920 pixels. An Instagram story aspect ratio shall be 9:16. The width of images should be at least 500 pixels and their format shall be JPG and PNG. The format of videos should be MP4, GIF, and MOV and their length must be at most 15 seconds. IG Stories work well with vertical content.
Q2. Does changing Instagram story dimensions affect the shape of videos?
It does not change the shape of videos. The most appropriate Instagram story dimensions are 1080 by 1920 pixels, but they make a large amount of space full on your device and need lots of time to upload. choosing lower pixels accelerates the speed of your uploads while maintaining video and picture quality.
For instance, switching to 720 pixels by 1280 pixels will expedite the uploads while maintaining HD quality. Doing so will not alter the video shape as these settings preserve the required 9:16 aspect ratio.
Q3. How long do Instagram stories stay visible?
Instagram stories last only 24 hours. If they are added to your profile as story highlights, they last for as long as you wish.
Q4. What is the best aspect ratio for Instagram stories?
An aspect ratio of 9:16 by height and width is the best one for IG stories. It is sought-after since it is compatible with all devices while making your posts look nice.
Read More from SocialPros: