Have you ever noticed that when you follow someone on Instagram, a list of similar accounts appears below the follow button? This is known as Instagram suggestions and it can help you grow on Instagram organically by increasing your visibility and find your target followers. However, sometimes it increases the probability of being exposed to spam accounts, random followers, bots, and harmful accounts on Instagram. 
In the following paragraphs, I teach you how to turn off Instagram suggestions, how to use them to grow on Instagram, and some other great tips to use these suggestions beneficially. Keep on reading!
How to Use Instagram Suggestions to Get More Followers?
As mentioned above, you can use Instagram suggestions to increase your visibility and attract more target followers. But how? Well, the Instagram algorithm for suggestions work in 2 ways: 
Suggests

YOU

as a similar account to people who may follow accounts in your niche, 

Or suggests friends and accounts to you to follow on Instagram. 
The first way, you will obviously get more organic followers on Instagram just by appearing right below the follow button. Here's an example of what I'm talking about: 

After following an art account, Instagram suggested a list of similar accounts to me that I might be interested in. And the same happens for you. Meaning that if you have a number of mutual followers with a brand or an account with the same niche when a person follows them, they probably view your account as a suggestion and if you have a perfect Instagram profile, they'll end up following you. 
On the other hand, if you are one of those accounts that use follow-for-follow strategies and try to promote your business using traditional marketing techniques, this feature will help you create a list of prospective customers and try to get their attention. 
So, these suggestions help you get more free views on your Instagram profile, and also identify users that might be interested in your account, and create a list of potential followers to attract. By the way, it'll take a great deal of time to grow this way and needs you to be active every single moment. So, how can you grow on Instagram and get a list of suggested accounts within a minute? Let's see! 
AiGrow: Get 5 Days of Growth For $5!
One of the best Instagram followers apps that works based on Instagram suggestions and new algorithm updates is AiGrow. Actually, AiGrow wants you to choose a few hashtags, locations, influencer accounts, and categories related to your industry. Then, following the same algorithm as Instagram does to suggest you accounts to follow, creates a list of prospective followers just like the following: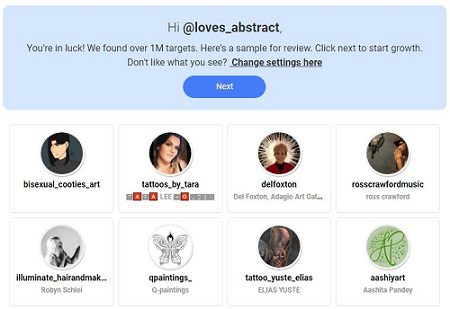 After that, an Instagram account manager starts attracting the accounts on the list manually. But this is not all it offers you. Using it, you'll also have the chance to:
And more. Right now, they offer a very special plan that enables you to attract your target followers in 5 days, only with $5. So, sign up for free and try the unlimited 5-day trial plan right now. 
Also Read: Use This 1000 Free Instagram Followers Trial for Real Followers
How to Prevent Instagram From Suggesting You as a Similar Account?
It's true that Instagram suggestions help you get more views and grow faster out there. However, sometimes it results in being shadowbanned, getting random followers, and being identified as a spam account on Instagram. 
To prevent all these harmful actions and keep your account safe, we suggest you turn off the suggestions. For this, you just have to follow these steps: 
Open the

Instagram website

on your device. 

Click on your profile photo on the top right corner of the screen.

Now, click on

"Edit Profile"

and scroll down the screen until you see the

"Similar Account Suggestions"

. 

By unchecking the corresponding box, Instagram doesn't suggest you to other accounts anymore.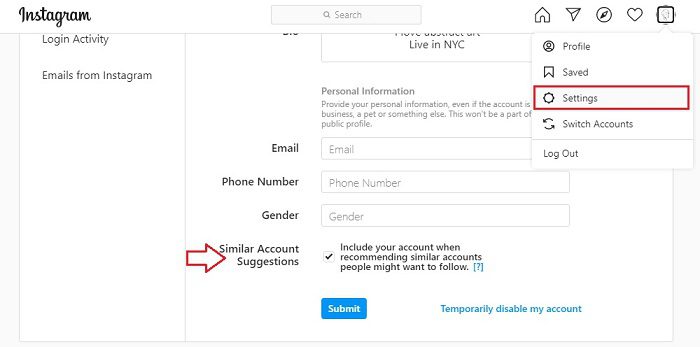 How to Turn Off Friend Suggestions on Instagram?
If you are managing a personal account on Instagram, you have definitely noticed friend suggestions when scrolling down your Instagram feed. Actually, this feature is great if you want to make friends on Instagram. However, if it is going to distract you, you may want to simply turn it off. 
Unfortunately, there are no ways to turn of friend suggestions or remove all the suggested accounts at once. However, by going to the "Discover People" section, you can remove these suggestions one by one. Just tap on "x" and the suggestion removes.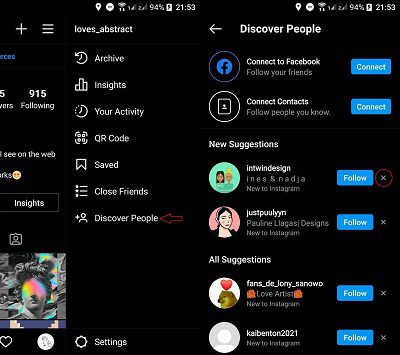 Bottom Line
To wrap it up, Instagram suggestions can have advantages and disadvantages. Using this feature, your account gets more attention for sure. But right after an Instagram bot starts following you, more and more bots and fake accounts find you out and you'll get tons of harmful followers. This may result in being suspended and deactivated by Instagram. So, we suggest you use an Instagram growth service in order to reach more audiences and turn off the suggestions.