Are you setting your heart on being more creative and saving time on Instagram? Well, you can post to Instagram from your desktop.
Instagram is a fast-moving competitive marketing field that every freelance Instagram marketer needs to accelerate publishing posts and pictures. Therefore, you might have lots of documents and files available on your desktop and some handy tools to edit and launch them on the platform easily. In this case, posting to Instagram from your desktop is an excellent idea.
This article will tell you how to post to Instagram from your desktop and answers to your most common dilemmas about it. 
How to Post to Instagram from Your Desktop 
Fortunately, Instagram has set the scene for all Instagrammers to post to Instagram from a desktop in addition to their mobile apps. Actually, this opens the gates for the creatives to make most of their innovative ideas and discover brand new features to do their best in the Instagram marketing area and be a public figure on Instagram fast.
Also Read: 6 Proven Ways to Generate B2B Leads with Instagram Marketing
Firstly, you can easily connect to the Internet on your Mac or PC desktop and open Instagram website in your browser on Chrome, Firefox, or Microsoft Edge.
Then, enter your username and password, you will face your account in a second.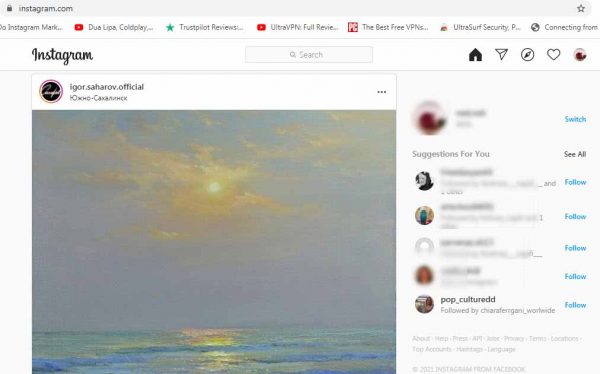 If you want to see your smartphone's interface of Instagram account, you can go through the following steps:
Right-click anywhere on your Instagram desktop.

Select "Inspect" from the scroll bar; a page will come upon the right side of your screen.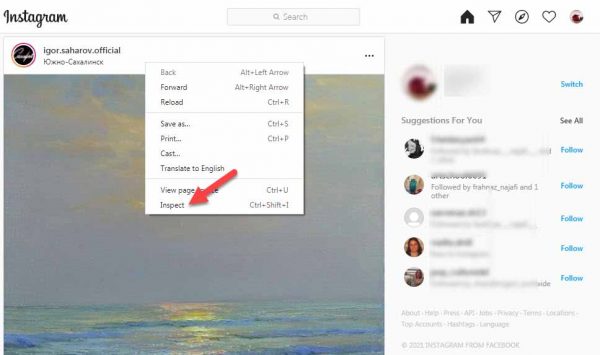 Click on the icon of a mobile phone in the bar to see your mobile interface.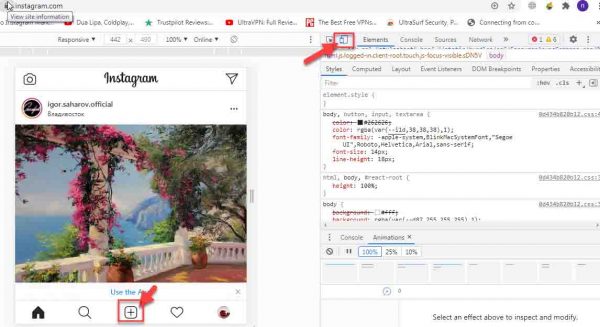 Click on the + icon to post a photo to Instagram from your desktop.
Remember that if you could not see the + icon in Chrome, you should refresh your page.
After posting a photo to Instagram from your desktop, you can add caption and location, tag people in your posts, and then click to share.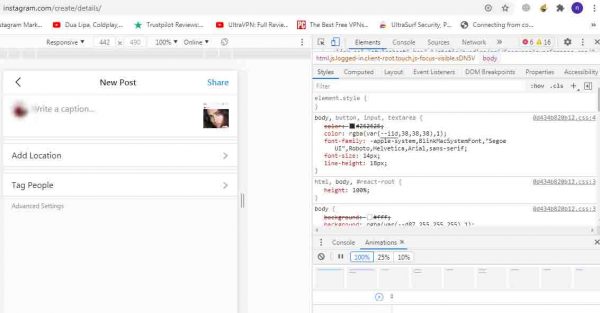 But, the matter is that if you run your Instagram to grow your business and build your brand, this is not all you expect from your Instagram on desktop. Right?
Keep reading: How to Find a Perfect Instagram Consultant for Growth & Marketing.
You may need to add hashtags to your posts to get more famous, repost other posts or stories, or send Instagram messages to your followers in bulk. 
Moreover, you may crave to manage multiple Instagram accounts efficiently and not waste time publishing your posts one by one.
Unfortunately, none of them are possible from the Instagram platform directly. Therefore, you need to be more well-equipped.
So, what is the clue?
The answer is an excellent Instagram marketing tool to help you manage your account peacefully.
Post to Instagram from Your Desktop in 2021 Easily
AiGrow is an all-in-one Instagram management tool that lets you manage your account effortlessly.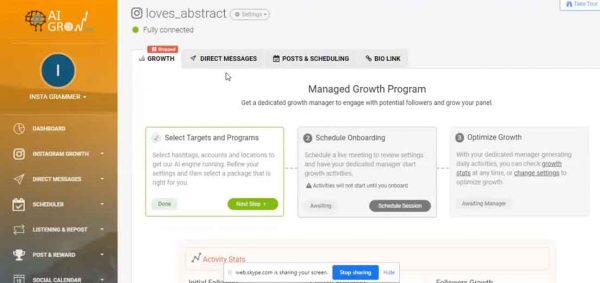 How about managing multiple Instagram accounts on PC quickly and easily? 
AiGrow, lets you manage more than 80 Instagram accounts on a platform. Also, you can simply switch accounts on Instagram on a PC.
You can easily sign up for free, add your accounts, and start Growth.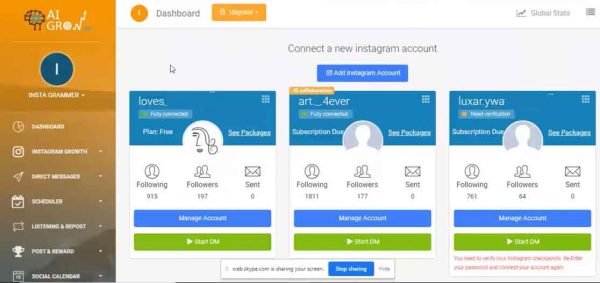 Indeed, using this app, you can:
According to the below photo, you can schedule the time and then post or repost the feed, story, or IGTV comfortably.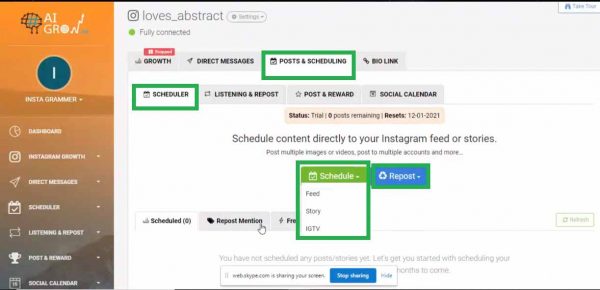 Also, you can add multiple tags to your feed in a wink of eyes.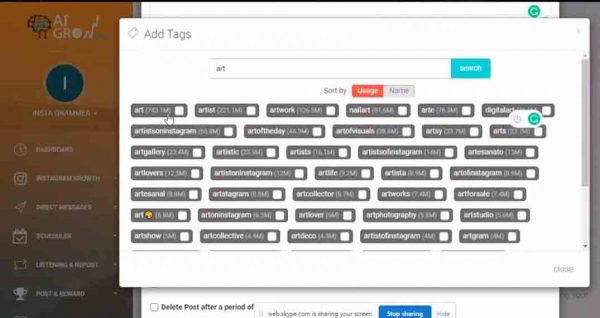 Additionally, you can add location and post multiple hashtags as your first comment to your post. Moreover, you can select in which accounts you want to publish the posts.
Above all, you are able to connect the post to an external URL.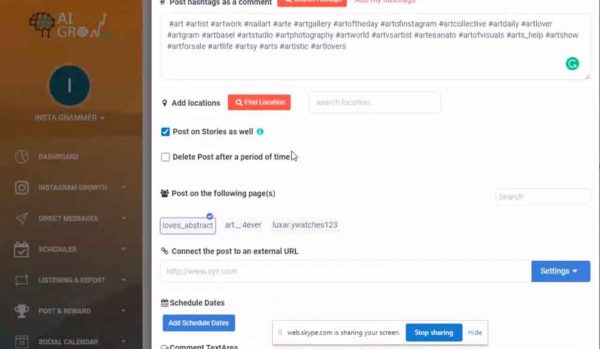 This is the best way you could post to Instagram from your desktop and monitor all ongoing activities on the platform.
FAQs about How to Post to Instagram from Your Desktop 
Now you know how to post on Instagram from your desktop. Considering the subject, you might have some questions that here are the answers for the most common ones
1- How to upload multiple photos to Instagram from PC?
AiGrow will ease the process of uploading multiple photos to Instagram for you. In fact, you only need to select the photos you are interested in and schedule the desired timing you want to publish them. Also, this app provides you to add multiple photos & videos to Instagram Stories with ease.
2- Could we upload a video to Instagram from a PC?
Utilizing this app, it's a piece of cake to upload a video to Instagram from a PC. You will schedule the time and then select the video you want to share on Instagram. Also, you can add captions, hashtags, and location to your video.
3- Why can't I post on Instagram?
If you wonder why you can not post on Instagram, it's because:
You are disconnected from the internet 

Your storage is full

Some bugs are preventing you from posting

Your video is too short

You are violating Instagram terms or copyright
But the good news is that you can quickly fix it here if your Instagram not posting.
4- Can I post Instagram stories from PC?
Yes, you can.
To publish Instagram Stories from desktop, you can:
 Schedule the time

 Select "Story"

Add the photo or video to your story 

Insert CTA if you wish
Final Words
Instagram is an agile and flexible platform for every device, and you can post to Instagram from your desktop or smartphone wherever you are in the universe. However, to enhance your business's efficiency and productivity, it is best to cash in on an excellent Instagram management tool. This will act as a helpful 24/7 assistant for you.