Planning to promote your podcast on Instagram and get more subscribers? Smart choice! But with over 1,000.000 shows out there (and still increasing), probably trying to do the same thing, it might seem like a challenging job. Not to mention that you have to develop marketing strategies for Gen Z, as they make up for the most significant proportion of your audience. And to be honest, they hold high expectations when it comes to entertaining programs.     
Also, when statisticians estimated that monthly podcast listeners would grow by 16% in 2021 compared to 2019, surely they missed one important, yet unexpected event: the global COVID-19 pandemic, which made us locked down in our homes. This awful phenomenon alone has increased the number of global podcast listeners by 42% (Vox Nest) and surely gave birth to many new podcasts along the way.
To avoid falling behind your competitors, as a small business, you need to plan the best post strategy on Instagram and advertise your work in the best way. And that's what I'm going to show you in this article. So, sit tight and read this article till the end. Here's an infographic for our time-minded readers: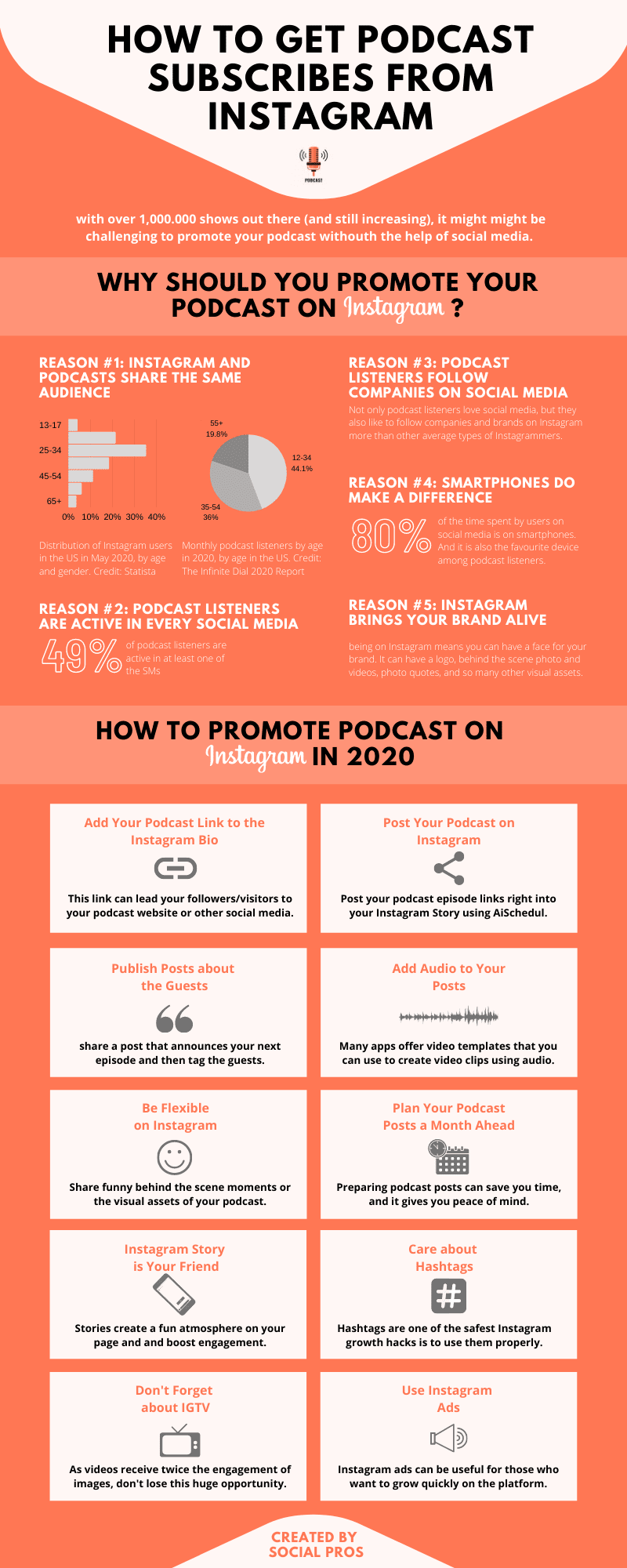 Why Should You Promote Your Podcast on Instagram?
Let me assume for a moment that you're not entirely sure about using Instagram to advertise your podcast. After all, Instagram is a whole different world, and you need to dedicate much time and energy to marketing a podcast on Instagram. I understand your concerns, and that's why, in the following, I'm going to list the most important advantages of using Instagram for marketing a podcast. Here they are:
Reason #1: Instagram and Podcasts share the Same Audience
The most strong reason to promote the podcast on Instagram is that these two share a lot when it comes to the audience demographic profiles. First of all, stats have shown us that the majority of both podcast listeners and Instagram users are people younger than 34 years old. Here are the figures for the US, as one of the leading countries in terms of the number of Instagram users.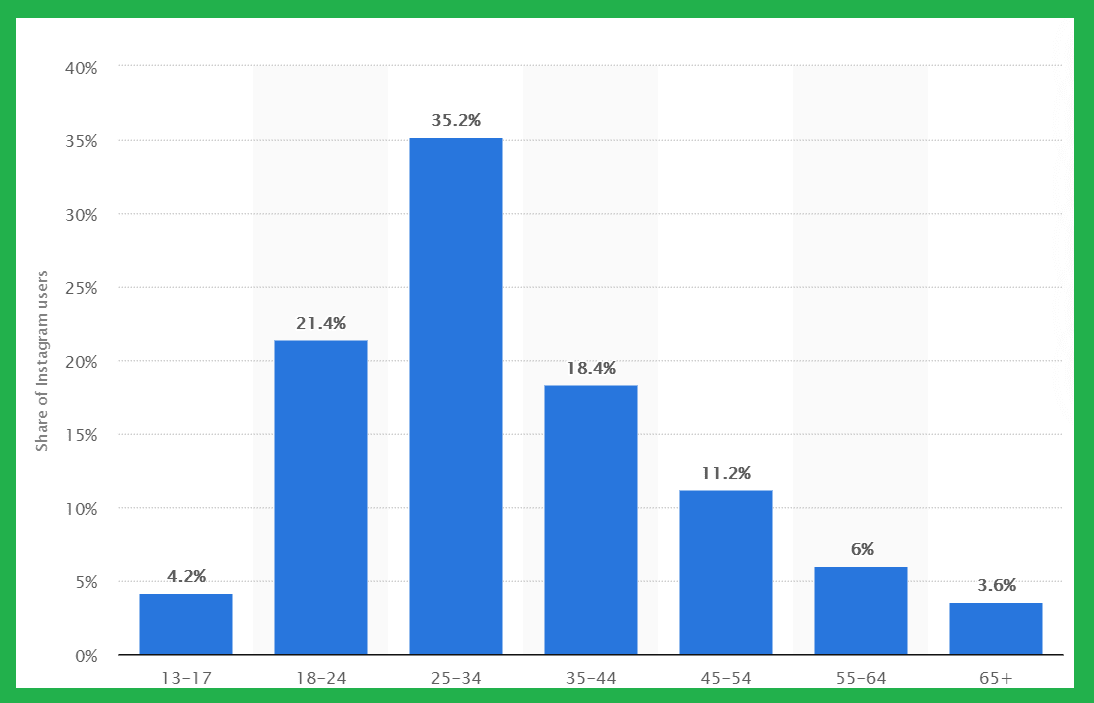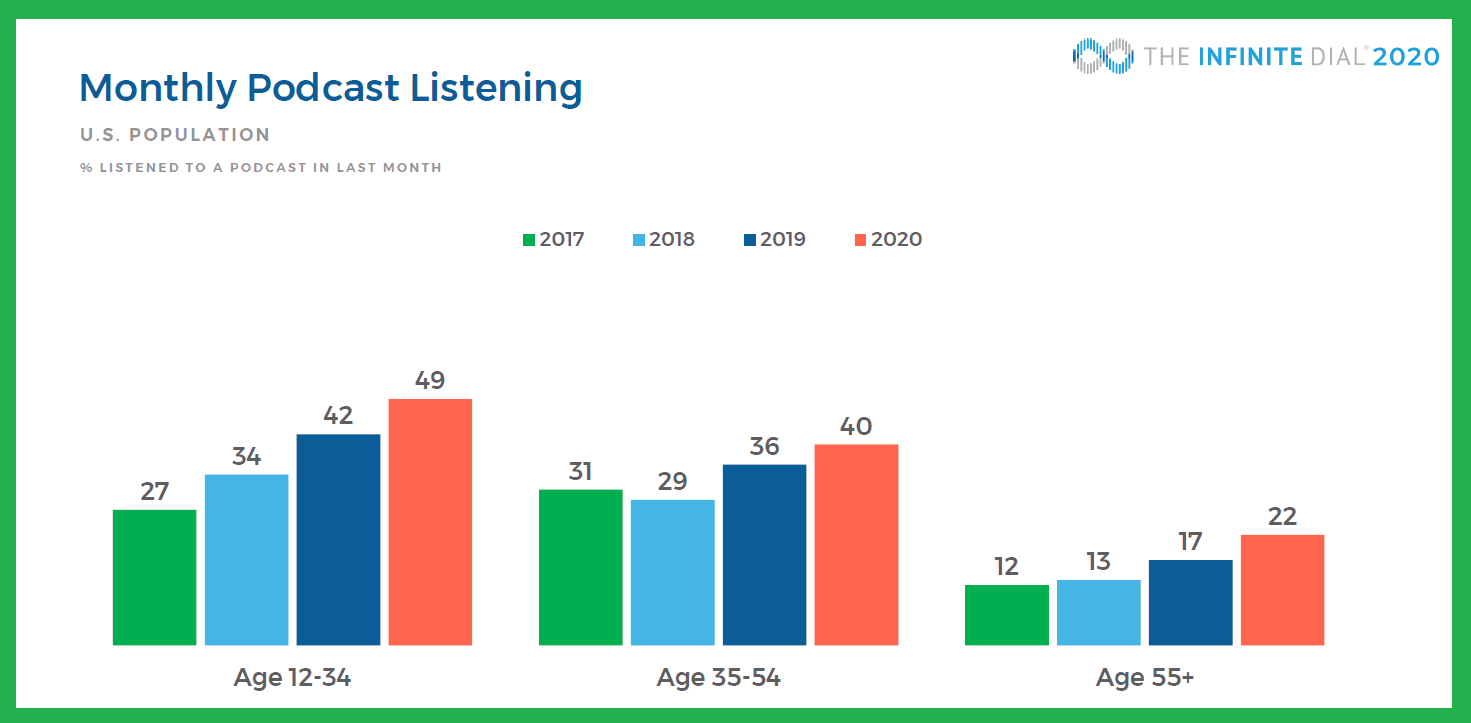 That means if you target audiences among Instagrammers, there's a good chance that they're also podcast listeners. As you can see, Instagram is like a gold mine for you! 
Reason #2: Podcast Listeners are Active in every Social Media
Voracious podcast listeners tend to be an active user in all social media, including Instagram. 49% of them are active in at least one of the SMs. As getting Instagram engagement is the fundamental key to success in Insta marketing, knowing the fact that podcast listeners will interact with your page more than other users can make you more determined to invest in this platform. This will perfectly work if you know how to find them in the first place, right? Don't worry; we'll get there too.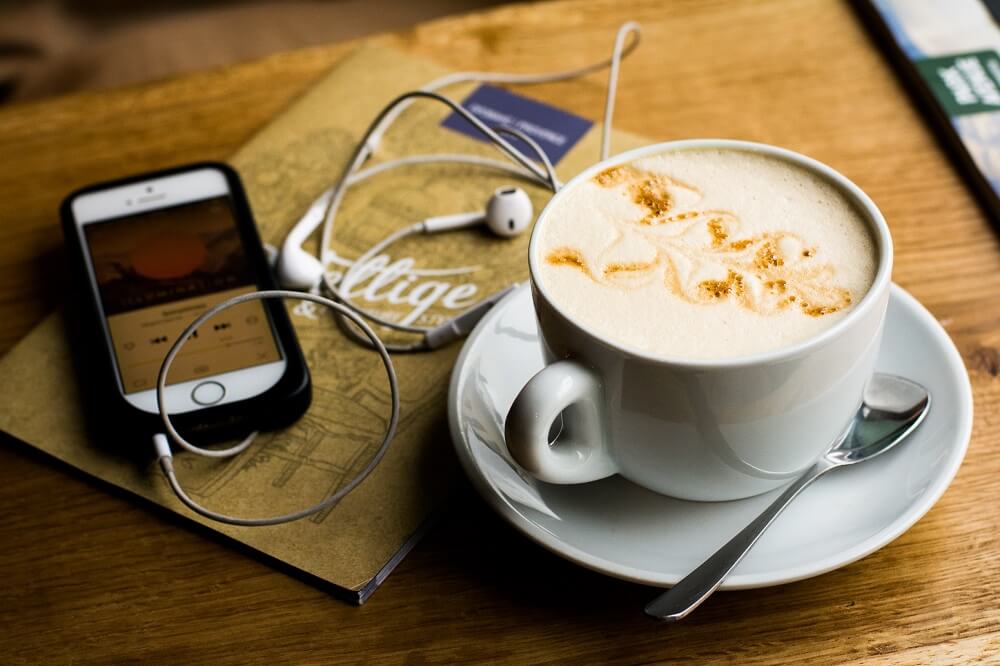 Reason #3: Podcast Listeners Follow Companies on Social Media
The second reason to promote your podcast on Instagram is that not only podcast listeners love social media, but they also like to follow companies and brands on Instagram more than other average types of Instagrammers. This is an excellent opportunity for all podcasters and especially for those who also run a company.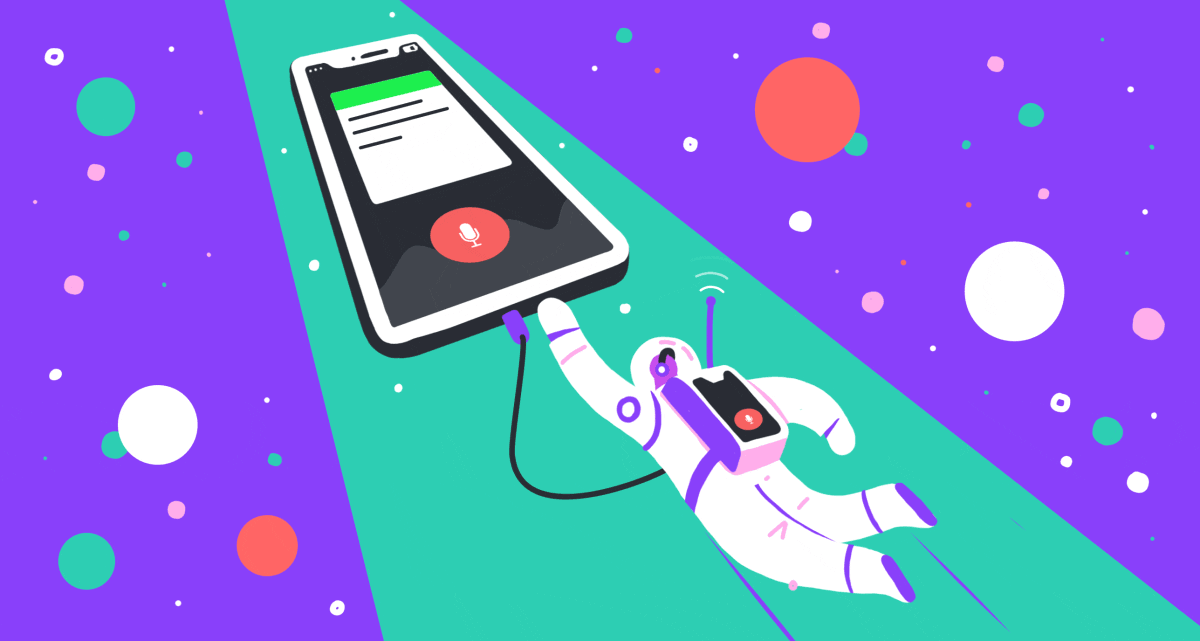 Reason #4: Smartphones Do Make a Difference
Another reason to promote a podcast on Instagram is the fact that podcast listeners and Instagrammers are both voracious smartphone users. Studies showed that almost 80% of the time spent by users on social media is on smartphones. On the other hand, most people listen to a podcast on their handsets while they are on the way home or work. However, these days people tend to stay more at home during the pandemic, but they still like to listen to podcasts on their phones. 
As both of these media are essentially mobile apps, you have a better chance of cross-promoting them.  
Reason #5: Instagram Brings your Brand Alive
One of the hurdles you face when hosting a podcast is the fact that you can't take advantage of visual content, as podcasting is entirely based on audio. It's not the case if you use Instagram to promote your podcast, where all sorts of visual content are available. 
Remember, being on Instagram means you can have a face for your brand. It can have a logo, behind the scene photo and videos, photo quotes, and so many other visual assets. So, don't let your podcast stay in the dark and bring it alive by giving it a face on Instagram. 
Now that you know how Instagram can be beneficial for your podcast, let's see how you should correctly promote it on Instagram. 
How do I promote my podcast on Instagram in 2021?
Needless to say, there are hundreds of ways how you can promote a business on Instagram. But I'm not going to talk about all the businesses, that would be too general to be valuable for you, as a podcaster. So, I've picked up the top ten most effective promotional activities that you can do on your Instagram page that will bring you thousands of new podcast subscribers. And I start with the most important one; so, here we go: 
1- Add Link in Bio to
Promote Your Podcast On Instagram
When visiting an Instagram account, people normally look at the profile picture first, and they slide their eyes down to the bio. This part only holds 150 characters, but it still has an exceptional ability: adding only one clickable external link. 
This link can lead your followers/visitors to your podcast website, your other social media, or your latest episode. But have you ever wondered what it would look like if you could add all social media clickable links to your Instagram bio or add any other sources? Well, lucky for you, I happen to know how you can do it!
AiSchedul: The ultimate solution for adding multiple links to Instagram bio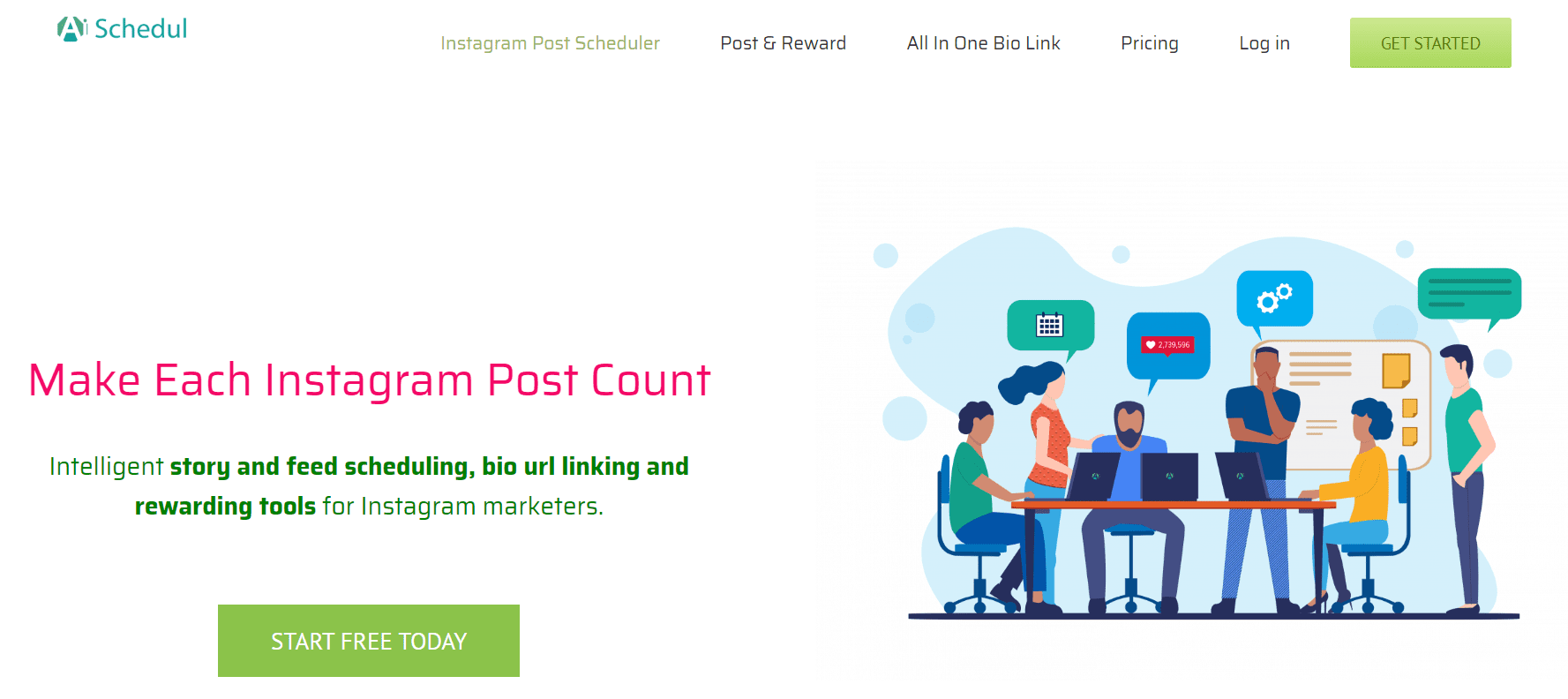 AiSchedul is an Instagram manager that has a unique feature called "Bio Link." What Bio Link does for your Instagram bio is fantastic; you can add unlimited clickable Instagram links not only to your bio but also to every post!
This ability is especially great for podcasters because instead of changing their link in bio for every episode, they can simply add the link to the corresponding feed post. 
To fully enjoy this app, sign up to AiSchedul for FREE and also watch this tutorial video:
2- Post Your Podcast on Instagram
Yep, you've read it right. You can actually post your podcast on Instagram. Besides sharing the link of the episode to your post, you can also share it on Instagram Story in a few ways. Let's see how to share a podcast on Instagram.
The first way to post a podcast on Instagram is only for Spotify users. If you add your podcast on Spotify, you can share it on Instagram Story, where your followers can click on it and listen to it on Spotify directly.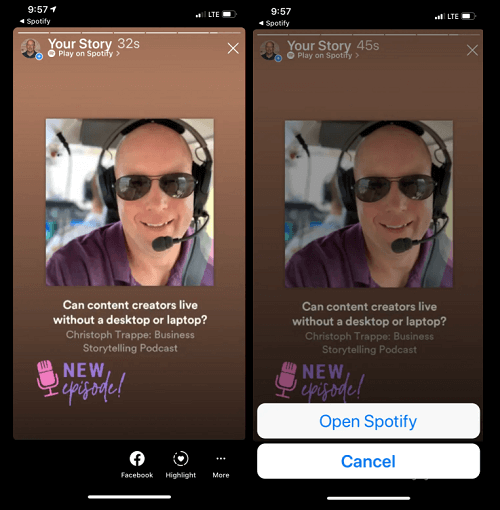 A better way to share a podcast on Instagram Story is to use AiSchedul. Remember when I told you it's possible to add links to every post? Well, the same thing can happen with Story. Even if your account is not verified and you have less than 10K followers, you can still add external links to your Instagram Story. 

3- Publish Posts about the Podcast Guests
A fantastic way to attract new followers to your page is by publishing content about your podcast guests. Usually, podcasters invite those who are experts in a particular area or activity. They might invite authors, athletes, and any successful person to help them make their podcast more exciting and professional. Well guess what, when searching to find suitable guests, you will find out almost most of these people are doing a great job on social media and are considered as Instagram influencers. 
An excellent way to lead their followers to your own page is to post content about them. For example, you can share a post that announces your next episode and then tag the guests, so it could be easy for them to repost the content on their Instagram and for their fans to find you. 
You can also use hashtags that contain their name. 
Another great way to attract new followers is to share a quote from your guests, whether it is reposted from their social media or your episode. 
Don't know where you can find podcast influencers? Take a look at Ainfluencer, where you can meet numerous influencers of any follower size and niche. 
4- Add Audio to Your Posts
Podcasts are all about the audio. Unfortunately, as it is a highly visual platform, Instagram does not offer any type of sharing audio option, except short songs for stories. However, you can still be creative and make simple videos that go perfectly with your Instagram feed. How? All you need is a good picture, the audio file of your podcast, and a video clip creator app for podcasts. 
There are many apps like Wavve with video templates that you can use to create podcast clips for Instagram. Here's an example:

Tip: try to use some of the most exciting parts of your episode to add in the video clip. Ideally, it should evoke the Instagrammers' curiosity so that they cannot wait to hear the upcoming episode!
Related Article: How to Add Music to Instagram Video Posts?
5- Be Flexible in Promoting Your Podcast on Instagram 
It's perfectly ok to be flexible on Instagram. After all, it's not the platform that you share your podcast on; so, you are free to share all sorts of content. Instagram allows you to show your followers and listeners all the details of your podcast making process. 
When they listen to your podcast, they can't see your face or your impressions. There are many funny behind the scene moments or the visual assets that happen while podcasting. You can upload all of these moments and content on your Instagram! 
@replyall, a podcast about the internet, doing a great job being flexible and publishing a variety of funny and behind the scene content. 
View this post on Instagram
6- Plan Your Podcast Posts a Month Ahead
Podcasting can be a demanding and time-consuming job, and you might find yourself so busy preparing the upcoming episode that you completely forget about publishing posts on Instagram. That's why you should prepare your content earlier to avoid such problems. 
Preparing podcast posts on Instagram ahead of time can save you time, and it gives you peace of mind. However, you can still find it challenging to share the Instagram posts every day, in the best times, as Instagram does not offer a scheduler. But don't worry, you can use Instagram schedulers, which make it much easier to handle Instagram posts publishing.
I already talked about AiSchedul, the smart Instagram manager that let you add links to your posts and Stories. But as its name indicates, it is a scheduler as well. With AiSchedul, you can easily plan your posts and stories days and even weeks ahead of publishing. 
To use this app's scheduler, go to your dashboard and then click on "Post & Scheduling" and under the "Scheduler" tab, choose to schedule a feed or Story.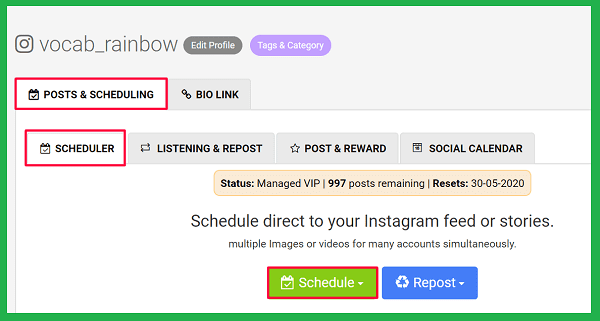 Then easily drag and drop your content and start writing an engaging Instagram caption. You can use AiSchedul smart search engine to add multiple hashtags to your post. You may add the link to your new episode if it's ready, but if you haven't released it by that time, don't worry, you can add it later. After that, set a publishing date (you can always change that too) and hit schedule, as simple as that!

7- Story is Your Friend 
I've mentioned above that you need to be flexible on Instagram. A great way to do this is by using Instagram Story. The good thing about Stories is that they create a fun atmosphere on your page and have fantastic tools that boost engagement. 
No other parts of Instagram are as flexible as Story. You can use gifs, songs, stickers, emoji sliders, and even play games on Instagram Story. Instagram countdown stickers can be very useful for podcasters to announce their upcoming episode. Moreover, you can always use quiz, poll, and question stickers to engage more with your followers or ask about the current episodes.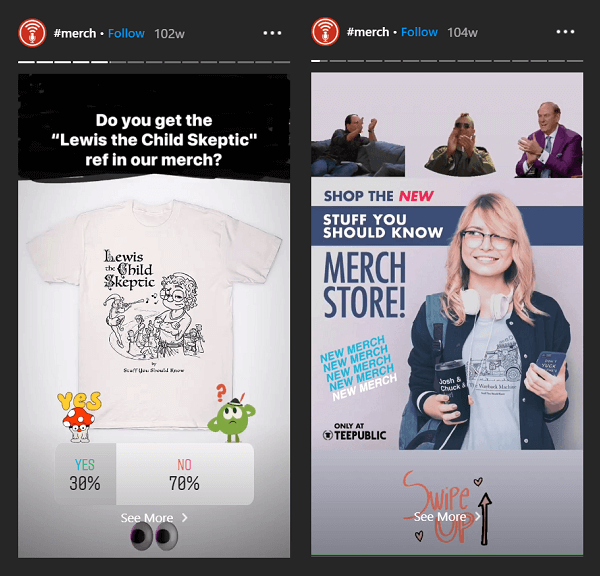 Also, you can participate in the latest Instagram challenges with the "challenge sticker" and ask your followers to join you. All of these features will help you organically grow your Instagram views and followers base, who will hopefully become your podcast listeners.
8- Care about Hashtags to Effectively Promote Podcast on Instagram
Although there are ways to get likes without hashtags, one of the safest Instagram growth hacks is to use them properly. You are allowed to use up to 30 hashtags for each post. It's better to use some general podcast Instagram hashtags such as #podcast, #podcaster, and #podcasting along with more specific ones about your niche, and finally, a few personalized hashtags that contain your brand.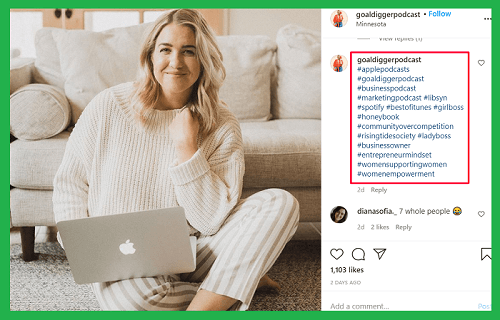 9- Don't Forget about IGTV To Promote Your Podcast on Instagram
Maybe an unusual way to promote a podcast on Instagram is IGTV. IGTV was a revolutionary update of Instagram, and it allows Instagrammers to upload much longer videos on their feed. As videos receive twice the engagement of images, you don't want to lose this huge opportunity. Many podcasters invest on IGTV and upload videos using the same material in their podcast, or a teaser, which makes it more appealing for visitors. Here's an example of IGTV feed of the @planetmoney podcast: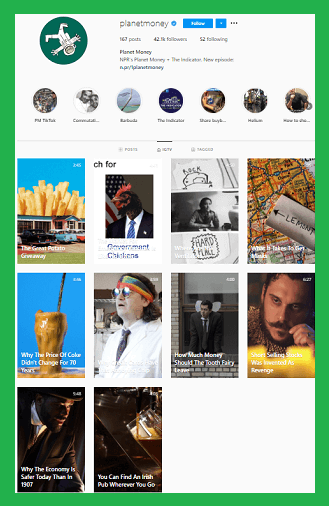 And let's take a look at one of their IGTV videos:

These are great additional content to their podcast. You can do the same, even if you are an amateur in video makings. Just make sure you know everything about uploading high-quality videos on Instagram before starting to create one.
10- Use Instagram Ads
Instagram ads can make a real difference for those who want to grow quickly on the platform. You design your ads and then set up your targeted audience. It's powered by the Facebook ads, so you have to connect your Instagram page to a Facebook page. And the more you invest money on Instagram ads, the more followers you attract.   
Examples of Podcast that are Killing It On Instagram
Not all podcasts are doing a great job on Instagram. Some just publish their podcast cover again whenever a new episode is out. Well, it's not going to work unless you're a super popular podcast such as "Stuff You Should Know."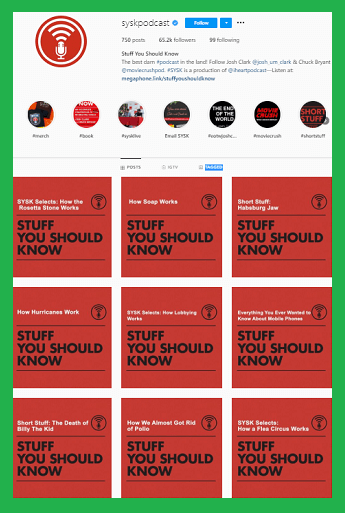 To have an overall view of what a great Instagram page for a podcast looks like, let's go over some examples.
Rise and Conquer (R&C) is a self-help podcast hosted by @georgiestevenson that seeks to help people in their career, personal life, study, and lifestyle. It now has about 100 episodes, and in most of them, Georgie invites a guest, usually a woman, and talks about their career and how they gained their goals.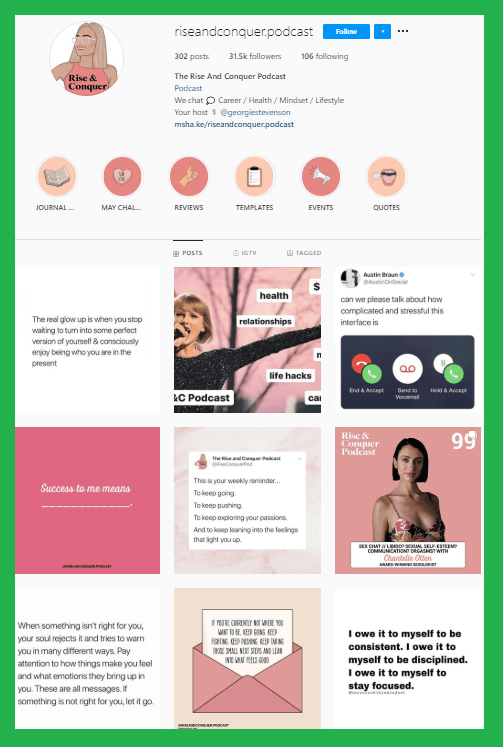 As you can see, R&C has a super cool eye-catching feed, focusing on the lady's color, pink. Let's take a closer look at their bio: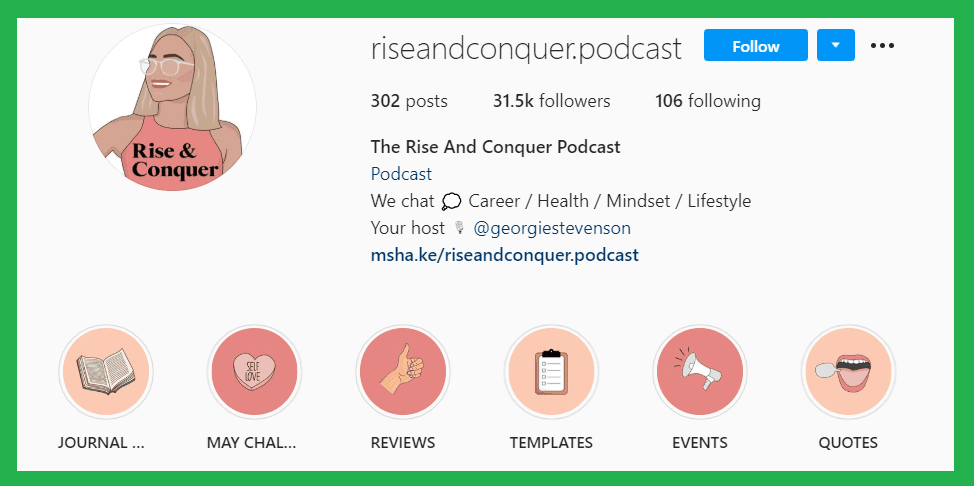 As you can see, they chose the category "Podcast," wrote a catchy and concise bio, and added a link to their podcasts. Also, they organized their Stories into separate highlights on different topics. 
Just like their podcast, R&C cares about the content and does a great microblogging on their Instagram.

They also make special posts introducing their guests for each episode.
Song Exploder podcast allows you to listen to the singers, which some of them are actually music influencers on Instagram, explaining their songs and all the stories behind them. This podcast can be useful for you as it can give you inspiration and ideas about your own songs.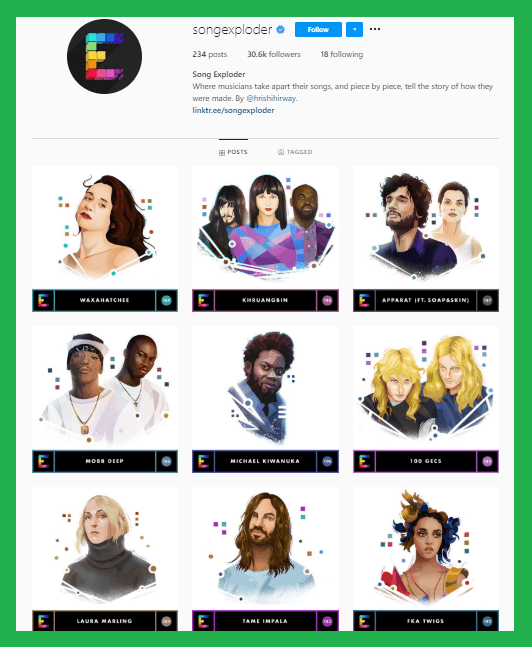 Related Article: Instagram For Musicians: How to Make Money with Music
Song Exploder has an outstanding feed full of excellent illustrations of the artists.

It also celebrates the podcast's milestones by publishing posts like this:
Goal Digger Podcast is another successful podcast hosted by @jennakutcher focused on marketing, social media, budgeting, and of course, goal-digging tangible giveaways. This podcast was among the top-rated podcasts by Forbes.  
Besides the inspiring posts, Jenna continually shares photos of herself and her family, making the page more friendly. 

She also uses a great call to action (CTA) in her content.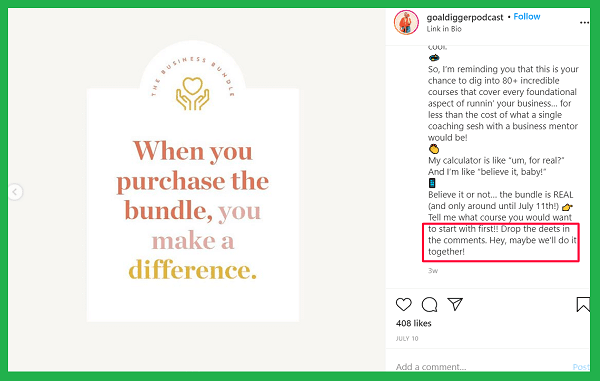 Using quotes is one of the common types of content on Goal Digger Podcast.
Conclusion on Promoting Podcast on Instagram 
Surely, Instagram can be a really powerful tool for any podcaster who wishes to get more subscribers for his/her podcast. To make the most of this incredible platform, do all the tips that I've mentioned in this article and be sure that it will pay you off.