In the dynamic realm of Instagram, where visual stories are shared and connections bloom, a familiar error often appears: "You can't message this account unless they follow you."
It's the digital equivalent of a closed door, leaving many Instagram users wondering, "Why can't I send Instagram DM posts and direct messages, and is there a way around it?" Have you ever grappled with this intriguing Instagram mystery?
The message restriction can be a frustrating barrier, whether it's a potential friend, a business opportunity, or an influencer you admire.
In the following post, we'll uncover the primary reasons behind the "not everyone can message this account on Instagram" error and provide practical solutions to navigate it.
Let's take this Instagram trip together and learn the keys to unlocking the message barrier.
Why Does Instagram Say You Can't Message This Account Unless They Follow You?
Here is a list of reasons why you may receive the "Not everyone can message this account" message on Instagram:
"Don't Receive Message Requests" Option: Instagram provides an option called "Don't receive message requests," if enabled, the user won't receive messages from non-followers.
Account Privacy: If the person's account is private, they may limit direct messages to followers for increased privacy and control.
Avoiding Spam: Many users use this restriction to avoid receiving spam or unwanted messages.
Underage User: Instagram has rules to protect users under 18, preventing them from receiving messages from non-followers.
Temporary Glitches: Occasionally, this message may appear due to temporary glitches on the platform, which usually resolve themselves over time.
Exceeding Message Limits: Instagram imposes message limits, and exceeding them (e.g., sending more than 50-100 direct messages per day) can result in this restriction. Waiting for 24 hours may resolve this issue.
These are the various reasons why Instagram may display this message when you attempt to send a message to an account.
Instagram Tutorial: What Does TTM Mean on Instagram in 2023?
How To Fix "You Can't Message This Account Unless They Follow You"?
Suppose you're facing the "You can't message this account unless they follow you" message on Instagram. In that case, it typically means that the user's privacy settings restrict incoming messages from people they don't follow.
Here are several ways to address this issue:
1- Fix "Not Everyone Can Message This Account": Ask Them To Set Birthday 18+
For users under 18 on Instagram, facing the "this account cannot receive your message" can be a safeguard imposed by Instagram's stringent restrictions to protect underage individuals.
This restricted Instagram error allows them to control who they interact with based on their follower list, enhancing their safety.
To enable messaging with an underage user without requesting them to follow you, one potential solution is advising them to adjust the birthdate on their Instagram profile to reflect an age above 18.
This adjustment can effectively avoid the message restriction. Still, it's crucial to emphasize caution and the importance of maintaining a truthful online identity and personal brand on social media, as falsifying age information may entail certain risks.
You May Want To Read: TikTok Viewer [Top 10 Best TikTok Anonymous Viewer]
How To Change Your Age on Instagram?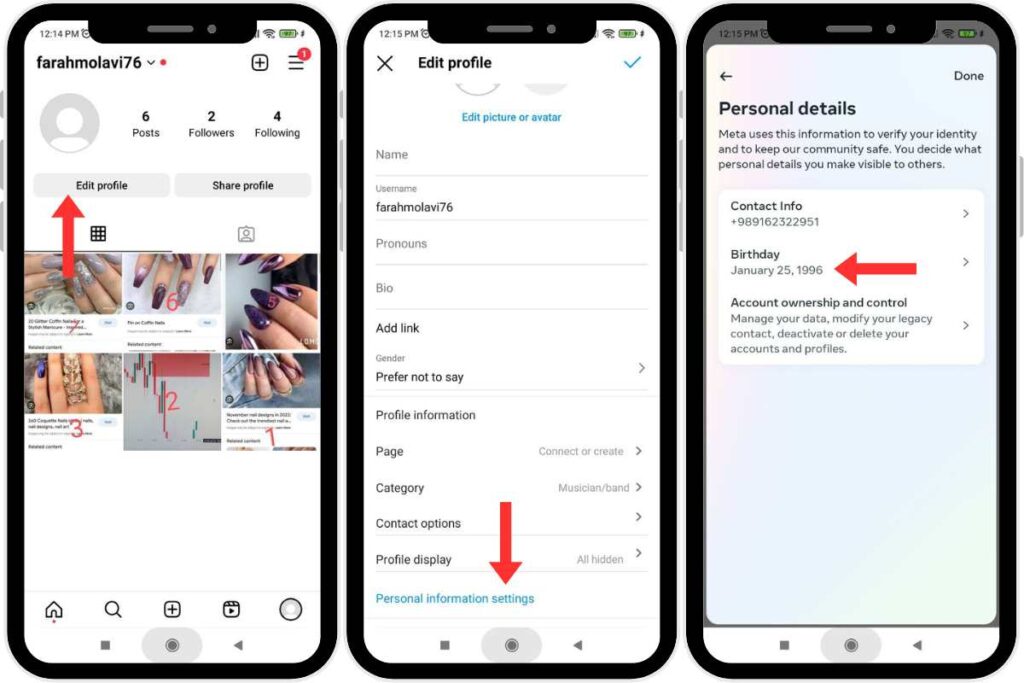 Open the Instagram app and log in.
Tap your profile picture in the lower-right corner.
Select "Edit Profile."
Find "Personal Information Settings" at the bottom and tap it.
Go to "Birthday" and adjust your birthdate to over 18. If your Instagram is linked to Facebook, use the "Update on Facebook" button for a similar change.
Related Article: Funny Bios for Your Instagram Page [Make a Big Change to Your Profile]
2- Fix "You Can't Message This Account Unless They Follow You" on Instagram: Reviewing Maximum DM Limits
When you try to mass DM on Instagram, you will get the notice, "Instagram you can't message this account," it's probably because you've already sent 100 DMs in 24 hours.
This Instagram daily limit was implemented to stop spam and the use of accounts by automated programs.
Instagram's security algorithm will restrict your account and display the "This account can't receive your message on Instagram" when you reach this threshold.
The only option is to stop sending messages and wait for the restriction to reset, which should happen within 24 hours.
If you try to overcome these limitations by switching accounts on Instagram, you may face additional stricter limits or a permanent ban.
Read More: Instagram Captions for Girls [Cute, Sassy, and Confidence Captions]
3- Fix "This Account Cant Receive Your Message on Instagram": See if the User Follows You
Instagram's "Instagram you can't message this account unless they follow you" notification appears when you attempt to contact a person who does not already follow you and who has not enabled message requests.
The answer to this problem is simple but will take time to implement. It's up to luck and patience on the user's part to start following you. Due to Instagram follow limitations, you cannot send the person a direct message requesting a follow-up.
You should contact them via other methods, such as other messaging applications or in person if you know them directly, and explain the problem.
To communicate with them, you should politely request that they follow you on Instagram.
We Suggest To Read: How to Change Email on Instagram [A Step-by-Step Guide]
4- Fix "Not Everyone Can Message This Account Instagram": Instagram Bug and Glitch
The notification: "This account can't receive your message on Instagram" is usually a sign of a malfunction or Instagram DM Glitch. As with any software, bugs might cause unexpected activity; in this case, it could mean you get an incorrect "Not everyone can message this account on Instagram" prompt.
The best thing to do in such a situation is to wait it out since the problem will likely go away once a while has passed.
In addition, if you're experiencing runtime issues, restarting the Instagram app may solve the issue.
Read More Article: Instagram Messages Disappear [Expert Solutions to Shield Your Messages from Vanishing]
5- Fix "This Account Cannot Receive Your Message Instagram": Clearing Instagram Cache
If you receive the "Not everyone can message this account on Instagram" error, clearing your Instagram cache may help.
The program's performance may be enhanced, and the issue resolved using this procedure, which entails deleting unused files inside the app.
Here are the steps for clearing Instagram catch: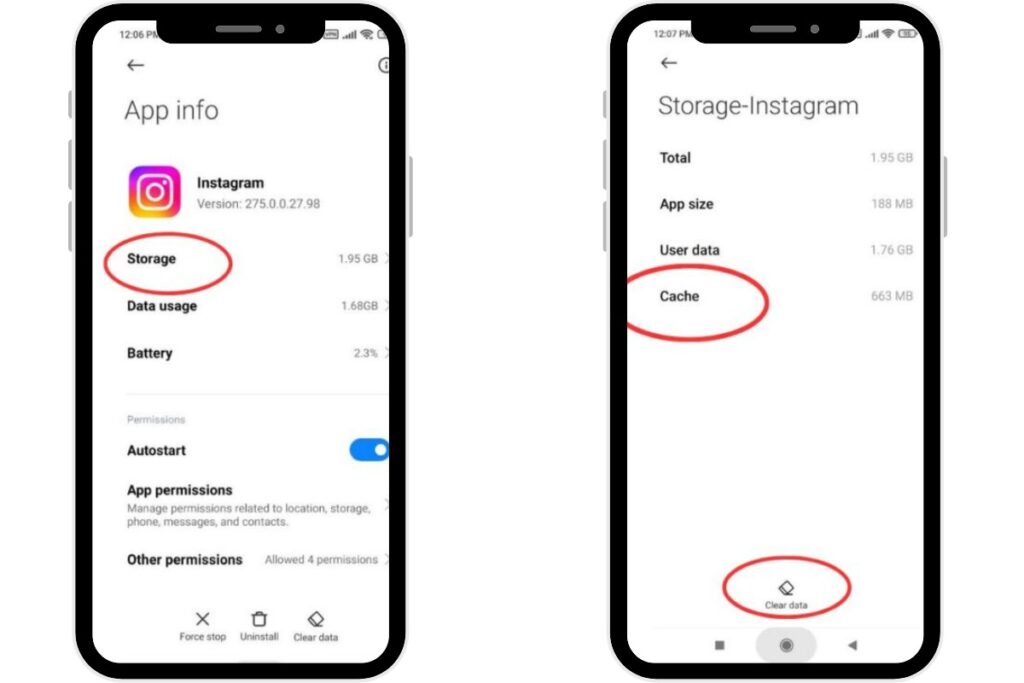 Long-press the Instagram app.
Go to "App Info."
Select "Storage."
Tap "Clear Cache."
Read This Article: How To Hide Messages on Instagram [3 Most Effective Methods]
6- Fix "Instagram You Can't Message This Account": Ask Them to Activate Instagram's Message Request
If someone doesn't want to follow you back on Instagram, you may still contact them in some other way. The Instagram user must switch on the "Request to message" feature. If you follow the instructions, you should have no trouble carrying out this straightforward procedure.
Here are the Instagram steps to enable this feature: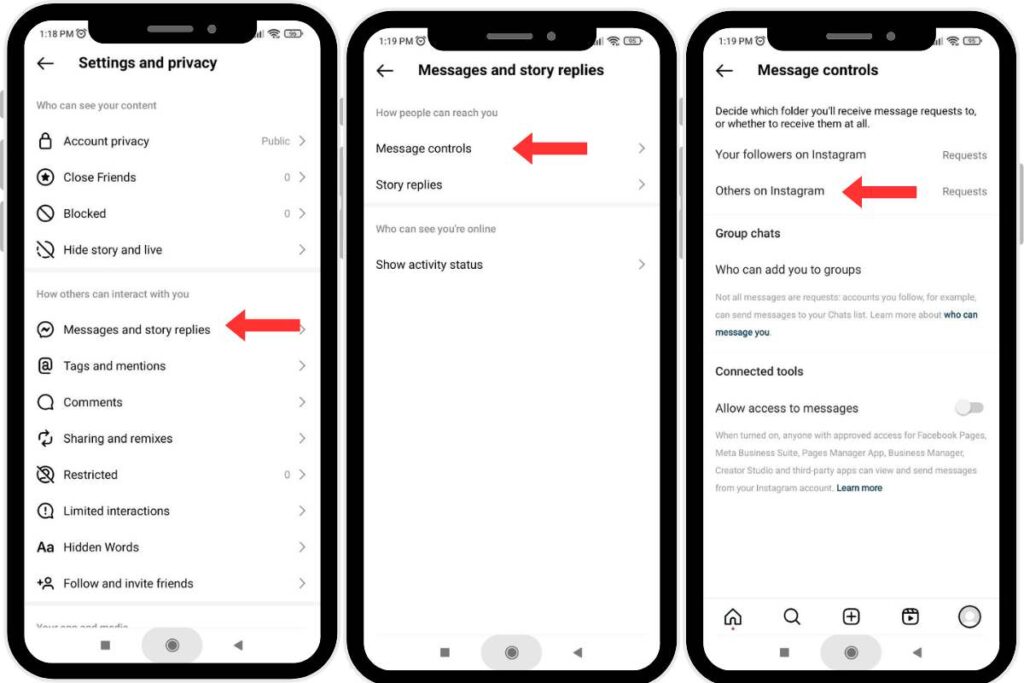 Select "Settings and Privacy."
Click "Messages and Story Replies."
Follow the prompts to access "Message Control."
Select "Don't receive messages from others."
Taking these measures will guarantee that your message recipients are notified even if they aren't following you.
Don't Miss Reading This Post: Blastup Review: Can You Boost Your Instagram with Their Services?
7- Fix "Not Everyone Can Message This Account": Try Instagram on Desktop
Instagram.com (the desktop site) is an option if you're having trouble with direct messaging on the mobile app. Your message troubles may be solved by switching to the online platform since problems seen in the app aren't always replicated there. Try it out and see if it helps with your problem.
Why Does Facebook Say You Can't Message This Account?
Facebook may display "You can't message this account" for various reasons, typically related to the account holder's privacy and messaging settings. Some common reasons include:
Privacy Settings: The account holder may have configured their privacy settings only to allow messages from friends or connections. In this case, you can only message them if you are friends or have an existing connection on the platform.
Message Requests: If the person has set their messaging preferences to filter out messages from people not on their friend's list, your message might be routed to their Message Requests folder.
Blocking: If someone has blocked you on Facebook, you won't be able to send them messages, and you may see this message if you attempt to do so.
Account Restrictions: The account in question could have certain restrictions or limitations imposed by Facebook, which might prevent messaging.
Better To Read: Instagram Chat Theme [An Ultimate Guide]
Revolutionize Your DM Management with AiGrow
Supercharge your Instagram outreach with AiGrow's premium DM management package! You'll receive a live onboarding meeting with a dedicated account manager at your service to kickstart your success.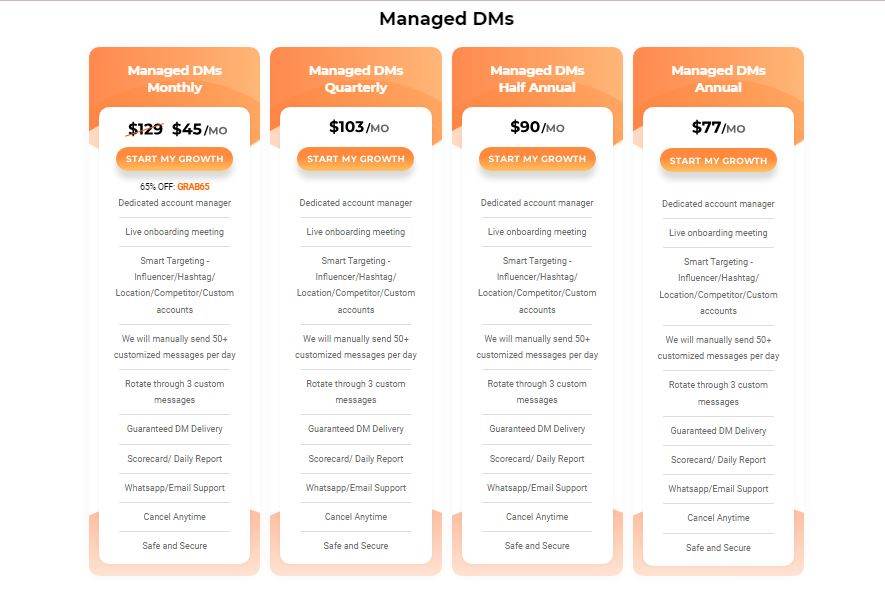 Their smart targeting audience on Instagram, covering influencers, hashtags, locations, competitors, and custom accounts, ensures your messages reach the right audience.
AiGrow's dedicated account manager sends over 50 personalized messages daily, switching between three messages to keep things interesting.
Enjoy peace of mind with guaranteed DM delivery while their scorecard and daily reports keep you in the loop. Need assistance?
Plus, with the flexibility to cancel anytime, AiGrow makes it convenient. Also, your data is safe and secure with us.
AiGrow Managed DMs Features
"Unlock the Power of AiGrow's DM Management!
Get your Dedicated Account Manager.
Enjoy Live Onboarding Meetings for a seamless start.
Utilize Smart Targeting: Influencer, Hashtag, Location, Competitor, Custom Accounts.
We'll manually send 50+ Customized Messages daily.
Rotate through 3 Custom Messages for variety.
Rest assured with Guaranteed DM Delivery.
Stay informed with our Scorecard and Daily Reports.
Reach out through WhatsApp/Email Support.
No commitments – Cancel Anytime.
✨ Experience Safe and Secure DM Management.
Elevate your Instagram DM game with AiGrow! "
Conclusion
In conclusion, we have explored the multifaceted reasons behind the "You Can't Message This Account Unless They Follow You" message on Instagram.
Understanding the various ways to solve this problem, whether through adjusting privacy settings, respecting age-related restrictions, or being mindful of message limits, empowers users to navigate this common issue effectively.
Through these features, Instagram's commitment to user safety, privacy, and spam prevention is evident. By acknowledging and respecting these choices, we can all contribute to a more secure and enjoyable social media environment where users have the autonomy to manage their interactions on the platform.
FAQs
Q1: Can I Message Someone on Instagram That Doesn't Follow Me?
Yes, you can send a message to someone on Instagram who doesn't follow you, as long as they haven't restricted their settings to only receive messages from users they follow or have specifically allowed. Instagram allows users to control who can message them, so if the person has set up their account to receive messages from everyone, you can reach out to them.
Q2: What Is "Not Everyone Can Message This Account on Instagram" Meaning?
When you encounter the u0022Not everyone can message this accountu0022 message on Instagram, it indicates that the account holder has privacy settings that restrict incoming messages from users who do not meet certain criteria. These criteria could include mutual follows, age restrictions, or specific privacy settings.
Q3: Why Did I Receive the u0022Wants To Send You a Message Instagramu0022 Message?
You received the u0022Wants to Send You a Messageu0022 message on Instagram because someone who doesn't follow you or doesn't have a direct connection with you on the platform attempted to send you a message. Instagram uses this notification to inform you about incoming messages from users not on your follower list, allowing you to choose whether to accept or decline the message request.
Q4: Is Changing Instagram's Message Settings on a Desktop Possible?
No, using a PC, you cannot make significant changes to your message settings on Instagram's web version. While you can send direct messages through the web version, comprehensive message setting management is not fully supported.