Sharing the incorrect post on Instagram can be a nerve-wracking experience. It happens when you mistakenly hit the upload button for a private photo or video that wasn't intended for sharing. If you're fortunate enough to know how to cancel a post on Instagram, you can save yourself from the discomfort of such a mishap.
Another stressful scenario occurs when you need to pause the upload of an Instagram post, story, or reel due to a lengthy processing time. In such cases, you simply want to find a way to stop the uploading process, delete that Instagram post, and share your content again.
Unless you are so lucky at that exact moment of your life and your internet connection goes down, or you face an Instagram glitch. The problem is you have only a few seconds to decide what to do and find a way on how to cancel an Instagram upload.
Unfortunately, there is no canceling option on Instagram as it immediately uploads your post. But fear not, because, in this article, we'll show you how to cancel Instagram upload in those critical seconds. We will also provide you with some pro tips to avoid such mishaps in the future.
So, let's get started.
Common Reasons When Instagram Upload Stuck on Sending
At times, it feels like an eternity when attempting to upload a post or your Instagram reel stuck uploading. Before learning how to stop an Instagram post from posting, let's explore the reasons behind this delay.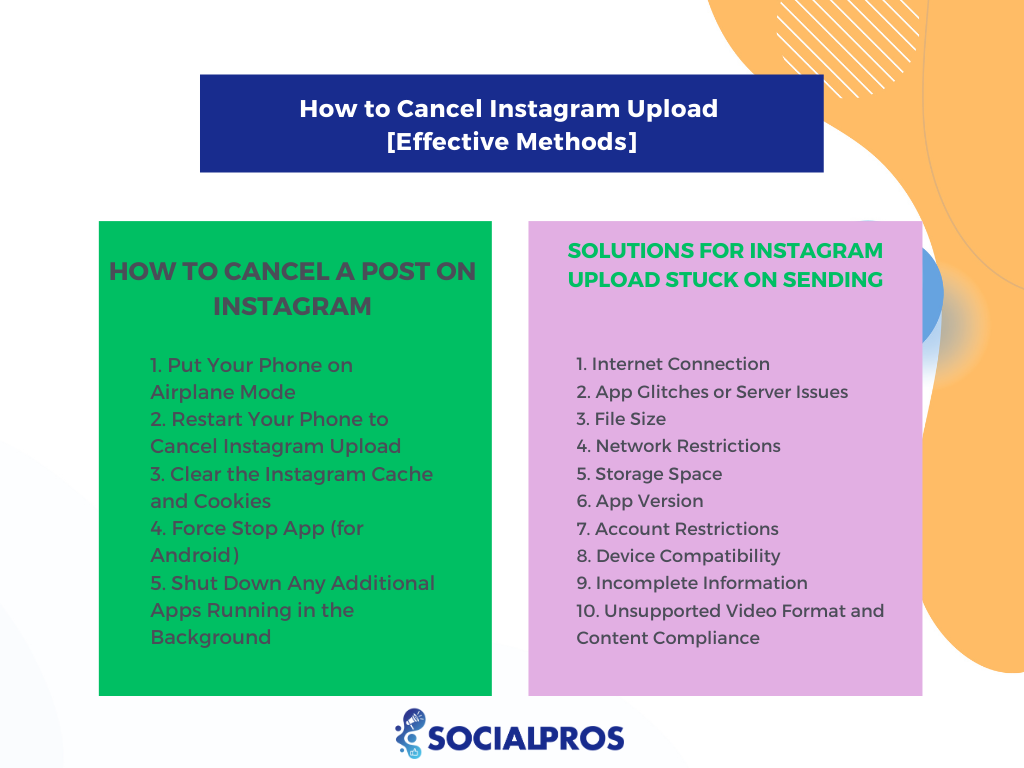 Internet Connection
A weak or unstable internet connection can disrupt the smooth uploading process. Ensure a strong and reliable connection before posting.
App Glitches or Server Issues
Bugs in the Instagram app may cause posts to get stuck during preparation and upload. Keep your app updated to address potential issues.
Additionally, temporary glitches or downtime on Instagram servers can affect uploading. Wait and try again later if server issues persist.
File Size
Uploading large files, like high-resolution images or lengthy videos, can lead to delays. Consider reducing file size or using a different format.
Network Restrictions
Corporate or public networks may have upload restrictions. Switch to a personal Wi-Fi or mobile data connection if needed. Maintain a stable and active internet connection for successful video uploads.
Storage Space
Insufficient device storage can impact new content uploads. Ensure sufficient storage space on your device to avoid upload problems on Instagram. Free up space by deleting unnecessary files or apps.
App Version
Using an outdated Instagram app may result in compatibility issues. Ensure you have the latest version of Instagram to avoid bugs.
Account Restrictions
Violations of Instagram's policies may lead to a disabled or restricted account, affecting upload capabilities.
Device Compatibility
Older devices may face compatibility issues with the latest app updates. Consider using a more recent device.
Incomplete Information
Leaving fields like Instagram captions or tags incomplete may cause uploads to stall. Ensure all necessary information is provided before posting.
Unsupported Video Format and Content Compliance
Ensure your video meets Instagram's requirements for successful uploading. In addition, avoid uploading videos with illegal content, such as violence or explicit material.
If issues persist, reaching out to Instagram's support can provide further assistance.
Is It Possible to Cancel Instagram Upload?
Do you wonder if it is possible to cancel Instagram uploads? Yes. It actually depends on your Internet speed and how fast you can act. However, people can't stop the unwanted sending of their posts in many cases, especially when posting live photos to Instagram.
Remember that it doesn't matter if you want to cancel a photo, video, or IGTV upload. For all types of posts, you need to be fast and furious.
How to Cancel a Post on Instagram from Uploading?
If you have prepared a post and pressed the "Share" button but suddenly decide to cancel the Instagram upload, immediately go through the following tips.
#1 Put Your Phone on Airplane Mode
The best and fastest way to discard sharing your post is to turn the mobile data or Wi-Fi off and close the app. Also, you can put it on Airplane mode.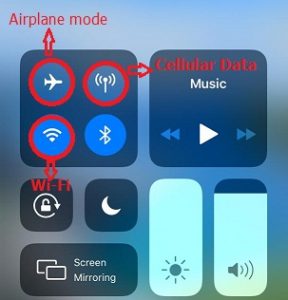 In this case, the upload would be stopped, and if you open the app again, you'll face a red circle around your profile picture, which after tapping on it, you'll see a red band under the story.

Just tap on the three dots, and Instagram will now give you three options: 1- Retry Now 2- Post Later 3. Discard Post. Tap on "Discard Post" to cancel the Instagram upload. Now, you are safe, and you can turn your mobile internet on again.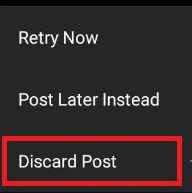 By following these straightforward steps, you can successfully cancel a posting on Instagram.
#2 Restart Your Phone to Cancel Instagram Upload
If you want to cancel the Instagram upload, restart your phone. Therefore, switch off your internet connection and then restart your mobile phone.
#3 Clear the Instagram Cache and Cookies
Discover the magic of clearing cache and cookies to resolve upload issues. This simple yet effective method can significantly enhance your Instagram experience.
Android devices let apps run in the background, so Instagram might end up finishing the upload by the time you tap on "clear cache." So I recommend, after turning off the Wi-Fi and restarting your phone, another way to skip posting your disgraceful feed is to clear your Instagram cache memory. So if you consider how to cancel Instagram upload:
On iPhone:
Select "General" in the setting.

Then, tap "iPhone Storage."

Choose "Instagram..

To clear the Instagram cache, tap on the "Offload App."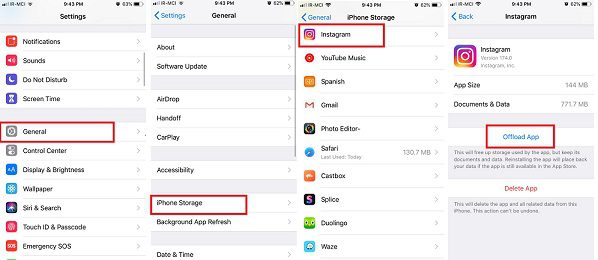 On Android:
Tap on the "Apps" option in the settings.

Click on the "Instagram" app among the other apps.

Select "Clear Cache"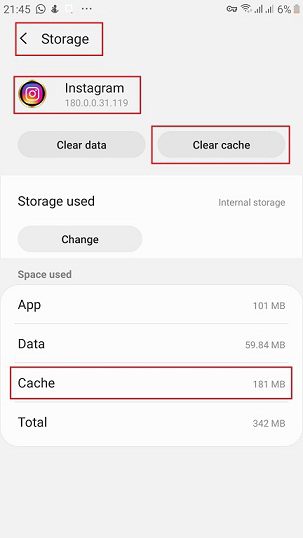 #4 Force Stop App (for Android)
There is an extra option for Android users to cancel the Instagram upload. In this method, you may not need to turn off Wi-Fi. So all you have to do is:
Close Instagram app

Go to the settings app on your Android phone

In settings, click the "Apps" tab and look for the Instagram app

Now, force stop the app

Wait for a few seconds and open the app

Done!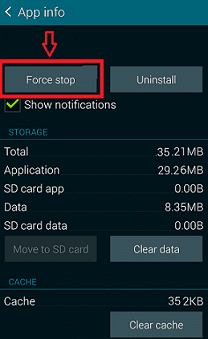 #5 Shut Down Any Additional Apps Running in the Background
Shut Down Any Additional Apps Running in the Background
When sharing a video on Instagram, sign out of any other social media accounts and close all other applications. Your device operates optimally when no apps are active in the background. If Instagram is having trouble loading your video, it could be related to additional programs running simultaneously.
As you can see, none of the above methods guarantee the cancellation of Instagram upload. I tried all the above ways! Still, some of my Instagram uploads didn't get canceled. Primarily, the process would be swift if you use 5G internet. So there is no time even to move your finger. That is, using the official IG app, you may not be able to cancel uploads.
However, I'll reveal a unique method to keep you safe from any sudden mistakes on Instagram. Use AiGrow's managed scheduler tool and schedule your posts to be able to cancel them anytime seamlessly.
AiGrow Managed Scheduler Tool
This comprehensive manual scheduler tool will allow you to schedule and publish your social media posts when they are most effective. With AiGrow's managed scheduler tool, your content reaches a wider audience and generates more organic engagement.
This tool operates entirely organically, without the use of automation software or bots. Instead, it leverages experienced and Instagram-savvy account managers with a deep understanding of the platform's rules and algorithms. They will handle the publication of your posts, ensuring your brand is visible and that your message is delivered effectively.
It's imperative to note that AiGrow services are 100% organic, and using them carries no risks such as Instagram account suspension or bans.
How to Cancel Posting on Instagram
Have you ever wished for a magical "pause" button to cancel Instagram uploads? Here's a game-changing trick that's sure to help. The steps are as follows:
Step 1: Switch your phone to airplane mode, cutting off online connections.
Step 2: Restart your phone
Step 3: Clear your Instagram cache. Finally, relaunch the Instagram app and voilà! An alert will pop up saying, "Couldn't upload. Try again." This message is your golden ticket out of a sticky situation. Now you're in control.
You May Also Like to Read: How to Get More Followers on Instagram
How to Stop a Reel from Uploading?
Is your Instagram reel stuck uploading? Here's a simple guide on how to halt the upload of a reel on your Instagram profile:
First Method When Instagram Reel Stuck Uploading and Want to Cancel Posting on Instagram
If you have a pending reel upload, first, disconnect your phone from the internet, such as Wi-Fi.
With the internet off, you'll notice a message under your pending upload that says, "Will automatically post when possible."
On the right side, you'll spot three dots; tap on them.
Three options will appear: "Try again," "Post later," and "Discard post." Opt for "Discard post" – this essentially means canceling the upload.
A confirmation prompt will appear asking if you want to discard the post. Confirm by tapping "Discard," and your reel upload will be canceled.
Second Method on How to Cancel Instagram Upload
Close your Instagram app.
Access your phone's settings and scroll down to the "Apps" section.
Find and tap on the Instagram app.
Look for "Force Stop" and tap on it.
After that, scroll down and tap on the "Storage" section. Clear both the cache and data for the application.
Now, exit the settings and reopen your Instagram app.
Following that, you will be asked to log in again.
Enter your username and password.
Check your upload section; the pending upload should have disappeared.
The process is almost the same for Android and iOS devices. If you follow these steps, you should be able to cancel a pending Instagram reel upload. If the first method doesn't work, you can try this alternative approach.
Final Thoughts on Cancel Upload Instagram
If your post hangs or you accidentally upload the wrong picture or video, you have the option to cancel the upload. Here we introduced three effective methods for quick and easy canceling of your Instagram post.
Hope you find this guide helpful on how to stop Instagram uploads. If you have more questions, ask us in the comments section.
Read More: The Best Instagram Unfollow App + [22 Instagram Unfollowers Tracker To Use]
FAQs on How to Cancel Instagram Upload
Q1: Why Does It Take a Long Time for My IG Videos/Stories to Upload?
Consider these factors when dealing with a stuck Instagram upload. If your video exceeds Instagram's time and resolution limits, the upload may fail. Videos should not exceed 60 seconds for regular posts and 15 seconds for stories. Moreover, Instagram imposes resolution restrictions; videos beyond 1080p get compressed, causing potential delays.
If you encounter a stuck upload, the most effective course of action is to cancel it. To resolve the problem, trim or compress your video to meet Instagram's limits. Be aware that technical glitches on the platform's end can also cause delays, requiring patience until they are fixed.
Q2: Why Cancel an Instagram Upload?
There are several compelling reasons to cancel a post on Instagram. Some of them are as follows:
Technical Glitches: Instagram can sometimes freeze during uploading, causing your uploads to fail.
Exceeding Limits: If you surpass Instagram's video duration or resolution limits, your uploads may get stuck.
Accidental Uploads: Accidentally hitting the upload button can lead to unintended posts that you'd prefer to cancel.
Whether due to technical issues, limit violations, or accidental taps, knowing how to cancel a post on Instagram is essential to maintaining control.
Q3: What Happens After Canceling an Instagram Upload?
When you decide to cancel an Instagram upload, whether it's a video or a picture, it won't be sent to your followers. Importantly, the person on the receiving end won't be notified of your discarded upload.
However, it's worth noting that if you have a strong network connection, canceling your upload might not work.
In the case of Instagram stories, even after uploading, you still have the option to delete them, making them a bit more flexible.
Q4: What Can I Do to Prevent My Instagram Posts from Getting Stuck?
You should ensure you have a fast internet connection and adhere to Instagram's daily limit and resolution requirements. You can also resize and compress Images/Videos to upload them easily.