When we talk about followers on Instagram, it's essential to remember that it's about how engaged they are with your content, not how many you have. Because you could have many followers, but if they are not liking or commenting on your posts, they won't be helpful. Hence, you may think about how to remove followers on Instagram to get instant results.
Instagram provides a simple method to unfollow unwanted followers. Another method to keep your audience engaged is to use safe Instagram unfollow apps to remove fake or inactive followers.
This article provides you with some tips for removing real and fake followers on Instagram. Therefore, read this guide to discover how to unfollow on Instagram and refine your viewing audience. Now, without further ado, let's unveil the secrets that await!
Should I Remove Followers on Instagram?
You should gain followers on Instagram, not remove them; this is what common sense says.
But here is why to remove Instagram followers:
#1 Low Engagement Rate
Have you ever wondered why your Instagram account's engagement rates are low?
One requirement of high engagement is that your followers are of good quality. Otherwise, it would be better to remove followers.
If most of your followers don't mind what you're posting or if they're not very active on Instagram, then your engagement stats will suffer.
That is to say, the quality of your followers is much more important than the quantity.
Hence, if your account has garnered thousands of disengaged followers within the years, they are seriously lowering your engagement rate.
Are You Interested in Gainng Targeted and Engaged Followers?
#2 Ghost Followers
Briefly, Ghost followers are the followers who don't like, comment or engage with your posts. Even many of them will never show up, and they are just a crowd of fans.
If you use Instagram to promote your business, they will never purchase your products, and if you want your followers' interactions, they won't. Definitely, they are not your real followers. Therefore, you need to remove ghost followers on Instagram.
#3 Inactive Instagram followers
Inactive Instagram followers have taken a break from Instagram or have stopped using it altogether.
These are accounts with no actual value for you despite rising your followers' rate.
Chances are high that they will never come back to the platform or reactivate their Instagram accounts, so you can preferably remove these Instagram followers.
#4 Fake Accounts
Fake accounts are pretty obvious, and to increase the engagement rate, you must remove all fake Instagram followers.
They're the accounts with no profile photo or profile, no posts, a couple of followers, and following thousands and thousands of accounts. Probably, they are paid by someone else to follow you.
Related Article: Perfect Instagram Profile: 10 Tips to Grow Your Business
#5 Mass followers
Instagram has applied a "following" limit of 7,500. Indeed, people who follow 7,500 accounts and more are just doing so to get more followers. The game of "I'll follow you in hopes you follow me back." Honestly, most of us have done it, but probably not to this extent.
Actually, they will never see your posts, and it prevents you from increasing your engagement rate. Consequently, it would be best if you remove mass Instagram followers.
Checking all your followers to find the fake ones might take much time and be tricky. AiGrow, an excellent Instagram management tool, will help you to find them.
#6 Free Yourself from Unwanted Connections
Sometimes circumstances change, and certain Instagram followers may no longer fit into your desired online experience. It could be an ex-partner whose presence brings back unwelcome memories or someone you simply no longer wish to share your Instagram activity with.
In such cases, it becomes crucial to regain control and remove these unwanted followers from your account. Discover the empowering steps to liberate your Instagram experience and ensure a digital environment that aligns with your current preferences. Let's delve into the process of removing these followers and reclaiming the freedom to manage your online connections.
Method 1: How to Remove Followers on Instagram Without Blocking Them?
Instagram used to let you remove followers for private accounts, but the feature has recently rolled out to public and business accounts. In fact, Instagram introduced the 'remove follower' option in 2018. This feature enables users to control who can view their posts in the newsfeed.
Therefore, you can remove followers on Instagram without blocking them from your followers list on the Instagram app for Android and iPhone. To do so, follow the steps below:
Click on your profile picture on the bottom left to go to your profile.
At the top of the screen, select Followers.
When you're ready to remove a follower, click Remove next to the follower you want to get rid of, then click Confirm.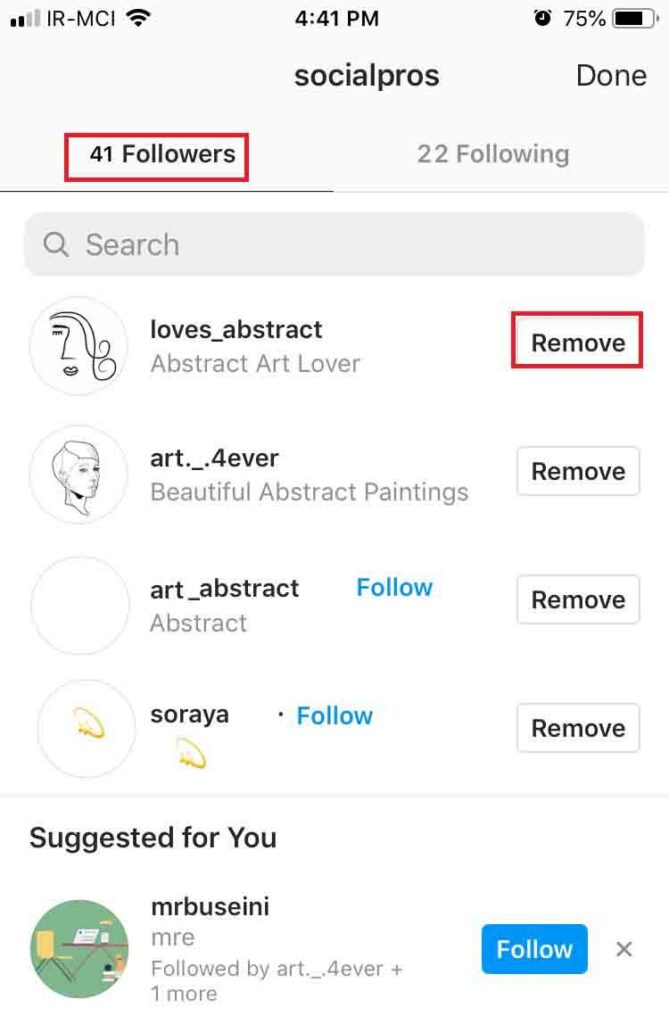 What Happens When You Remove a Follower on Instagram?
Fortunately, when you remove followers on Instagram without blocking them, they aren't notified that you've cleared them. Additionally, by removing an account from your Instagram followers, they will no longer have access to view your posts in their newsfeeds.
When you remove followers, the only way they could realize it is if they view your profile, they will notice the active "Follow" button. Moreover, if your profile is set to private, they can not see your posts or Stories.
Method 2: How to Remove Followers on Instagram from the Follower's Profile
Another method on how to remove account from Instagram is to follow the steps below:
On your mobile device, open the Instagram app.
Find the profile of the follower you wish to remove. You can do this by searching for their account, scrolling through your followers' list, or tapping on an account name that appears on your timeline.
Once you are on their profile page, tap on the three horizontal dots in the top-right corner.
Now, you will see a pop-up menu.
From the menu options, select "Remove follower."
A confirmation pop-up will appear. Tap on "Remove" again to confirm the removal.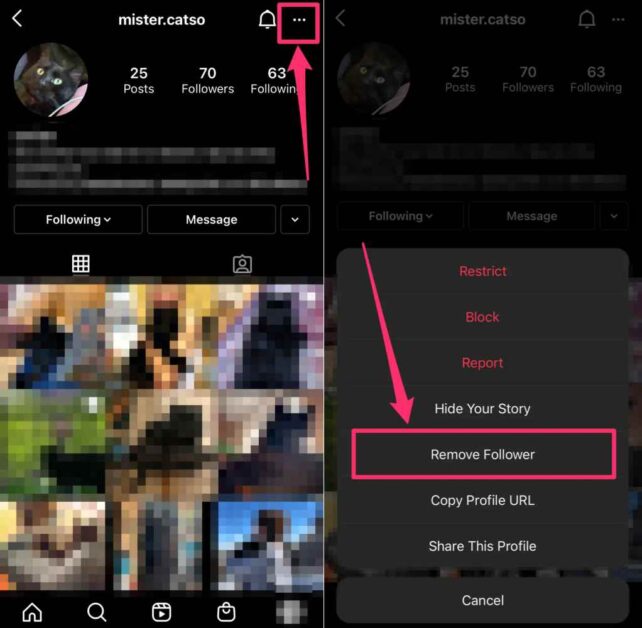 Method 3: How To Remove Followers on Instagram In Bulk
You cannot remove groups or all your followers on Instagram without blocking them simultaneously using the platform. As a result, users who have several inconvenient followers must get rid of, remove, or block them one by one, which is a dull and tiresome job. Luckily, AiGrow can lend a helping hand to those looking for answers to remove Instagram followers in bulk.
How to Remove Followers on Instagram with AiGrow
For those seeking a safe and quick way to mass remove followers on Instagram, AiGrow stands out as a reliable and efficient solution. With its user-friendly dashboard and advanced features, AiGrow simplifies the process, allowing you to manage your followers effortlessly and safely. Let's learn how to remove multiple followers on Instagram at once with AiGrow:
Navigate to the "Packages" Section and choose "Unfollow Plans"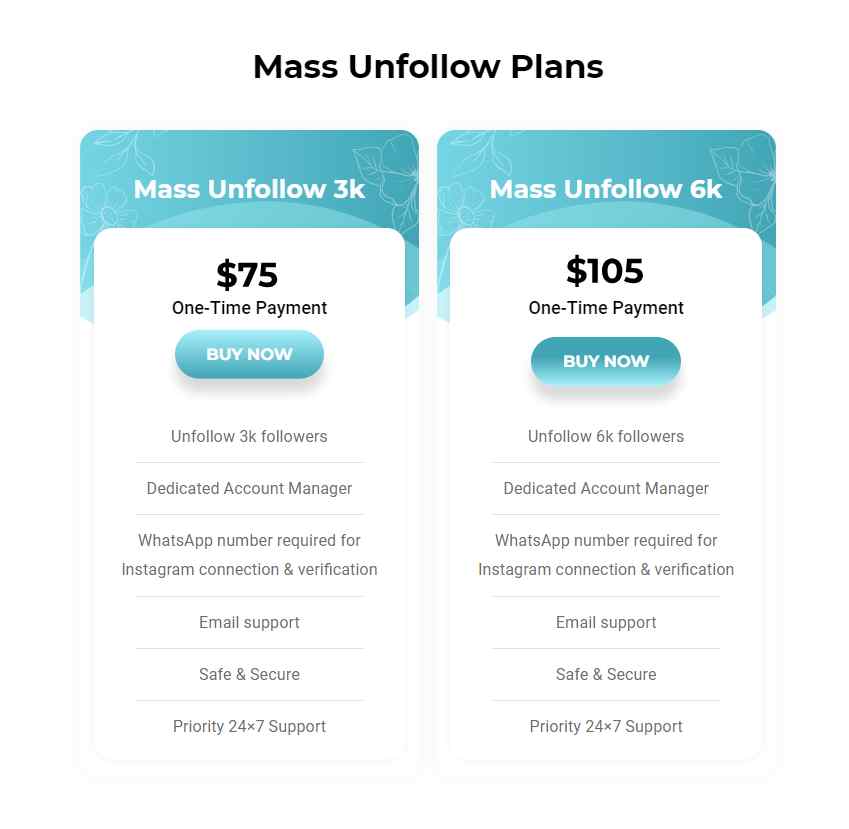 3. Next, AiGrow's dedicated account manager will work diligently to identify and unfollow inactive/ghost followers, as well as users who have unfollowed you. This safe manual unfollowing process ensures increased engagement for your Instagram account without raising red flags.
💥The unfollow package from AiGrow can be used to its full potential. To ensure a smooth and personalized experience, schedule an onboarding session with an AiGrow team member. This session allows you to discuss specific details and optimize the unfollowing process to meet your unique requirements.
Discover the convenience and efficiency of AiGrow's mass unfollow feature, enabling you to remove all Instagram followers quickly and effectively.
How to Remove Multiple Followers on Instagram at Once?
Final Words on How to Remove Followers on Instagram
Followers are essential for growing your business and building your brand on Instagram, but fake followers are dead weight. Look for engaged followers that genuinely interact with your account. If a follower isn't liking or commenting on your content, it would be best to remove followers from your list.
When you remove an account from Instagram, the user being removed will not receive any notification about their removal.
Take control of your Instagram growth with AiGrow's Mass Unfollow feature – the easiest and fastest way to unfollow people on Instagram. Say goodbye to inactive accounts, bots/fake followers, and those who don't follow you back.
Save time, boost your engagement, and maintain a credible profile. AiGrow provides the ultimate solution to unfollowing unwanted users.
Start Your Successful Mass Unfollow Strategy Now
Read More From Social Pros:
FAQs on How to Remove Followers on Instagram
Q1. How to Unfollow on Instagram?
If you wonder how to remove followers on Instagram, follow these steps:
Remove from followers list: In addition to unfollowing, you can remove the person from your followers list. This action will revoke their access to your posts without blocking them. To remove a follower on the Instagram mobile app, navigate to your profile, select "Followers," find the desired follower, and tap on Remove. On the desktop, go to your profile, choose "Followers," and click "Remove" next to the follower you wish to delete.
Block the person: If you block someone on Instagram, they won't be able to see your photos or videos, nor search for your Instagram account. Additionally, the blocked person will not receive any notifications when they are blocked.
Use a reliable third-party app like AiGrow:
Q2. What Is the Difference Between Removing, Restricting, and Blocking Instagram Followers?
When it comes to managing access to your Instagram content and account, you have three options: removing, restricting, or blocking users. Here's what each option entails:
Removing a Follower: By removing a follower, you eliminate them from your follower list, preventing them from seeing your posts in their feed.
Restricting a User: When you use Instagram's restrict option, you hide a person's comments, likes, and messages in your account. They can still interact with your posts, but you won't receive notifications for their actions. Furthermore, other users won't see their interactions on your posts.
Blocking a User: Blocking someone denies them access to your profile and posts. They can't send you messages, and it's as if you don't exist on the Instagram platform for them.
Q3. How to Remove Followers on Instagram Web Version?
Follow these steps to remove followers from your Instagram account on your desktop:
1. Open a web browser on your desktop and navigate to Instagram's website.
2. Sign in to your Instagram account if you haven't done so already.
3. Locate your profile icon and click on it.
4. At the top of your profile page, click on "Followers."
5. In the "Followers" window, find the specific person you want to remove from your followers lists.
6. Choose the option "Remove" next to their name.
7. Confirm the removal by selecting "Remove" from the prompt.
8. Congratulations! The selected follower has now been successfully removed from your Instagram followers list.
By following these straightforward steps, you can efficiently manage your Instagram followers on a desktop and curate your follower list according to your preferences.