Utilizing influencers and word-of-mouth advertising is one of the ways to win the Instagram competition. Therefore, Marketpryce might be an option for you if you're looking for influencers to run a campaign and promote your services or goods. But how does it perform? Is it a genuine Influencer marketplace?
If you love sports, whether you are an NBA GOATs fanatic or a fitness enthusiast, you are aware of the significant impact influencers have had recently on people's lifestyles. Therefore, using athlete influencers for your marketing campaign puts you ahead of the game compared to your rivals.
Marketpryce claims that it is one of the best influencer marketing platforms and marketplaces will help both brands and influencers to succeed by finding the best match and introducing them to one another. But in our view, Marketpryce can't be a good option! Read this Marketpryce review to know why.
In this article, we'll examine the Marketpryce features and demonstrate how it works. We'll introduce the best Marketpryce alternative, Ainfluencer because you definitely need it to access a larger database of influencers. So, let's dive in.
What Is Marketpryce
Fitness models and athlete influencers can effectively use their influence to expand brands and companies. Therefore, it is not surprising that those who work in this industry want to break into the influencer world and capitalize on the current trend of using one's physical appearance to gain fame on TikTok, Instagram, and other social media platforms.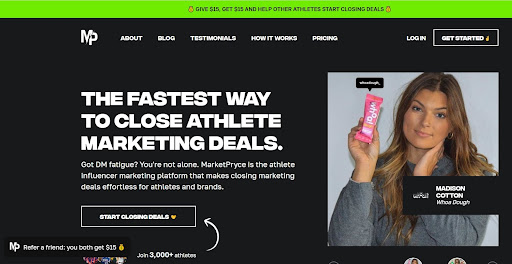 Likewise, Markepryce holds this view. By signing agreements with the majority of athlete influencers, they assert that they can aid brands of all sizes and levels in growing. Additionally, it aids athletes in finding the best brands and getting paid on Instagram quickly in order to finalize athlete marketing deals.
As you may have noticed, MarketPryce is an influencer marketing platform that focuses on athletes and can help your brand grow in this way. A group of former athletes, agents, and creators, according to their website, created this platform to link brands and athletes.
By typing 'MarketPryce' into the search bar on the app store or google play store, you can also find their downloadable app there. After having registered on the platform, it will be simple for athlete influencers and brands to close marketing deals. You can also finalize deals that are NIL-compliant and earn money on your own terms.
They assert that it is made to assist you in taking ownership so you can monetize your brand in your way. Now, let's see what features Market Pryce offers its users.
How Marketpryce Works
But how does it facilitate the discovery and connection of brands and athletes? MarketPryce has been a tool for their marketing team to connect with brand ambassadors and influencers as a new brand in a crowded market. Here, you can see how this platform aids in the success of a brand and an athlete.
1. MarketPryce Help Athlete Influencers Discover New Brands to Partner with
Registering on the MarketPryce website or app will allow you access to hundreds of brands created especially for athletes. They say you can have access to well-known brands and fascinating startups. Additionally, they claim that new brands sign up every day and there will always be opportunities for new brands to be discovered.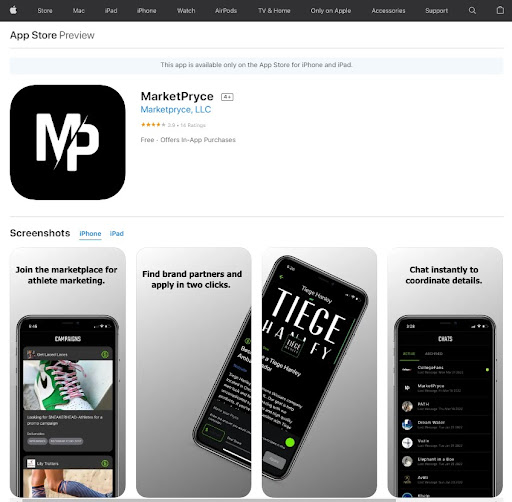 Then you can start collaborating with your favorite brands by having an instant chat with them. Also, you can analyze offers and decide whether to accept them, download and distribute disclosure forms, and get paid.
2. Market Pryce Help Brands Find Athlete Influencers and Start Their Athlete Marketing
With the help of this athlete influencer marketing platform, you can expand your customer base and engage a wider market if you own a company or a brand. Your followers can become paying customers by demonstrating your credibility and trustworthiness. They claim to concentrate on the media that your customers are viewing.
3. MarketPrice Helps University Student-Athletes to Profit from Their NIL
Student-athletes have the chance to connect and learn from one another through Marketplace's interactive community and committed moderation. They assert that it aids athletes in navigating NIL, developing their individual brands, and connecting, producing, and expanding via real partnerships on MarketPryce.
They appear to be business associates of Teamworks and INFLCR. To support athletes' success, they also offer online workshops, panels led by athletes, on-campus activities, and suggestions from professionals in the field. Apply to a brand's campaign on MarketPryce once you've found the one you want to work with.
MarketPryce Features
The platform claims that by using this platform, you can find and work with top athletes while also positioning yourself for long-term success off the field by developing long-term relationships directly with brands. But what features does it offer for this?
The key features of this service are listed here.
Market Pryce Chat Feature
You can have a quick chat with your favorite brands using this app. So you don't have to use Instagram DMs and cold emails. With the help of the chat feature, you can communicate with marketing managers at your preferred brands about prices, shipping, sponsorship details, and more. You can then accept offers and get paid.
MarketPryce Content Creation Plan
You can collaborate with athlete influencers on this platform to produce user-generated content (UGC), which will help you engage current and potential customers. Athlete influencers can also get help in content creation. Market Pryce will offer advice on everything from editing techniques to writing highly engaging captions.
Create a Campaign Using DealScore
All influencer marketing platforms provide users with this feature in order to help them gain more followers. They apply their proprietary to each application you receive using MarketPryce Deal Score. You're getting a better deal if your score is higher. After that, you can use any platform to run your campaign.
Additionally, you can boost your brand by sharing a story with your audience and raising awareness by collaborating with college athletes or athlete influencers who adhere to your values.
Let's now examine how much money an influencer can make and how much money a brand or agent should spend when using Market Pryce.
MarketPryce Packages and Pricing
Users can choose from four packages, two of which are for athlete influencers and two for brands and agents. Their website packages are as follows:
Athlete
Pro Athlete
Agent
Brand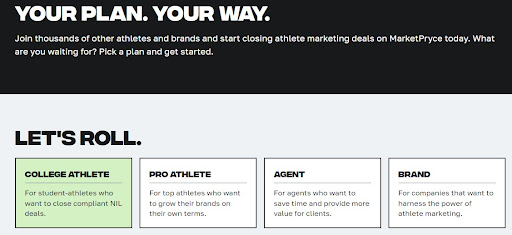 On MarketPryce, athletes pay a fee to access the website, but brands can use the platform for free at first. Athlete influencers can approach brands in this way, and brands can then plan their mutually influential influencer marketing campaigns. However, there is no clear pricing for the growth plan for brands, so you must contact them to discover the cost.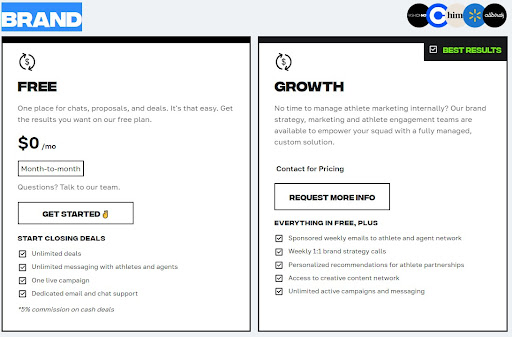 On the other hand, if you want to join their athlete community in the college athlete plan, you must pay a monthly fee of $8 as an athlete. Good athletes cannot be drawn to the platform in order to run the most effective marketing campaigns for brands as a result. A free plan for athletes could be offered if they provide one for brands.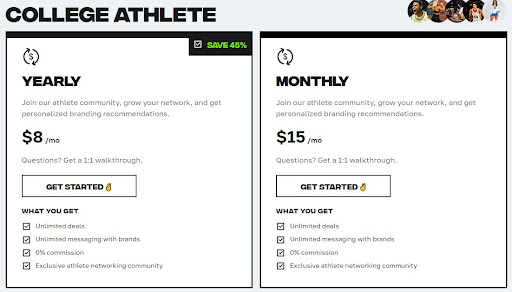 Let's check out what MarketPryce users have to say about it now.
MarketPryce Reviews
We looked online to see what people had to say about this platform and came across some reviews on the app store that, regrettably, let down users who were eager to use it. One user complained that he couldn't access his account through the app, which limited his ability to use it.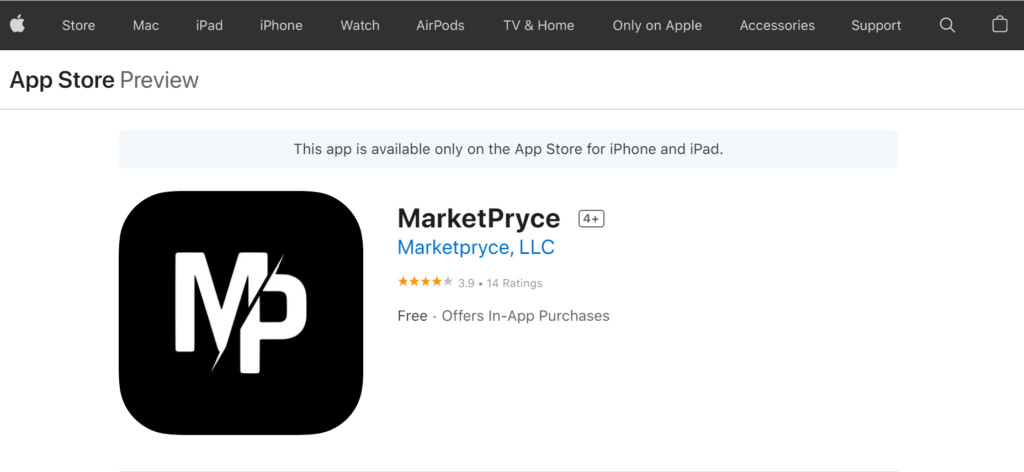 Another user claimed that despite being paid as an influencer for months, he was unable to close any deals. This alone is reason enough not to use such a platform! However, we were unable to locate any reviews on the G2.com or trustpilot.com websites when we searched for them. It seems as though they paid those websites to remove all the negative comments!
Let us now introduce you to the best influencer marketing hub that will assist you in building your brand and utilizing influencers to help you reach your objectives.
Best MarketPryce Alternative; Ainfluencer
One of the best influencer marketing platforms is Ainfluencer, which can assist you in building a strong Instagram influencer program. Influencer marketing campaigns from Ainfluencer will assist you in developing your brand if you want to connect with a specific audience to market your goods and services.

The best marketplace for locating the most relevant influencers for your brand is Ainfluencer, which also serves as an influencer search engine. A sizable influencer directory is present to find pertinent influencers using its influencer discovery tool, which will help you strengthen your online presence.
Ainfluencer helps you create your influencer marketing strategy and produce more conversions, IG followers, and paying customers. If you are an influencer, you can also download the Ainfluencer app to browse thousands of brands and contact them about working together.
Ainfluencer is a comprehensive tool that makes it possible for you to locate, communicate with, and oversee campaigns involving influencers from all over the world.
Let's examine the features that Ainfluencer offers you.
The Ainfluencer AI-powered technology assists you in finding Instagram influencers.
It provides you with in-depth analyses of influencers' account metrics.
It examines the audiences of influencers and provides you with information on the benefits of working with particular influencers.
Ainfluencer assists in monitoring performance from beginning to end.
Real-time analytics are available, and they include things like likes, comments, publishing of bio links, clicks (if applicable), and more.
Scaling your efforts with macro and micro-influencers is possible.
Users of Ainfluencer have access to a built-in chat box.
Brands and influencers can agree on the terms of the marketing agreement and finalize the transaction within the app.
You will receive ROI calculations from Ainfluencer.
It enables businesses to create campaigns for the marketplace that can be posted there and seen by thousands of influencers.
The Ainfluencer dashboard is also user-friendly and straightforward.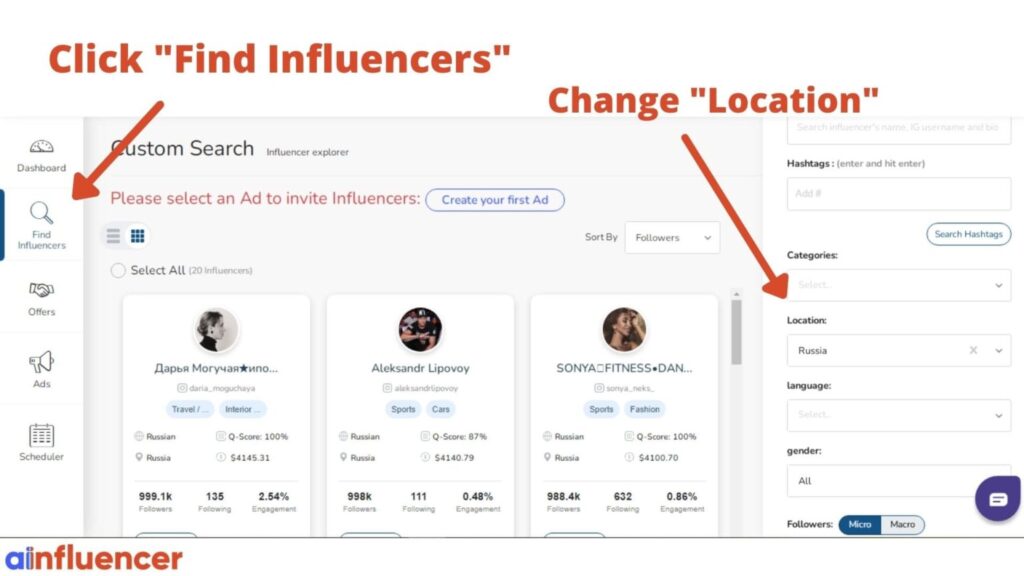 Ainfluencer provides a bustling marketplace of worldwide Instagram influencers, so don't waste more time and signup for it to create your strategic influencer marketing campaign.
FAQs on MarketPryce Influencer Marketing Platform
Here are some frequently asked questions about influencer marketing that we have addressed. They might also be your question; So, let's explore them together.
Q1. Why You Should Use Influencer Marketing?
After some time, marketers, individuals, or brands become fatigued by DM marketing, cold emails, and marketing strategies that require a lot of time to send bulk DMs, emails, or something similar. What if you entrusted influencers who share content with their audiences to promote your products or services?
No matter the type of influencer, they are all made to appeal to a particular niche and draw in specific audiences. Therefore, you can use influencer marketing platforms to drive sales, increase engagement in markets where customers are ready to buy, launch new products, and get instant attention and credibility as you launch influencer marketing campaigns.
However, as you can see, Marketpryce concentrated on athlete influencers, and influencers in other niches are impossible to find. Using Ainfluencer, however, you can access influencers in any niche you desire and filter them based on their location, gender, or size.
Last Words on Market Pryce
MarketPryce, as you may have guessed, is a NIL-compliant athlete influencer marketplace as well as a two-sided marketplace that connects professional athletes, student-athletes, and agents with brands for endorsement deals. However, it cannot be functional in any way, such as when selecting influencers in other niches.
So, if you are an influencer looking to partner with industry-leading brands or a marketer looking to work with influencers, Ainfluencer is a better option.