If you're in the business of selling products online, you need a robust Instagram presence. Building a name for yourself from scratch is a challenging task many people and businesses must undertake.
Maintaining relevance, producing new content, interacting with your audience, and providing value is difficult. Many businesses have created Instagram growth services and applications to increase their customers' following, popularity, and engagement.
Today, we'll discuss whether or not the social networking company, Plixi, can be trusted.
In today's Plixi review, I'll try my best to explain this controversial social networking platform and all the questions and concerns you may have about it.
What's the Point of More Instagram Followers?
Your Instagram followers are your primary audience, and as your follower count rises, so does the interaction with your posts. The greater your number of followers, the more likely it is that other people will follow your account after seeing your content.
Why? Here's a thought experiment: if you saw two clothing brands, one with 100 followers and the other with 10,000 followers, which one would you be more inclined to follow?
The one with more followers automatically seems more credible and established. The greater your Instagram followers, the more probable it is that Instagram will promote your posts on the Explore Page. Doing so will expand the number of people that encounter your account or brand. This is why Instagram's growth services are so in demand.
Choosing the best Instagram growth service like AiGrow is a good idea. AiGrow will help you to grow your followers organically. Also, there is no automation in AiGrow services, which distinguishes them from other competitors.
Your engagement dropped? We can help.
What Is Plixi
Plixi is a social growth engine where you can buy packages of services like Instagram likes, comments, and views. Auto-grow, auto-target, and real-time reports enable you to understand the logic behind how their AI grows your followers.
The AI-Match feature trains the Plixi AI model to identify your ideal target followers more accurately by scanning accounts like Tinders. They brag that they have 15 or more improved Instagram bots and are the greatest AI-targeted social growth engine.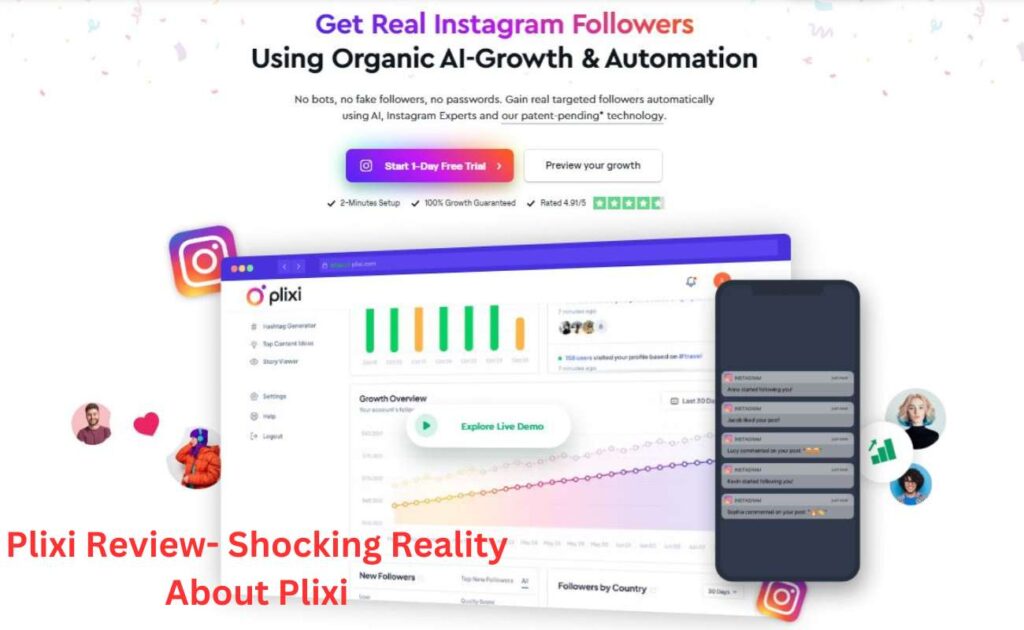 They also provide an Instagram Growth Expert product, which employs a full-time staff of Instagram growth professionals to do the bulk of the job on your behalf. The clientele may "sit back and relax"
In addition to managing your social media accounts, they may set up calls and provide strategic guidance for using social media.
Plixi guarantees each user:
AI-automated tools
Software for managing social media profiles
Genuine social growth engine
Plixi also has a more advanced Experts Plan that features an AI-powered growth engine and an Instagram manager. But are they really true about their services? In the following, you will understand more about Plixi Reviews.
How Does Plixi Work
If you have an Instagram account, you may immediately begin using Plixi Instagram by entering your handle in the upper right corner of the site and going for Plixi login. You may test it out for free before deciding to purchase it.
The website's free services are available to anyone registering for an account. With this fantastic choice, you may start using Plixi's services risk-free.
There's also the option of picking the Instagram growth service that works best for you. Their AI feature, which combines sponsored posts, nano-interactions, and genuine human activity to boost your Instagram following, sets them apart from the competition.
Plixi's unique AI technology provides users with automated increases in follower count and user engagement. They increase your Instagram followers by targeting users with comparable interests, locations, genders, and hashtag use.
However, remember that Instagram is so sensitive to Automated Actions, and Plixi actions might put your page in danger. We suggest you use man-managed packages from a reputable company like AiGrow. AiGrow doesn't use any automated actions, and you will receive organic growth that is completely safe and secure.

Plixi Instagram Pricing
Plixi's prices are reasonable, and the service comes with an Instagram growth free trial. In addition, they provide customisable solutions for each client.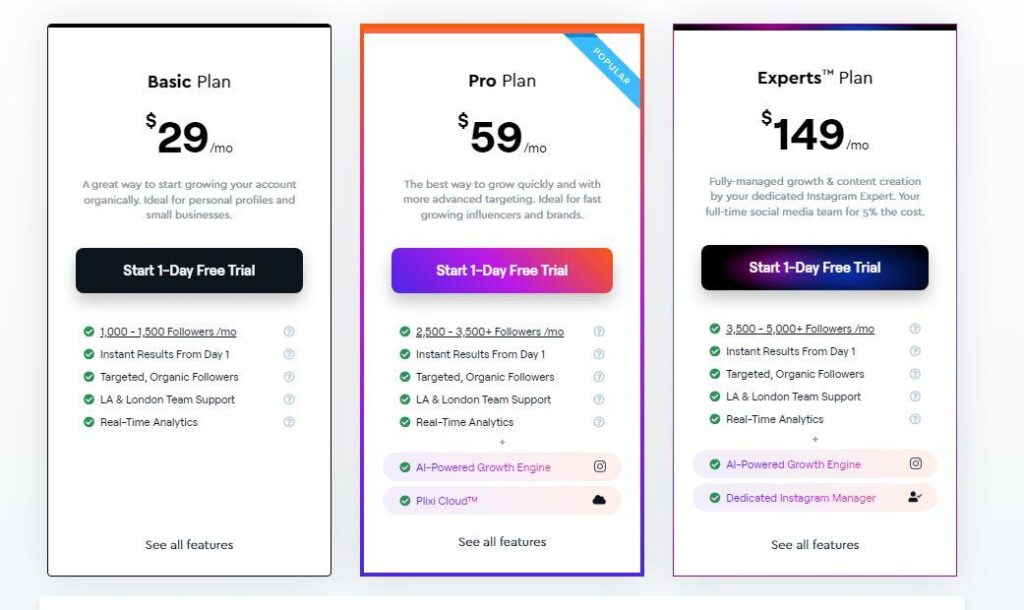 You may choose from three distinct packages:
Basic Plan – starts from $29/month: With help from employees in Los Angeles and London employees, you may expect to get between 1,000 and 1,500 organic followers per month.
Pro Plan – starts from $59/month: Adding Plixi Cloud and AI-powered growth brings your audience size between 2,500 and 3,500, making this the most popular package.
Experts Plan – starts from $149/month: This package includes a professional Instagram manager and an AI-powered growth engine that adds 3,500-5,000 new monthly followers.
Plixi provides an Instagram growth free trial to assist you in expanding your Instagram following. This is a fantastic choice since it allows buyers to sample before purchasing.
Plixi Reviews; All About Company
It is unknown who owns the website. There's a good reason, as spammers use these details to send unsolicited emails to website administrators. Unfortunately, this also makes tracing the owner more difficult. We would like it if the site did reveal his genuine identity.
The products and services here are for sale and are related to social media platforms like Facebook, Twitter, and Instagram. You place yourself in a precarious position if you use these services. It is unlikely that you would report the fraudster to the authorities or to social media after they took your money and failed to produce the promised results.
Plixi Reviews: All About Webshop
Since Tranco has given the website such a good rating, we decided to step up our evaluation of it. Domain names are websites' addresses, and businesses will often only reserve them for a year at a time. They may set up an annual renewal process that takes care of everything for them.
A domain name registration for more than 12 months into the future is a good indicator. It indicates that the firm plans to remain operational for a long time.
This website's domain name was bought and registered several years ago. Sites with longer histories tend to be more reliable. Although it is not common, fraudsters sometimes purchase already-established websites and begin their malicious activities there.
Plixi Reviews: Technical Analysis of The Website
Because it shares a registrar with several sites with a low to extremely low review score, we lowered the website's review score. The "Know your customer" processes of reputable domain registration agencies are thorough. We dropped the website's trust rating to be on the safe side. It might just be terrible luck that so many low-trust websites use this registrant.
Due to the presence of an SSL certificate, we can now assure you that all communication between your browser and this website is secure. Websites that are legitimate and trustworthy always employ SSL certificates. It's important to remember that just because a website has an SSL certificate doesn't mean it's trustworthy.
Plixi Reviews Instagram: Pros and Cons
Here's a brief breakdown of some of Plixi Reviews' advantages and disadvantages for those interested.

| | |
| --- | --- |
| Plixi Instagram Reviews: Pros | Plixi Instagram Reviews: Cons |
| ✅Free one-day trial | ❌The owner's information is currently unavailable. |
| ✅Demo dashboards are available. | ❌Negative Plixi reviews that raise serious doubts |
| ✅Cost-effective business strategies | ❌A lack of concealed transaction options |
| | ❌Live chat is really slow. |
| | ❌Questionable payment methods |
| | ❌Poor Customer Support  |
So, as you can see, this social growth engine has some negative and positive feedback. However, why don't you go for a growth service whose prose surpasses its negatives feedbacks?
AiGrow is your best bet. They will offer you live chat customer service with a high review rank in Trustpilot. You can trust them and let them do the heavy lifting for you.

Grow Your Instagram Account & Save Time with AiGrow
Customer Plixi Review Instagram
Optimists agree with the 38% of customers who have left favourable feedback on the Trustpilot platform.
Although hopping on the hype train can seem enticing, remember there is a price to pay (not just monetary) for boarding. The final grade is easy to see, so let's look at some Plixi Reviews:
Plixi Instagram Reviews On Free Trial for a Day
As We indicated before, if you are unhappy with the services, you can end the trial after only one day for no cost. This, however, was disproved by the very first bad Plixi Reviews on Trustpilot's list, written by a consumer who attempted many times to cancel their free membership and failed.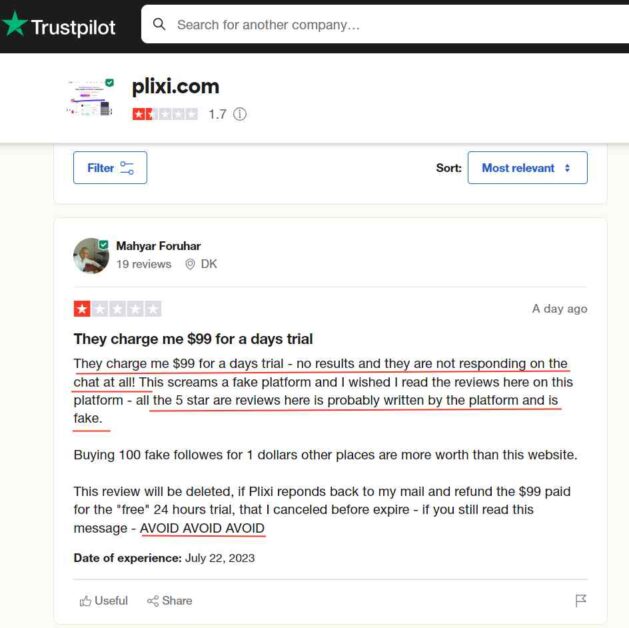 It's easy to see how frustrating it would be to sign up for a platform that promises free services but then won't let you cancel the trial. If you find yourself in this situation because of criminals, your credit card information and financial security are at stake.
On the other hand, AiGrow, the best Instagram growth service, wouldn't cause such problems for you. You can test their real trial and cancel it if you are unsatisfied with the service within 14 days. They trust their abilities, and they offer real free trial services.
Plixi Reviews on Customer Services
Plixi's live chat support is experiencing technical difficulties. Even though the process was consistent for eleven days in a row, it abruptly halted after the eleventh day had passed. Trusted social growth engines don't often have problems like these.
Plixi, on the other hand, has a "policy" of only operating for a few days or weeks before they put a full stop, which has led to either a significant drop in the rate of new users joining or no new users joining at all.
When this occurs, the standard procedure is to contact the customer service department and ask for assistance. Unfortunately, you'll hit a dead end when contacting customer care using the live chat feature since they won't reply to your messages. Furthermore, whenever you attempt to issue a refund, the customer support representative will either ignore your request or leave you with no reply.
However, that is not the case with AiGrow. They will deliver high-standard customer service, answering all your questions very quickly. So, trusting them will allow you to grow your Instagram followers with peace of mind.
You May Also Like to Read: Best Follower Tracker App for Instagram: Maximize Your Instagram Growth Now
Plixi Reviews on Payment Processes
Payment processes are a common complaint about many of the "best" and "most reputable" social media expansion businesses. Your choice of low-cost or high-end followers or Instagram engagement package will depend on your company goal.
Sadly, shady businesses will occasionally attempt to con you out of money by pretending you need to upgrade to a more expensive plan you don't need. Since credit cards are the only accepted form of payment, fraud like this is easy to pull off. This allows Plixi Instagram to adjust the input and charge extra for the package.
Plixi Reviews on Packages
If you're an up-and-comer who wants to boost your online presence by a little bit, the basic plan ($29/mo) should get you there. As said, this is an excellent foundational set for any individual or startup.
The pro plan ($59/mo) takes it to the next level by increasing your Instagram followers by 2,500 and 3,500 new monthly users. In addition to the usual suspects like growth auto-optimization, smart followers magnet, and location targeting filter, this package also includes the novel AI-Powered Social Growth Engine.
The last option is the experts' plan, which costs $149 monthly. This package is for those who want an Instagram specialist to handle their social growth engine and content needs.
By now, we can all agree that the only thing that can increase exponentially with Plixi is the likelihood that Instagram will ban or suspend your account for having too many fake followers.
In this case, AiGrow will help you. AiGrow is famous for not using automated action and fake followers. They are fully aware of the Instagram guideline, so you can sit back and see your Instagram growth.
Positive And Negative Plixi Reviews Instagram: Do They Exist?
The glowing positive Plixi reviews are as general and unspecific as the rest of the feedback on these questionable social media marketing agencies. While a streamlined user experience is always appreciated, the major elements of these packages have not been thoroughly tested for reliability.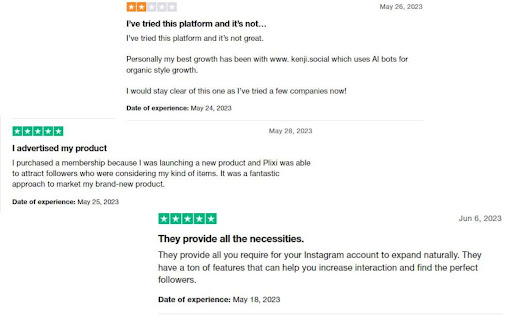 Negative Plixi Reviews
The prior claims about other unhappy customers and my overall research of the platform show repeatedly that both claims—that the platform is user-friendly and performs its duties flawlessly—are untrue.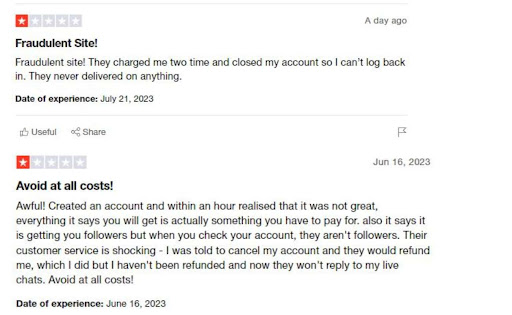 Simply said, the claimed advancement does not exist. They boast limitless call scheduling and personal oversight of your Instagram profiles. When you look closer, though, you'll find that their claims are inconsistent, which throws everything into question.

Also, we could find Plixi Reddit reviews that don't give good feedback.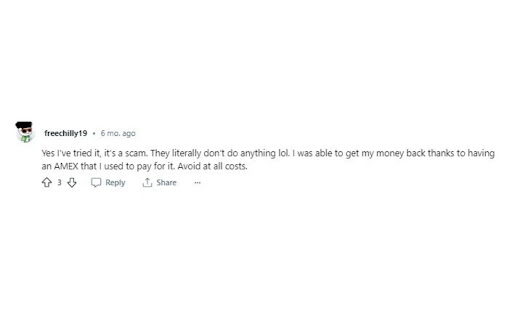 What Is the Best Alternative to Plixi
While we think Plixi Instagram is a good option, here is the best alternative to Plixi.
AiGrow; Grow Organically

Based on our rigorous testing and evaluation, we have concluded that AiGrow is one of the top Instagram Growth Services available. Get real, active Instagram followers, likes, views, and comments from their website.
When you purchase one of their packages, Instagram will notice that your posts are doing well and will distribute them to a wider audience via their algorithm.
Consequently, your fan base will expand enormously. Also, if your account seems well-established, you'll easily attract new followers, and more established firms will be willing to sponsor or pay for collaborations with you.
Among the many features available on AiGrow are:
Fast Delivery
Guaranteed Refunds
Constant, Customised Assistance
AiGrow has received universal praise and has the highest rating we've seen for an Instagram growth service. They promise round-the-clock service and secure transactions for all orders and payments.
Features of AiGrow
Organic Instagram growth service: The staff at AiGrow are among the thousands of happy time-savers.AiGrow uses no bots or automated software.
Upon signing up on AiGrow, a dedicated account manager will start working on your account. Since AiGrow's account managers are well aware of Instagram's algorithms and its daily limits, you can rest assured that your IG account is in safe hands, and there is no risk of your IG account being banned or suspended by Instagram.
Continuous, ever-expanding growth: AiGrow's 24/7 expansion will allow you to connect with like-minded individuals worldwide.
Achieving "impressive targeting": Determine your hashtag, gender, and geographical audience. You may use AiGrow to zero in on the people your business needs to connect with.
It's completely secure and safe: They've assisted thousands of companies all around the globe in reaching millions of genuine customers. Nothing to worry about, and we help everyone.
Useful takeaways: You may go to your AiGrow dashboard anytime to check up on your new Instagram followers and useful information.
Easily plan your Instagram feed with AiGrow now!
Plixi Reviews; Is It Real?
Answering "Is Plixi legit?" with a resounding "NO" should be easy at this point. If you're interested in an organic approach to growing your Instagram accounts, we advise you to look into the best social media growth engine we've highlighted above.
Don't take any unnecessary risks with your money, and stick to secure investments with AiGrow.
FAQs
Q1: What Is Plixi?
Plixi is an Instagram growth tool that automatically attracts visitors that are interested in your content and improves the number of followers and interactions.
Q2: How Does Plixi Work?
They claim they have paid advertising, nano-interactions, speciality data clusters, and actual human activity. You may target a certain demographic based on speciality, area, gender, age, and more after you link your Instagram account. Keep in mind that all these works are done automatically and will result in a suspended Instagram account.
Q3: Is Plixi Instagram Legit?
Plixi is legitimate. However, there are some reviews about scammy behaviours. So we suggest you be more couscous while trusting this company.
Q4: Is Plixi Real?
Plixi seems to be a reliable social media growth tool. With the help of AI technologies, it can really expand but this act is completely automatic. As you know Instagram would ban accounts with automated actions.