The three main components of Instagram success—followers, likes, and views—are all a part of the engagement equation. That is why we will have a full Followadder review today, which claims to provide all those three items for its clients.
In recent years, the level of competition on Instagram has increased significantly, making it more difficult to achieve a high engagement rate. More and more businesses are looking for the best Instagram growth services to manage their Instagram marketing strategy.
However, since many Instagram growth agencies prey on people's lack of knowledge, it's important to choose one carefully. Now let's proceed to our Followadder review. You probably have questions such as: Is follow adder safe and how to use follow adder?
So without further ado, let's answer all your questions! We'll give you all the information you need before using it.
Note: If you need a reliable service for growing your Instagram following, scroll to the bottom of this review, where you will find our top suggestion, AiGrow, as the best alternative to FollowAdder.
The Benefit Of Getting More Instagram Followers
Even though you might not have wanted to put much emphasis on your Instagram followers at first, you're beginning to realize that it's important.
Due to its rapid rise in popularity, Instagram is now one of the leading platforms for marketers. A large number of Instagram followers can indicate a person's authority in a given industry, meaning that if you want to do well with your brand online, you should increase your follower count.
As a result, there are some legit Instagram growth tools out there that can help you achieve your engagement goals by providing strategies and resources to grow your followers.
What Is Followadder
Follow Adder according to their website, delivers real followers to Instagram users, and promises not to use bots! But on their homepage, they clearly declared that they use automation for Instagram growth. But, automation and bots are both red flags on Instagram guidelines.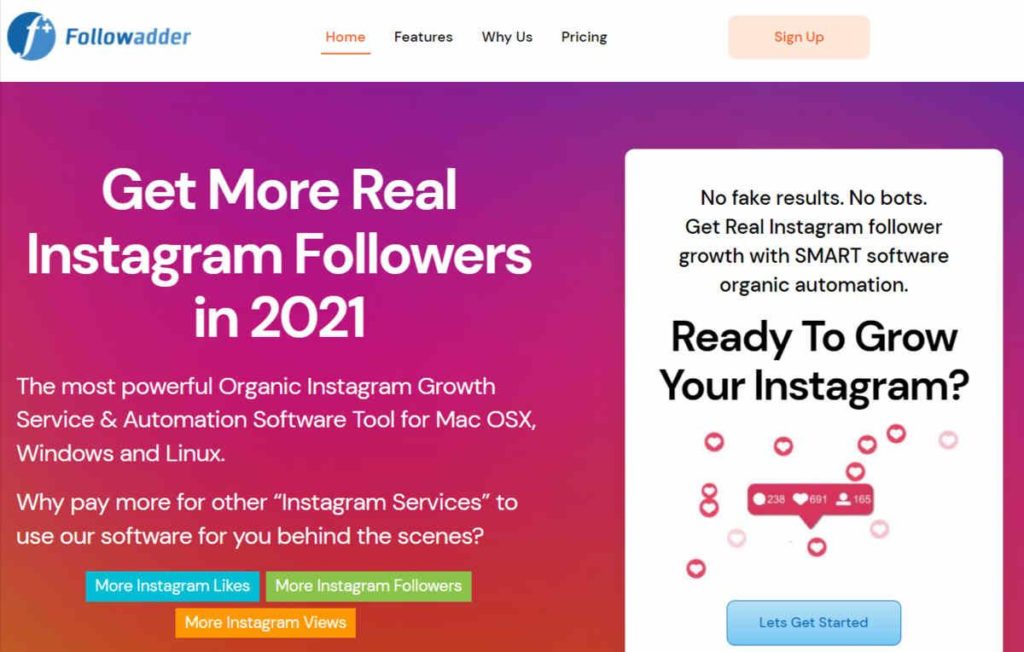 So, Followadder as an Automated social networking Instagram management software mostly functions as an Instagram bot that will help you automatically gain likes, video views, and followers.
Followadder offers automated Instagram account management and claims to help you manage your Instagram account with minimal effort. But how?
According to their website, it is a Mac and Windows desktop application. To work in automation mode, Followadder needs to be running at all times.
It works by providing access to several features, including:
Automatically follow and unfollow Instagram users
Like back photos
Send direct messages automatically
Perform various searches related to your demographic
Instagram often targets this type of service for a takedown if it does not conform to Instagram's terms of service, so it is important to investigate any company making these claims. Additionally, the lack of something like a dedicated account manager feels.
Here it is good to mention that a genuine Instagram growth service, which provides users with social media experts who can manage IG accounts without putting them at risk of being blocked or restricted can be a good Followadder alternative.
AiGrow is one of the best Instagram solutions that offers you all you need to manage your account.
How Does Followadder Work
Followadder is an Instagram follower software that automates your activities on Instagram, including posting and liking, commenting, viewing, and more. It also allegedly helps you reach the right people by targeting your audience based on your setup filters.
Basically, Followadder is an Instagram follower adder that performs basic actions on behalf of its users—including following, unfollowing, and liking.
However, there is another term for it—'autopilot.' We believe that the company avoids using the word 'bot' because it is aware that automated actions are against Instagram's terms and conditions.
But does Instagram's policy consider all bot activity inappropriate? And what happens if you violate that policy? To find out the answers, read the following sections.
Follow Adder Features
All the features offered by Followadder are done by its software and there is not a team behind you taking care of your account. The following list describes some of Followadder's features, although many of them do not work as claimed:
1. Profile Targeting Features
You can target Instagram profiles, followers and people who follow those profiles, people who like the photos posted on an account, and accounts that have commented on a certain photo. You can also search for top Instagram hashtags, keywords, or locations.
2. Automated Instagram Liker & DM
They believe that automation of users' likes and comments create engagement, awareness, and the ability to grow a profile at the desired speed. However, it is the opposite of Instagram guidelines, and Instagram can restrict or even ban your account as a result of using bots.
Followadder software also automatically comments on posts and sends direct messages. Instagram direct messages can be helpful, but automated comments can put your account in danger.
3. Automated Instagram Follower and Unfollower
This Instagram follower software allows users to automatically follow other Instagram users by using the app's targeting features. The app can also automatically unfollow those who do not follow you back after many days.
4. Followadder Scheduled Posts
Posting consistently is an effective way to maximize engagement on Instagram. Followadder allows users to schedule their posts, it helps them share their content when holding giveaways or campaigns. But they don't offer a giveaway picker tool to choose a winner after you hold the contest and that's one of the deficiencies of this service.
So, if you want a more comprehensive and organic growth Instagram solution, click here.
5. Monitor Progress Analytics
Followadder dashboard also has a section to monitor and report the user's account progress. It includes a chart that displays likes, followers, and engagement improvement over time.
Followadder Pricing
Follow Adder's monthly plans range from $24 to $94 for their pro plan. The price of packages may seem reasonable, but there is not a human-based team, and all the things are done by software, not a person, so it can be expensive under this condition!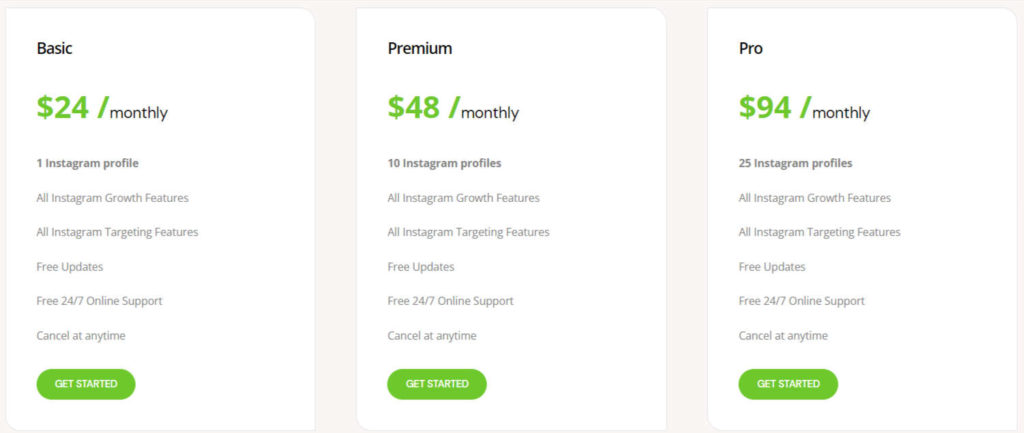 Like many subscription-based services, they operate on a payment schedule rather than requiring one up-front fee; this means you will have to commit to several months of using their service.
How To Use Follow Adder
To use the Followadder software, you should pay. Then you can download it, which makes it vague what you will get! To get started with Followadder, you need to do the followings:
First of all, Followadder doesn't offer a free trial, so enter your email address and choose a pricing plan to sign up. The company recommends that you use the same email address as when registering for Instagram.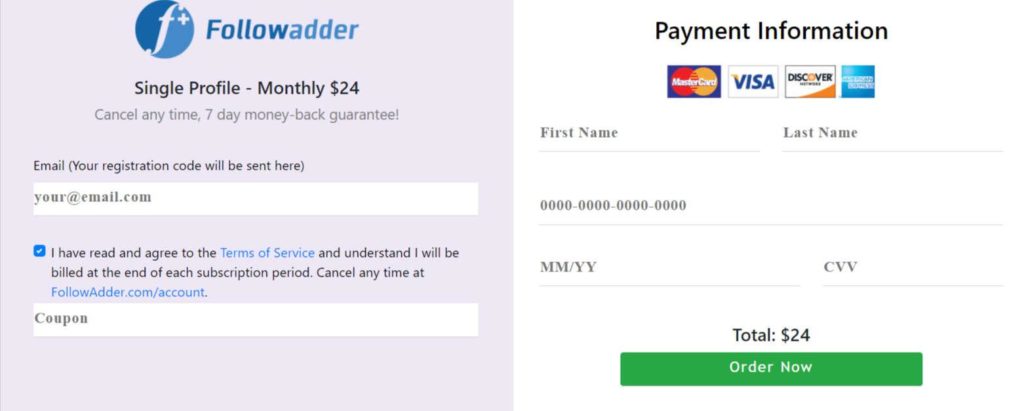 2. To receive your registration code, check your inbox.
3. Download Followadder.
4. To connect your Instagram account with the tool, enter the registration code and your Instagram username in their respective fields.
5. Click on the 'Overview' tab in the software, and double-click your Instagram username. Click 'Automate' and turn on the automation.
6. Finally, you have to adjust the settings and pick the features and tactics you want to use, and this is how to set up Follow Adder.
Conversely, services like AiGrow offer onsite dashboards that don't need to be downloaded. You can also access it before paying the fee. This way it is clear what you will get!
Followadder Reviews – All You Need To Know
On the Trustpilot website there is only one review of Followadder available: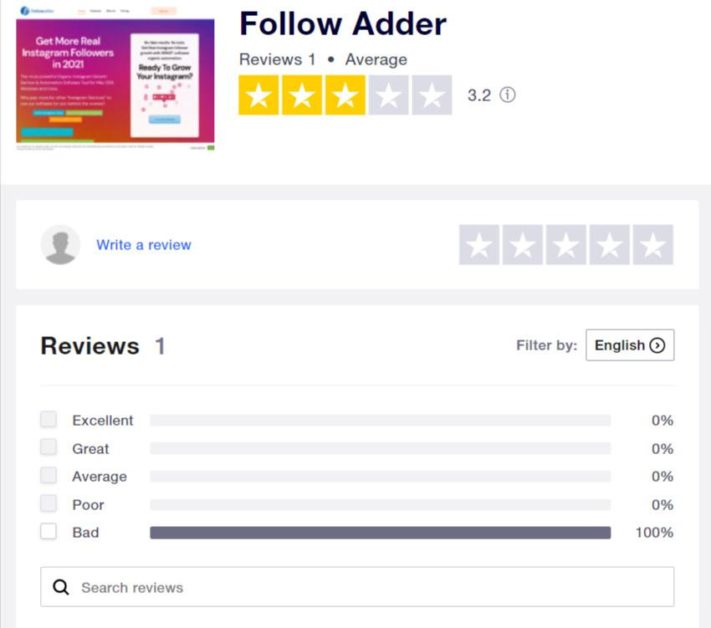 Here is a recent review from Andreas in which he was complaining about when the follow adder login failed, as well as their poor customer service: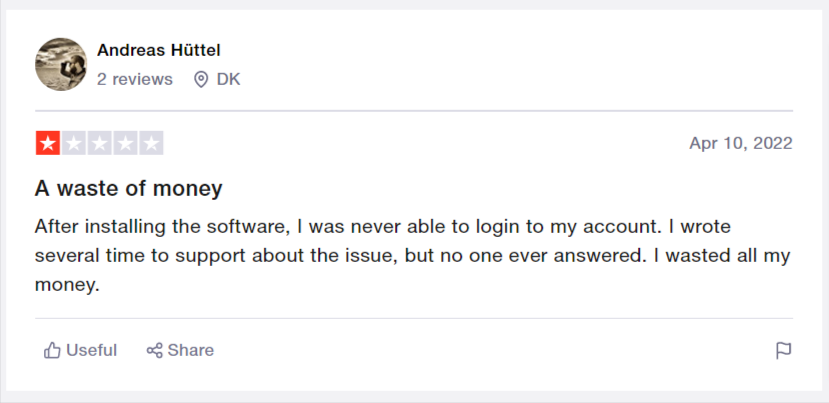 "After installing the software, I was never able to login to my account. I wrote several times to support the issue, but no one ever answered. I wasted all my money."
We have to mention that we couldn't find any other Follow Adder reviews on Reddit, Instagram, or any other site that revealed users' experiences with such services, which is concerning. Because services that people mostly use should have some criticism.
The followings are some of Followadder pros and cons you need to consider before using this Instagram automation service.
FollowAdder PROS & CONS
We searched online for consumer comments about Follow Adder to see what people said. Here are what we found:
PROS
It has a functional scheduling system.
It has a simple and easy-to-use interface. (But you should pay to use the software)
It comes with bulk uploading options.
CONS
You still have to put in work to earn engagement on your photos.
When adding a new search with a newly added profile, some users have reported errors.
Instagram accounts may be suspended for suspicious activity.
A business can not risk putting itself in questionable situations using this service.
Customer support is very slow to respond.
It ruins your Instagram feed.
The software must be downloaded.
It doesn't provide users with a dedicated account manager.
Why Follow Adder Doesn't Work
Although Follow Adder has historically been one of the most advanced Instagram automation tools, it is now less effective than other options due to the Instagram algorithm's recent changes in handling automation.
Instagram can detect bots by monitoring their interactions with other accounts, and once the account reaches a certain threshold, it can be flagged, restricted, or even deleted.
Many of these services provide little or no real value for their customers. People end up wasting their time and money.
Follow Adder also provides automated tools for interacting with Instagram users, including sending direct messages and comments. This can result in your account being banned or losing your reputation.
Instagram is a highly regulated platform. To remain on it, bots must adhere to Instagram's terms of service, making it impossible for Follow Adder to function within those parameters. The following section provides a solution to this problem.
Best Alternative To Followadder – AiGrow
AiGrow is a top Instagram growth service that safely grows your follower count organically; it has developed an improved strategy focused on targeting the right people and enlarging your interaction with the target groups by manually doing Instagram activities.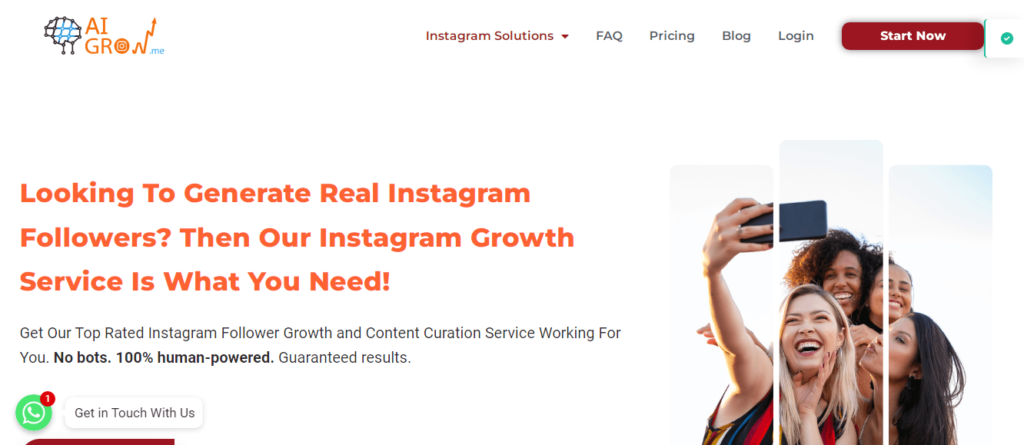 When you compare AiGrow and Followadder, one thing becomes clear: Follow Adder doesn't provide you with a targeted audience. As an Instagram followers adder, it mainly provides you with followers that are unverified, non-engaging, and irrelevant to your goals.
On the other hand, AiGrow focuses on organic interaction with targeted audiences to get you real and relevant followers. Let's have a brief comparison of these two Instagram management services in the table below:
| Features | FollowAdder | AiGrow |
| --- | --- | --- |
| Growth plans | ✅ | ✅ |
| Manual growth activities(follow/unfollow, likes, comments) | ❌ | ✅ |
| Content design template (feed/stories) | ❌ | ✅ |
| Content plan calendar | ❌ | ✅ |
| Account manager | ❌ | ✅ |
| Schedule feed plans | ✅ | ✅ |
| Multiple links in Bio | ❌ | ✅ |
| Bulk Unfollow plans | ❌ | ✅ |
| Bulk post delete plans | ❌ | ✅ |
| Analytics | ✅ | ✅ |
| Bulk DMs | ❌ | ✅ |
| Trustpilot score | 2.7 | 4.6 |
AiGrow vs. Followadder
Note: Using AiGrow you will be assigned a dedicated Instagram manager who will manage all activities on your account. No need to worry about spammy auto-commenting or liking – your business will grow responsibly and securely.
How Is AiGrow Different From Other Instagram Growth Services
At first glance, AiGrow may seem to be similar to other Instagram growth services. However, as you delve deeper into this tool's features, you will notice that it is unique in its approach to helping you grow your Instagram.
AiGrow is not a bot but a team of dedicated people who work on your account to help you get the most from Instagram. With AiGrow, you can get 300–500 new followers each month who engage with your content.
Thus, you would have no concerns about losing your Instagram account.
AiGrow Features
In addition to AiGrow VIP growth service, here are some other features AiGrow offers you to improve your account performance on Instagram:
Instagram content scheduler
Multiple Instagram links in the bio
Post and reward
Content calendar
Automated DMs
Youtube video on IGTV
Instagram content creation
AiGrow features do not end here. You can see all the features of this incredible service in the screenshot below: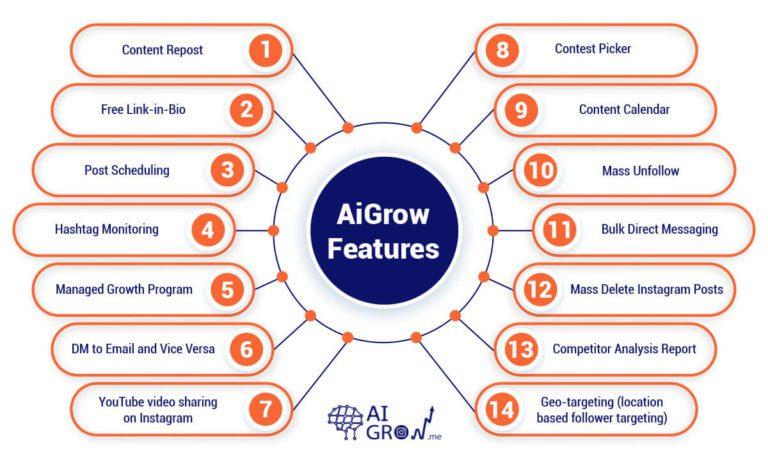 AiGrow Pricing Plans
AiGrow growth plans are divided into three packages, namely Managed Starter, Premium, and Advanced. The best thing about them is that they give you a 14-day money-back guarantee so you can use their service and if you are not satisfied, ask for a refund.
Furthermore, AiGrow does not limit the accounts you can manage in each plan, and you can add as many accounts as you want.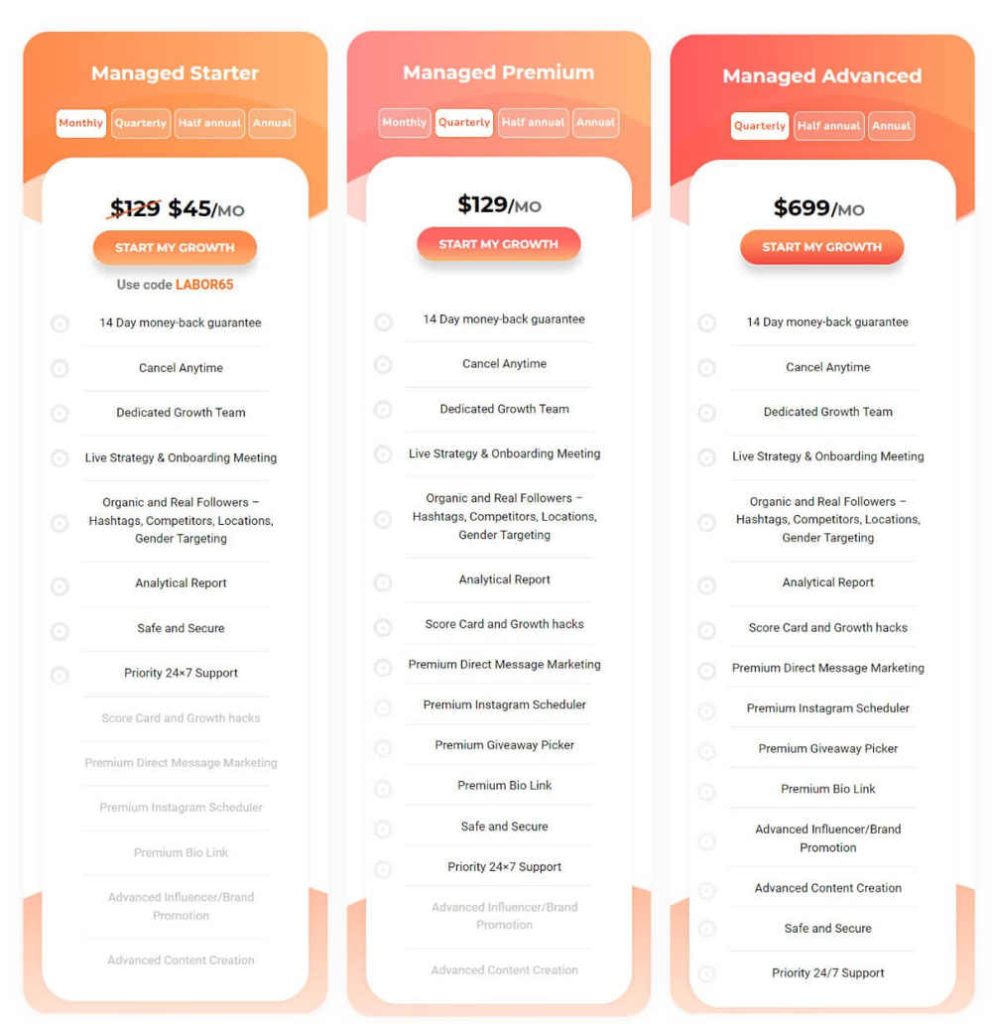 Additionally, AiGrow provides you with different packages that you can choose according to your needs. They are as follows:
Growth Plans
Content Creation Plans
Scheduler Plans
Mass Unfollow Plans
DM Plans
Bulk Post Delete Plans
You can get access to all the amazing features of AiGrow growth service by choosing one of the plans above at a reasonable price.
How To Use AiGrow Growth Service
AiGrow's VIP Growth Service assigns a dedicated account manager to perform every action on your behalf, helping you to drive consistent growth. Here is how to use this service:
Sign up on AiGrow's website using your email address.
On your dashboard, click on 'Add Instagram Account' to connect as many accounts as you want.
Click 'Manage.'

4. The 'Growth' tab allows you to specify hashtags, locations, and competitor accounts to target your audience.
5. Then you can choose to have your assigned manager perform specific activities (Likes and Follows) on your behalf.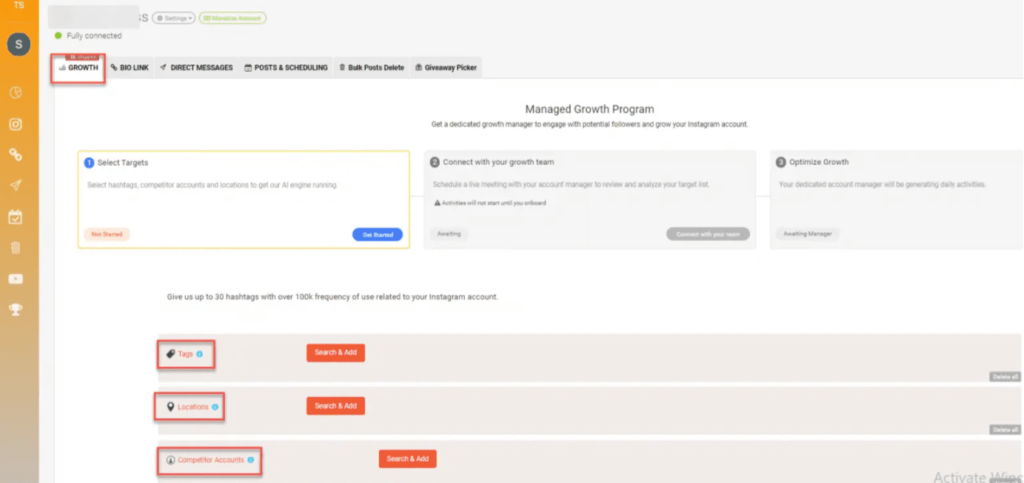 6. Once you are done, click on 'Start Growth.'
Note: You can schedule a meeting with your account manager to begin attracting your target audience on Instagram. Your growth team is always available to provide assistance.
FAQs On Followadder
Let's take a look at a few frequently asked questions about this Instagram follower software below:
#1 Is Followadder Legit & Is It Safe?
To answer this question, you need to consider some facts;
On one hand, this company has an official website and a 7-day money-back guarantee. On the other hand, it has a low rating with numerous complaints on review websites. Besides, their tools to send followers to your account do not work properly, so we can't say they are 100% legit.
Regarding their safety, the company has a secure website and payment gateway allegedly, but many users do not like having to download the software. Finally, It's not that safe for your Instagram account, and there is a risk of getting banned.
#2 Does Followadder Run When Computer Is Off?
No, you must keep your computer on and connected to the internet while using Follow Adder. If you do not wish to have your computer running at all times, you may instead use a VPS.
#3 How To Cancel Follow Adder Subscription?
Subscription fees are not refunded if the member wants to cancel it. However, you will be able to use the remainder of your paid subscription. All cancellations must be submitted through the customer log-in/account management area of followadder.com.
#4 Where Can I Find Followadder Coupons?
It is not difficult to find a Followadder coupon online, by searching on Google you can find sites that offer growth service coupons to users. Shoppirate.com and couponpard.com are two sites that offer Follow Adder coupons.
Final Thoughts on Follow Adder
At the end of this Followadder review, we will summarize our overall impression of this service.
Followadder is not the right tool if you are looking to achieve a high level of engagement on your Instagram account. A desktop bot is not enough to improve your online presence and having to download it will make the process more complicated for you.
Tools that bring you organic and real followers without fake accounts and bots such as AiGrow, a service we mentioned in the article, will help you save time while increasing growth.