Are you looking for a way to increase your followers on Instagram? Are you thinking about getting a hand from an Instagram growth tool along the way, but have come across tons of them like Instazood and AiGrow, and are confused as to which one you should choose?
It's no secret that demand for growth services is increasing with the rise of new digital marketing strategies. Instagram marketing has a crucial role in raising your brand awareness on IG. Instazood claims that It is one of the best Instagram growth services that can help you expand your Instagram automatically.
But is it worth getting followers with an Instagram growth service?
Prior to this study, we've investigated a slew of other Instagram growth providers' reviews. Now, we provide you with a post to take a closer look at Instazood reviews to assist you in choosing it or not.
In addition, we'll introduce a better and more advanced tool; AiGrow, the finest Instazood alternative.
Stay with us.
What Is Instazood
Instazood is an Instagram growth tool that uses automation and bots to boost followers, likes, comments, and views for your Instagram posts and stories. Perhaps, this is one of the rare tools that are completely upfront about being a bot. They make no claims as to bring you organic and real growth on IG.
However, being a bot is not something to be proud of these days. Years ago, people would use bots like Instazood without fear of losing their accounts. Yet, gone are those days!
With Instagram's new algorithm, no bots or even bot-like behaviors are tolerated on IG and will result in getting banned or disabled altogether.
Therefore, because Instagram does not allow bots or automated programs, it is quite risky to utilize such a tool.
Knowing Instagram's limitations is essential for any growth service provider. After utilizing it, some users have posted reviews on websites like G2.com, reporting that they have been banned or restricted. 
Instazood Review
As a result, it is preferable to employ services like AiGrow, which gives you a team of Instagram specialists who can assist you around the clock. Especially when you have a lot of followers on a page, it's hazardous to use these kinds of services like Instazood. There will be no risk of being blocked with AiGrow.  
How Does Instazood Work
Unlike other growth services that are very cautious about using bots, Instazood reveals that they use bots to follow, like, and comment on Instagram accounts. They claim that they're the best Instagram bot on the web, yet customers have expressed dissatisfaction in Instazood reviews on websites like Trustpilot, Reddit, etc.. 
If you're not sure how to use Instazood, we will explain. After you sign up and choose a package that suits your needs, they'll provide you with a dashboard. You can start managing your Instagram account with a post scheduler and sending mass DM.
When compared to other means of developing Instagram, such as engagement groups, using a bot may be simple. For the price of a cup of coffee, you can easily use a bot. However, it is extremely dangerous because it is against Instagram's guidelines.
A mobile phone software called Social Bridge by Instazood does the work for you. To use Instazood, download the Social Bridge app. Then, you must first create an account on the dashboard. Next, add an Instagram account and scan the barcode to have access to the platform.
Social Bridge App
Instazood has an account on the Reddit website where you can find a lot of videos of how it works. If you want to find your answer to questions like how to set up a proxy on Instazood, you can go to their account on Reddit. Another question like how to send hyperlinks in Instazood is answered here. 
Instazood Features
Automatic follow, like, comment, story viewing, and post scheduling are all capabilities that Instazood can provide for users. All of these are summarized in an Instagram social media network bot that allows users to automate numerous tasks such as liking, following, commenting, unfollowing, viewing stories, publishing posts, DM, and comment tracker.
Instazood features:
Automated Publishing
Keyword Filtering
Post Scheduling
Auto likes, comments, view stories
Auto unfollow
Auto DM
Bots will do all these features. For instance, Instazood unfollow bot performs mass unfollow. Or automate post scheduling enables users to schedule what time of the day the bot starts to repost, unfollow, and follow.
According to one of the Instazood reviews, while utilizing this bot might be a quick and easy approach to boost followers, it can negatively impact your company's image and overall success.
Wondering how? Let's take its DM feature as an example.
Its auto DM feature is supposed to work in your business's favor by allowing you to sell more on DMs and increase your revenues in general through sending mass DMs to a large audience.
However, since the process is carried out by an unintelligent bot, Instagram DMs are sent to random users at times. Also, your account will appear as spam and you will lose face as Instazood sends uncustomized DMs (the same message) to everyone!
Don't worry though! Read on to find out about the best alternative you can use instead of this feature.
The Best Alternative to Instazood's Auto DM Feature: DMpro
If you wish to use Instagram DMs for business, we suggest you use DMpro instead. Why?
Because this powerful tool offers you a variety of features to use! For instance, you can send bulk messages on Instagram, preset a text for auto-replies, and even mass delete Instagram messages!
Unlike Instazood DM bot, DMpro gives you the opportunity to send personalized messages on Instagram with the target users' names! This way, you can generate real interaction and engagement for your IG page.
Another great feature that comes with this Instagram DMs app is its link-in-bio tool that you can use for various purposes like gathering email addresses for your Email marketing or making coupon codes for your customers, inviting your followers to visit your website and many more!
So, sign up on DMpro instantly, to DM like a pro!
Instazood Pricing
Instazood price is not apparent on their website at the time of writing this post, which is not a good sign. However, according to their blog articles, Instazood price begins at $9.99 per month as a flat charge.
In addition, a free trial is available from Instazood. This Instagram growth service is available for a three-day free trial! This is an opportunity to learn more about the app's features. Right?
Much to our disappointment, wrong! Users have complained that once you sign up to use the free trial, Instazood charges you for it! So, we can't really call it a free trial!
Instazood Reviews
Being a bot is a highly convincing reason not to use an Instagram growth agency these days as it has serious consequences, but let's walk you through some Instazood reviews that question its functionality and quality as well to help you make an informed decision.
Let's jump right in with a recent comment left by an unhappy client:
As you can see in this Instazood review, the service doesn't work. This customer has asked for a refund after not being able to use the service, but hasn't been able to get it even after reaching out to them several times!
This shows their zero respect for their clients, and how they don't really care about their growth on Instagram at all.
Instazood Reviews on Trustpilot
On the Trustpilot website, the average rating for Instazood is 1.5, which is a highly poor result for a growth business of this type. The service has received a large number of adverse comments from users, who have described it as inefficient, poor, and a negative influence on their enterprises.
The Average Rating for Instazood
In this Instazood review, for example, a user complains about the lack of a support crew. As it is, this user posed a question, and a bot responded. It is a huge issue when a corporation offers a bot but does not offer a management support team.
Instazood Reviews
Another customer complaint is over the dashboard's inefficiency. Although the Instazood team responds in a comment, they do not respond on their website's live chat.
Instazood Reviews on Trustpilot
Another user of Instazood has left a review claiming that the service was formerly fantastic but now doesn't work. It's possible that it's because of the Instagram platform constraint that prevents bots from doing successfully on Instagram.
Instazood Reviews
Such services that use dangerous bots and automation, as you can see, may operate effectively for a short period of time, but they will be banned by Instagram if they're discovered. We've outlined the greatest Instazood alternative below if you'd like to avoid using services like Instazood.
Instazood Reviews on Reddit
The reviews left by users on Reddit weren't much different either. Let's take a look at a couple of them.
In this Instazood Reddit review, the client has shared his experience with you. He has complained about how this IG growth service does not function anymore. He has also stated how poor and unresponsive their customer service is when one reaches out to them.
Here's yet another complaint:
In this Instazood review, a customer has expressed their dissatisfaction with the service's features not working and their customer support again.
This Instagram growth agency claims to offer 24/7 customer support. However, they don't even fix the issues when the tool doesn't work let alone other things. When faced with a problem, apparently, you need to pay extra to set up the account again. As if they're only there to take away your money and nothing else!
Instazood Review: Why We DON'T Recommend It!
Social Pros warns you against using this Instagram growth bot for all the right reasons!
First of all, Instazood is not working anymore. At the time of this update, they have removed all the information regarding their services from their website. Why would they do this if their services are legit? This is a huge spam alert. So, do not fall for them in case they reappear.
Second of all, they lack responsible customer support. As you saw in the reviews, they are not responsive at all when their clients face a problem. So, you're all on your own!
Thirdly, Instagram takes legal action against any company that uses 'Insta' or 'gram' for their services. Clearly, Instazood has violated Instagram's copyright infringement policies by using 'Insta' in its name. This alone should be enough for you to stay away from this bot. It's extremely dangerous to use it.
So now what? Should you abandon your dream of building your brand on Instagram? Of Course not! We've got the best Instazood alternative for you in the next section!
The Best Instazood Alternative: AiGrow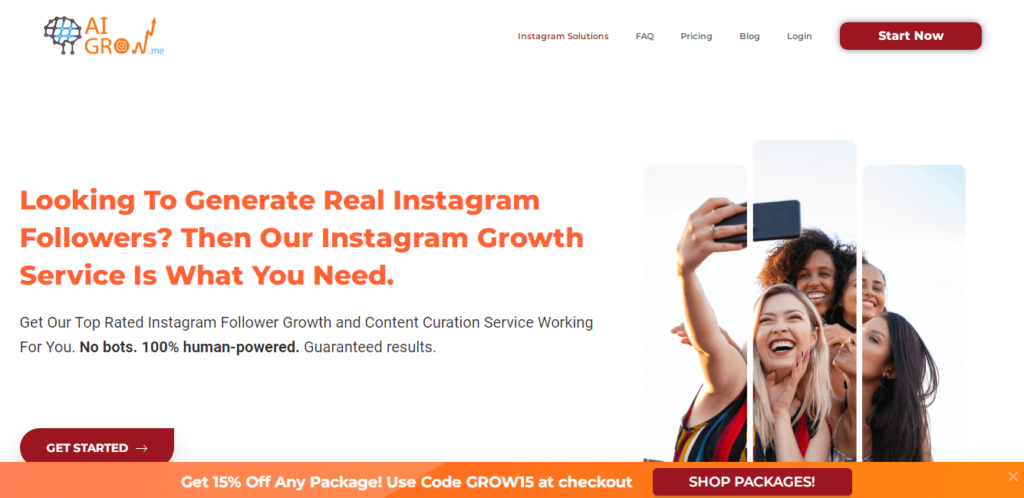 AiGrow is a powerful Instagram growth tool that offers you a lot of advanced features. This service helps you grow your business on Instagram organically. AiGrow will not use bots, fake followers, or superficial automation.
A team of 100 percent human-powered Instagram experts there are to support you 24/7. This platform is a complete set of Instagram tools and services helping you with all your considerations.
As the safest Instagram management service on the market, AiGrow not only provides you with a professional Instagram management service but also a seasoned Instagram account manager. As a result, you'll have the chance to seek assistance from an Instagram specialist.
With AiGrow, you'll know exactly what to publish, when to post it, and how often to post it to get immediate results on Instagram. Unlike most popular automation programs that allow you to buy followers, this program aids in the growth of your audience by improving IG engagement.
Other excellent AiGrow features include:
AiGrow is a unique set of growth tools! The fact that everything at AiGrow is organic is one of its key features. Their growth service is comprised of a group of Instagram professionals who are the most knowledgeable about how to achieve true Instagram growth without the use of bots or automation.
Additionally, they provide customizable packages for every budget that are guaranteed to get results! For more information on this excellent tool, you can read this thorough AiGrow review.
AiGrow Pricing
Do you want a steady flow of organic followers? Click here.
How to Start with AiGrow
Starting working with AiGrow is really easy. To start with AiGrow you just need to follow these steps:
First, sign up on AiGrow.
Then, select one of the packages that best suit your requirements.
After that, connect your IG account.
Now, click 'Manage.'
You can configure targeting options and verify your targeted users.
Now, click 'Continue' if you agree to the terms.
Last, click 'Start Growth.'
Click here and guarantee your success with AiGrow now.
AiGrow vs. Instazood
Despite the fact that Instazood cannot be compared to AiGrow, which is a fantastic Instagram growth solution, in this section, we have gathered the benefits of both services in order to have a better understanding of their characteristics.
AiGrow benefits:
You have a support team: With AiGrow you have a dedicated manager and staff to help you brainstorm and keep things moving in the right direction.
Grow your IG followers fast and easy: It's simple to build a targeted, natural, and high-quality audience. Your brand's revenue grew as a direct result of gaining more fans on social media.
Create buzz and awareness: AiGrow can help you generate new followers with its manual growth staff, micro-influencers with its DIY platform, and also regular contests.
Be more efficient while saving time and energy: let the AiGrow team handle the heavy lifting and save time and energy. Or if you prefer to do it yourself, use its powerful Instagram marketing tools to automate scheduling, messaging, and monitoring.
Stay active: Keeping your feed up-to-date and attractive is the most important factor in attracting followers and interaction. Three to four times a week, the AiGrow team will publish new content with eye-catching photos and graphics, and thought-provoking text.
Instazood benefits:
Automated publishing
Customer segmentation
Keyword filtering
Multi-account management
Post scheduling
As you can see from this post, Instazood is not a significant competitor of AiGrow. So, you can use this awesome Instagram growth service in place of Instazood.
FAQs on Instazood
There are a couple of queries about Instazood that have been answered here.
1. Do You Still Have Access to the Instazood Website?
Despite the fact that utilizing bots is a no-no on Instagram, you might wonder why Instazood hasn't been shut down. If you go to their website, you'll notice that www.Instazood.com has been switched to www.izood.net, and Instazood is not working anymore.
2. What Is the Best Instazood Alternative?
As said before, Instazood employs bots, and Instagram does not welcome bots. Rather than using such services, invest in growth solutions that do not rely on bots or automation. Therefore, AiGrow is the greatest Instagram solution.
Last Thought on Instazood Review
Our advice is to go to their website while looking for a service for your Instagram. If the features and support team details are clearly shown on their website, you can think about them more. As you can see from their website, Instazood is not the type of firm you might trust with your Instagram development because they do not have any information and offer minimal essentials.
If you are looking for a service that is trustworthy, and know techniques for Instagram engagement, you should consider AiGrow as a choice. If you have had any experience with these services, please share your thoughts in the comments section below.