Today hashtags are an indispensable part of every social media. Their core function is categorization. For example, when IG users add multiple hashtags to posts, they're letting the Instagram algorithm know in which category that post should show up. Or if a LinkedIn user adds a couple of LinkedIn hashtags to a piece of content the same will happen. Although lots of other good things happen in addition to that like getting more followers, the primary function remains the same.
TikTok hashtags have the same function and so do hashtags on other social platforms. But besides helping various algorithms understand each piece of content's concept, they have another benefit. Can you guess what?
That's right! One excellent way to boost visibility and improve discoverability on social platforms is using hashtags. And in today's blog, we'll discuss how and when to use LinkedIn hashtags to reach audiences beyond your network.
LinkedIn brought hashtags to its platform back in 2018. And ever since, users rely on hashtags to generate quality leads, attract more attention to their content, and promote their business. You can achieve all of these goals too with a well-detailed LinkedIn marketing strategy and proper use of hashtags.
Do Hashtags Work on LinkedIn?
Yes, hashtags do work on LinkedIn in a similar way to Twitter and Instagram. Hashtags for LinkedIn help users categorize and find content on a specific topic. Also, when you use them, they will help you get discovered by other users. Besides, you can follow hashtags on LinkedIn, meaning that posts containing your chosen ones will appear on your feed.
LinkedIn hashtags are a fantastic way to reach audiences far beyond your direct contacts on LinkedIn. On the other hand, when you publish an article on SEO and don't use any tags, you'll need a lot of effort to create an awesome LinkedIn post and boost engagement from other connections to make a considerable impact. However, using LinkedIn tags, you maximize your post's reach potential. For instance, if the SEO hashtag has 200K followers and you apply it in your posts, its engagement can easily triple.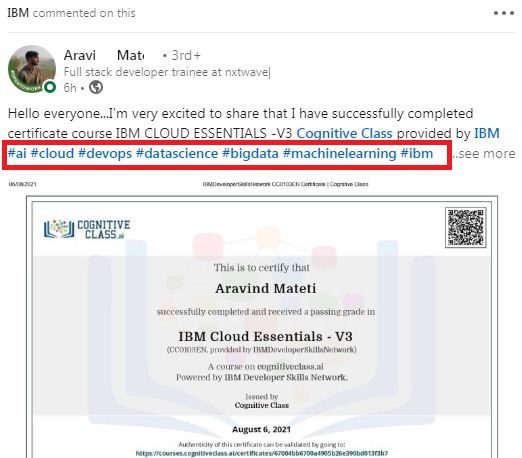 Boost your Instagram knowledge: How to Get 1k Instagram Followers with a Free Trial
How To Use LinkedIn Hashtags 
You can add these tags to your status update, business page, and articles to engage the most relevant audience to your brand. Still, if you wonder how to use hashtags on LinkedIn, stay around to study more about them in the following. 
The best strategy to use them on LinkedIn is to apply three hashtags at the end of the content. Additionally, it is essential to know the best time to post on LinkedIn to get better results. It would be best to use two broad hashtags(#socialmedia) and one niche hashtag(#surrealismpaintings). Remember not to add spaces or symbols in your hashtags for LinkedIn since they won't longer be clickable.
Use LinkedIn Hashtags in Your Status Updates
There are some ways to add LinkedIn tags to your status update as below:
You can type the pound sign followed by the word or phrase. After typing your hashtag, LinkedIn will auto-generate hashtag suggestions based on popularity and trending.

Another way is to click on the 'Add Hashtag' button placed on the bottom left of the box.

Select a related hashtag beside the 'Add Hashtag' button.
How to Use LinkedIn Hashtags in Your Posts
A great benefit of using hashtags on LinkedIn is that people will get notifications when posting content if they follow your hashtag. However, you can't apply clickable hashtags in the body of your published articles.
You can add relevant hashtags to your profile Headline and Summary, but they'll act as non-tagged keywords. Yet, it's possible to make it discoverable by adding hashtags to its description box. Remember, you can't edit or delete a hashtag after publishing.
Now, to use hashtags on your LinkedIn articles, go through the following steps:
On your homepage, click 'Write an article' beneath the update field.

Then, click 'Publish' in the top right corner. You'll see a pop-up window.

Introduce your article with relevant hashtags in the 'Tell your network what your article is about' section. After publishing, it'll come up as commentary above your article.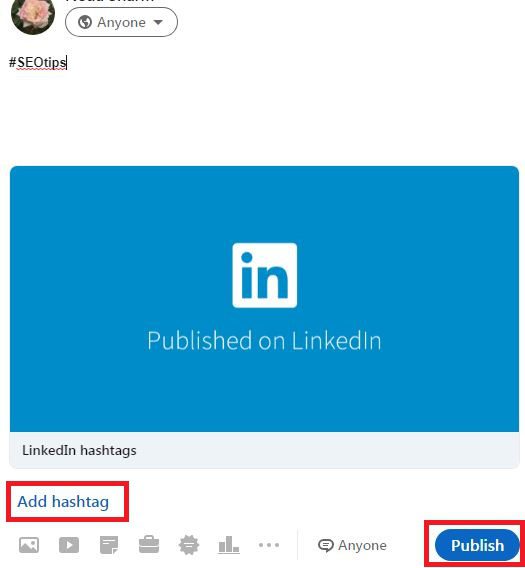 Boost your Instagram knowledge: 10 Best Unfollow Apps for Instagram in 2021
Use LinkedIn Hashtags in Your Business Page 
Do you like to give a real shock to your LinkedIn business page? Then using tags should be a priority for you. It is how you can stay at the center of communications surrounding those hashtags and let you connect with your niche audiences. Here are the steps to add tags to your LinkedIn business page:
Head over to your homepage.

Next, click on 'Add' at the bottom right beneath 'Hashtags.' 

Then, select 'Add a hashtag' and select up to three hashtags in the smaller page that will open up.
That's it! Now, you have added hashtags on your LinkedIn business page.
How to Find Top LinkedIn Hashtags
Marketers and professionals who want to find out how to use hashtags on LinkedIn need to know that there are three types of LinkedIn hashtags:  
Recommended tags

Popular

Trending
The above hashtags are the ones that LinkedIn recommends to its users based on their industry and network. 
The first and best spot to monitor when studying which hashtags to use in your posts is the 'Discover More' page on LinkedIn.
To reach this page, go through these steps:
1- First, click on the "Discover More" button.
On desktop: At the bottom of the left sidebar.

On the mobile app: tap the top left corner of the page of your profile picture.
2- Then, you'll notice recommended connections and pages and hashtags at the bottom of the page.
For marketers, LinkedIn may recommend various marketing-related hashtags, such as #seo, #digitalmarketing, and #contentwriter. 
Now let's learn what the top hashtags on LinkedIn are and how to take advantage of them. 
What Are the Most Popular Hashtags on LinkedIn?
As of May 2021, we have gathered a complete list of top LinkedIn hashtags that you can use in your content. We'll update this list frequently, and well add any new and popular ones.
Boost your Instagram knowledge: How to Mass Delete Instagram Posts in 5 Simple Steps
The Top Most Popular LinkedIn Hashtags 
These are the top ones and their corresponding number of followers:
#innovation – 38,872,884 followers

#management – 36,099,676 followers 

#digitalmarketing – 27,452,584 followers

#creativity – 25,272,316 followers

#technology – 26,488,881 followers

#futurism – 23,567,500 followers

#entrepreneurship – 22,797,504 followers

#startups – 21,298,852 followers

#marketing – 20,382,185 followers 

#socialmedia -19,756,205 followers

#socialnetworking -19,114,722 followers

#branding -18,080,164 followers

#motivation -15,722,415 followers

#personaldevelopment -14,768,913 followers

#jobinterviews – 14,405,252 followers

#sustainability – 13,291,913 followers

#education – 9,643,787 followers

#productivity – 8,498,419 followers

#travel – 7,009,126 followers

#sales – 5,863,978 followers

#fundraising – 5,770,074 followers

#law – 5,520,612 followers

#culture – 4,728,967 followers

#fashion – 4,215,758 followers

#business – 3,663,739 followers

#networking – 3,566,063 followers

#hiring – 2,443,907 followers

#health – 2,270,357 followers

#inspiration -1,032,759 followers

#success -691,515 followers 
Top LinkedIn Hashtags for 2021
#covid19

#coronavirus

#marketing

#leadership

#realestate

#business

#hiring

#jobs

#digitalmarketing

#kudos

#innovation

#cybersecurity

#recruitment

#technology

#design

#ai

#healthcare

#corona

#construction

#health

#realtor

#staysafe

#covid

#socialmedia

#education

#workfromhome

#hr

#mentalhealth

#stayhome

#success

#recruiting

#homeoffice

#india

#branding

#coaching

#sustainability

#homesforsale

#architecture

#dubai

#jobsearch

#iwd2020

#travel

#sales

#wellness

#job

#interiordesign

#motivation

#training

#recrutement

#uae

#careers

#art

#finance

#realestateagent

#cloud

#property

#engineering

#management

#security

#confinement

#insurance

#investing

#fashion

#news

#graphicdesign

#logistics

#blockchain

#fitness

#marketingdigital

#smallbusiness

#entrepreneur

#linkedin

#lockdown

#aviation

#energy

#webinar

#love

#internationalwomensday

#hospitality

#eachforequal

#earthday

#startup

#retail

#fintech

#music

#forsale

#photography

#tecnologia

#automotive
Trending LinkedIn Hashtags of the Day
#India

#Mindful

#Growth

#Markets

#Economy

#Futurism

#ONO

#Entrepreneurs

#Money

#Venturecapital

#Professionalwomen

#Feminism

#Onlineadvertising

#Socialmediaadvertising

#Lockdown

#Gettingthingsdone

#Knowyoursocial

#Letswork

#Leanstartups

#Gender

#Bestadvice

#Softwaredesign

#Analytics

#Data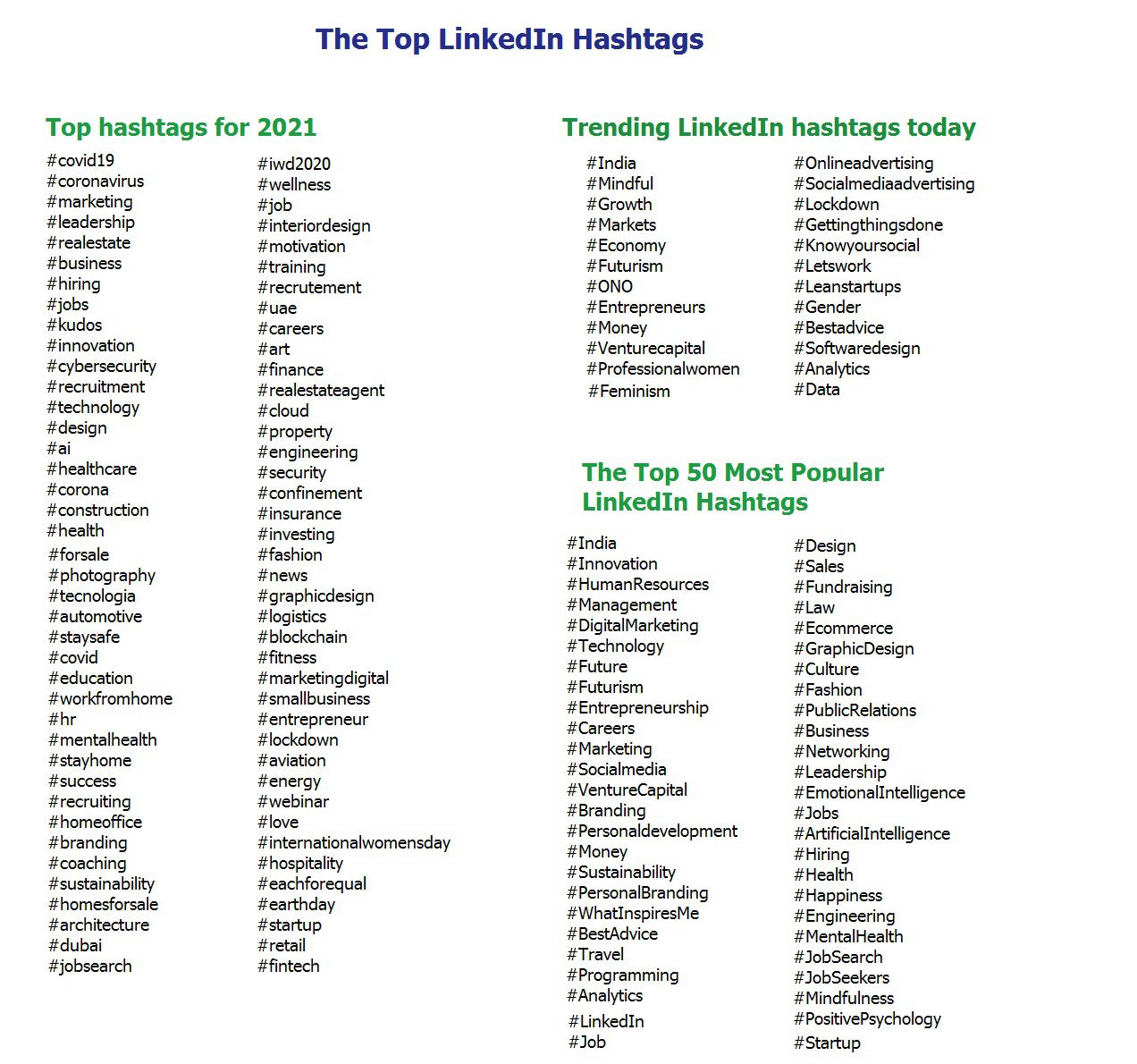 Boost your Instagram knowledge: How to Share YouTube Video on Instagram
LinkedIn Hashtags for Lawyers
#Law

#lawstudents

#lawyers

#lawfirmmarketing

#lawyerlife

#lawyering

#lawsuits

#lawschool

#lawenforcement

#lawtech
LinkedIn Hashtags for Self-help Posts
#Entrepreneurship

#Personaldevelopment

#Education

#Money

#Investing

#Motivation

#Selfhelp

#Whatinspiresme

#Personalbranding

#Businessintelligence 
Job Seeker Hashtags on LinkedIn
#Job

#Jobsearch

#Jobopening

#Recruitment

#Recruiting

#Jobposting

#HR

#LinkedIn

#Hiring

#Openings

#Jobvacancy

#Jobalert

#Interviewing

#Jobhunters

#CV
LinkedIn Hashtags for Digital Marketers
#Creative

#Webdesign

#MarketingStrategy

#SEO

#Advertising

#Writing

#Freelancing

#EmailMarketing

#Storytelling 
LinkedIn Hashtags for Hiring People
#Resume 

#Team 

#Talentacquisition

#CareerOpportunities 

#NowHiring
LinkedIn Hashtags for Recruitment
#Recruiting 

#HR 

#Jobhunt

#Work

#Opportunity

#Connections 

#Employment 

#HelpingHands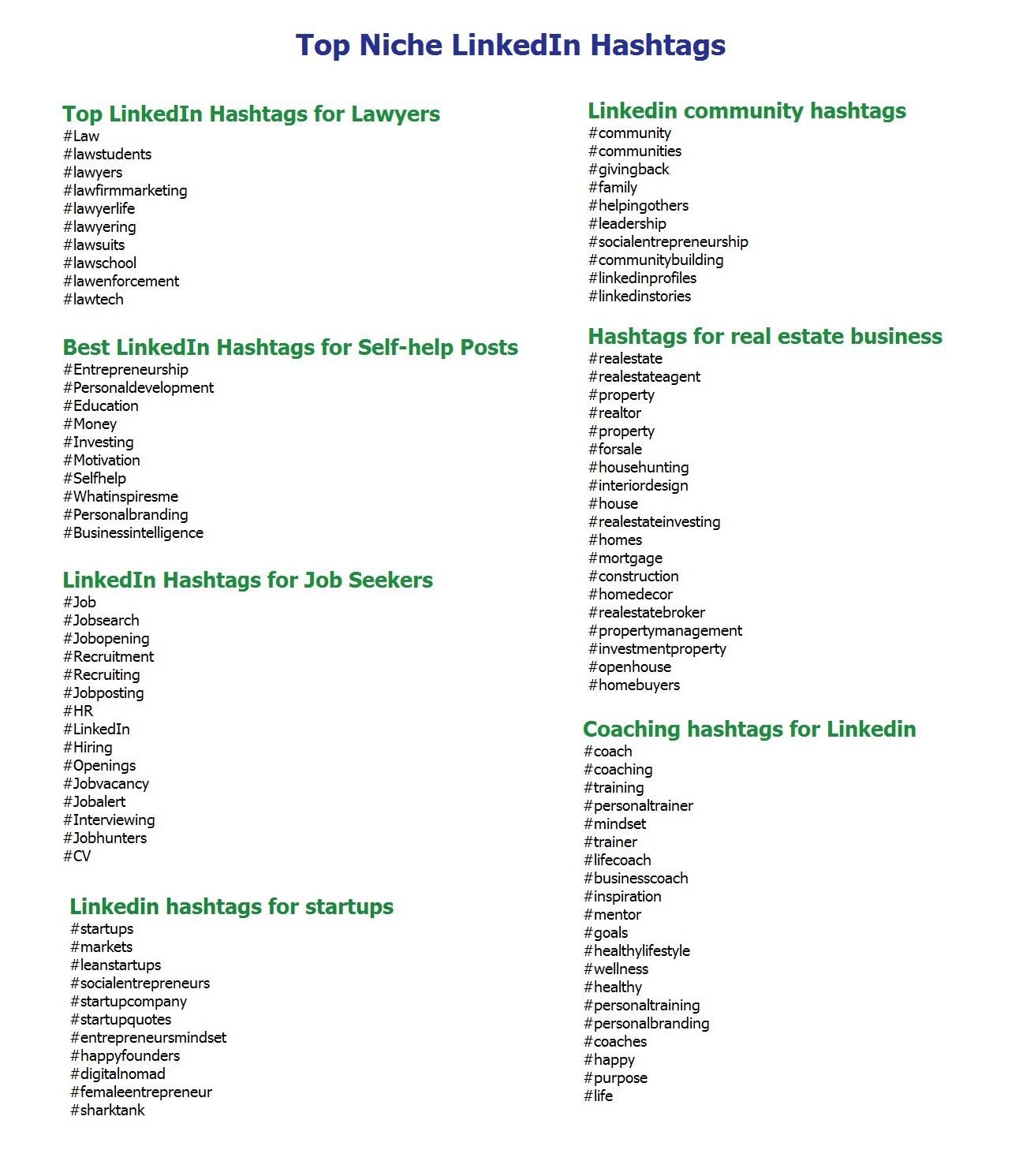 Boost your Instagram knowledge: Know and Beat Instagram's Daily Limits: 2021 Update
Popular Hashtags for Management
#Management

#Innovation

#Technology

#Sales

#Strategy

#Sales

#Business

#Hiringandpromotion

#Advertisingandmarketing

#Productivity
Community Hashtags
#community

#communities

#givingback

#family 

#helpingothers 

#leadership 

#socialentrepreneurship

#communitybuilding

#linkedinprofiles

#linkedinstories
Hashtags for Real Estate Businesses
#realestate

#realestateagent

#property

#realtor

#property 

#forsale 

#househunting 

#interiordesign

#house 

#realestateinvesting 

#homes 

#mortgage 

#construction 

#homedecor 

#realestatebroker 

#propertymanagement 

#investmentproperty 

#openhouse 

#homebuyers 

#houseforsale
Hashtags for Coaches
#coach 

#coaching

#training 

#personaltrainer

#mindset 

#trainer 

#lifecoach 

#businesscoach

#inspiration 

#mentor

#goals

#healthylifestyle 

#wellness 

#healthy 

#personaltraining 

#personalbranding

#coaches

#happy

#purpose

#life
Hashtags for Startups
#startups

#markets

#leanstartups

#socialentrepreneurs

#startupcompany

#startupquotes

#entrepreneursmindset

#happyfounders

#digitalnomad

#femaleentrepreneur

#sharktank
Boost your Instagram knowledge: How to Mass DM on Instagram [+Free Instagram Bulk Message Sender]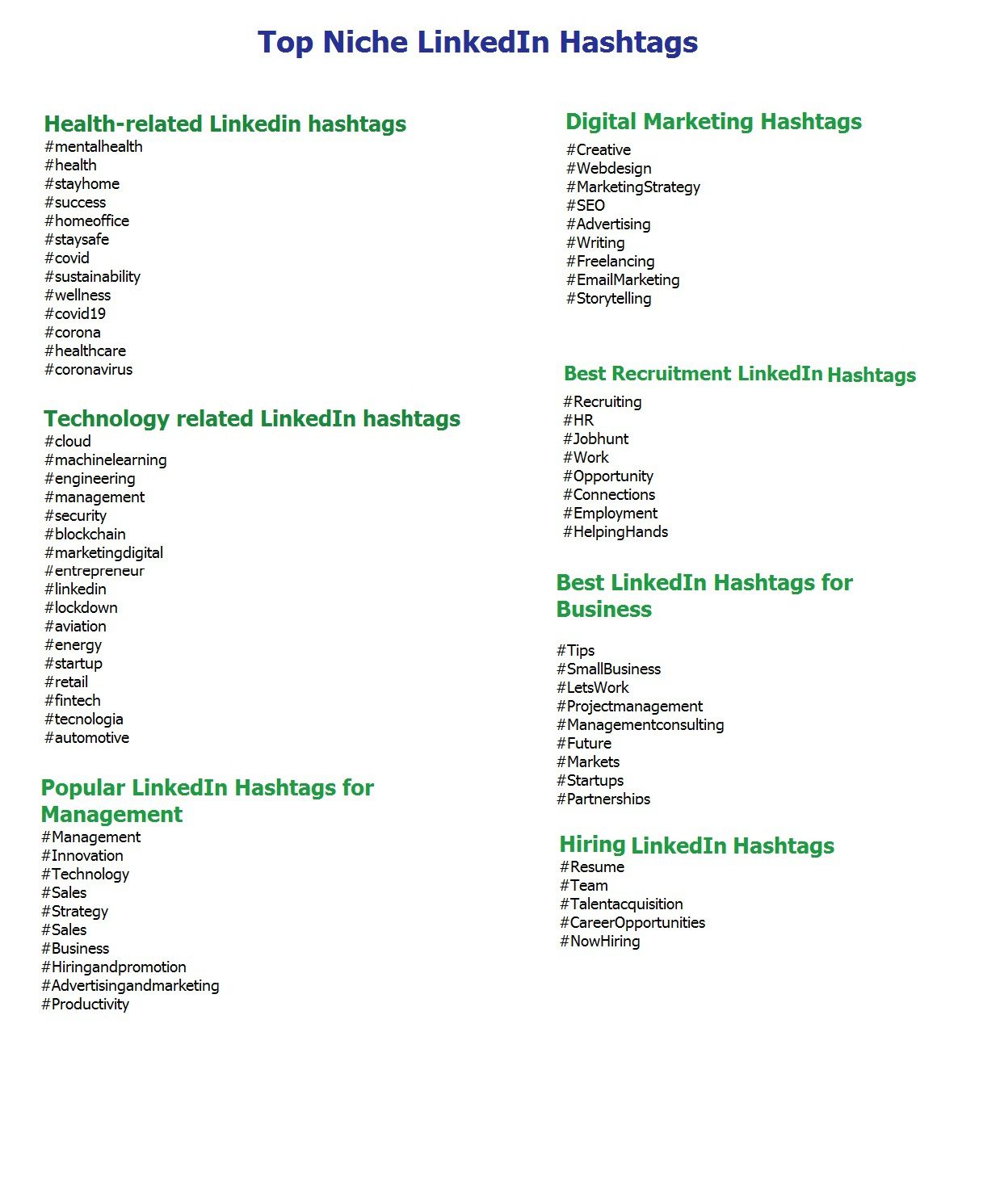 How to Follow LinkedIn Hashtags 
Following hashtags on LinkedIn will let you see what other professionals and creators are posting. So, you can monitor the responses and get ideas for your future posts. Now, to follow them, you need to:
Go to the search console and enter the hashtag you want to follow.

Then, pick an option from the dropdown menu.

You'll be led to the hashtag's feed. There you can see all content published with this hashtag. 

Finally, click 'Follow' on top of the page.
Boost your Instagram knowledge: Best Instagram Giveaway Picker and Contest Apps in 2021
Recap
Professionals use hashtags to make it easy for other users to discover their content on LinkedIn. Also, hashtags help you find and connect with other users who share the same interests.
Therefore, add relevant hashtags to your content and comments to make the most of every post you publish for your business. Also, follow the above tips to ensure your hashtags are a victory.