Stormviews is a Socia Media Growth Service offering packages to enhance your YouTube channel quickly. They claim their paid packages can substantially increase likes, subscribers, and views. However, the legitimacy of their service is questionable, and caution should be exercised before using it. While Stormview may promise instant results, it is important to consider the potential risks and drawbacks associated with such services.
One of the main concerns with Stormviews is their engagement's authenticity. It is crucial to build a genuine and organic audience on YouTube, as artificial likes, subscribers, and views can harm your channel's reputation and violate YouTube's terms of service.
Furthermore, Storm views also claims to offer Instagram services, raising further doubts about their offerings' quality and legitimacy. It is advisable to thoroughly research and consider alternative Instagram growth services for growing your Instagram presence. Building a loyal and engaged audience through high-quality content, effective marketing techniques, and genuine interactions is often the most sustainable approach for long-term success.
Let's see Stormviews Reviews and see if Storm Views is legit.
What Is Stormview?
Stormviews is a YouTube and social media growth service that provides paid packages for subscribers and likes. They also claim to offer customer service for Instagram, Facebook, and TikTok. With each order, they promise to start within one day, provide youtube and Instagram engagement, do not require a password, offer instant delivery, and provide 24/7 support.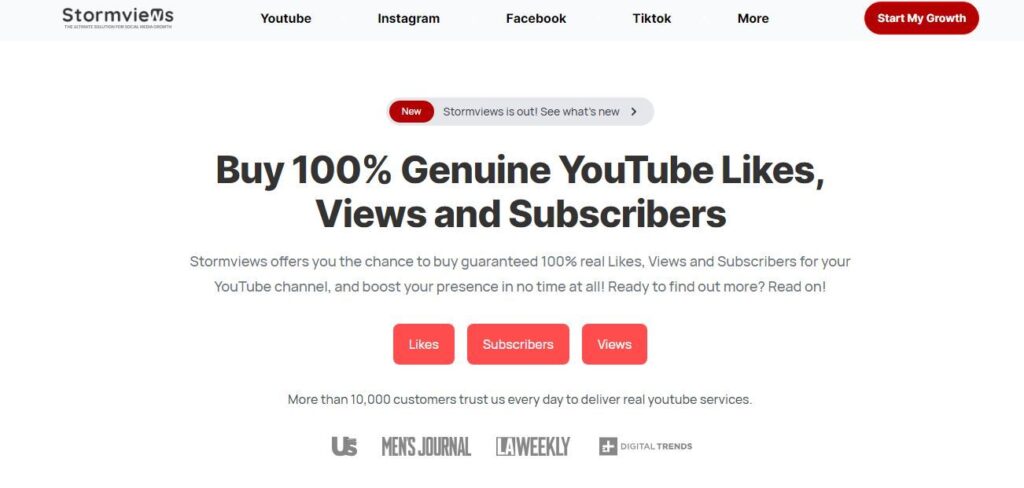 Stormviews claims that using their packages can expand your brand presence and increase your ability to generate revenue. However, whether or not you should use Stormview depends on several factors, which will be discussed in the following paragraphs.
When considering using Storm Views or any similar service, weighing the potential benefits against the potential risks is important. While buying Instagram likes, subscribers, and views may initially boost your numbers and make your page or channel appear more popular, it is crucial to remember that these are not genuine engagements from real users.
This means the impact on your brand presence and revenue may be limited. In addition, platforms like YouTube have algorithms to detect and penalize artificial engagement, which could result in negative consequences for your channel, such as decreased visibility or account suspension.
Instead of relying on services like Stormviews, it is recommended to prioritize organic growth services such as AiGrow. AiGrow helps you increase Instagram followers organically and offers manual growth strategies and real engagement without bots, which aligns with Instagram's terms of use. Additionally, AiGrow provides dedicated account managers to assist you throughout the growth process. By choosing AiGrow, you can ensure a more authentic and sustainable approach to growing your Instagram presence.
Analyzing Stormviews Pricing: Is it Reasonable?
When analyzing Stormviews' pricing, it is important to consider their different packages and corresponding pricing. While we cannot discuss specific prices, it is worth noting that Stormview provides various options tailored to different needs and budgets.
However, the key concern lies in whether they deliver organic growth for their services. To determine if their services result in organic growth, it is crucial to thoroughly research and gather information on Stormviews' track record, customer reviews, and testimonials. This will help assess the reasonableness of their pricing and the value they provide to their customers. We are here to answer all these questions.
Stormviews Instagram Package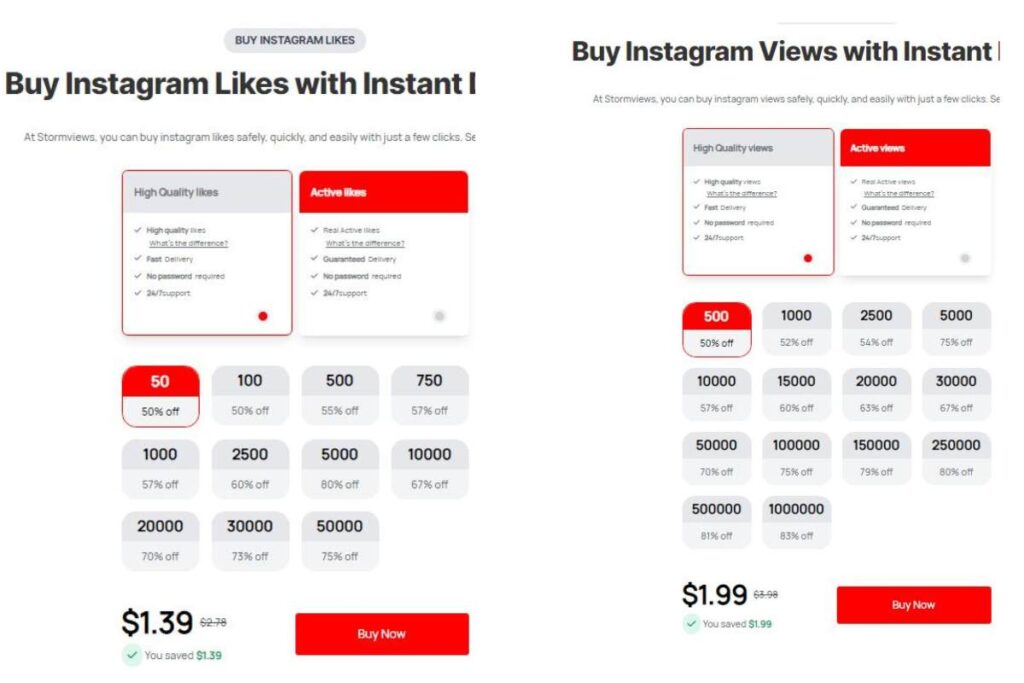 Stormviews Instagram Likes: $15 for 500.
Stormviews Instagram Views: $3.98 for 500.
Stormviews Instagram Followers: $15.33 for 500.
Stormviews Youtube Package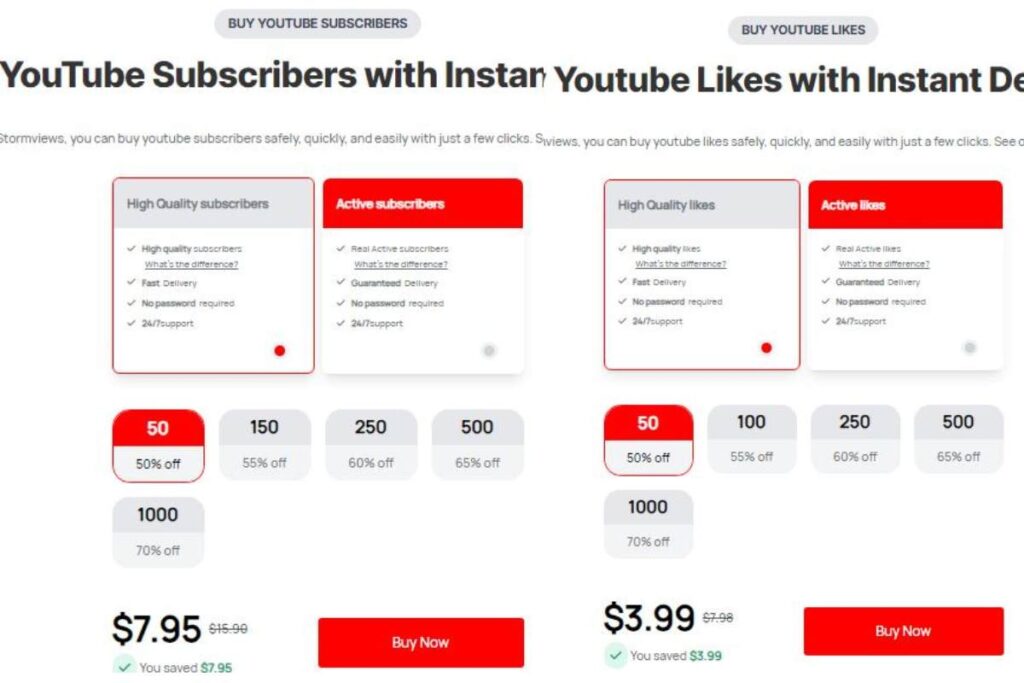 Stormviews Youtube Views: $7.98 for 500 YouTube views.
Stormviews Youtube Subscribers: $15.99 for 50 YouTube subscribers.
Stormviews Youtube Likes: $7.98 for 50 YouTube Likes.
TikTok Package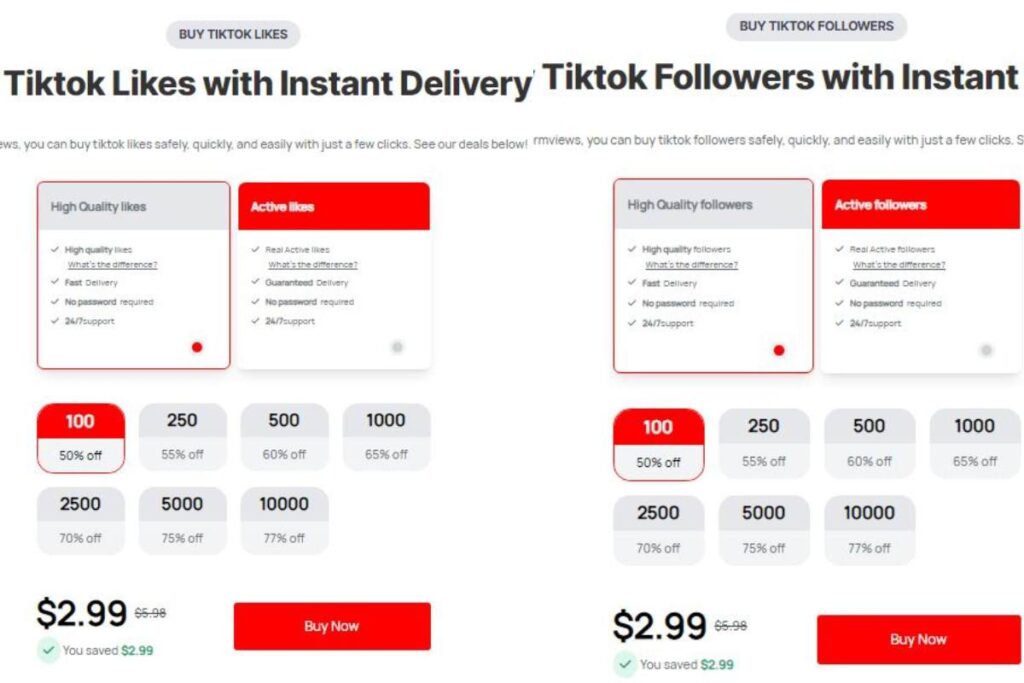 TikTok Followers: $5.98 for 100
TikTok Views: $0.98 for 100
TikTok Likes: $5.98 for 100
Ensuring that any service you choose provides organic growth for your Instagram account is crucial. Many of these packages use tactics to push you to buy youtube subscribers or Instagram followers, which can lead to short-term gains but may harm your account in the long run.
If you have concerns about Stormviews' approach, you may want to explore alternatives like AiGrow, which utilizes manual growth. It's always a good idea to thoroughly research and compare different options to find the one that aligns with your goals and values.
Start your Instagram growth journey here.
Pros and Cons of Storm Views
While Stommviews may offer some benefits for Instagram growth, such as automation and convenience, its drawbacks far outweigh its advantages. Instead, opting for better Instagram growth services like AiGrow is highly recommended. AiGrow provides a dedicated account manager who can tailor Instagram marketing strategies to your needs, ensuring organic and manual growth.
This personalized approach guarantees a more authentic and engaged audience and minimizes the risk of violating Instagram's terms of service, which can lead to account suspension or Instagram shadowbanning. Therefore, choosing AiGrow over Stommviews is wise for those seeking sustainable and effective Instagram growth.
Read More: Why Instagram Suspended My Account? 5 Effective Ways to Get Your Account Back
| | |
| --- | --- |
| Cons of Storm Views | Pros of Storm Views |
| No phone support | Fast delivery |
| Potential bot activities | Visible pricing |
| No free trial | Secure site |
| Average Trustpilot reviews | |
| No manual growth or organic growth | |
| Instagram package may lead to suspension. | |
How Do Stormviews Work?
Stormviews is a platform that offers services related to social media engagement, specifically focused on increasing views on platforms like YouTube. Here's a step-by-step breakdown of how Stormview typically works:
Sign in: To start, create an account on the Storm Views website. This involves providing your personal information and creating login credentials.
Choose your package: Once you're signed in, you can browse the packages Stormview offers. These packages usually include options for increasing your YouTube videos' views, likes, or subscribers. You can select the package that best suits your needs and goals. It's important to be cautious when considering services that offer services to increase views, likes, or subscribers on YouTube and Instagram. Using bot activities or engaging in artificial manipulation can violate Instagram and YouTube's terms of service and potentially harm your account.
Payment: After selecting a package, you will be prompted to pay. Stormviews typically accepts various payment methods, such as credit cards or online payment platforms. Follow the instructions provided to complete the payment process securely.
Receive the service: Storm Views will deliver your purchased service once your payment is confirmed. For example, if you chose a package to increase views on your YouTube videos, Stormviews will start working on delivering those views to your videos. While they claim to provide fast delivery of views for YouTube videos, some users may have had different experiences. It's always a good idea to do thorough research and read reviews from multiple sources before using any service.
Top Reviews: Plixi Review: Shocking Reality About Plixi [Does It Offer High Returns?]
Stormviews Reviews; Would We Recommend It?
While they may offer a quick boost in numbers, there is a risk of violating platform guidelines and potentially damaging your online reputation. Additionally, relying on artificial means to grow your following may not result in genuine engagement or long-term success. It is advisable to focus on organic growth services like AiGrow to create high-quality content and engage with your target audience to build a loyal and authentic following.
Start growing more on Instagram.
We do not recommend using Storm Views for several reasons. Here are the reasons: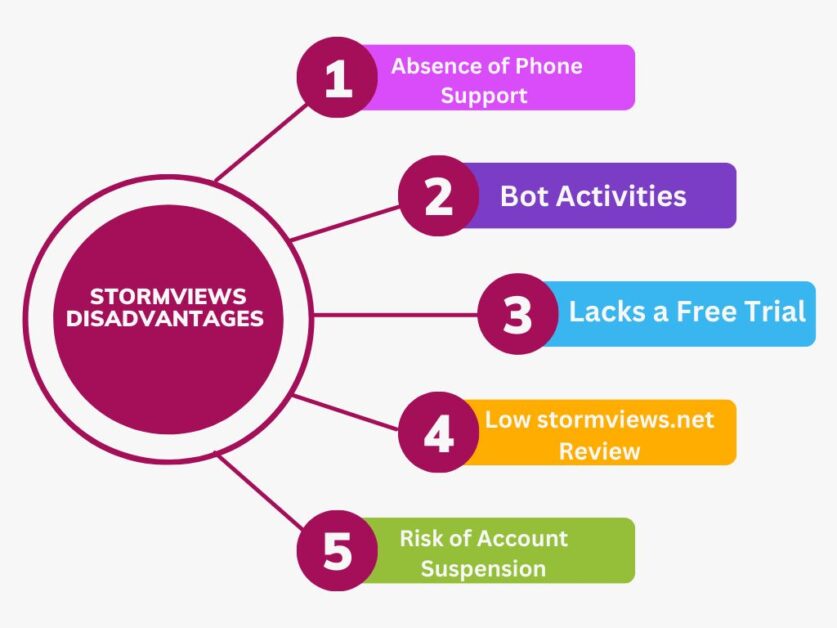 Absence of Phone Support For Stormviews.net
One major drawback is the absence of phone support. If you encounter any issues or have questions, you won't be able to speak directly with a customer support representative, which can be frustrating and time-consuming. In contrast, AiGrow offers excellent customer support with phone assistance, ensuring you receive prompt and personalized help whenever needed.
Let us help you grow your Instagram account.
Possibility of Bot Activities for Storm Views
Another concern with Storm Views is the possibility of bot activities. Using bots to increase your Instagram engagement and followers artificially can lead to negative consequences, such as account suspension or decreased organic reach. That is why so many users asked why Instagram suspended my account.
In contrast, AiGrow focuses on manual growth strategies involving real people engaging with your content and attracting genuine followers. This approach ensures the safety and longevity of your social media accounts and helps you build an authentic and engaged audience.
Let's grow your Instagram page together.
Lacks a Free Trial
Stormviews lacks a free trial option, making it difficult for potential users to assess the effectiveness and suitability of their services before committing to a paid plan. On the other hand, AiGrow offers a 14-day money-back guarantee, allowing you to test their features and evaluate their performance. This allows you to make an informed decision based on your specific needs and goals.
Get More: 1000 Free Instagram Followers Trial [Are They Real Followers or Fake?]
Low Stormviews.net Review
Regarding trust and credibility, Storm Views has average reviews on Trustpilot. This indicates that their service may not consistently meet the expectations of all users. In contrast, AiGrow has received positive feedback and high ratings on various review platforms, demonstrating its commitment to customer satisfaction and delivering reliable results.
Get your mind off your Instagram growth worries.
High Risk of Account Suspension
Additionally, Stormviews' Instagram package runs the risk of account suspension due to the use of Instagram bots. Instagram has strict policies against artificial engagement, and if your account is flagged for suspicious activity, it could be temporarily or permanently suspended.
AiGrow, on the other hand, employs organic growth strategies that comply with Instagram guidelines, ensuring the safety and longevity of your Instagram account.
Grow your Instagram safely with AiGrow.
Average Stormviews Review Reddit
Moreover, Stormview has low Reddit reviews, suggesting their services may not be well-regarded within the Reddit community. In contrast, AiGrow has garnered positive feedback and recommendations from Reddit users, highlighting their effectiveness and reliability.
Go from zero and build your following on autopilot!
No Online Meetings or Consultations
Stormviews does not offer online meetings or consultations to discuss your needs and goals. This lack of personalized guidance can make optimizing your social media growth and content strategy challenging. In contrast, AiGrow provides online meetings with its experts, allowing you to receive tailored advice and recommendations to maximize your social media presence and achieve your desired outcomes.
Considering these cons, it is clear that AiGrow is a superior alternative to Stormviews. With AiGrow, you can benefit from manual and organic growth strategies, a free trial option, positive reviews, compliance with social media platform guidelines, positive Reddit feedback, and personalized online meetings. These features make AiGrow a reliable and effective solution for your social media growth needs.
Experience massive organic growth with AiGrow!
Stormviews.net Reviews; What Is the Best Alternative?
If you're looking for an alternative to Stormviews, we recommend considering AiGrow's growth service. Here are some key features of AiGrow's manual growth service: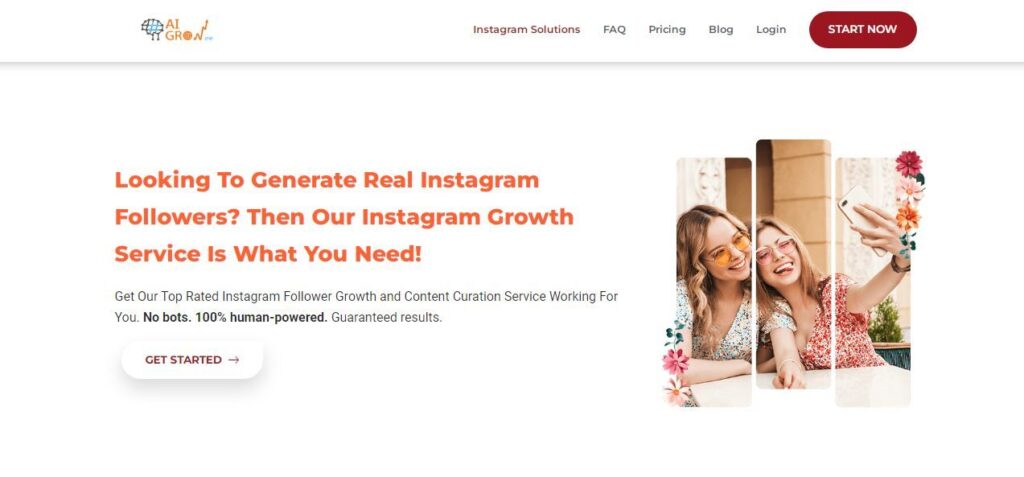 Dedicated Account Manager: AiGrow provides a dedicated account manager who will work closely with you to understand your goals and tailor the growth strategy accordingly.
Organic Growth: AiGrow focuses on organic growth techniques, meaning your account will grow naturally and engage with genuine users interested in your content.
Real Engagement: AiGrow ensures your account receives real engagement from active Instagram users. This includes likes, comments, and follows from real people, which can help boost your visibility and credibility on the platform.
Real Followers: With AiGrow, you can expect to gain genuine followers interested in your content. These followers are more likely to engage with your posts and become loyal fans of your account.
In summary, AiGrow's manual growth service offers a dedicated account manager, organic growth techniques, real engagement, and real followers. These features can help you optimize your Instagram business account and achieve growth goals.
There is nothing to lose with AiGrow.
Aigrow Service and Manual Packages
AiGrow offers various services to help with your Instagram growth and engagement. Here are some of the services they provide: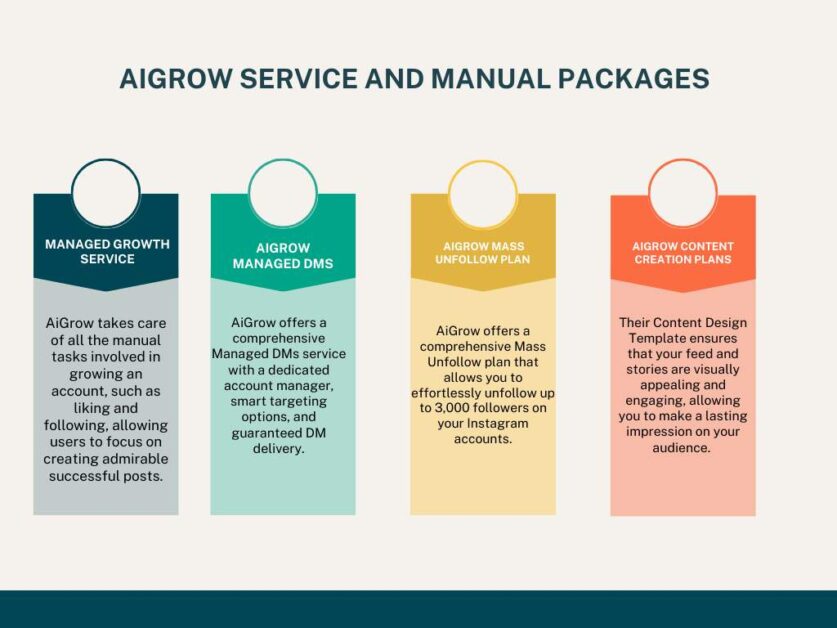 Managed Growth Service
With their Managed Growth service, AiGrow takes care of all the manual tasks involved in growing an account, such as liking and following, allowing users to focus on creating admirable successful posts. The Dedicated Growth Team provides personalized assistance to experts who work closely with users to develop a tailored growth strategy.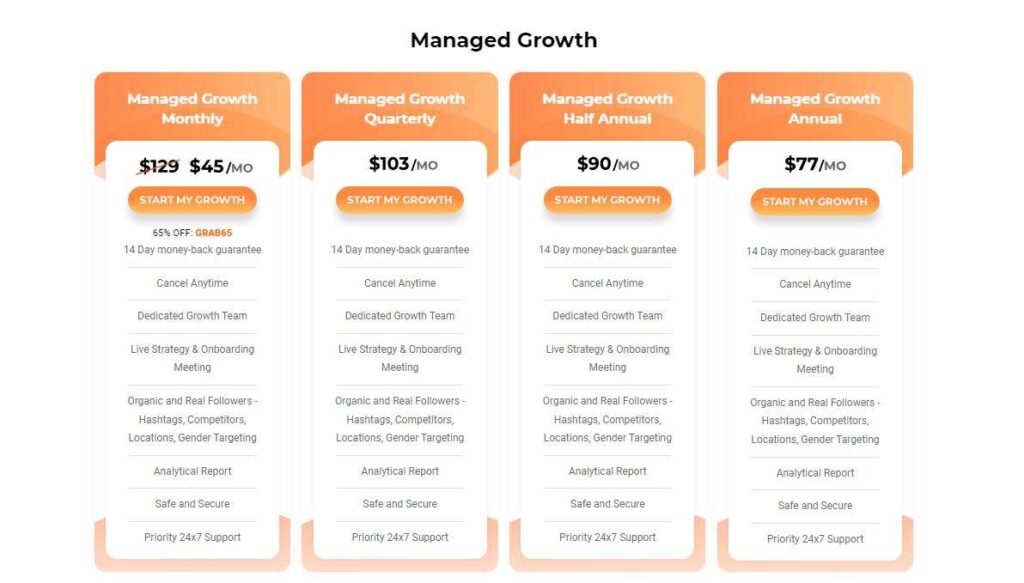 AiGrow also offers Organic and Real Followers, ensuring users gain genuine engagement from real people. Additionally, AiGrow provides advanced targeting options, including Hashtags, Competitors, Locations, and Gender Targeting, allowing users to reach their desired audience effectively. With these comprehensive services, AiGrow empowers users to grow significantly on Instagram.
More Info: The Best Instagram Followers App In 2023 (+38 Fast & Free Android & IOS Followers Apps)
AiGrow Managed DMs
AiGrow offers a comprehensive Managed DMs service with a dedicated account manager, smart targeting options, and guaranteed DM delivery. With their service, they manually send over 50 customized messages per day on your behalf.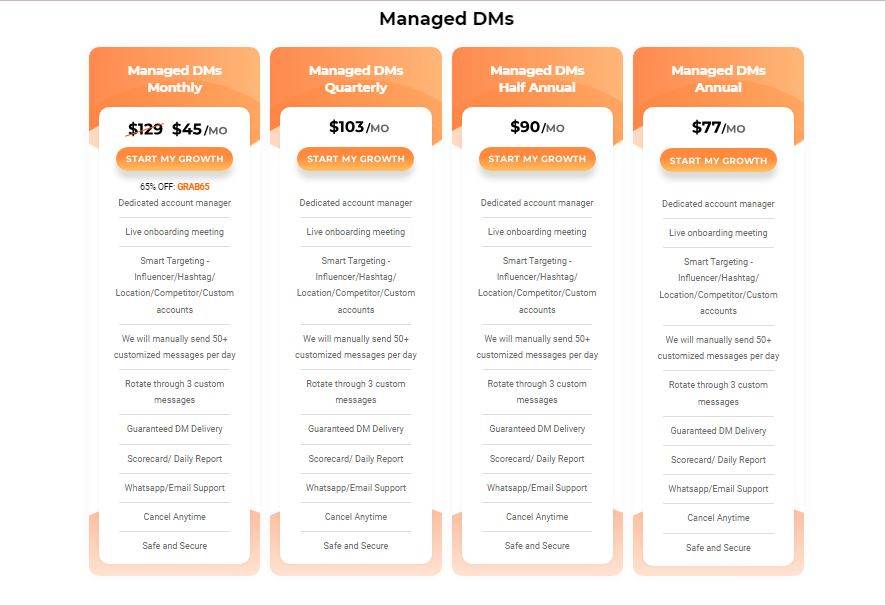 Their smart targeting feature lets you choose from various options, such as influencers, hashtags, locations, competitors, and even custom accounts, to ensure your messages reach the right audience.
AiGrow prioritizes personalization and engagement, ensuring each message is tailored to the recipient. Trust AiGrow to handle your DMs efficiently and effectively, helping you grow your network and achieve your goals.
Grow your Instagram account and save time with AiGrow.
AiGrow Mass Unfollow Plan
AiGrow offers a comprehensive Mass Unfollow plan that allows you to effortlessly unfollow up to 3,000 followers on your Instagram accounts. With this plan, you will also have the advantage of a dedicated Account Manager who will guide you through the entire process, ensuring that your unfollowing strategy is effective and tailored to your specific needs.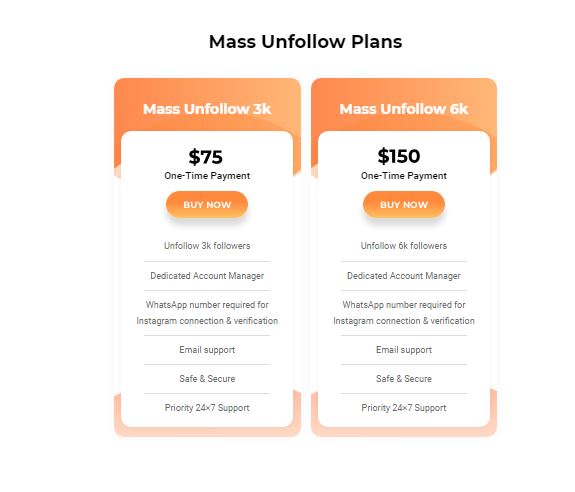 This personalized support will help you maintain a clean and engaged follower base, allowing you to focus on building meaningful connections with your target audience. AiGrow's Mass Unfollow plan will streamline your Instagram account management and maximize your online presence.
Click here and start boosting your engagement.
AiGrow Content Creation Plans
AiGrow offers comprehensive content creation plans that cater to your specific needs. Their Content Design Template ensures that your feed and stories are visually appealing and engaging, allowing you to make a lasting impression on your audience.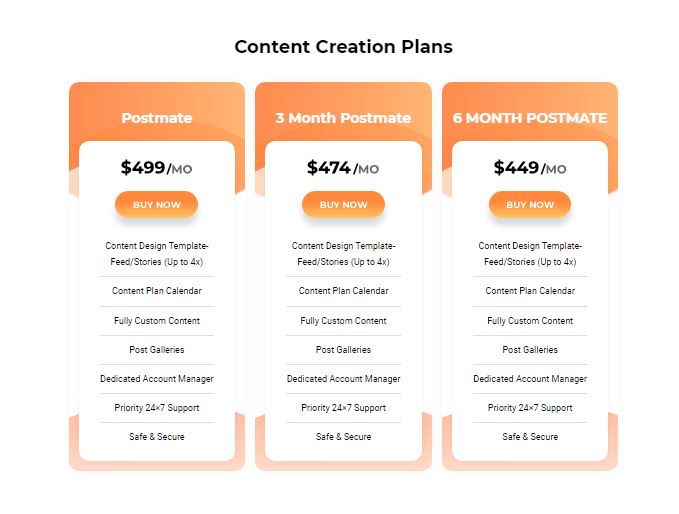 AiGrow Content Plan Calendar helps you stay organized and consistent with your Instagram post scheduling, ensuring you never miss an opportunity to connect with your followers. Their team of experts can also create fully custom content tailored to your brand's unique voice and style. They've covered you, whether it's informative blog posts, captivating images, or compelling videos. Let AiGrow take care of your content creation needs, so you can focus on growing your online presence.
Start creating your Instagram feed now.
Stormviews.net Reviews; Conclusion
Based on the reviews of Stormviews.net, it appears that they offer services for Instagram, YouTube, TikTok, and Facebook. However, there are concerns about their potential use of bot activities, potentially harming your account. Instead, we would recommend using AiGrow's manual growth service. AiGrow relies on artificial intelligence techniques to provide safe and organic growth for your account. This service can help you build a genuine and targeted audience more effectively without the risks associated with bot activities.
FAQs
Is Stormviews Legit?
Stormviews is a service that offers various services, including Instagram growth. While they claim that their services won't harm your account, exercising caution when using any third-party service for social media growth is important. Opting for manual growth services like AiGrow, which utilizes updated technology to provide organic and targeted growth, is advisable. With manual growth services, you can have more control over your account's growth strategy and minimize the risk of any potential negative impacts on your Instagram account management.
How Is Stormviews Review?
Stormviews is a service that has received mixed reviews on platforms like Reddit and Trustpilot. While some users have reported positive experiences, others have expressed dissatisfaction with the service. Considering the varying opinions, exploring alternative options such as AiGrow, which has a higher ranking on Trustpilot, may be advisable. By opting for a service with a better reputation, users can potentially mitigate any potential risks and ensure a more reliable and satisfactory experience.
Is Stormviews Real or Fake
Stormviews is a website that claims to provide real and secure services for social media growth. While they assure users of their trustworthiness, it is important to note that they cannot guarantee organic growth. Instead, you can use AiGrow services for Instagram, which offer bot-free solutions. It is advisable to exercise caution and thoroughly research the Stormviews platform before making any commitments.
Is Stormviews a Scam?
Stormviews is a website that offers services to increase engagement on social media platforms, including Instagram. While it is a real site, concerns about their services' legitimacy have been raised. It is important to note that using services like Stormviews to boost your social media presence artificially may violate the guidelines set by the respective platforms. Instead, focusing on organic growth strategies, such as using platforms like AiGrow, which provide legitimate and compliant methods to enhance your social media presence, is recommended. By utilizing organic growth services, you can ensure that your engagement and following are built through genuine interactions and valuable content, aligning with social media guidelines.
Is Stormviews Real?
Yes, Stormviews is a real website that offers various services. It is a platform that provides services related to social media engagement, specifically focusing on increasing video views on platforms like YouTube and Instagram. Stormviews offers packages that allow users to purchase views for their videos, helping them boost their online presence and potentially increase their reach and engagement.
Is Stormviews Safe?
While it is possible to buy their services safely, it is important to note that Stormviews utilizes bot activities, which may not comply with the terms of service of certain social media platforms. As a result, there is a risk of account suspension or other negative consequences. Alternatively, you may consider using AiGrow, an organic growth service that provides a dedicated account manager. This service focuses on genuine engagement and follows the guidelines set by social media platforms, offering a safer and more sustainable approach to growing your social media presence.
What Is Stormviews Coupon Code?
To find a Stormviews coupon code, you can visit websites like Dealspotr. This platform specializes in curating and sharing various discount codes and promotions from brands and services, including Stormviews. By browsing through Dealspotr or similar sites, you can easily find and access the latest coupon codes for Stormviews, allowing you to save money on their services.
How Long Does Stormviews Take To Deliver Orders?
StormViews claims to offer fast delivery for their orders, but there have been some user complaints regarding their delivery times. While the exact duration may vary depending on factors such as the type of order and the current demand, some customers have experienced delays in receiving their orders.