Captivate for Instagram was a social app. This app was used to help Instagram users manage their follow and unfollow actions and was available for both the Android and iOS platforms. Such an application may come in handy for anyone who wishes to manage their IG account and their following through specific filters and conditions, but it is not sufficient on its own.
If you are running an Instagram business, finding the best Instagram growth services is crucial for your online presence consistency. Many social media professionals believe that growing Instagram accounts organically is impossible without using such Instagram tools.
This article will carry out a thorough review of the Captivate for Instagram app and will explore AiGrow as a better and more comprehensive alternative growth manager.
What Are Instagram Growth Services & Why Should We Use Them
There's no denying that brand awareness on Instagram has become an indicator of the success of businesses these days. However, safe growth doesn't come easily! That's why it has become a dream for almost every business.
Considering this increased attention to Instagram and fast growth, many agencies have introduced Instagram growth services to help users grow more quickly, automate some time-consuming actions, get more sales, and increase the engagement rate on Instagram.
Yet, are these Instagram growth services worth it?! Do they function as they should, or are they simply useless? In fact, it depends on the Instagram followers app you choose to take care of these tasks for you. Not all of them will get your Instagram account shadowbanned, but not all of them will help you grow your IG followers organically either.
If you find a reliable growth tool, like AiGrow, you get to manage your Instagram account manually, grow your followers instantly and safely, and turn your followers into loyal customers. However, you will have your hopes dashed with one wrong choice!
To help you make an informed decision you won't regret, we have decided to provide Instagram growth service reviews. So far, we have covered:
And more. Now, it's time to turn our attention to Captivate for Instagram. This tool has been stopped and banned by Instagram, and yet several users wonder, 'Does Captivate For Instagram still work?'
Now, let's get to our Captivate for Instagram review, shall we?!
Captivate For Instagram: Features And Services
Captivate for Instagram is a third-party assistant that can be installed on your Android phone using the APK file extension or on your iPhone using the ios file extension. This tool helps you analyze your IG account and gives you an insight into how your account performs.
The data it provides helps you manage and track your account's activities more accurately. However, it provides no more information than Instagram insights! Captivate Instagram on Android and iPhone used to apply bots. As a result, it violated Instagram rules and terms of use and was dangerous for IG users' safety.
So, the Captivate For IG website has been blocked and no longer exists. That's a red flag for anyone who's considering this tool for their Instagram growth strategy!
Yet, the providers claimed that this would help you get original followers. Captivate app for Instagram provides users with the features below:
Monitor your account growth and track your lists
Mass follow and mass unfollow
Mass follows the post likers and active users
Track your activities
Mass like the posts related to specific hashtags
Account manager for multiple accounts
Discover related accounts
Pros And Cons Of Using Captivate For Instagram
Like every other third-party application, the Captivate app has pros and cons. This section will go into detail about this app and discuss the pros and cons of using it.
Advantages Of Using Captivate For Instagram
We have already mentioned its features, but let's now classify them into two groups of pros and cons so that we can make our decisions faster! As an upside, Captivate for Instagram will provide its users with many analytical features.
#1 It Is An All-In-One Tool
As we have mentioned before, using Captivate, you can allegedly manage your Instagram account and possibly multiple accounts at the same time. The application is an account growth tool that will provide you with limited tracking and managing tools.
For instance, you can keep track of the users who are not following you back and unfollow them at the same time. This feature is highly favored by those who seek a fast way to implement the follow-for-follow method.
However, this feature can also work against you. When apps like Captivate for Instagram are inattentive to Instagram's daily limits, Instagram will become suspicious of their activities and deactivate the accounts.
So, using such apps can harm your reputation and get your actions blocked or restricted. Reputable services like AiGrow never get you in trouble by acting like a bot. Using organic services, you will have access to a dedicated account manager to grow your account organically and additional tools like scheduling, giveaway pickers, and so on to fully manage your IG account.
#2 It Is Budget-Friendly
Compared to some Captivate for Instagram alternatives that are available on Google Play and the App Store, Captivate for Instagram is a budget-friendly application. Suppose you want to use the application to the fullest extent; you need to upgrade it to pro.
You can upgrade Captivate for Instagram for $4.99, and the cloud upgrade is also $9.99. The prices are relatively low. So if you have a limited budget, you might think Captivate for Instagram is a good choice for you. But it doesn't worth it. Because its drawbacks outweigh its benefits, be careful about using such apps.
Disadvantages Of Using Captivate For Instagram
So far, we've discussed the main reasons that encourage people to become interested in the application. Now, we note a few of the downsides of the app. Captivate for Instagram may not be advisable for the following reasons.
#1 It Is Not Risk-Free
As you may have already noticed, Instagram's new policies are highly against bots and applications. So if you intend to get help from a third-party tool, you need to be sure of its safety. For example, if Instagram detects you as a spammer, your account may be restricted, or even worse, you may lose your account completely.
Captivate uses algorithms to follow and unfollow people on Instagram. These bot-like actions can be easily detected. So you may want to be more careful about using the app.
#2 The Reputation Is Unknown
The records of the users are not available for the public to see. Besides, there are no reliable comments on the application. As the IG policies have been changed recently, old reviews are not reliable anymore. It is essential to know how the application has performed in its recent updates. As there is no official reputation for the application, the alternative will be to contact the providers.
But this is rather impossible as there was no contact info on the provider's website even when the site was available. So if there's an issue, you'll have a hard time finding someone to answer you.
#3 The Website Is Down
Many ask, 'Is Captivate for Instagram still available?' Actually, the website and iPhone applications are no longer available. However, you can download the Captivate for Instagram APK from certain websites. So, if you're set on learning how to use Captivate for Instagram, you should download it from these sites and enter your login information.
But, the fact that it has been banned and stopped means that this tool went against Instagram terms of use. So, if you start using it and also apps similar to Captivate Instagram, you're risking your progress!
Captivate For Instagram Reviews
Since this application is unavailable, we couldn't find comprehensive reviews. However, we found a few that pointed to its problems even when it used to function!
For instance, this client has witnessed a drop in the followers count after using this tool. So, although Captivate For Instagram was supposed to bring about ideal results and engaged followers, it only provided the customers with fake followers at first, and then even those fake followers went away!
Captivate for Instagram review
Although every growth service boasts of excellent customer service, few can provide it! As for Captivate for Instagram, their support team seems to be terrible. And this customer complains about this problem!
Captivate for Instagram review
So, as you can see from this Captivate for Instagram review, apps like Captivate don't function appropriately. Thus, a more comprehensive app is required. In the following, we'll introduce you to a growth service with more features and functionality that never gets you in trouble on Instagram.
AiGrow: The Best Captivate For Instagram Alternative
Now, we have stated the advantages and drawbacks of using Captivate for Instagram. Then, you may wonder what the alternatives are. In this section, we will introduce another third-party Instagram account manager. This manager surpasses Captivate For Instagram in all aspects.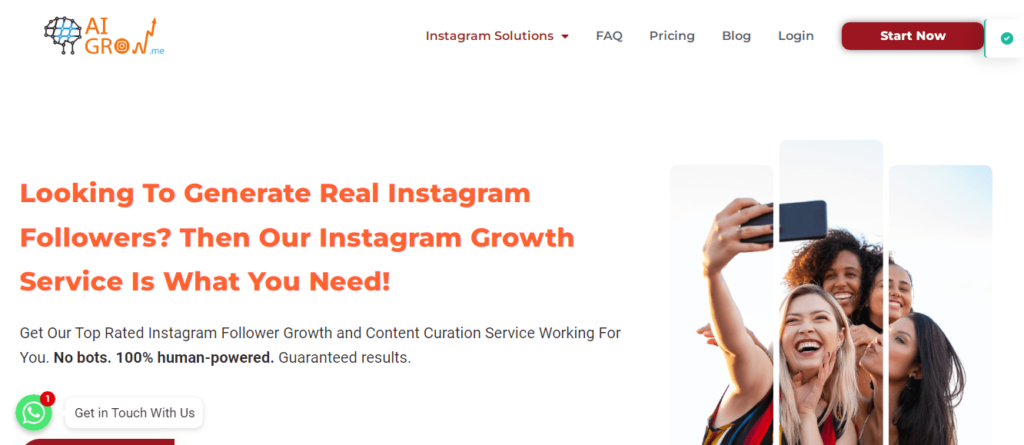 AiGrow is a third-party application that will help you grow your account organically and safely. Signing up for AiGrow is free, and their skilled account managers will take care of the whole process of finding followers manually!
Not to mention that their customer service team actively works behind the scenes so that they can provide you with the solutions you might need. So you can count on AiGrow as a reliable alternative to the Instagram Captivate app.
AiGrow features
You can manage your lists, hashtags, and likes on AiGrow. The interface is user-friendly. And thus, you will be able to find your way and aimed features as soon as you log in. Check out for a complete review of AiGrow to find out more about this all-in-one Instagram tool.
Watch this video about user satisfaction with AiGrow before going through more details.
How Does AiGrow Work
AiGrow could be a Captivate for Instagram Android alternative, but it's much more than that! Using AiGrow, you get a professional team of Instagram managers who are vastly knowledgeable and experienced in growing followers organically. Plus, you're provided with various tools which will facilitate your Instagram organic growth.
To use AiGrow, you can follow the steps below:
AiGrow signup
Connect your Instagram account to AiGrow.
Then in your dashboard, choose 'Manage.'
In the 'Growth' tab, you get to enter information about your target audience and rival accounts.
AiGrow growth tool
The 'Scheduling' tool will enable you to monitor other IG accounts, schedule posts, stories, and reels, and pick contest winners.
AiGrow scheduler
Next, in the 'link-in-bio' section, you get to hyperlink to multiple social media and websites.
AiGrow bio link tool
You can also use the mass deleter to remove multiple IG posts at once.
AiGrow bulk delete
By picking the 'DM' tool, you may also send multiple direct messages to potential followers and customers.
Mass delete posts with AiGrow
AiGrow giveaway picker
So, what are you waiting for?
Guarantee your IG success with AiGrow right now!
FAQs About Captivate App For Instagram
You may have some inquiries regarding Captivate for the Instagram app. In this section, we answered some of the questions that may help you find the answer you're looking for.
Q1. What Are Apps Like Captivate for Instagram?
There are many apps available that can serve as suitable alternatives to the Instagram Captivate tool. They are available in app stores for both the Android and iOS operating systems. IG Hoot is one alternative; it offers users of Instagram free Instagram likes and comments on their photos, in addition to free auto followers on their profiles.
However, these applications are free to download, and with free applications comes the inherent risk that they are not secure and may not function properly. Therefore, to avoid such a problem, let's make use of apps that have a good reputation and can be relied upon, such as AiGrow, which was presented earlier.
Q2. Is Captivate for the Instagram App Available Yet?
Apps with the same name can be found on the internet, but they are not the originals and may be copies of the Captivate app.
Final Words on Captivate for Instagram
As Instagram business owners are getting more reliant on third-party assistants, it is important to be aware of the pros and cons of using an application like Captivate for Instagram before using it.
In this article, we first noted the main points of Captivate. Then, we introduced AiGrow as the best alternative to it. 
AiGrow provides you with many valuable features that you can take advantage of. If you have any issues with the remarks above, feel free to contact our support team. They are more than willing to help you.