Instagram marketing has opened new opportunities for businesses to increase their revenues and sales. Instagram has over 200 million business profiles, which makes it a very competitive platform. However, if you have never used the platform before, you may wonder where to start. Or, you may not see the growth you expected due to increased competition.
Whatever the case, are you looking for an Instagram consultant to help you grow your account? Great! Getting help from an Instagram growth consultant is a must if you want to be a winner in this jam-packed social media. This consultant can be a freelancer, a virtual assistant, or even an Instagram account management service. 
In this article, we will talk about the essential reasons you need an Instagram account manager. Moreover, we're going to show you the best option as your Instagram growth consultant, so you can easily get the most effective help and advice from professionals. Without any further ado, let's jump right in.
🔥Note: If you don't want to get into details and just want to hire your best Instagram account manager now, AiGrow provides you with the best and most experienced Instagram account manager to manage everything and anything related to your Instagram account. To experience massive organic Instagram growth, give AiGrow a try now.
What Is An Instagram Consultant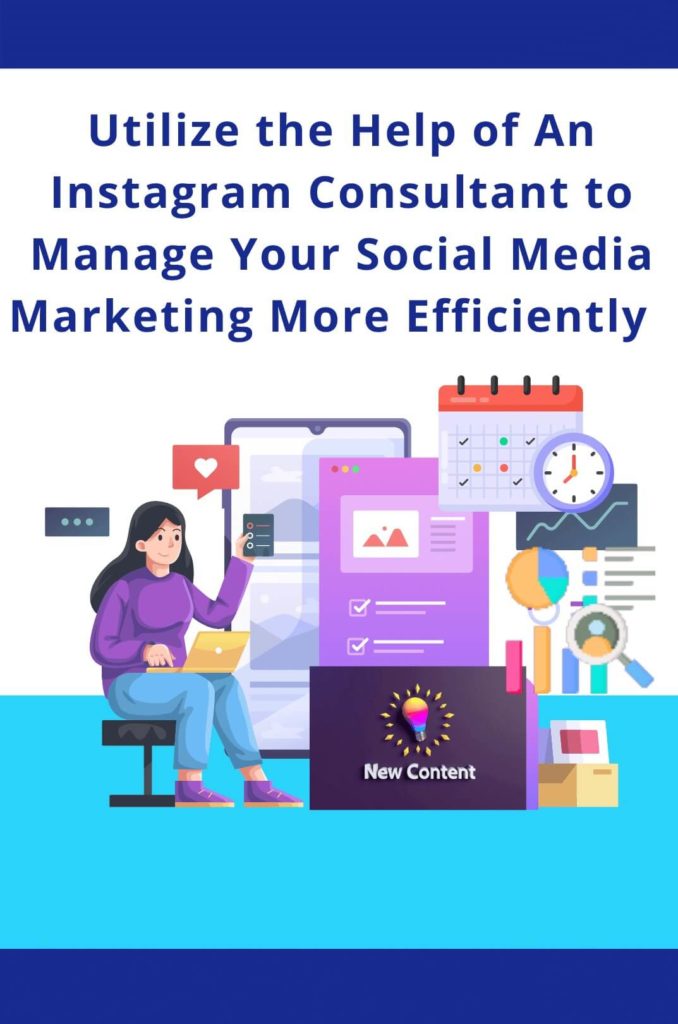 An Instagram consultant is a person or company who helps you to optimize your online presence on Instagram to promote your brand and business goals in the best possible way.
As these people are professionals and have several years of experience using this platform, they can give you valuable insights and plans to build your brand and promote your IG page.
However, you should be aware that Instagram marketing has its fair share of deceitful, fake, and unnecessary guides. So, to find the best Instagram consultant, you must choose them very carefully.
How Can An Instagram Consultant Help Your Business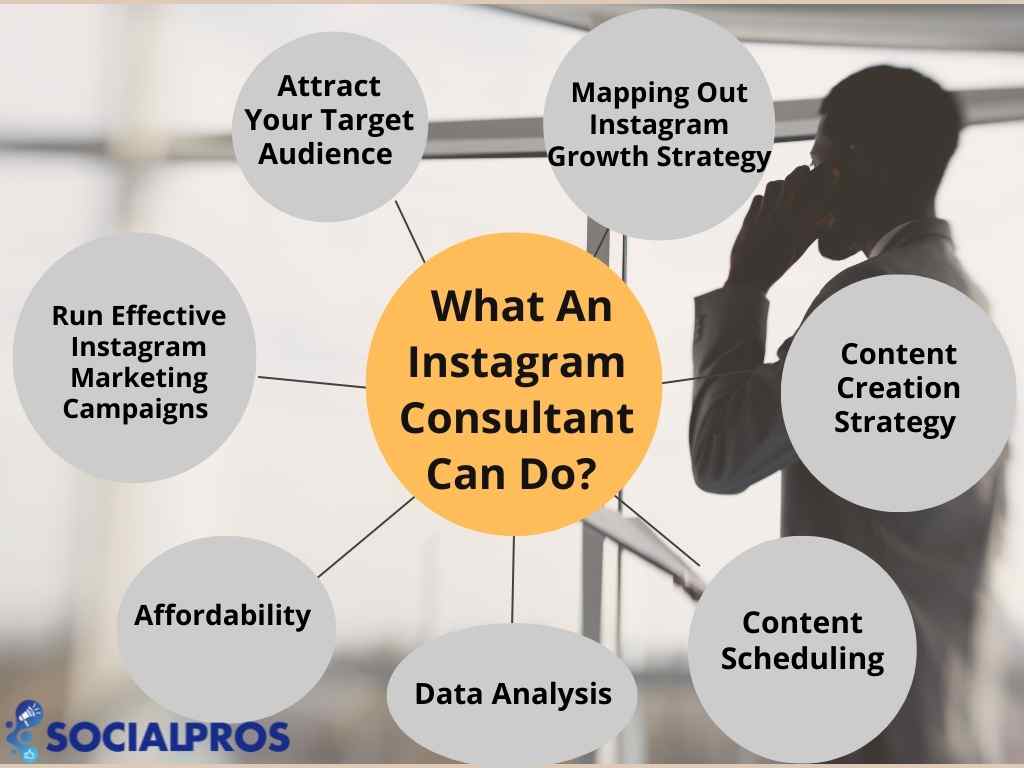 An Instagram consultant can help you in almost everything related to your virtual life on Instagram, especially in these four main areas:
1- Mapping Out Instagram Growth Strategy
The strategy is the first important aspect of promoting your brand and business on Instagram. Without mapping out a viable strategy, both for the short-term and the long-term, your Instagram won't grow at a satisfying speed.
An Instagram growth consultant's job is to design this strategy based on your goals and brand preferences. The Instagram consultant decides which type of Instagram campaigns are suitable for achieving goals (for example brand awareness or user-generated content). Also, he or she gives you advice on the tone you need to use on Instagram and helps you to have a clearer and more determined idea about your online performance.
Additionally, your personal Instagram consultant will help you to attract your target audience as fast as possible and improve your Instagram engagement rate.
2- Content Creation
Should you use static pictures, videos, IGTV, or Live videos on your Instagram page? Should you stick to one type of content or have a combination? The Instagram growth consultant can help you with these options too!
Content is the tool that connects you directly to your audience. Poor content creation can lead to poor connection and sending the wrong message. So, you need to be careful about this one!
A good Instagram growth strategy consultant will provide you with excellent content ideas for your Instagram marketing account and will help you engage your followers with strategic content.
It's also super important to choose the hashtags, geotags, and caption carefully and optimize your bio and posts to receive more visitors and followers.
Related Articles:
3- Content Scheduling
On Instagram, not only is it important what to post, but it is also important when to post. A good Instagram growth consultant tells you the best time to post based on your audience and type of content. Unfortunately, Instagram does not offer an in-built scheduler, and you have to either use the Instagram creator studio or use a third-party app. Stay tuned because, in the following, we'll tell you about the best option.
4- Data Analysis
To see which of the promotional actions your tool is working on, you'll need to analyze your Instagram data carefully. A good Instagram marketing consultant will tell you exactly which of the measures you took were effective and which weren't. This way, you can only focus on effective methods and get rid of the others.
Additionally, a professional Instagram marketing consultant will show you how to create a perfect business IG profile and turn your Instagram followers into customers. Your Instagram business growth consultant should constantly monitor your growth metrics to track your results and growth.
5. Offering Advice on Cutting Costs
An Instagram growth consultant can help you to not lose more money than you earn. A growth strategy consultant will identify areas where your company is losing money. By doing this, you will be able to avoid unneeded expenses that can later cause disruptions to your business.
You will be able to run your business more tightly and efficiently, allowing no wasted resources.
How To Find The Best Instagram Marketing Consultant
There are tons of Instagram consultants that work as freelancers. You can find them on websites such as Fiverr or Freelance. You can use filtering and scores to find the best Instagram account manager you need.
However, there's another way to find these people: companies that offer Instagram management services.
Now, there are some problems with these companies too. First of all, there are so many of them, and you might get confused about which one to use. Secondly, some of these companies only use automation tools, so they are not exactly consulting you with anything.
That's why, in the following, we're going to introduce you to the best Instagram marketing consultant service that you can use.
AiGrow: The Best All-In-One Instagram Growth Consultant
AiGrow is an Instagram promotion service that helps you to grow on the platform sustainably. Not only does this service do all the things that a consultant does for you, but it also provides all the necessary tools to reach those goals.
When using AiGrow, a dedicated Instagram specialist personally works on your account and contacts you to better understand your goals and preferences. Then, your dedicated Instagram account manager uses his/her expertise and AI technology to choose the top Instagram hashtags and other promotional factors for you. These measurements speed up the exposure your brands need on Instagram.
Moreover, since the whole Instagram growth strategy is done manually and organically, you don't need to worry about getting shadowbanned on Instagram.
AiGrow's Instagram growth agents are extremely knowledgeable about Instagram's algorithm and its daily limits, so you can rest assured your account will grow safely. Furthermore, with AiGrow, you can fix Instagram glitches and errors at once, making your account run seamlessly at all times.
What is more? Here are some of the other helpful Instagram tools that AiGrow offers:
A smart scheduler
Promotional growth packages
Direct message plans
Event calendar
Data analysis
Social listening
Link in bio tool.
DM marketing tool
24X7 customer support team
To learn more about AiGrow, read this article.
And don't forget that a great thing about AiGrow is that it's way more economical compared to other choices.
So, what are you waiting for? experience massive organic growth with AiGrow.
FAQs on Instagram Growth Consultant
Our team compiled a list of frequently asked queries and replied to those related to the topic. Let's take a moment to look at them.
Q1. How to Become An Instagram Consultant?
Interested in becoming an Instagram consultant/Instagram expert, but not sure where to begin? Here's what you need to do:
Prepare a strong resume and share content that shows your expertise in Instagram marketing.
Begin networking and exchanging skillsets and services with others, on and offline. You can expand your reach and visibility by joining websites like Fiverr or Upwork, or participating in social media chats relevant to Instagram. Taking part in local networking groups and associations is also a good idea.
Create an engaging Instagram page. As a new Instagram growth consultant, you should be patient and start getting more followers by sharing your knowledge and insights.
Maintain a happy and satisfied client base. You can include positive customer testimonials or reviews on your IG page or website as proof of your legitimacy and efficiency.
If you have any experience with the Instagram growth marketing consultancy we missed in the list above, please share it with us in the comments below.
Q2. What An Instagram Consultant Can Do For Your Business?
An Instagram consultant can interact with other IG users to grow your followers in an organic and non-spammy way. They can use follow/unfollow or other Instagram growth strategies to increase your brand awareness on the media.
However, our top suggestion is to use AiGrow as your virtual assistant as it combines professional human resources with its advanced AI technology to deliver the best results possible.
Try AiGrow now to take your Instagram growth to the next level.
Final Words on Instagram Consultant
If you are not an Instagram guru or don't have any idea about running a perfect Instagram account, getting help from an Instagram growth consultant is a must.
In this article, we introduced you to AiGrow where you can hire your Instagram growth consultant to grow your Instagram account organically and safely. AiGrow is an entirely secure and trusted platform that provides you with the best Instagram marketing consultants at a fair price and guaranteed results.
You can connect with them online to evaluate the results and discuss your marketing goals with them. With AiGrow, you can monitor what your competitors are doing and come up with the most engaging content ideas in your industry. The best part is that AiGrow combines effective Instagram tools and Instagram experts to drive the best organic Instagram engagement to your profile.
Now is time to take advantage of the help of a personal Instagram consultant. Give AiGrow a try now to see how it can get your mind off your Instagram account worries.