Instagram is a palace of community for around 3 billion people. If you are one of those lucky guys, you should have sensed the power of this social media platform in your life.
The very first generation of social media homo sapiens were only one-dream guys; to get in touch with friends from a long distance. The old-world platforms such as Yahoo Messenger were only designed to deliver texts (even photos and GIFs were locked in those days), and unbelievably, the mono aspect of the social media world can reach the requirements of that era.
The word "social media" in Merriam-Webster dictionary is defined as "a form of electronic communication host (such as websites) through which people can create online communities to share information, ideas, personal messages, and other content (such as images and videos)." However, we know that this is not the whole story.
Old songs say machines are made to run multi-task simultaneously. But in my opinion, virtual machines -like Instagram – are more capable of those living in the 18th and 19th centuries, as this is the magical world where you can make new friends, enjoy your time and also … get bucks of money from it!!! In this article, we will try our best to cover all your possible questions regarding Instagram subscriptions, such as:
What Is Instagram Subscription?
How to set up Instagram Subscription?
Instagram Subscription rules
Instagram Subscription price
How to cancel an Instagram subscription?
So, without further ado, let's begin.
What Is an Instagram Subscription
The Instagram Subscription feature offers a new way for IG creators to monetize their engaging content and provide more value to their audience. Firstly operated in 2022, the new option on social media will give virtual bricks to Instagram influencers to wall off their exclusive content for the general population and break it whenever some guys decide to pay for it.
Although the feature was first launched by Facebook, it is now being expanded to Instagram to help content creators monetize their craft. Is the project popular?
But before taking our journey to Instagram Subscription, are you looking for an effective way to boost your followers on social media? AiGrow will ease the goal for you!!! AiGrow has come with technical, powerful packages even for small budgets!!!
How Does Instagram Subscription Work
The main goal of the Instagram Subscription feature is to make sure your audience is enjoying your media with high-quality pleasure, and this experience is promoting.
What kind of content can you keep on your corner of the table for Instagram Subscription? Here are some offers;
1. Subscriber Chats
If you are an expert in a particular field, then some followers will be satisfied if you share your extensive knowledge with them at the expense of a previously set fee. This can be a form of Q&As, comments on Instagram, or recommendations based on your community preferences. Note that Subscriber Chats only last 24 hours, after which they'd become read-only.
2. Subscriber Lives
If your statistics tell you most followers crave to see your face in a different way, or it is time for some exclusive live lectures, a Subscription on Instagram will help you with that. Subscriber Lives has all the positive features of Subscriber chats, as well as your subscribers can now actually see you and interact with you in a real-time situation.
3. Subscriber Posts & Reels
All types of content on Instagram can be transformed into the Instagram Subscription version, such as posts and reels. The only difference between regular and subscribed posts is the "Share with Subscribers" button on the screen, which should be hit for the latter.
4. Subscriber Badges
People these days want to look different when they do something differently from others, and Instagram knows they have to satisfy the demand. By subscribing to your content, Instagram followers will get a purple-coloured Subscriber Badge icon next to their username.
This feature will ensure that they are valuable on the platform as well as make them stand out to you, so if they send you direct messages or ask questions, you can answer them quickly.
5. Subscriber Stories
Similar to Subscriber Posts, Subscriber Stories are created for only those guys who activate the Instagram Subscription. These Instagram stories are marked by a purple ring and include exclusive content, host giveaways, or even hot messages from the trending news in your life.
Examples of Subscriber-Only Content on Instagram
Suppose you are kind of those virtuous Instagram users thinking creators should make all media to be accessible to the public. In that case, I have to say this phrase only comes true if people on the planet make a declaration of abhorrence toward gold and money!!!
Here are some examples of Instagram content that can be classified in the private category and take it as an example;
1- Private Educational Classes
In the era of technology, the more advanced skills you have learned, the more credit you will get from society. According to the mentioned fact, the audience will be unexpectedly amused if you one day decide to share your skill assets with them, of course, in a private environment.
You can also learn from your experience to continue improving these skills. Business, social media, and life coaches often offer private coaching to subscribers. This will encourage more people to subscribe if they like your service.
2- Private Coaching
Another way of engaging your followers in the Instagram Subscription project will be exclusive coaching.
No matter if your field is business, dietary, or life coach, ultimate knowledge is always in top gear to get earned, and fortunately, many of your followers are ready to pay for it. You can also learn from your experience to continue improving these skills.
3- Behind the Scenes
If you are a famous video content creator or have an impression of the world of Instagram-associated documentaries, behind-the-scenes content will be appealing to your audiences. There are many ways to go about creating this footage.
4- VIP Event Passes
If you are an official host or attending a live event and streaming it, offering a VIP pass for subscribers is a fantastic idea. When prompting an Instagram event, connect with all audiences and highlight the specifics. This could get more people to become loyal through an Instagram subscription feature.
Make sure you are listening to your followers' responses as they may are drawing a specific kind of content. More after updating your page with frequent VIP passes will keep your audience subscribed.
Whether you are a newbie to Instagram or have broken some of your bones on the platform in the past, you should agree that making new followers on social media is as difficult as lifting an adult elephant.
So why not keep all the tedious tasks for an effective Instagram growth service??? With new DM+ follower gain packages, AIGrow is a great way of laying your legs on your desk and getting a much more Instagram population by paying a small buck!!!
Do You Want to Gain More Real and Engaged Followers?
Instagram Subscription Requirements
How does Instagram Subscription work? Before trying to figure out the true mechanism of Subscription Instagram, we should consider that offering subscriptions on Instagram requires a list of basic criteria. These requirements are in place to ensure a high-quality experience for both creators and subscribers:
Start Being Professional
The first condition about an Instagram monthly subscription is the type of requested account. While professional and Creator accounts are ready to be accepted, standard accounts are out of the way.
2. Follower Count
If you think your page is ready to receive green dollars from an Instagram subscription, make sure your account has a minimum of 10K followers to be eligible for the Instagram subscription feature. This criterion ensures that creators have a dedicated fan base before they can monetize their content.
If you want to gain more real and targeted followers in no time, we recommend using AiGrow. Upon Signing up on AiGrow, you will receive a dedicated and professional account manager who will work on your account to bring long-term and sustainable results to your Instagram marketing account. With AiGrow, you can rest assured that your IG account will receive the attention it deserves. AiGrow is 100% safe and organic.
Take your Instagram growth to the next level with AiGrow!
3. Origin of Account
I am sorry for those creative guys who wish to be a member of this new social media project, but Subscription on Instagram is only for U.S. residents at present. Subscriptions are available on an invite-only platform if you're based in countries like Canada, Australia, or the United Kingdom. For creators located in other regions, we recommend keeping their patience for coming updates.
4. Community Guidelines
Accounts offering subscriptions must adhere to Instagram's community guidelines (such as minimum age for being active on Instagram, not presenting adult content, harassment, etc). These guidelines promote a safe and respectful environment for all users, preventing the dissemination of harmful or inappropriate content.

Making a professional Instagram account can be completed in a few minutes, but would you dare to gather thousands of followers with your finger on a button???
AIGrow can solve the problem. This is the place where you can find practical marketing tools for professionals and influencers and all features you need to get real followers on Instagram. Any questions in mind??? A 7-24 customer support team is waiting for your curiosity!!!
All packages have 7-24 support and analytical reports, and if you are not satisfied with the project, you can enable the 14-Day Money-Back Guarantee option or cancel anytime. AIGrow packages are compatible with any budget, from $144/year for Managed Growth to $499/year for Managed Advanced.
Start your Journey with AiGrow Now
Instagram Subscription Services; Advantages and Benefits
Instagram subscriptions offer a range of services and benefits to both creators and subscribers. Some of the key services include:
1- Exclusive Content
Subscribers gain access to unique content that is not available to regular followers. This can include behind-the-scenes footage, tutorials, live streams, and personalized experiences.
2- Enhanced Engagement
Creators can interact more intimately with their subscribers through features like live Q&A sessions, direct messaging, and exclusive community groups. This fosters a stronger sense of connection and boosts engagement between creators and their audiences.
3- Personalized Offers
Subscribers may receive special offers, discounts, or early access to new products or services. This provides an added incentive for users to subscribe and support their favourite creators.
4- More Tight-Knit Community
time is gold in the world of information trading, especially when you have concerns about an adequate level of communication with your audience. As some followers are more valuable to be in touch with, Instagram Subscription will help you somehow "sift" your population in an invasive way.
5- Promote your creator career on Instagram
all professional businesses are tight with the size of their listening audience and the level of loyalty they have. With the Instagram Subscription feature, you can assess your guys on the page in terms of devotion and constancy, and if the results are disappointing, make some solutions as soon as possible.
Read More: Best Follower Tracker App for Instagram: Maximize Your Instagram Growth Now
How to Add Subscription on Instagram?
Wonderful Instagram accounts always have a bunch of videos behind the house. So, maybe it is time to book your place on your favorite profile by following these steps;
1- Open your Instagram
2- Go to your professional dashboard and click on the gear in the top-right corner
3- Choose "Subscriptions," and on the next screen, click on the "Get Started" button.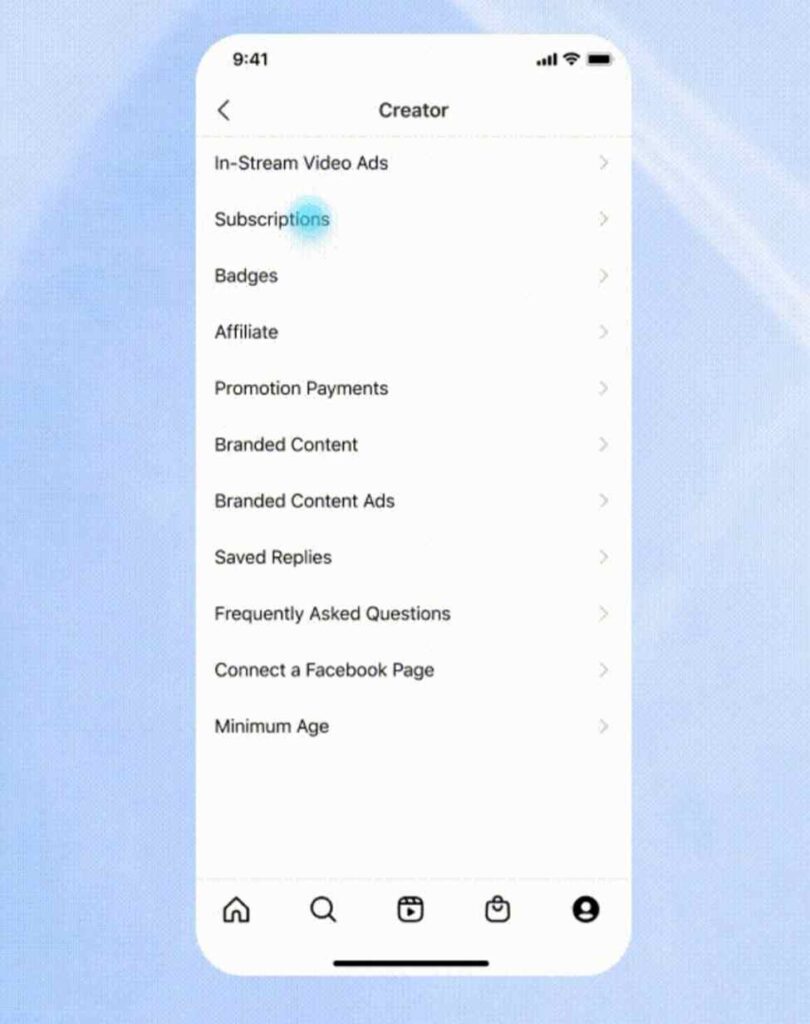 4- Here, you need to agree to the Instagram Subscription Creator Terms of Use, then tap "Next."
5- Now, you are able to set the monthly price for your Subscription. We will talk about Instagram Subscription prices in detail later in the article.
6- Finally, click "Publish" and then "Create." Now once you've enabled Instagram Subscription, your audience will see a notification in their activity feed and also the same on your profile.
Instagram Subscription Pricing
How much is Instagram subscription? It's your turn to answer!!! Creators have the flexibility to set their own subscription prices within a certain range. The pricing options for Instagram subscriptions typically range from $0.99 up to $99.99 per month.
The choice of price depends on various factors, such as the creator's content type, audience engagement, and perceived value of the exclusive content being offered. Your mission is to take your calculator out and weigh up the condition.
Creators should consider factors such as the amount of time and effort they invest in producing exclusive content, the demand for their content, and the pricing strategies of similar creators in their niche.
You May Also Like to Read: Threads: Instagram's Text-Based Conversation App (Your Ultimate Guide)
How to Receive Your Instagram Subscription Payouts
A businessman needs to be motivationally boosted some days per year, and this is the time when you're going to receive your payouts. To make this dream come true, follow these steps;
1- Open your Instagram
2- Go to your professional account
3- Here, select the kind of payout gateway you want to connect to your account. You can add a bank or PayPal account.
4- Finally, follow the prompts to finish the task
Make sure you have at least $100 in your Instagram wallet before trying to withdraw it.
How to set up a Subscription on Instagram
All we mentioned before was Instagram Subscription when you are the "merchant" rather than the "customer." On the other side, if you are a follower of an Instagram account and want to explore the jewellery behind the so-called "wall," you can follow the steps below;
Open your Instagram and visit the creator's profile on the platform. Click on "Subscribe"
By clicking on the button, you will be directed to a new page detailing the pricing and advantages of the Instagram subscription.
Click on the "Subscribe" button once again to proceed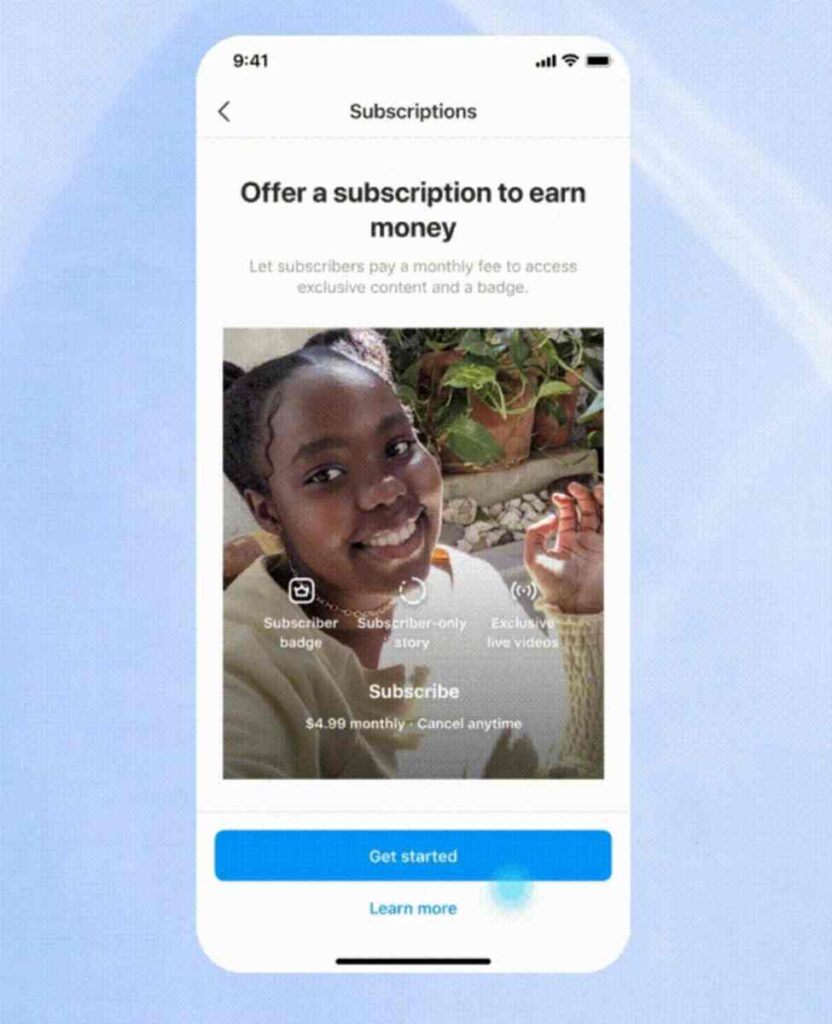 Finally, review the payment terms in the popup and select "Process Payments."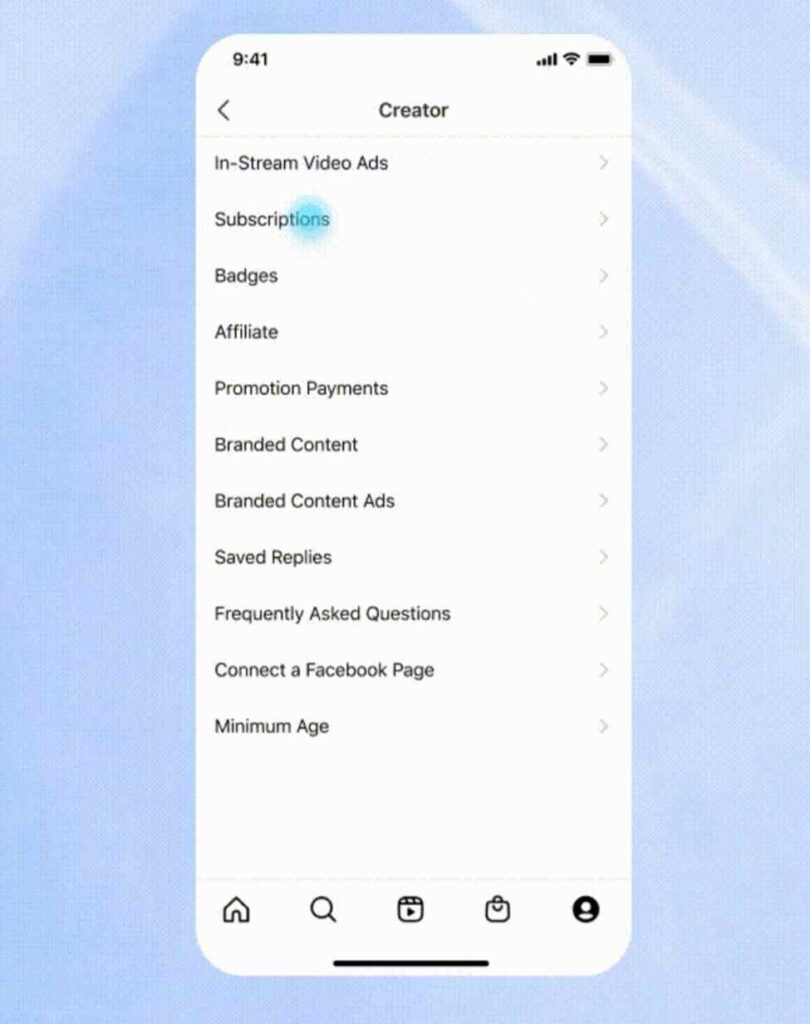 Is Instagram Subscription like Onlyfans
Meta's new subscription service is similar to a plan by Elon Musk to launch Twitter Blue, which would allow users to verify their Twitter profiles for around $8 a month since he bought the platform for $44bn last year. But wait, it hasn't finished yet.
Interestingly, the method of money-making present in the Subscription Instagram project resembles the one we have already seen on a private media provider service called Onlyfans.
Similar to the model, these subscribers will also get a purple badge next to their username that signals their status to the creator they are subscribed to. They also need to select the price point for their subscriptions.
Instagram is a brilliant host for printing new bills of money, but this can be facilitated when you have enough of an audience on your page!!! If you are familiar with the power, AIGrow will show you the roadway!!!
Do You Want a Steady Flow of Organic and Engaged Followers?
How to Cancel Instagram Subscription
In some cases, you have changed your mind and decided to change your direction or just want to completely forget about the Instagram Subscription. In order to cancel the Subscription, follow the steps;
1- Open your app, click on "Subscriptions," then tap "Subscribers."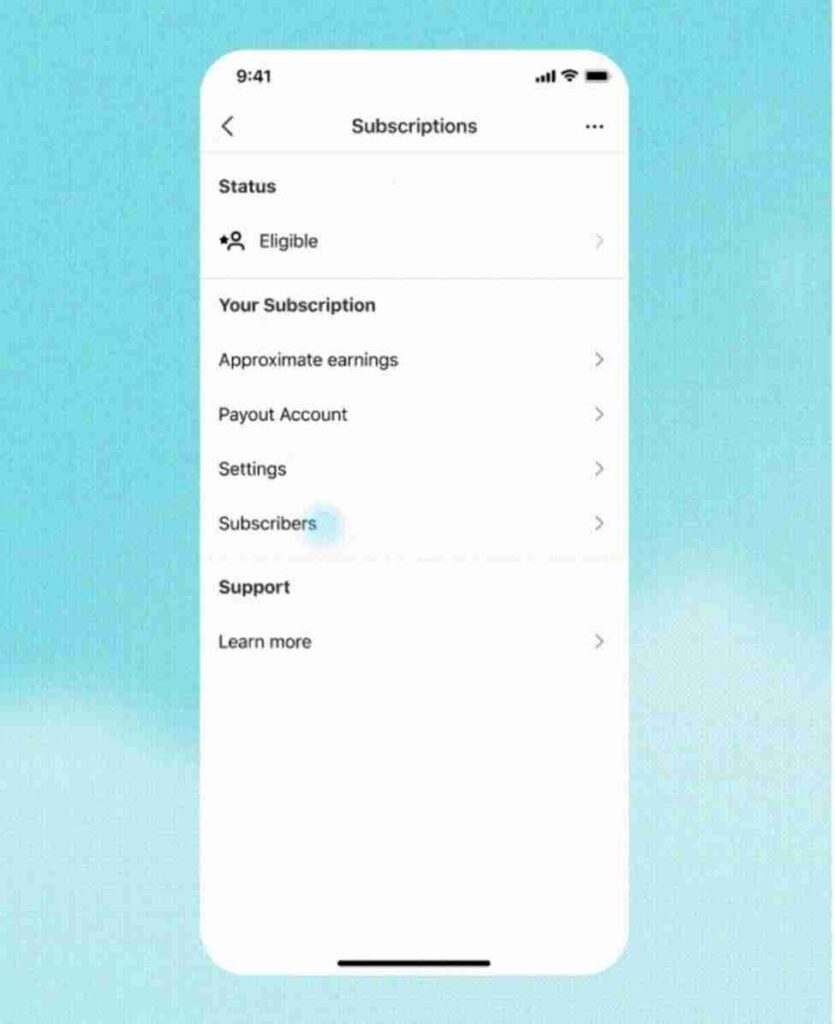 2- Here, you can see your subscribers as you scroll down the list.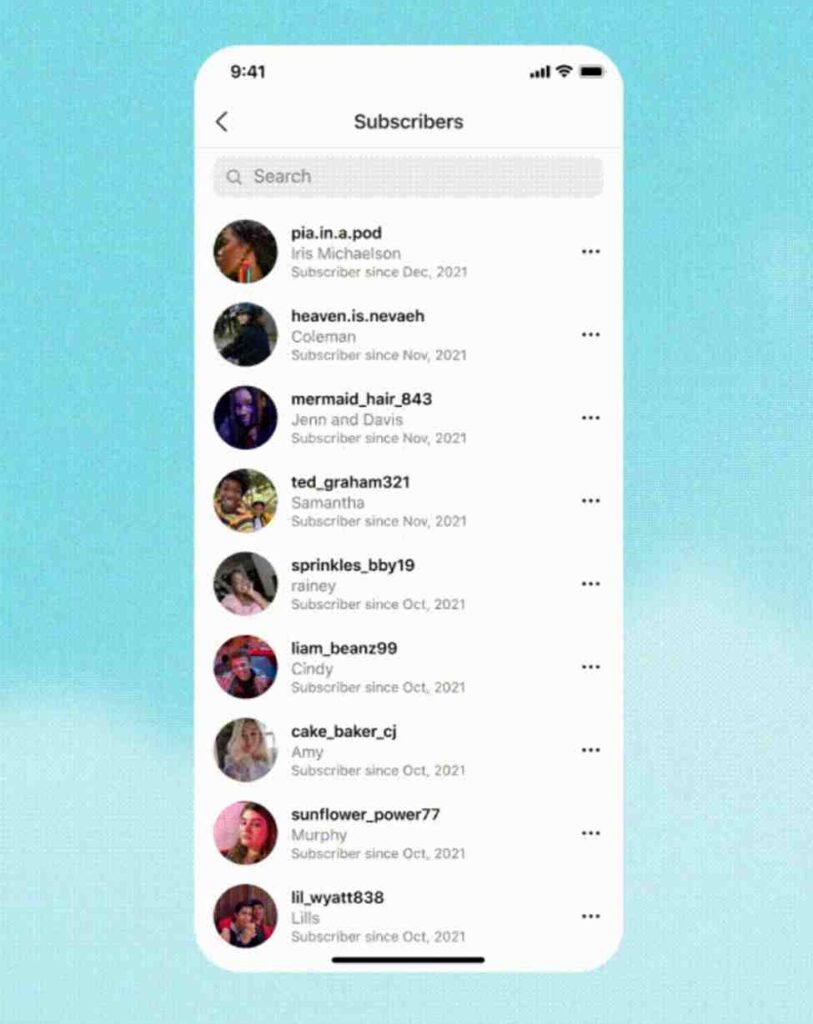 3- Click on the three dots and tap Remove from Subscription.
Does the Instagram Subscription Feature Worth It?
Based on the statistics, many Instagram men or women still don't have a clear picture of what will happen to Instagram Subscription in the following years. In other words, Mark Zuckerberg hasn't presented his real plan in his mind for the public.
Meta doesn't take any cut from creator earnings on its platforms like Facebook and Instagram. This policy will remain in place through 2024 — originally, it was supposed to end in 2023, but CEO Mark Zuckerberg announced last year that this set-up would extend for another year.
This is a clear message that the following days will be the only golden opportunity for Instagram creators to "get what they can really get" from Instagram and Facebook.
To be honest, Meta makes almost all of its revenue from advertising these days. Still, that business can be inconsistent and severely affected by the broader economy, like what we see in the Subscription Instagram project. So, if you are still shilly-shally about the idea, it is better to make your decision as soon as possible.
Conclusion
Thank you for reading. We covered the necessary principles of Subscription Instagram, including Instagram paid Subscription, how to activate Instagram Subscription, and how to cancel it.
Instagram Subscription can provide a potential field of exchanging pleasure and money in a colourful Instagram environment. Subscribers, on the other hand, can enjoy exclusive content and enhanced engagement with their favourite creators. As Instagram subscriptions continue to grow in popularity, it's important for both creators and users to explore the possibilities that this feature brings.
Do you want to change the table? Then take your device, open your social media application, and see what is going on on the Instagram Subscription feature!!!
FAQ on Instagram Subscription
1. What Is Instagram Subscription?
Instagram subscriptions offer a unique opportunity for creators to monetize their content and provide exclusive experiences to their dedicated followers. By meeting the requirements, offering valuable services, and setting appropriate pricing, creators can tap into this feature's potential to generate revenue and foster a closer relationship with their audience.
2. How to Create Subscription on Instagram?
To create subscription Instagram content (post, reel, story, etc.), all you need is to enable the Subscription Instagram option on your professional account. For example, you should click the "Share with Subscribers" button after posting a new reel or story on the platform.
3. How Much Is Instagram Subscription?
There are a vast number of Instagram paid Subscription options, from $0.99 to $99.99 per month. You can make your decision based on your niche and the size of the audience on your account.
4. Are there any Instagram Subscription Restrictions?
As of 2023, the main restriction on the Instagram Subscription feature is that only users in the U.S. can incorporate the Instagram Subscription feature. And only select creatives. However, we are optimistic about the situation as the new technology becomes more trending, and Instagram may change its strategy in the near future.