Meta introduced its new social media application, Threads, alongside Instagram. With a staggering user base of over 69 million accounts, this innovative app has captured the attention of millions instantly.
Threads is an emerging social media platform that is so similar to Twitter. You can explore topics that spark your curiosity and connect directly with like-minded individuals who share your interests. Also, you can express your unique ideas, opinions, and creativity to build a devoted following or discover new perspectives.
In Threads, users can share short texts, like or repost other users' threads, and even share them on their Instagram stories or posts. In this post, we will explore the unique features of this new app and show you how to use it to its full potential. So, without further ado, let's dive in.
Do You Want to Gain More Real & Engaged Followers on Instagram and Threads?
What Is Threads
Instagram's new app is an innovative app developed by the Instagram team, designed for sharing text and engaging in public conversations. Building upon Instagram's success with visual content, Threads aims to create a positive and creative environment for expressing ideas through text.
Like Instagram, you can gain more followers and expand your network outside of the app. In short, Meta's recent app is an exciting extension of Instagram, focusing on text-based interactions.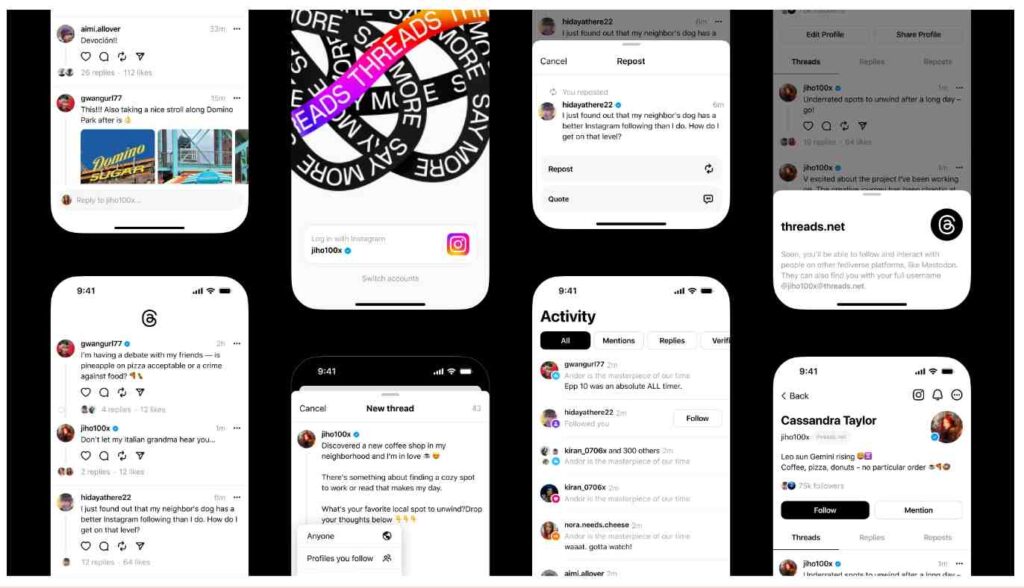 Are You Interested in Gaining More Engaged and Loyal Followers on Instagram?
How To Use Meta's New App; Threads App Sign Up
Meta's latest app provides a seamless user experience that allows you to log in using your existing Instagram account.
Meta's new app can be accessed by following these steps: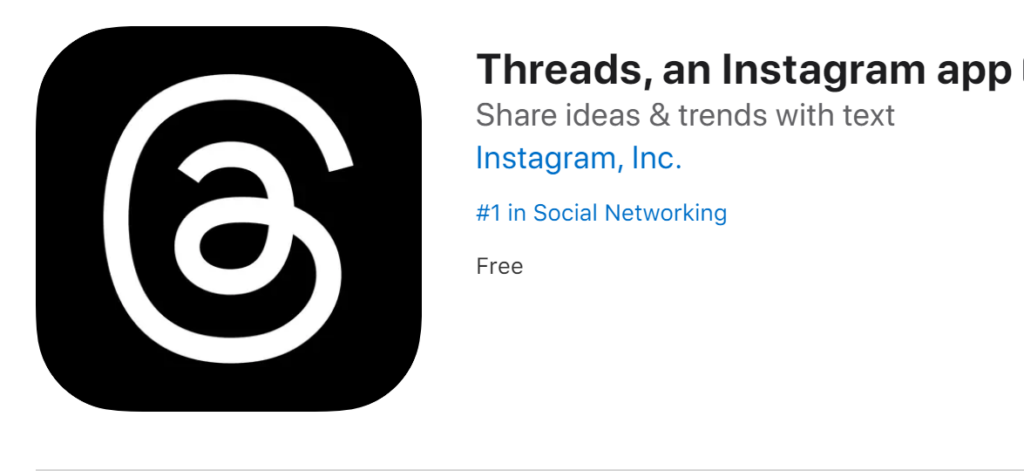 Now, open the app. It automatically identifies your Instagram account and you can join Threads by logging into your IG account. However, if you have multiple Instagram accounts, you can select the desired account by tapping "Switch Accounts" at the bottom of the page in Threadsy.
On the next page, you should customize your profile. You can also add a bio link, and choose a profile picture for it. Additionally, by tapping the "Import from Instagram" button, you can automatically transfer all your information from your Instagram account to Thread. Threads by Instagram synchronizes your username with your Instagram account. To modify your username, a simple change to your Instagram username is all it takes.
Meta's latest app will display a list of your Instagram followers on the following page, allowing you to individually send follow requests to them. Alternatively, by tapping "Follow All," follow requests will automatically be sent to the entire list. When you click on follow a friend who hasn't yet joined the app, your request remains pending. Once they join Threads, you'll automatically start following them.
With Threads, you can express yourself through posts of up to 500 characters, enriched with links, photos, and videos up to 5 minutes long.
Your feed presents a combination of posts from those you follow and intriguing content from fresh creators, encouraging you to discover new things. Furthermore, sharing a captivating Threads post on your Instagram stories or any other platform is just a few taps away. This allows you to reach a wider audience and engage with them. Experience the power of Threads, the innovative extension of Instagram, and unlock new possibilities for gaining more followers, sharing, and inspiring others.
Related Resource: The Best Instagram Unfollow App + [20 Instagram Unfollowers Tracker To Use]
Threads Features
Threads, Instagram's feature-rich offering, provides users with options to foster positive and productive conversations. Some notable features are listed below:
Mention and Reply Controls: You have full control over all tags and mentions to your posts within the app. This allows you to customize your interactions and engage with the desired audience.
Hidden Word Filter: Similar to Instagram, you can filter out replies containing specific words, ensuring a more suitable conversation.
User Management: The app allows you to manage your connections effectively. You can unfollow, block, restrict, or report profiles by accessing the three-dot menu. Accounts blocked on Instagram are automatically blocked on Threads as well.
Safety Measures: Instagram's robust safety measures apply to the new app as well. Instagram's Community Guidelines govern the content and interactions within the app, ensuring adherence to community standards.
With these features, Threads on Instagram empowers users to engage in meaningful and secure conversations while maintaining community integrity and safety standards.
Would You Like to Connect with Instagram Followers Who Share Your Interests?
How to Post a Message on Threads
To post a message, simply tap the "Draft" icon located at the bottom center of the app and start typing. You can create posts of up to 500 characters long. Additionally, the app allows you to enrich your posts by including images and videos. Currently, editing a posted thread is not supported. However, you can control who replies to your post or hide the number of likes even after sharing it.

To tag friends, mention their handles in a post to tag them. However, Threads does not have a native GIF keyboard like Twitter. If your phone's keyboard offers GIFs, you can include them in your posts or replies. It's worth noting that Meta may introduce native GIF support to the app in the future. Stay tuned for updates as Meta's latest app evolves in response to user feedback and Twitter trends.
How to React on Threads
With Threads by Instagram, you have Four ways to react to content. You can express your appreciation by clicking the heart icon to like a post. To engage further, you can comment directly on the thread.
If you wish to repost the content, you can click the double arrow icon, similar to the retweet icon on twiiter. This offers two options: repost the thread or quote it with additional comments. Furthermore, you can share the thread as an Instagram story with a Threads background. You can also post it to your Instagram feed, copy the link for sharing, or manually publish it on another platform.
The share menu also enables sharing the link via third-party messaging apps like WhatsApp, SMS, or email. Enjoy the diverse ways to interact on this innovative platform.

How to Change Your Username
Changing your username on the Threads for Instagram app requires updating your Instagram username since the two remain synced for seamless login. This integration means you have one less user ID and password to remember. To change your username, follow these steps:
Log into your Instagram account.
Navigate to your profile page by tapping your profile image at the bottom right.
Tap the "Edit profile" button.
Locate the Username field and modify it according to your preference.
Save the changes.
Allow some time for the updates to reflect on Threads. Remember, changing your Instagram username will automatically update your Threads username, ensuring a consistent experience across both platforms.
Related Resource: Instagram profile Picture Downloader: 6 Free Instagram pfp Downloaders

Using Threads to Its Full Potential (Key Points)
Unlock Threads' full potential and take your social media experience to the next level! Discover key tips and strategies to maximize your usage of this awesome app, from connecting with like-minded individuals to enhancing your content creation and engagement. Here we go.
1- Grow with AiGrow
If you have a large number of Instagram followers, you will have a greater chance of success and visibility on Threads. To boost your power on this revolutionary social media platform, we recommend AiGrow. In a short period of time, this organic Instagram follower tracker app will increase your real and targeted followers.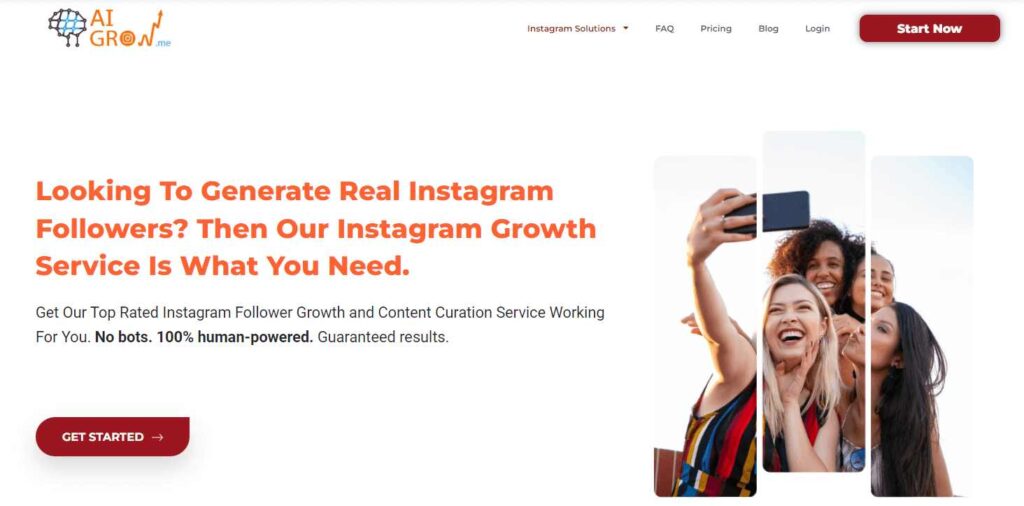 With AiGrow's experienced account managers and advanced targeting, you can enhance your online presence and maximize your impact on Instagram and Threads simultaneously. Take your social media account to the next level with AiGrow and witness remarkable growth like never before.
Rest assured that AiGrow will offer all useful Threads tools for brands and businesses that want to increase their reach and visibility on both platforms. This organic Instagram growth service will help you to gain more real and targeted followers, build powerful relationships with them, amplify your brand's message and visibility, and increase your online revenues and sales.
AiGrow is an all-in-one organic growth service with 100% safety and sustainable results.
2. Get Verified on Instagram
To fully leverage Threadsy's potential, it's worthwhile to understand its verification process. Threads' verification status matches Instagram's. When you're verified on Instagram, It will automatically verify you as well. This robust verification system provides brands with confidence that their online credibility and integrity will be safeguarded on both platforms.
3. Jump into Meta's New App
It is important to remember that social media rewards early adopters. In light of the fact that this new Twitter rival is still in its early stages, there is less competition for it. So, it is a golden opportunity for your business to experiment with creating engaging content on this emerging social media platform. Make use of this opportunity to build powerful conversations with your target audience.
4. Optimize Your Profile
Create a captivating bio that clearly defines what your business does. Use a clear and recognizable photo that symbolizes your brand. Also, add a link to your website or landing page on your profile.
Conclusion
Meta's latest app is a Twitter-like app designed to complement Instagram. In a remarkable accomplishment, the revolutionary social media platform gained 1 million users in just 1.5 hours. The company's growth rate exceeds both Twitter's, which took two years, and Instagram's, which achieved a similar milestone in 2.5 months. In the coming days, we'll see what Elon Musk says and if the new app has what it takes to rival Twitter.
We discussed Threads login and features in this post. Please stay tuned as we update this article with the latest information about the app. Join Threads, the Meta Instagram platform, to share your ideas and leave your mark on the world.
FAQs
You might still have more questions about the app on Instagram. We will try to answer all of your burning questions and more. This section has more to offer, so keep reading.
Q1. What Is the Difference Between a Public and a Private Threads Account?
In Threads for Instagram, it is essential to understand the difference between a public account and a private account. 
With a public profile, you can easily reach a wider audience without any additional effort. Consequently, this allows for increased exposure and a greater chance of growing your following. In contrast, a private profile enables you to approve users who wish to follow you and interact with your content, similar to Instagram.
This level of privacy ensures that you control who can access your posts and engage with you on the media. If you choose to have a private account, others will need to send you a follow request and become your followers to view your content. So, choose a private profile so that only your approved followers can view, share, and interact with your content.
Moreover, private accounts can only communicate with approved followers. To put it simply, it means you can't message this account unless they follow you.
Boost Your Knowledge on Instagram: Joint Instagram Account [The Best Guide to Managing Shared Instagram Account]
Q2. How to Add Your Instagram Followers to Threads?
This new Twitter-like app makes it very easy to connect with your Instagram followers. Also, Meta's new app makes cross-platforming easy.


Easy Cross-Platforms
Q3. How to Edit Your Profile on Threads?
To modify your profile information, access the profile page by tapping the human icon located at the bottom right of the app. From there, click on the "Edit Profile" button to make changes to your bio, add links, or change your profile picture. Please note that changing your name on Instagram's new app is currently unavailable, as the Twitter alternative syncs your name and username with your Instagram account, requiring changes to be made on Instagram itself.
Q4. Is It True That Deleting Your Threads Will Also Delete Your Instagram Account?
Yes, deleting your Threads account will also delete the Instagram account associated with it. Meta's policy states that the Threads profile can only be deleted by deleting the linked Instagram account. This integration has caused concerns among users who wish to remove their Threads account without affecting their Instagram presence.
However, Instagram CEO Adam Mosseri has addressed this issue, expressing their intention to provide a way to delete accounts separately. He said, "We are looking into a way to delete your account separately." Although no specific timeline has been provided for this feature, users currently have the option to deactivate their profile without impacting their Instagram account.
To deactivate your Threads account, access your Profile tab, navigate to the Settings menu in the top right, tap "Account," and then select "Deactivate profile." Reactivating your account is as simple as logging back into the app.
As Meta explores options for separate deletion, users can use deactivation as a temporary solution. Keep an eye out for future developments regarding the possibility of deleting accounts independently of Instagram.
You May Also Like to Read: How to Deactivate Instagram: An Ultimate Guide
Q5.  Is Threads a New Twitter Alternative?
Facebook owner Meta unveiled Threads, the much-anticipated alternative to Twitter. With its launch, Threads aims to present users with a "friendly" public conversational environment, in contrast to its counterpart, which suffered reputational problems after being acquired by Elon Musk. Mark Zuckerberg, Meta's chief executive, sees the new app as a solution that offers social media users a more engaging and fresh experience.


Zuckerberg's First Tweet Since 2012 Came the Same Day Meta Launched Its Twitter Rival, Threads.
Unlike Instagram, Threads is a platform that draws its inspiration from Twitter. It allows users to create text and messages, post updates, react to posts, comment on them, and even quote posts. However, the specific term for posting a text update on Threads is yet to be determined.
Unlike Twitter, Threads does not use hashtags and lacks a search feature for specific text or phrases. Additionally, Threads allows users to share up to 10 photos in a single post, aligning with Instagram's limits, whereas Twitter permits only four images. These functionality distinctions set Threads apart from Twitter's current features and highlight the app's unique capabilities. Stay informed about Twitter trends as Threads evolves to meet user demands.
Q6. How to Hide Threads Badge on Instagram?
Upon joining the Threads app, Instagram automatically adds a Threads badge to your Instagram profile. This badge appears below your Instagram profile picture to notify your followers and friends that you've joined Threads. However, if you prefer not to display the badge on your profile, you can hide it by following these steps:
Tap on the Threads badge on your Instagram profile page.
Select "Hide badge" from the options.
Confirm the removal by clicking on "Remove the badge."
Here are some key points to keep in mind:
Once you hide the badge, you will not be able to get it back, and it will be permanently removed from your IG profile.
According to Instagram, the badge is temporary, so it may be removed from profiles in the future.
By following these steps, you can choose whether to keep the Threads badge visible on your Instagram profile or hide it. It is up to you what you prefer.
Q7. Do you Need to Have an Instagram Account to Join Threads?
Threads is a standalone app that can be downloaded from the Play Store or App Store, depending on your mobile device. However, the only way to log into this application is via your Instagram account. Currently, Threads does not have another way to create an account.
Q8. What Are Missing Features on Meta's Thread List?
Here are some missing features on Meta's new app: 
Hashtags: Threads is currently missing the feature of hashtags, and while some may find it a relief considering their prevalence on Instagram, rest assured that this feature is being actively worked on. The development team recognizes the importance of hashtags in organizing and discovering content. Stay tuned for future updates as Threads evolves to provide even more efficient ways to explore and find relevant threads on Instagram.
Lack of Multiple Accounts:  It also lacks the capability to switch between multiple accounts. This feature, which allows seamless transitions between different accounts, is not yet available on the app.
Editing Posts: The New Twitter-like app does not offer Thread editing, a feature available on Twitter Blue. However, it is expected that this functionality will be implemented for free, meeting users' needs.
No Explore Page or Search Feature: Threads currently lacks the feature of content search within the app, limiting the search bar to finding other users only. However, Instagram CEO Adam Mosseri acknowledged the user demand for expanded search capabilities, including an explore page, and assured that it is on their agenda for future development.
Monetization Is Not Yet Available.
What to Call a Post on Threads:  The terminology for a post on Instagram's newly launched app is currently a topic of debate and discussion among users. While some users incorrectly called it a "tweet," Instagram CEO Adam Mosseri suggested "post."
A Desktop Version of the App: you can only access the platform via mobile devices.
Direct Messaging: The app does not offer direct messaging, which can be a limitation for brands providing customer service through social media messaging.
Auto-Filled Feed: The feed does not prioritize posts from users or brands you follow, making it difficult to find their specific posts. In addition, there is no option to customize how the feed loads.
No Separate App Deletion: Currently, you cannot delete your Threads account without also deleting your Instagram account.
Q9. Is There a Web Version of Threads?
Meta has released its new app in multiple regions worldwide. While the web version is expected to be launched in the future, currently, the Threads website (i.e.,https://www.threads.net/) provides a QR code redirecting users to the mobile app on their respective app stores.