Now that the title of this article has caught your attention and made you enter it with one click, it seems that you are looking to complete your information about Instavast and similar platforms that help you in marketing and attracting followers on Instagram.
We also intend to provide you with useful information by conducting this Instavast review to inform you of the dangers of using Instagram bots that put your account safety at risk of being blocked or lost.
Ever since Instagram bots entered the world of human communication, they have created a huge revolution in the type of interactions. But the problem started when Instagram opposed the operation of these robots and declared their use a violation of Instagram rules.
In order to deal with them, Instagram started blocking the accounts of users who employ these robots to increase followers.
Unfortunately, Instavast is also one of the bots that are not approved according to the Instagram algorithm and if you use it, your account will face problems. As an alternative, in this article, we'll introduce you to one of the best Instagram growth services to help you grow your IG account organically and safely.
🔥Note: If the details are not important to you and you are looking for a good alternative to Instavast, we introduce you to AiGrow because this platform helps you achieve your goals by using experts and taking into the Instagram algorithm. Click here to get started.
What Is Instavast And Why Does Not Work Anymore
As we said, one of Instagram's goals is to protect this social network from spam and bots. Instagram encourages its users to establish a suitable strategy for interacting with their followers and attracting their target audiences on the platform. As a result, buying Instagram followers, likes, comments, or using bots will lead to unrealistic account growth which may eventually result in the blocking of your Instagram account.
For this reason, bots like Instavast were disabled due to their ineffectiveness and violation of these rules, and the accounts of users who used this bot were also blocked.
What Did Instavast Do
Following too many users or using too many hashtags under each post.
Selling fake followers, likes, and comments.
Improper use of hashtags (prohibited, repeated hashtags).
Sending too many direct messages to users.
Instavast Pros And Cons
Like any other service, Instavast has its pros and cons. Here is a comparison table to help you understand this Instagram bot service better:
| | |
| --- | --- |
| Instavast Pros | Instavast Cons |
| Automatic and targeted follow and unfollow. | Reduce page interaction. |
| Automatic likes and comments. | Disabling the Instagram page. |
| Sending posts and stories automatically. | Display irrelevant content in the Feed section. |
| Download posts, stories, and profile photos. | Customer support is nonexistent. |
| Instavast hashtag generator. | No money refund guarantee |
| | The Use of 'Insta' in Their Name (an Instagram copyright no-no). |
| | Following fake accounts or other bots. |
| | Not having the ability to delete fake followers. |
Instavast's Main Features
Instavast's Features are listed below and you can also read the review according to each feature.
The main and most significant mistake that Instavast made was doing Instagram activities automatically.
One of the most important reasons for blocking Instagram accounts is following too many users. Instagram has limited the number of people that users can follow, and it also quickly detects bot-like activities and flags your account so that it can be blocked quickly if suspicious activities are repeated.
Just as humans like to interact with each other, so do robots. Most bots tend to connect with or follow fake pages that have no relevant content. As you know, Instagram recognizes your page context and interests based on the topics of the pages you follow, and accordingly shows your content to people who are not interested in your field of work or displays irrelevant and random content in the Feed section of your page. One of the reasons that violate the attraction of targeted followers by robots is their lack of recognition.
Normally, when a bot breaks the rules of a social network, it can no longer claim to provide security for your account. In fact, bots like Instavast can't even provide security for their site, let alone the security of their users!
After the bot has been active on your page for a while, you will definitely want to know how the bot worked and what you got from it. For example, how many followers have been added to your page, or how many fake followers have been removed from your page by the robot? Instavast provided these statistics to its users.
Using the Instavast Instagram robot, you could manage multiple IG accounts simultaneously from one dashboard.
To use the Instavast features, you did not need to download the application and it was enough to create an account using the website address.
Instavast hashtag generator
As much as the correct use of hashtags helps your growth on Instagram, their incorrect use will also destroy your account. Instavast provided hashtags for its users based on keywords, but it was up to the user to determine whether that hashtag is among the banned Instagram hashtags or not!
According to research, publishing posts consistently and at regular hours will increase the engagement rate on your page. To determine the best times to publish your posts, go to the Insights of your page to get information about your followers such as age, gender, and most importantly when most of your followers are online. Then you can use a suitable scheduler to publish your posts and share them at the best time.
Now that Instavast has been shut down, we are introducing a safe alternative called AiSchedul that will help you schedule your posts professionally.
What Is AiSchedul
This tool has been repeatedly presented as the best on various review websites and many important businesses in the world use it to publish their posts
The following are the advantages of using AiSchedul:
Schedule Instagram posts to publish even from a mobile.
Automatic share without needing to confirm again.
It is approved by Instagram.
Upload photos and videos through the web.
Filtering, adding text, cropping, and rotating photos from inside the platform.
Manage multiple Instagram accounts in one place.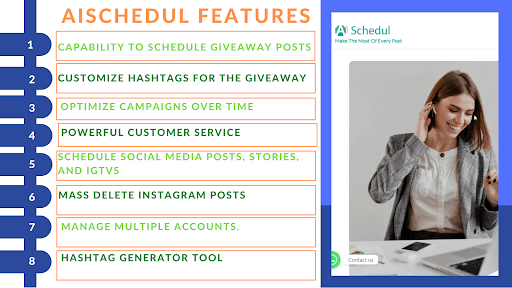 Grow your Instagram account and save time with AiSchedul.
Instavast Reviews 2022 – Is Instavast Safe?
Currently, if we search for the Instavast website, the following image will be displayed in the search results, and this is the biggest reason why this bot is unsafe.
To be sure of the search results, we went to the Trustpilot website to explore Instavast reviews. Then we faced a lot of negative comments and the shutting down of this site was also approved by Trustpilot.
Instavast Alternative & Competitor
If you are looking for a service that will help your organic growth on Instagram by providing more options, we recommend AiGrow.
In addition to options like sending Instagram DMs, AiGrow can help you have a professional scheduler to publish posts on Instagram at the times you want.
AiGrow is an advanced solution to manage your Instagram. This service is a growth tool and offers a complete set of professional tools and expert Instagram account managers to manage and grow your Instagram account professionally.
AiGrow Features
Now, let's explore AiGrow's extensive features in more detail.
AiGrow uses artificial intelligence and human expertise to find and interact with the followers you need. After setting goals, one of AiGrow's experts will contact you and an account manager will be assigned to your account to carry out your growth strategies to create interaction and grow your followers organically.
AiGrow is mainly known for its Instagram growth tool but the whole story doesn't end there as this service has taken into account all the details that a user needs. Using this tool, you can create a landing page that allows you to link your posts and stories to the link in your bio. You can also put all the other links you have on other social networks on this page.
This tool, like DMpro, helps to automate messages on Instagram. It is very easy and smooth to work with, just create ready-made messages to be sent to your desired users at appropriate intervals.
To save time, this feature helps you to prepare your posts in advance and set a time and date to be shared automatically. Under the 'Posts & Scheduling' tab on the dashboard, you get to:
Upload and schedule posts,
Monitor the performance of your rivals even if you don't follow them,
Find and save the trendy hashtags for your content,
Observe what other Instagrammers are saying about your page,
Share videos from YouTube to Instagram,
And schedule a contest.
If for any reason you need to mass delete your Instagram posts at once, this tool will make it easy for you and you don't need to waste time, especially if you have a lot of posts, it will be done with one click.
You can use the tool provided by the AiGrow site to host effective giveaways on Instagram and select random winners from among the participants fairly and quickly.
The way this tool works is that you determine the conditions of the contest and after the deadline, it randomly selects one or more people from among the eligible people and sends them the message that you had previously determined.
Now you can safely choose the winner from the participants who followed all the rules of the competition.
A Dedicated Account Manager:
Managing Instagram is a specialty. For this reason, this work should be left to a perfect Instagram account manager. AiGrow helps you to grow professionally on Instagram by providing expert staff in this field.
One of the most significant differences that distinguish AiGrow from Instagram bots like Instavast is the use of human resources to manage users' accounts and perform daily activities.
AiGrow has a feature that allows you to schedule posts based on time and date. One of the useful features of AiGrow is to schedule stories and posts in advance and receive a report on the activity status of your Instagram page.
Sign up now to get immediate access to this fantastic feature!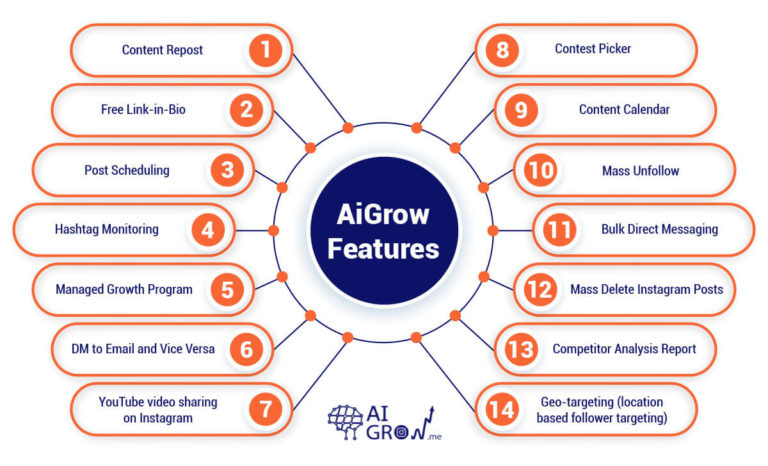 Give AiGrow a try now and get real results!
INSTAVAST FAQS
So far, we have covered all the essential information about the Instavast Instagram bot. Now, let us delve deep into some of your most frequently asked questions and help you get clear-cut answers to them.
Q1. Does Instavast Stop Working When I Log Off?
Instavast continues its activity 24 hours a day and without interruption.
However, the Instagram algorithm now supports interaction, which means that having a high number of followers is not the most important thing. You must not only have followers but also like, comments, and other interactions with your content.
Q2. How Can I Use Instavast To Not Unfollow My Friend?
Unfortunately, a bot cannot recognize and therefore unfollows randomly.
Final Words
Currently, if you repeatedly use the bot, you will receive a notification that you have been shadowbanned for violating the terms of use and using the bot service. This is usually a block that lasts for a week or so, but even so, it will cause huge problems in your Instagram strategy and your ability to continue to grow and engage with your followers, which is so important.
The growth of Instagram pages can only be achieved using natural methods, and services like AiGrow can guarantee the organic growth of your IG account. Give AiGrow a try now and see its guaranteed results.