When we start building our business on Instagram, we assume it is a simple task to perform. However, as you grow followers to help your business, managing your account gets more challenging. So for many Instagram marketers managing their accounts is a hard nut to crack. Jarvee is a word that many people talk about when it comes to Instagram automation pros and cons. Indeed, many of these tools do everything on your behalf, from scheduling posts to interacting with the audience. But the question is, are they reliable and safe to use?
This article will give you a comprehensive Jarvee review and introduce the best alternative to help you run your account, boost engagement rate, and get more followers. 
What Is Jarvee?
Jarvee is a Windows-based IG automation tool that works best with Windows 7 and higher. So you can set it up on a Windows VPS and use it online at your control from anywhere in the world. Jarvee is an Instagram bot that you must run continuously on your computer to perform its task.
From scheduling your posts to interacting with your fans and prospects, Jarvee allows you to automate Instagram, schedule posts across it, and manage multiple accounts.
How Much Does Jarvee Cost?
The basic package will cost you %19.95 monthly, which handles up to 10 accounts. However, the premium package that manages 150 users will cost you $69.95 a month.
Is Jarvee Available on Mac?
Unfortunately, as stated on their website, Jarvee for Mac is not possible. This software is Windows-based only, and you can't install it on a Mac. Therefore, if you are a Linux or Mac OS user, you can install Jarvee on a virtual device or a VPS running Windows.

How Do You Use Jarvee for Instagram in 2021?
Jarvee requires rather technical skills to use it. In the following, you will read the best Jarvee settings to use for Instagram automation! Remember, you must have an Instagram business account to get started with it.
Firstly, set the follow/unfollow/like limits. 

Then, set up the scraper account. 

Now, add sources for the scraper account. 

Set up the main account to follow specific users.

Finally, add your targets for Like and Story Viewer.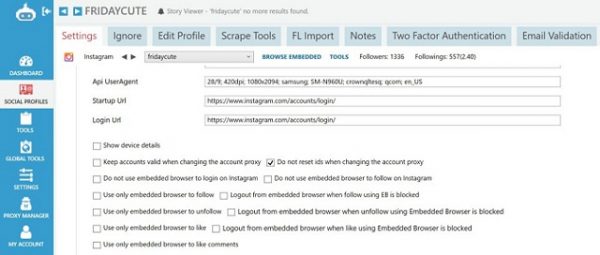 As you see, it is a complicated procedure to set up Jarvee and manage your account. 
Is Jarvee Safe to Download?
The motto of this Instagram automation software is that it is safe and fast. However, this is the way to get your account flagged and suspended. Indeed, the Instagram algorithm is too sensitive about Instagram bots and automation. So Instagram doesn't let you use it, and there is no "safe" strategy. The matter is that Jarvee may help you grow followers rapidly, but it gets shadowbanned and action block.
A Complete Review of Jarvee
Jarvee used to be an Instagram bot that got pretty good results, but picking up just fake followers or simply not working at all. Usually, people end up moving from Jarvee after a few months and searching for another Instagram management service that is safe and IG-friendly. 
Also, according to the Jarvee reviews, some users complain about frequent glitches. But, every time you demand help, their support states they know about the problem and their team is working on it.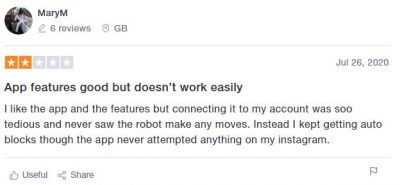 Of course, engaging the audience on Instagram is a task to outsource, but you need an automated tool. Indeed, it is vital to grow followers on Instagram organically and avoid losing them drastically. Also, you can not always take your computer with you, and sometimes you need to run your Instagram on the phone. On the flip side, it is pretty impossible to set up Jarvee on Mac. Consequently, a safe, IG-friendly app is required to help us engage, grow, and keep our followers for good. 
The Best Alternative to Jarvee for Mac and Mobile Users
AiGrow is a full Instagram management service to grow your followers, boost engagement, and generate more revenue. This app grants you various features to get high-quality followers on Instagram. As an actual result, all you need to do is configure the engine and let AiGrow take the heavy lifting to build real followers. It owns a VIP growth service employing a group of dedicated account managers to keep an eye out for your Instagram and run it manually.
Its ability to schedule Instagram posts and stories helps you get more free likes and views from real users. No Ghost followers!
Luckily, this app works on PC (Windows & Mac) and mobile phones. Undoubtedly, AiGrow is the best alternative to Jarvee. It is free and you can manage up to 80 Instagram account on a single dashboard for free. Also, you can buy its VIP packages to skyrocket your growth.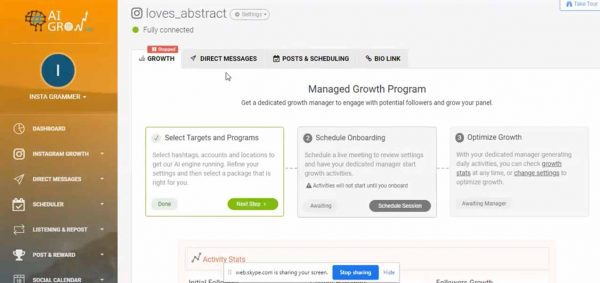 To manage your account and get 10K followers without being banned, you only need to:
Add your accounts(up to 80)

Select 'Manage Your Account'

Choose the

'

Growth' tab and start your growth.

As you see in the picture, it lets you schedule posts and publishes them at the best time. Moreover, it provides you a feature to repost stories and feed to get instant results.
Recap
Introducing the above Instagram tools helps you decide how to manage your account accurately. Above all, using a reliable app, you do not get the creeps of getting banned or blocked on the platform. So efficiently run your Instagram while you let your hair down.