Tiktok platform is a social media network where you can grow your brand as fast as possible. According to reports, this video-sharing social media platform has extended quickly and gained 1 billion global monthly active users. Tiktok users are primarily interested in music, food, travel, and dance.
If you are a Marketer and want to make money on Tiktok or grow your business, Tiktok is a good place for you.
In this article, we are going to guide you on how to use Tiktok as a Marketer. Stay with us!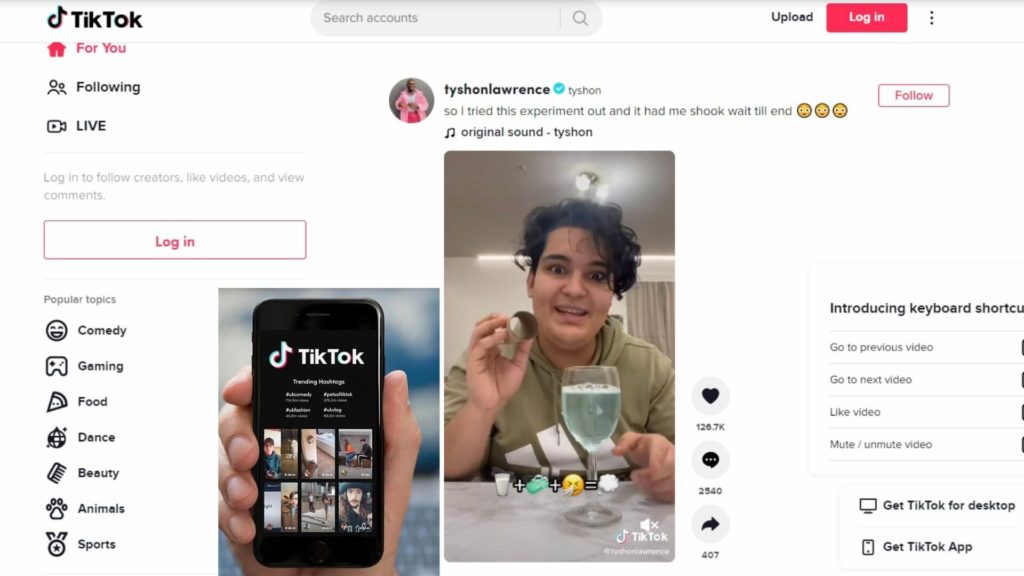 What Is TikTok
Before we discuss how to use TikTok, let's cover the fundamental question of 'What is TikTok app!' TikTok is a social media platform launched in 2016 by the Chinese ByteDance company. This video-sharing app merged with the other lip-syncing app, Musical.ly, in 2018.
TikTok app now has 1 billion users and is expected to reach 1.5 billion users or more in 2022, as its predominance continues worldwide! TikTok was the most downloaded non-game app in the world, according to data from SensorTower, In January 2020.
This platform has blending features of Dubsmash, Vine, and Musical.ly apps. Similar to another popular app called 'Dubsmash,' TikTok has many features but compared to it, TikTok doesn't have the limitation of background music and songs.
TikTok also has feeds such as the user's will and the 'for you' section to help users find videos they want or help content creators to reach more people.
When TikTok was first launched, users could only share 60-second-long videos. These videos could also be as short as 15 seconds. But now, they can be up to 3 minutes long. People interact with videos by scrolling through their feeds.
TikTok keeps spreading with strength, notwithstanding ongoing challenges from rival platforms, disputes about data privacy, and restrictions in many zones. It shows that the app's increased momentum won't be slowing down any time soon.
TikTok is not just for sharing viral dances and lip-syncing videos, though. There is also room for content such as food, life hacks, jokes, DIY fashion tutorials, and pets videos for those who want to get famous on TikTok in these fields. So you can use it for promoting marketing purposes and hop on the new trend as others!
Is TikTok a Good Platform for Marketers
Based on data published in the company's self-service advertising tools, marketers can reach approximately 10.4% of all the people on Earth using the self-serve ads tool on TikTok. This includes 824.5 million users aged 18 and above on TikTok in October 2021.
TikTok's self-service advertising tools help marketers to target adverts to users above 13. But practically, the company's tools do not publish any advertising data for users below 18. It shows that TikTok's actual audience reach rate will likely be higher than the figures suggested above.
Reports on the distribution of TikTok users by age group in the United States in September 2021 indicate that 25% of TikTok's active users are people aged 10-19. 22.4% of TikTok's active user's accounts are 20-29. 21.7% of TikTok's active user's accounts are 30-39. And only 31.3% of their user base is aged 40 and over.
47.4% of TikTok users in the U.S. are aged 10-29. So, the significant users are on Gen Z, and it provides a good condition for marketers to use this for their marketing purposes.
All the data point out the immense popularity of this platform among users of all ages. Therefore, you can quickly succeed and gain more followers on TikTok. That is if you understand how to use TikTok as a marketer!
How to Use TikTok for Business
To go viral on TikTok, you don't need to have a significant and reputed brand or have lots of followers; you just need to do well and know how to use Tiktok.
The account and the videos can go viral even with zero followers if their content resounds by enough people.
There are three main ways brands and marketers can extend their connections on TikTok:
Designing an official channel and uploading relevant videos through the channel,
Working with social media influencers to circulate their content to a wider audience,
Using Self-Advertise tools on TikTok.
A combination of the above can also help businesses gain a broad audience within a short time. Following TikTok trends, joining a challenge and campaign, following life hack trends, or creating one for making your content can also help your brand go viral.
How to Start Using TikTok as a Marketer
Now that you understand you can use the TikTok app for your social media marketing, you just need to start using it. To do so, you need to download the app and sign up. Then you can Set up your profile and start viewing videos among different feeds to get ideas.
But consider that before you get started and dive right into using it, it is better to create a personal profile. You can use the app in person and learn how to use TikTok; then, you can create your business account and start marketing.
After logging into your account, start to Like, comment, or share videos you enjoy. You can search for videos, Follow users via video feeds, Search, or TikCode. Using the app possibilities, including effects and filters, you can create the best content. As starting with a platform is crushing, we provided a guide for you to know how to use effects on TikTok.
How to Stand out from the Crowd on TikTok
Many people on TikTok are trying to create exciting, fun, creative, new, and educational content. Companies who want to promote their business and get followers faster on TikTok use some of these people to advertise them.
So, standing out from the crowd and getting popular on TikTok may be a little tricky. Knowing how to use TikTok and how to create content help you to wide broadcast your content.
To do so, you can follow trends and capitalize on videos that users upload. Washington Post, Versace, and Chipotle are brands following this way. Their videos are modeled after the videos that regular users upload and gain a lot of followers in this way.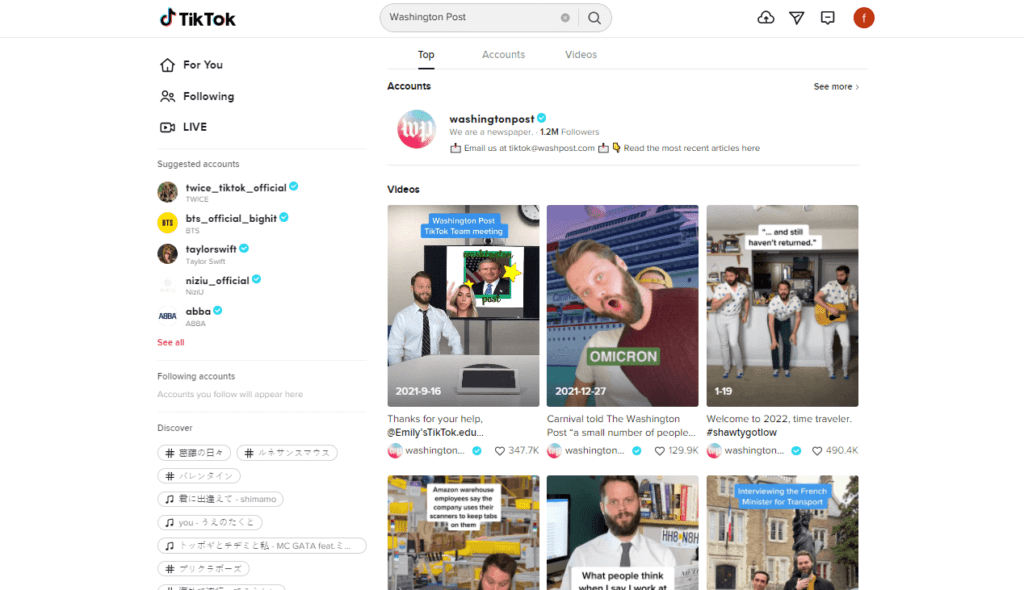 Another way to get famous on TikTok is to make creative videos with special effects. for instance, @Zach King is one of the most famous content creators on TikTok who used special effects to succeed; now he has more than 42M followers.
You must have heard about @Khaby.lame, even if you do not use TikTok! He is a famous creative Tiktoker that started from Tiktok without any precedent. He got popular through his unique and funny videos that sometimes give innovative ideas.
Tuyen Nguyen also known as @lifewithtuyen on TikTok is another TikToker who attracted over 450,000 followers in under a year. These examples are just samples of famous Tiktokers you might know. You can also use this viral platform to make money. Marketers could use it for marketing as well.
How To Use Different Filters and Effects On TikTok
TikTok has various effects, filters, and editing tools, and requires a complete learning course! Knowing How to use TikTok filters, especially when you want to grow your career or business, facilitates your progress. Keep reading to know how to use effects and filters on TikTok.
Boost your knowledge on social media: What Does Meta Mean
#1 How to Use Green Screen on TikTok
TikTok provided a feature for users to utilize the green screen effect without having an actual one. A green-screen effect allows you to add a fixed photo or video of your own or from the TikTok's library to the background.
Content creators use this for making unique and creative content. If you master this feature, you can create many creative videos. For example, you can duet other content creators and collaborate to create videos. You can also add a background of a particular location you'd like to be.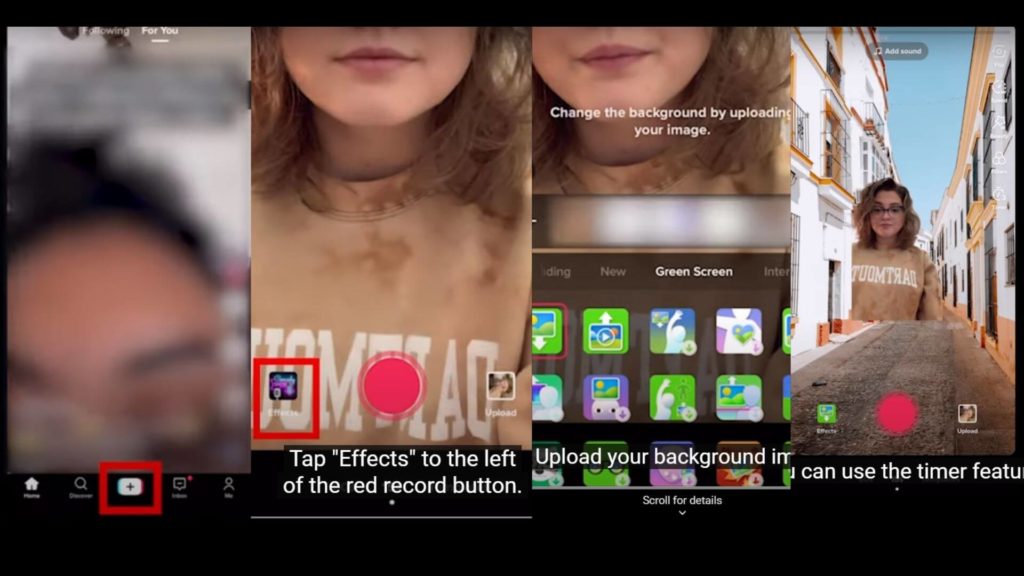 To use the green-screen effect, Open the app and click the plus (+) button to create a new video. Then you'll see the Effect button, which is at the bottom left of the screen. Click and scroll right to the Trending tab, click the 'green screen', and choose one.
Now if the content you create with this filter performs well with your audience, you can remove the TikTok watermark and post it on Instagram. This way, you can also gain more Instagram followers.
#2 How to Use Text to Speech on TikTok
Text to speech is not a new technology but using it as a native feature on TikTok makes it unique. This feature allows you to make your content more inclusive to many people.
To add text-to-speech on TikTok, you just need to follow these steps:
First, record the video on the app.
Tap the 'Text' button to add the text.
Type your caption.
Then, select Text-to-Speech.
Now, you can hear the text you typed when you display your video. If the default voice does not suit your video, you can change the text-to-speech voice.
Boost your knowledge on social media: 7 Best Practices for Instagram in Higher Education Marketing
#3 How To Use Voice Effects On TikTok
Because of the TikTok app features, users are more likely to watch videos with sound on. So, using voice effects is as popular as video effects. TikTokers mostly use voice effects for comedic effects.
To use these effects when recording your video, you'll see a little face written beneath 'voice effects.' It is above filters and on the top right-hand of the screen. Tap on voice effects; then the options will appear in a row; you can choose one.
If you want to hear what it sounds like, When you tap on an effect, the filter will add to your video so you can listen to what it sounds like. Once you find the filter you want to use, tap anywhere on your video to select it.
#4 How to Use Your Own Sound on TikTok
A copy of a video is the last thing people like to watch, so using your own sound on TikTok could help your video be discovered by many. Sometimes after recording your video, you might want to add your voice to mention more details.
To do so, follow the instructions below:
First, upload your video.
Then, tap the 'next' button.
Tap the 'Voiceover' button.
Now, press the Record button.
Start speaking.
Then save the video and share it!
#5 How to Use Color Customizer on TikTok
Indeed, you have seen a ton of TikToks with the shading customizer effect; this filter upgrades the nature of your recordings. To know how to use color customizer on TikTok, follow these steps:
At first, you should record your video.
After you've finished, you will see a symbol called Effects with a smiling face on the base left corner of your screen; tap on it.
Then tap on the 'Trending' tab, look in the bottom right corner and try to discover a symbol with a white face on a rainbow foundation.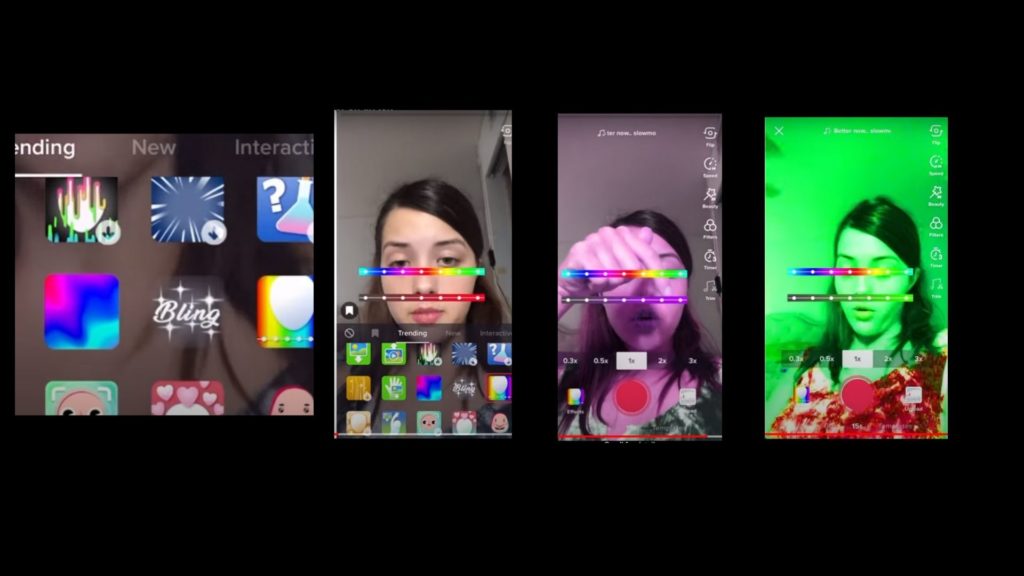 By choosing them, two-shading bars will reach your screen, and you can choose one of them. The top shading bar is for choosing a color and the second one is for choosing the hue.
First, select your color by clicking on the dot of your favorite color.
Then, to select how strong you want the filter's color to be, click on the dots of the second bar.
Boost your knowledge on social media: 9 Creative Instagram Giveaway Ideas
#6 How to Use Teleport on TikTok
The teleport filter became popular in 2021. To answer How to Use Teleport on TikTok, we should say while making a new video, tap the effects button, scroll right to special effects, then click the yellow teleport filter.
After that, set your body within the frame. With this, you will see yourself wherever you want in any location such as Paris, etc.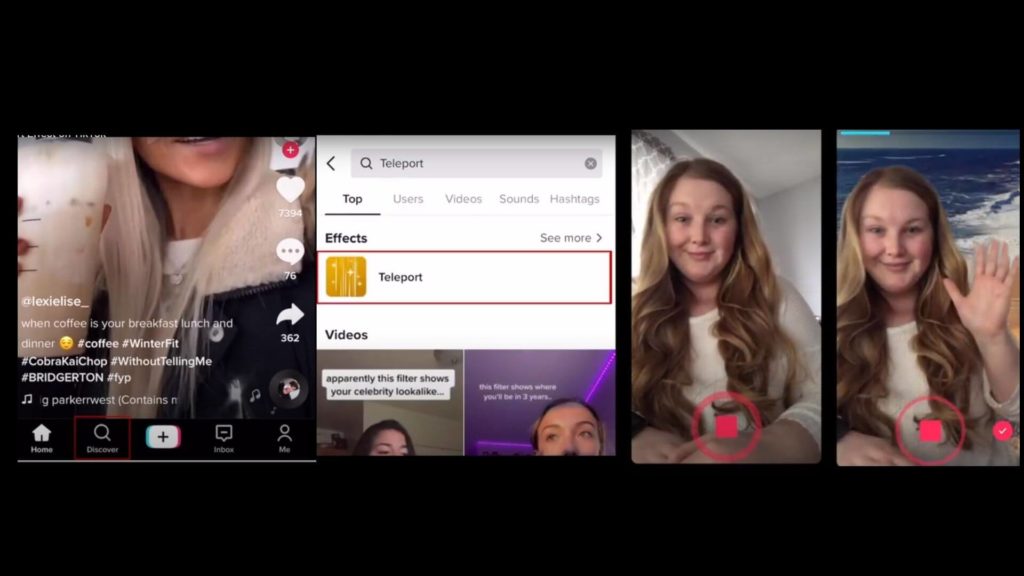 #7 How to Use Out of Body Filter
Body Filter on TikTok allows elements of the video to fade into the background then reappear in the same background with a new style. The most mesmerizing aspect of the filter is that the user may find himself out of his body.
If you don't know how to use 'out of body filter' on TikTok and want to use it, follow these steps:
To use the filter:
you must find and select the "Out of Body" option under effects.
When you pick the effect, you can begin to record the video.
To lock your body into the frame, you must stop for one to three seconds.
In this way, your body will pop out later.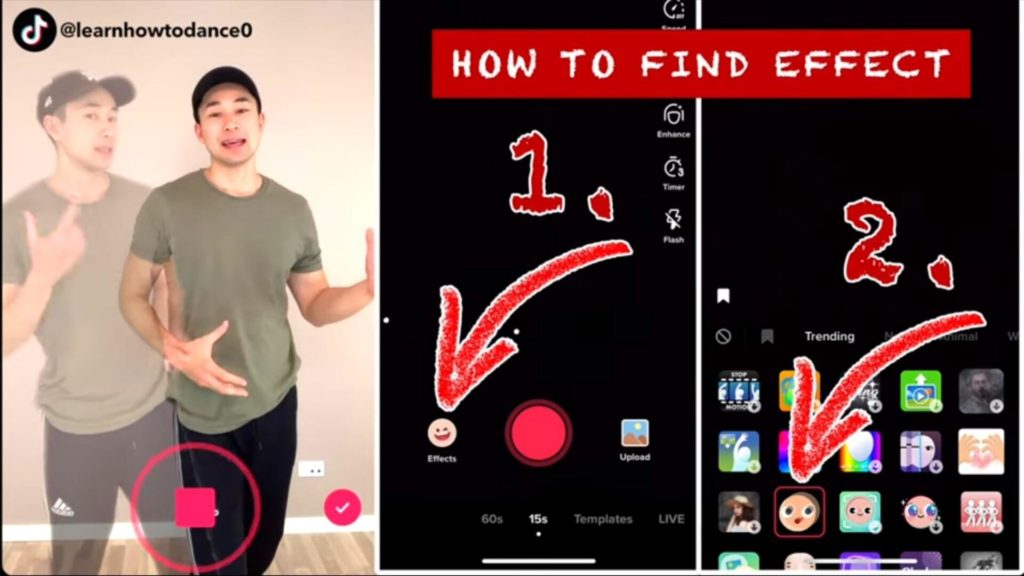 Boost your knowledge on social media: A Sneak Peek into the Metaverse[The Best Guide]
#8 How to Use Stitch on TikTok
If you're still wondering how to use TikTok in a creative way, Knowing How to Use Stitch on TikTok could be an excellent strategy for you! The stitch filter is another way of collaboration on TikTok.
The same as Duet mode, it allows you to trim a clip of someone else and use it at the start of your videos. It's excellent for reaction videos when you want to respond to another video you've seen.
To stitch on TikTok,
Choose a video and select the share icon that looks like an arrow.
Then, select the stitch and wait for video processing.
When it's finished, a page where you can cut out five seconds of that video to use for you will appear.
Select parts of the video you want and tap Next, then you can record your video as usual.
Finally, you can choose whether others can stitch your video or not
Boost your knowledge on social media: How to Create Your Own Instagram AR Filter
#9 How to Use Anime Filter on TikTok
Anime filter is not the TikTok filter; it went viral when people started uploading their Snapchat videos on TikTok. As its name shows, this filter changes you into an anime character. To use Anime Filter on TikTok, you should download Snapchat and create an account.
To show you How to Use Anime Filter on TikTok we suggest you follow these steps:
Open Snapchat.
On the search bar, type in 'Anime Style.'
Then, press the Anime Style filter.
While you select the filter, you can record a video to post to Snapchat
Then, you can download the video to upload it to TikTok.
#10 How to Use the Inverted Filter on TikTok
The inverted filter flips the image around. While it is a simple effect, people have used most of it. Checking whether users' faces are symmetrical and 'Deja Vu' are two of the latest trend to utilize this filter.
To use the inverted filter, open TikTok and search' inverted' on the discovery page to bring up the filter. Tap the effect, and then press the camera button. Then, tap the screen to invert the video.
Boost your knowledge on social media: 9 Best Instagram Giveaway Template Examples for Marketers + Tools
#11 How to Use No Beard Filter on TikTok
'No beard filter' on TikTok is a great way to switch up users' looks without the hassle of actually doing that. However, it is a TikTok trend; you should record the video on Snapchat because it is a Snapchat filter.
This filter became a trend for those who want to surprise their partners and see their reactions. The filter works best for someone with short beards since people with longer beards may find it unrealistic.
To use the no beard filter, open the Snapchat app while using the front camera, then tap and hold until filter selection comes up; if it doesn't appear, type 'no beard' on the explore tab at the bottom right of the screen, choose one of the filters.
There are many filters with this name; try to choose one that works best and let you record a video. After that, you can save the video and share it on TikTok.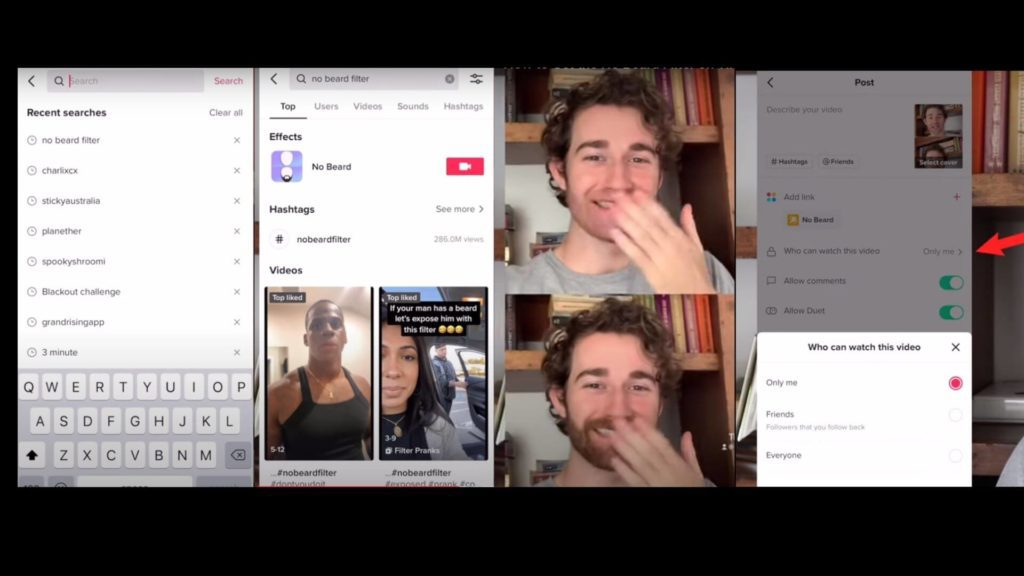 Boost your knowledge on social media: 19 Best Facebook Ad Examples For professional Marketers
#12 How to Use Face Zoom on TikTok
The Face Zoom effect zooms in on your face as its name shows. With this filter, the camera will zoom in on your face all the time and keep it focused on the face even when you move your head.
To use the Face Zoom effect:
First, open the TikTok app.
Tap the + button at the center bottom of the screen .
Tap the Effect button at the bottom-left.
Then, tap the effect that has the icon of the face inside the camera lens lines.
Now, you can record and post it on TikTok.
Boost your knowledge on social media: How to Change TikTok Username [3 Simple Steps]
#13 How to Use Flash on TikTok
If you don't know how to use TikTok to create high-quality videos at night, you can use flash on TikTok. Recording a video with the fash on improves the quality of your video. In addition, users can see your actions more easily, especially at night when it is dark. It's a special function on TikTok and you can activate it before starting to record.
In-app flashlight on TikTok brightens the video and improves the quality of your content. To use flash on TikTok, Open the app, then tap the plus button on the main toolbar to the clip recording section. Set up the camera, and then pay attention to the right panel.
Notice that the flash is turned on with a line through it. Now tap the button to start recording a video. Consider that it is impossible to use a flashlight on the finished videos.
Boost your knowledge on social media: How to Create Your Own Instagram AR Filter
FAQs on How to Use TikTok
Considering the popularity of the TikTok app and its various effects and uses, you, like many others, may have many questions about this app and using it.
This section provides some frequently asked questions about the TikTok app that users may ask.
1- How to Use TikTok Without an Account
You may want to get to know about TikTok before diving into this platform, or you just want to enjoy videos people share without interacting with the platform and content creators.
TikTok provided a "browse as guest" feature for those who just want to watch videos and get familiar with the app atmosphere.
Guests will not be able to create a profile, post videos, or Interact ( like, comment, save to favorites, or send direct messages)with content or creators on TikTok.
To access this, you can go to the TikTok site or download the application, sign in as a guess, and see the latest posts. It is really easy.
2- How to Use TikTok Emojis
TikTok supports both native emojis, which can be entered with a system-wide emoji keyboard, and emoji-like emoticons, which can be applied using a shortcode. If you don't know How to Use TikTok Emojis or how to use stickers on TikTok that are hidden, follow this step:
To use hidden emojis on TikTok, go to the TikTok Emoji List, copy any emoji shortcode like [lovely] or [stun], then paste that shortcode into a TikTok comment or caption. The code will turn into a custom emoji, including aka emote, sticker, or emoticon.
Boost your knowledge on social media: How to Schedule Instagram Posts on All Devices
3- How to Use Snapchat Filters on TikTok
Many videos in TikTok app are applied with Snapchat filters, and you may wonder How to use Snapchat filters on TikTok. We should say that TikTok suggests many effects and filters, and you can easily find many similar Snapchat filters in the TikTok app.
But If you cannot find the exact Snapchat filters on TikTok, you can use the filters in the Snapchat app, save them and then upload it to TikTok. To do so, on the Snapchat app, select an effect or filter you like. Hold tapping on the record button to start recording a video.
After the recording is finished, you can edit the video and add everything you want. Then Save this Snapchat video on your phone. Now you can upload this video on TikTok with Snapchat filters.
Boost your knowledge on social media: How to Create Trendy Social Media Posts
Conclusion
Using Filters and Effects on TikTok is substantial because they aid in diversifying the content and make it intriguing for people who watch them.
So as a marketer, learn how to use TikTok and use the most of them to make a difference when editing and posting videos.
Following trends and challenges to make videos on TikTok are also ways to get a noticeable response from the audience. So, Try to consider this nuance to see the increase of subscribers in your account.
By doing so, you will get a noticeable response from the audience and see an increase in subscribers to your account. In addition, knowing the best time to post on TikTok to Get More Views and finding the best TikTok hashtags help you extend your connections.
Read more on social media: