In the world of social media, the search for followers and likes often leads people and businesses to explore various growth services, and one name that frequently pops up is "Instafollowers."
They claim to provide followers and likes on Instagram to enhance your social media presence.
However, as with many similar services, doubts linger about the authenticity of the growth it claims to offer. The pivotal questions arise: "Are these followers genuinely real or merely fake?" and "Could Insta Followers potentially be a scam?"
This article explores Instafollowers reviews to provide insights into its services and help you decide on your social media growth strategy.
Instafollowers Reviews
Instafollowers is an Instagram growth service that claims to offer users the opportunity to purchase likes, followers, views, and comments for their Instagram accounts. They also claim to give growth packages for other social media platforms like YouTube, Twitter, Facebook, and TikTok. Moreover, you can buy Instagram followers with PayPal using this service.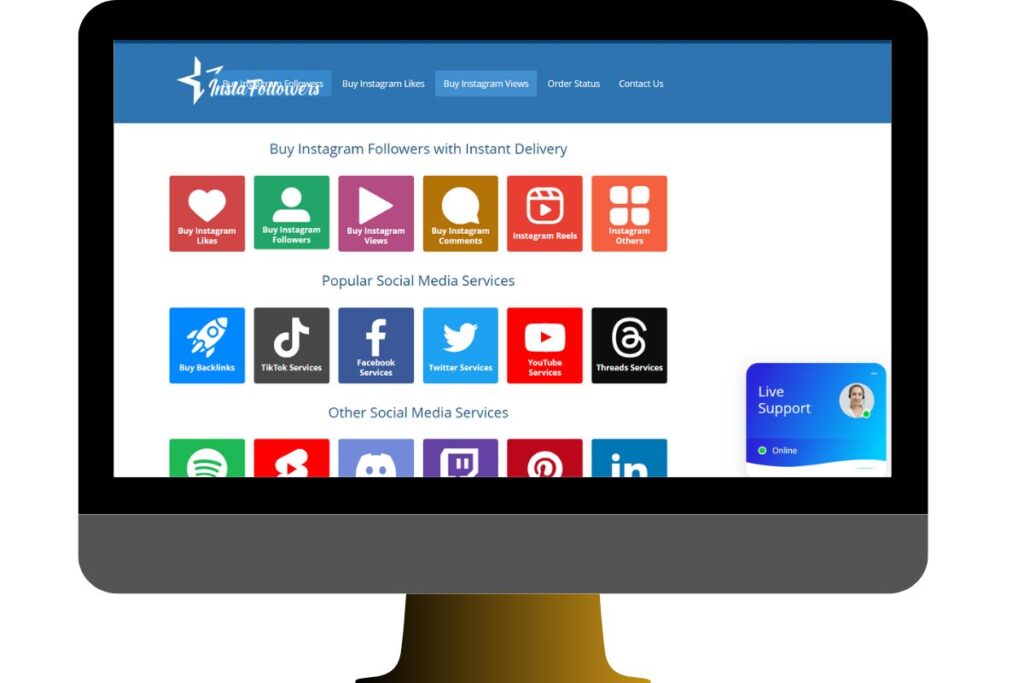 Despite their claim to grow Instagram followers organically, there is significant doubt about the authenticity of their services.
Many users suspect that the followers they acquire through Instafollowers might actually be ghost followers—accounts that don't engage genuinely with your content and may not even be active users. This means that despite the increase in Instagram follower count, there might be no organic growth in user engagement or interaction.
The authenticity and long-term benefits of these acquired followers and Instagram engagement remain questionable, as they may not contribute to building a genuinely engaged and active community around one's social media presence.
Consequently, users should exercise caution and consider the potential risks before using such services to boost their social media metrics artificially.
Read More: How To See Memories on Instagram [A Step-By-Step Guide]
What Are Instafollowers Services?
Instafollowers.co offers services tailored to different social media platforms, which initially seems convenient.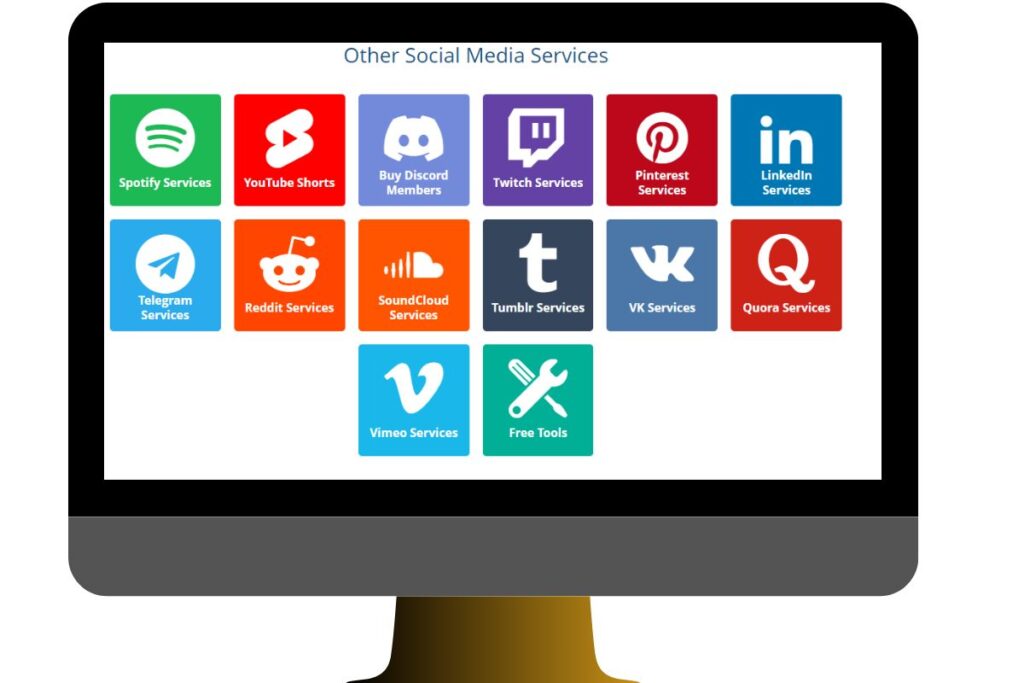 However, the real concern lies in the authenticity of these services. There's a significant risk that the followers and likes you purchase might not be genuinely engaged users.
These artificial boosts can potentially harm your page's credibility and even lead to the risk of account suspension or penalties from the social media platforms themselves.
Here's a list of Instafollowers' services for various social media platforms, including Instagram, YouTube, Twitter, Spotify, TikTok, and Facebook. For each platform, I'll provide three types of services they typically offer:
Instagram Services
YouTube
Twitter
1- Buy Instagram Followers
2- Buy Instagram Likes
3- Buy Instagram Comments
4- Buy Instagram Views
1- Buy YouTube Subscribers
2- Buy YouTube Likes
3- Buy YouTube Comments
4- Buy YouTube Views
1- Buy Twitter Followers
2- Buy Twitter Likes
3- Buy Twitter Comments
4- Buy Twitter Retweets
Related Article: How To Save Music on Instagram [Step-By-Step Guide and Various Methods]
Prose and Cons Of Instafollowers
Insta Followers offers various services for boosting social media metrics, but they have advantages and disadvantages. Here's a concise introduction to both aspects.
| Cons | Pros |
| --- | --- |
| Risk of acquiring fake followers | Offers different services |
| Limited organic growth | Easy to purchase services |
| The potential risk of account suspension | Low-cost packages available |
| Negative customer reviews | Customizable package options |
| Possible drop in followers and likes | |
| Questionable quality of followers | |
| Limited engagement from followers | |
| Focuses on temporary growth | |
Considering these cons and their potential impact on your social media marketing, strategy, and goals is important when deciding whether to use Instafollowers.
Time To Read: Instagram Anonymous Questions [Complete Guide]
Instafollowers Reviews: Are Users Happy With the Service?
In the quest for Instagram growth, many turn to services like Insta Followers, hoping for quick and effective results. We scoured various websites and forums to collect firsthand Instafollowers reviews to gauge users' satisfaction.
Unfortunately, what emerged as a common theme among users was a sense of dissatisfaction, and the gloomy point of contention revolved around several key issues.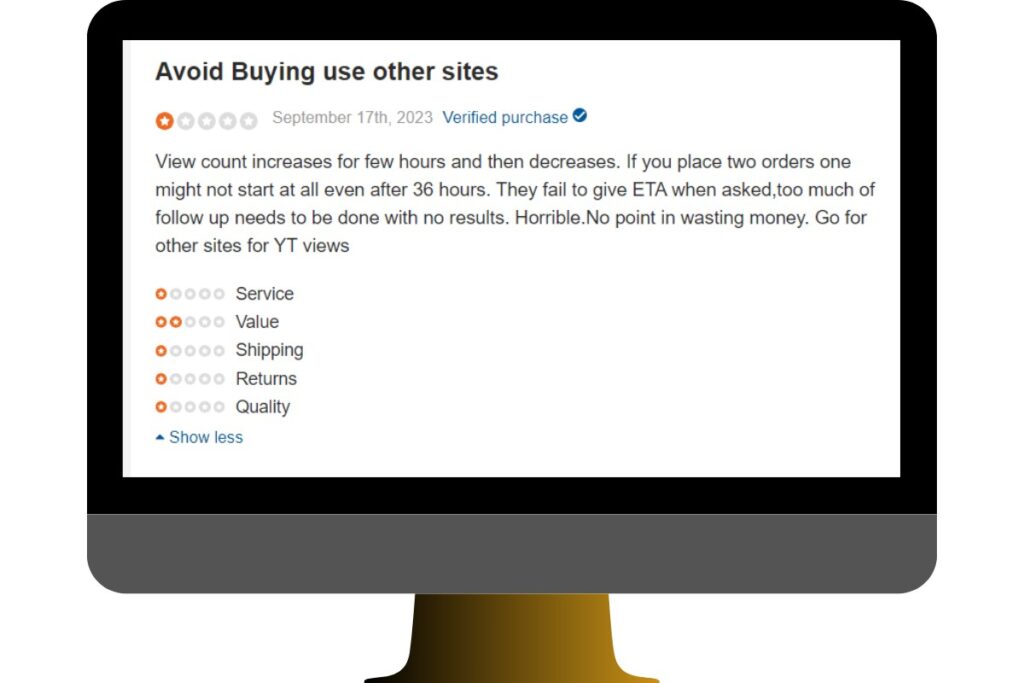 Unsatisfied Customers: Numerous users who availed themselves of Instafollowers' services expressed disappointment with their experience. While the promise of increased Instagram followers and likes drew them in, the reality left much to be desired.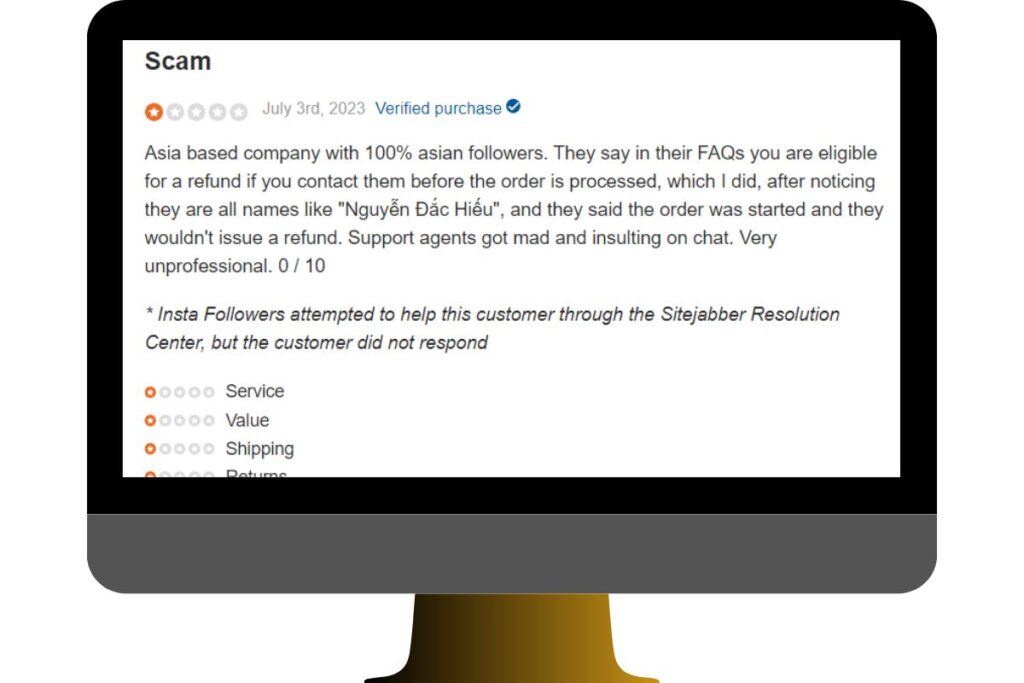 Fast Decrease of Purchased Followers: One of the most significant concerns reported by users was the substantial drop in followers shortly after using Insta Followers. This phenomenon raised suspicions that some of the followers provided were not genuine or that they quickly unfollowed, resulting in a net loss.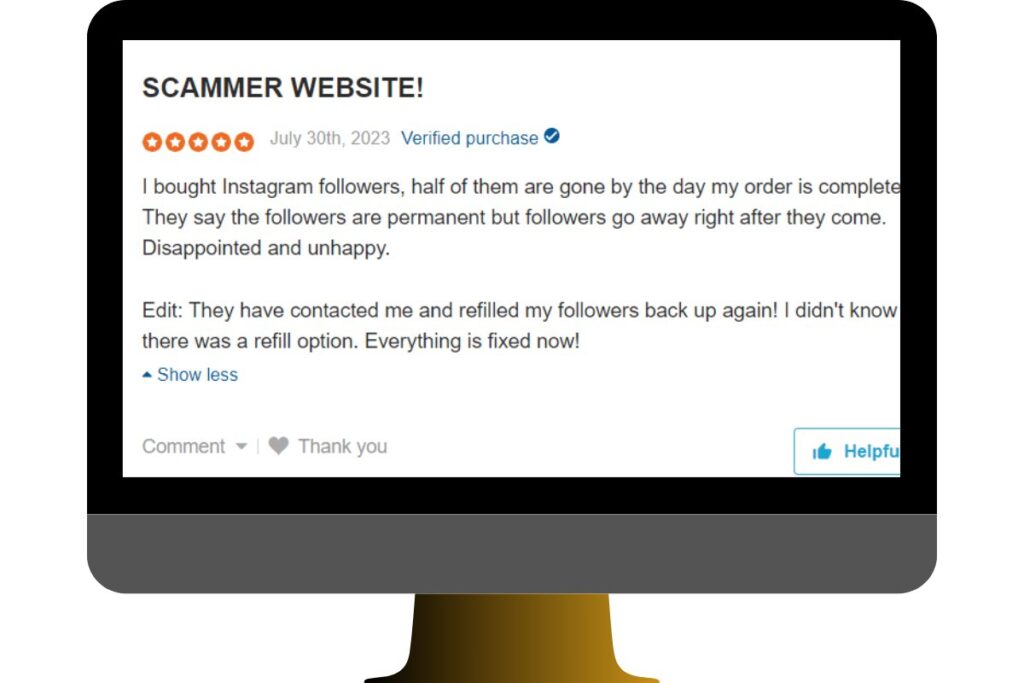 Fake Followers: Many users raised alarms about the authenticity of the followers gained through Instafollowers. They suspected that some of these followers might be fake accounts or bots, which can harm the credibility and reputation of an Instagram page.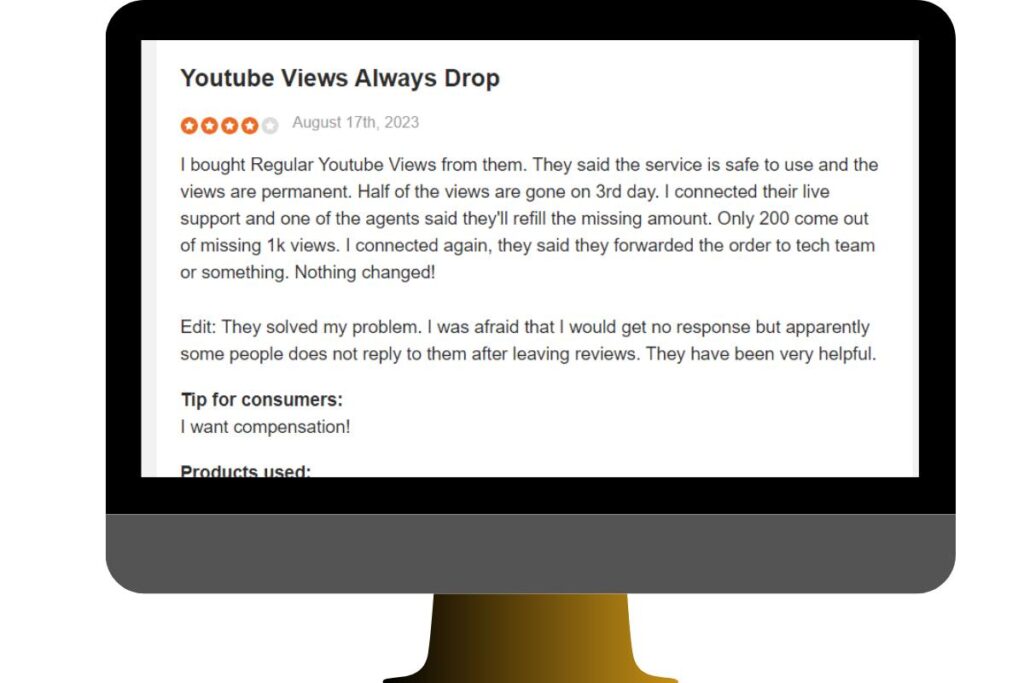 No Engagement: A recurring issue among users was the lack of engagement from the acquired followers. While the follower count might have increased, these followers often remained inactive, failing to like, comment, or interact with the user's content.
Harm to Their Page: Some users reported that their engagement rates and overall page performance suffered after using Instafollowers.co. The lack of real interaction and the potential presence of fake followers can negatively impact an Instagram page's algorithmic ranking.
You May Also Want to Read: Instagram Chat Theme [An Ultimate Guide]
Instafollowers Pricing: Is It Worth the Cost?
Insta Followers offers various pricing packages for their services, which you can explore on their website. However, when considering whether their prices are justified, weighing the drawbacks associated with their offerings is crucial.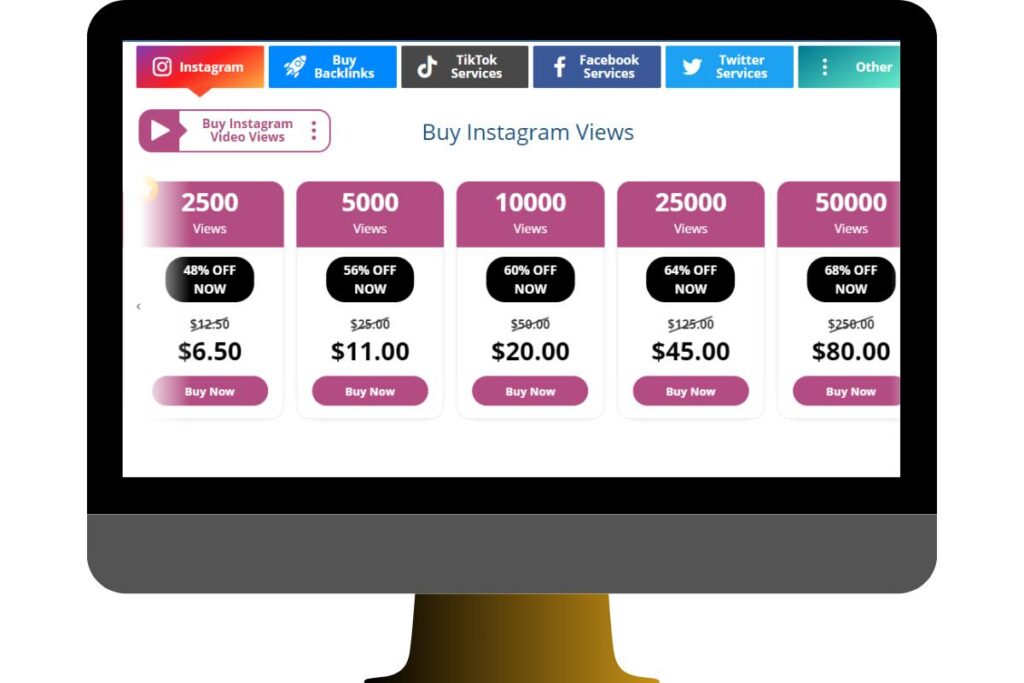 Instafollowers have been known to deliver fake and ghost followers and engage in bot activity, all of which go against social media guidelines.
These actions can result in a drop in likes and views, ultimately undermining the value of the service. Given these concerns, it's reasonable to question whether the cost is worth it.
Don't Miss Reading: How To See Memories on Instagram [A Step-By-Step Guide]
What Is a Better Service with Reasonable Pricing?
For those seeking a more reliable and effective approach to Instagram growth, AiGrow's manual growth service stands out as a superior alternative to buying Instagram followers.
With AiGrow, you're not just another customer but an individual with unique growth goals. Your dedicated account manager invests time and effort to get more followers and engagement on Instagram in a completely organic manner.
Unlike Instafollowers, AiGrow prioritizes real interactions with real users, ensuring your growth is built on authenticity. Furthermore, AiGrow goes the extra mile by offering the essential service of removing ghost followers and unwanted accounts, guaranteeing a clean and authentic following.
While they charge a modest fee of just $1 per day for their services, it's an investment in quality, not quantity – a choice that leads to a safer, more ethical, and ultimately more rewarding Instagram journey.
Is Instafollowers the Right Choice for Your Instagram Growth?
Instafollowers may appear as a genuine company, and they indeed deliver their follower and like packages as promised. However, before investing your hard-earned money into their services, it's crucial to consider the potential downsides. Here, we'll explore why you might want to think twice before trusting them with your Instagram growth strategy.
1- Fake Followers That Can Harm Your Page
One significant drawback of Instafollowers is the risk of receiving fake followers. While they may increase your follower count temporarily, these accounts are often inactive or Instagram bots.
Such followers can harm your page's credibility, as they do not engage with your content, and Instagram's algorithms can detect suspicious activity, potentially leading to account suspension.
2- Drop in Subscribers and Followers
Many users have reported a significant drop in followers shortly after using Instafollowers. This can be frustrating and counterproductive, as it negates the initial growth they promised.
This decline in followers often occurs because some of the followers provided are not genuinely interested in your content and quickly unfollow.
3- Lack of Engagement
While Instafollowers may boost your follower count, they typically do not contribute to engagement on your posts. Real engagement, such as likes, comments, and shares, is crucial for a successful Instagram strategy.
Without engagement, your content may not reach a wider audience or appear in your followers' feeds.
4- No Organic Growth and Service
Instafollowers' services primarily focus on quantity rather than quality. They do not provide genuine organic growth, which involves attracting followers genuinely interested in your content or brand. Instead, their approach often results in a list of ghost followers who do not contribute to your Instagram goals.
5- Ghost Followers
Ghost followers are accounts that follow you but never engage with your content. Unfortunately, Instafollowers' services can lead to an influx of such followers. These ghost followers not only hinder your engagement rates but can also harm your account's overall performance.
Want To Read: How To Save Music on Instagram [Step-By-Step Guide and Various Methods]
Consider a Better Alternative: AiGrow for Organic Growth
When nurturing your Instagram presence, your choice of service provider can make or break your success. Instead of taking risks with potentially harmful services like Instafollowers, we recommend exploring AiGrow as a more reliable and effective alternative.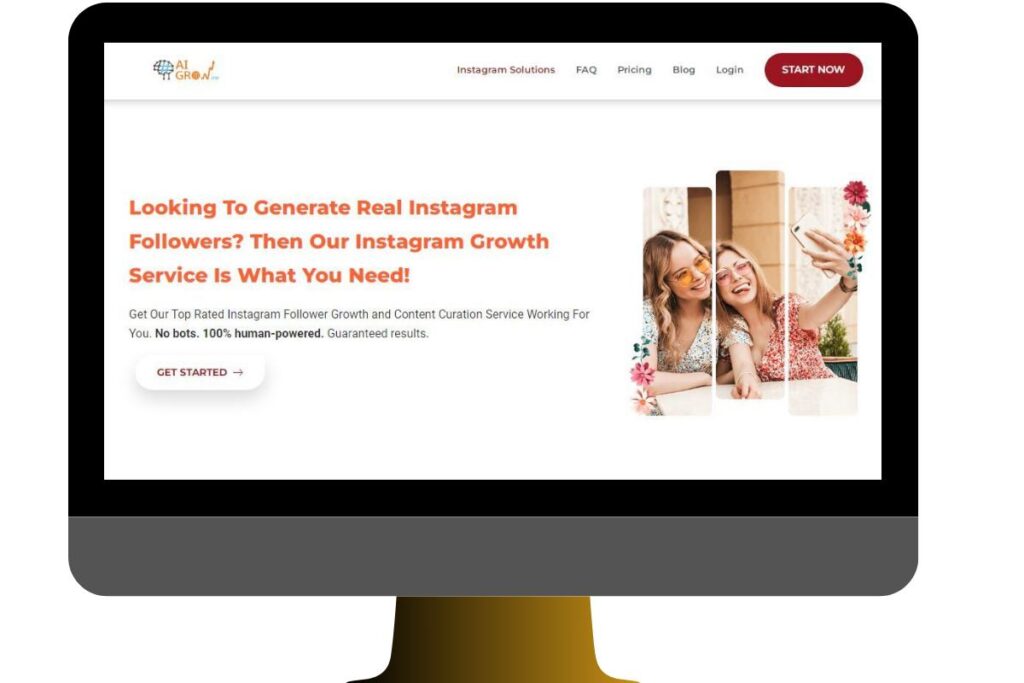 AiGrow specializes in Instagram growth, offering services tailored specifically to this platform. What sets AiGrow apart is its commitment to organic growth, boost in Instagram engagement and personalized account management.
For just $1 a day, you can have a dedicated account manager at your service, working diligently to boost your Instagram presence based on Instagram's community guidelines.
AiGrow's approach ensures that the followers you gain are real and genuinely interested in your content and brand. Unlike services that rely on Instagram DM bots, AiGrow prioritizes authentic engagement, providing likes and interactions that matter.
Additionally, you can schedule live meetings with your account manager to discuss your goals and tailor your strategy for optimal results.
Let us help you grow your Instagram account.
Aigrow vs. Instafollowers: Which One Is Better?
AiGrow is dedicated specifically to Instagram, making them experts in the field. They focus on organic growth manual engagement and provide the valuable support of a dedicated account manager.
In contrast, Instafollowers caters to multiple social media platforms, which can dilute their expertise in Instagram growth.
The key differentiator lies in the quality of followers. AiGrow emphasizes real, engaged followers, ensuring your Instagram presence thrives with meaningful interactions.
On the other hand, Instafollowers' services sometimes result in fake and ghost followers, harming your credibility and leading to issues such as account suspension on Instagram. Regarding Instagram growth, the choice is clear – opt for AiGrow's specialized and reliable services for a successful journey on this platform.
Say goodbye to the risks of fake followers and bot-driven actions that can harm your page. With AiGrow, you're investing in a safer, more productive, and ultimately more successful Instagram journey.
If you want genuine followers, real likes, and a personal account manager invested in seeing you succeed on Instagram, AiGrow is the way to go.
Your path to Instagram success starts with AiGrow.
AiGrow Service Review: Transforming Your Instagram
AiGrow offers a range of manual services, each with a dedicated account manager, to supercharge your Instagram presence.
From organic follower growth to content marketing, creating posts, and strategic DM management, their hands-on approach ensures authenticity and engagement at every step of your Instagram journey.
Managed Growth: Organic and Real Followers
AiGrow's Managed Growth service is designed to provide you with organic and authentic followers who are genuinely interested in your content.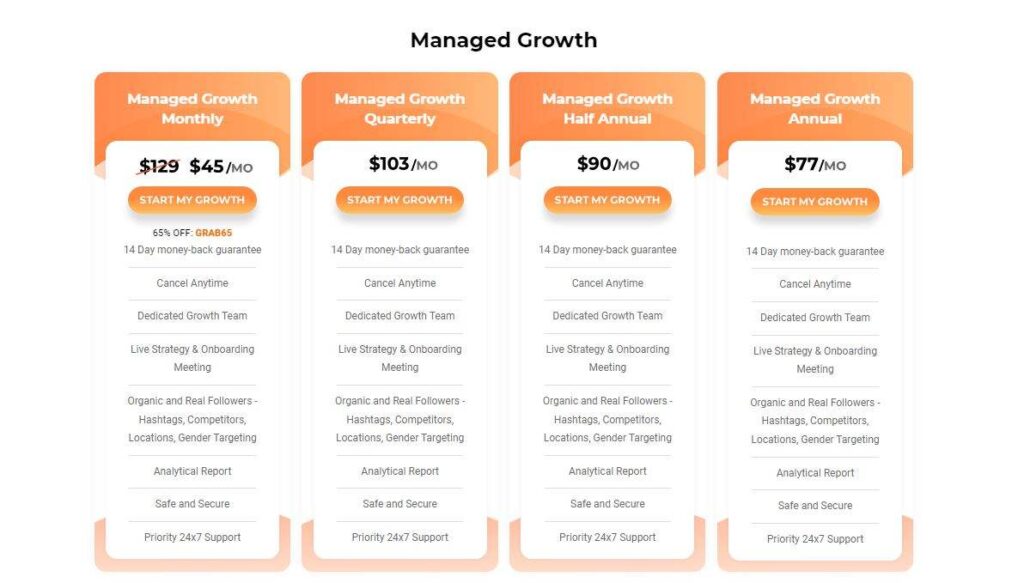 By utilizing strategic elements like hashtags, competitor analysis, location targeting, and gender targeting, they ensure that your growth is real and aligned with your target audience.
The personal touch sets AiGrow apart; a dedicated account manager works manually to engage with followers, resulting in lasting and meaningful connections.
With AiGrow, you can trust that your follower count and engagement will increase and remain consistent over time, avoiding the common issue of follower drops.
Mass Unfollow Service
AiGrow's Mass Unfollow Service is about maintaining a clean and relevant follower list. With the help of a dedicated account manager, you can safely and efficiently unfollow more than 3,000 accounts while adhering to Instagram's daily limits.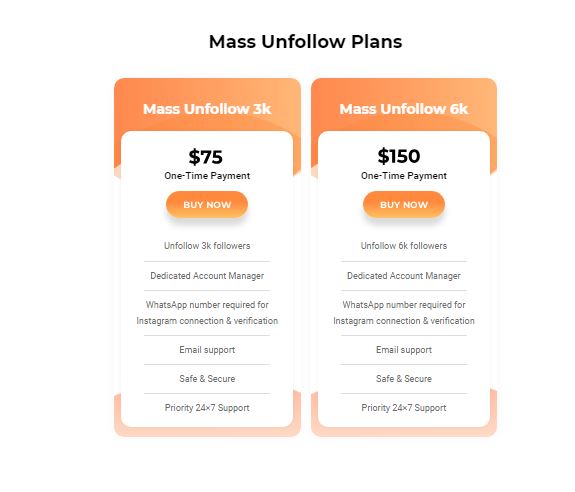 The key distinction here is the absence of bot actions, ensuring that your account remains compliant with Instagram guidelines.
This service is particularly useful for removing ghost followers and streamlining your Instagram follower list, ultimately enhancing your Instagram experience.
Your engagement dropped? We can help.
Content Creation Plan
AiGrow understands the importance of compelling content in maintaining an engaging Instagram presence. Their Content Creation Plan offers a comprehensive solution, including content creation, a content plan calendar, content design templates, and the ability to craft content for your feed and stories (up to four times a month).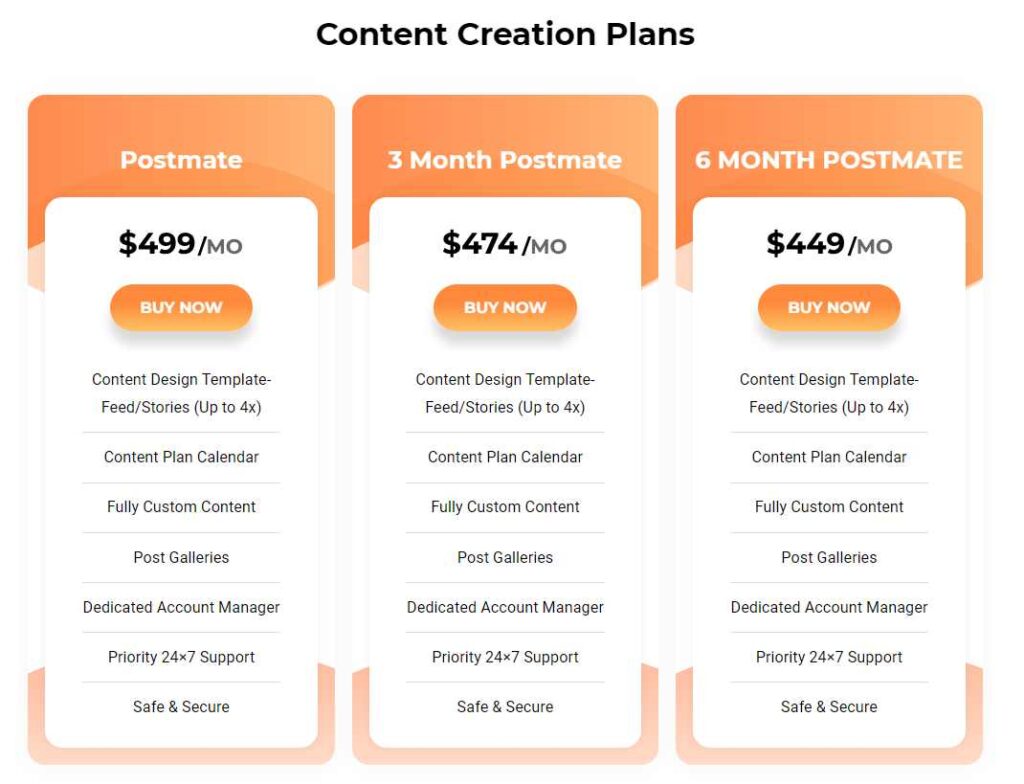 With AiGrow's assistance, you can elevate the visual appeal and consistency of your Instagram content, making a lasting impression on your audience.
Start creating your Instagram feed now.
Manage DMs
Engaging with your audience through monitoring Instagram Direct Messages is a powerful way to build relationships and foster connections. AiGrow's Manage DMs service takes this to the next level by offering smart targeting based on influencers, hashtags, locations, competitors, and custom accounts.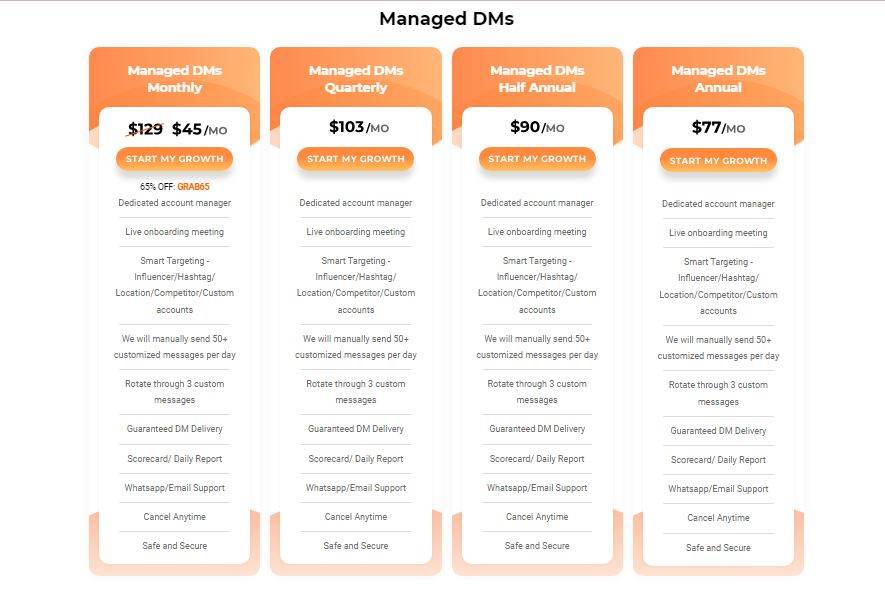 Their team will manually send over 50 customized messages daily, ensuring a personal touch in your interactions. You can rotate through three custom messages, and AiGrow guarantees DM delivery.
With the added benefit of a scorecard and daily reports, you can stay informed and control your Instagram DM posts and engagement strategy.
Each AiGrow service enhances a different aspect of your Instagram journey, from follower growth to content creation and engagement. With a dedicated account manager overseeing these processes, you can trust in the quality and authenticity of the results.
Conclusion on Instafollowers Reviews
Using Insta Followers as a service for Instagram growth comes with significant concerns. The prevalence of bots, fake followers, and ghost accounts within their offerings raises serious questions about the integrity and credibility of their services.
When considering the potential harm to your Instagram presence and reputation, it becomes evident that Instafollowers may not be a trustworthy or beneficial choice for those seeking genuine and meaningful growth on the platform.
When enhancing your Instagram presence, the choice between AiGrow and Instafollowers is evident. AiGrow's specialized focus on Instagram, commitment to organic growth, manual engagement, and the dedicated support of an account manager make it the superior option for genuine and sustainable Instagram growth.
In contrast, Instafollowers' multi-platform approach and the risk of fake and ghost followers make it a less trustworthy choice.
FAQs About Instafollowers Reviews
Q1: Is instafollowers.Co Legit?
Instafollowers.co may indeed deliver the number of followers or engagement you order, but it often includes ghost followers and fake accounts that can harm your page's credibility and engagement quality. We strongly recommend using u003cstrongu003eAiGrow u003c/strongu003efor manual growth with authentic engagement. Their service focuses on genuine interactions, ensuring long-term success and a trustworthy online presence.
Q2: What Are Revealed From Instafollowers Reviews?
Instafollowers has predominantly negative reviews, with few positive ones to be found. Many users have reported issues with fake followers and engagement. Instead, consider u003cstrongu003eAiGrowu003c/strongu003e, which provides a dedicated human account manager and emphasizes manual growth strategies for a more effective and reliable approach to growing your social media presence.
Q3: What Is Instafollowers Club?
This service, also called Instafollowers free, offers free trials, but there is a limit of once every 24 hours for using their free services. You can get free TikTok likes, free YouTube subscribers, free TikTok views, and Instagram followers.
Q4: What Is Instafollowers Coupon?
An u0022Instafollowers couponu0022 refers to a promotional code or voucher used to get discounts or special offers when using the services provided by Instafollowers or similar platforms. The company often provides these Instafollowers coupon codes as part of marketing campaigns or promotions.