In today's age of digital storytelling, Instagram has become one of the most popular social media platforms. It offers a variety of features like Stories, Lives, Reels, and Instagram posts which can help guys and gals find new friends, create novel communities or even make financial profits. Instagram Highlight Viewer is one of the important features that you should pay attention to.
Another aspect of surfing on Instagram will be Highlights. Instagram's Highlights feature offers a fantastic way to showcase and organize the most engaging and important content on your profile. In this article, we are going to track the answer to these questions about this
feature;
What are Instagram Highlights?
How to see and create Instagram Highlights?
How to remove Highlights on Instagram?
How to see who viewed your Instagram Highlights after 48 hours?
The best Instagram Highlights viewer tools
From the outside, it might seem like social media platforms are all the same, but as you walk through the codes, we can see a significant difference in terms of building, maintenance, and upgradation of a platform that meets the eye. Adding Instagram Highlights is an exclusive feature only for this platform, and the article in front of you will discuss it completely later.
Are You Interested in Gaining More Real & Engaged Instagram Followers?
What Are Instagram Highlights
Whenever you create a new story on the giant social media platform Instagram, you're already alert that your art will only be alive for 24 hours. So why not give it an elixir of life?
Instagram Highlights are curated collections of Instagram Stories that users can permanently display on their profiles. With Instagram Highlights, you can create collections of Stories that stay permanently on your IG profile, allowing you to curate and highlight your best moments.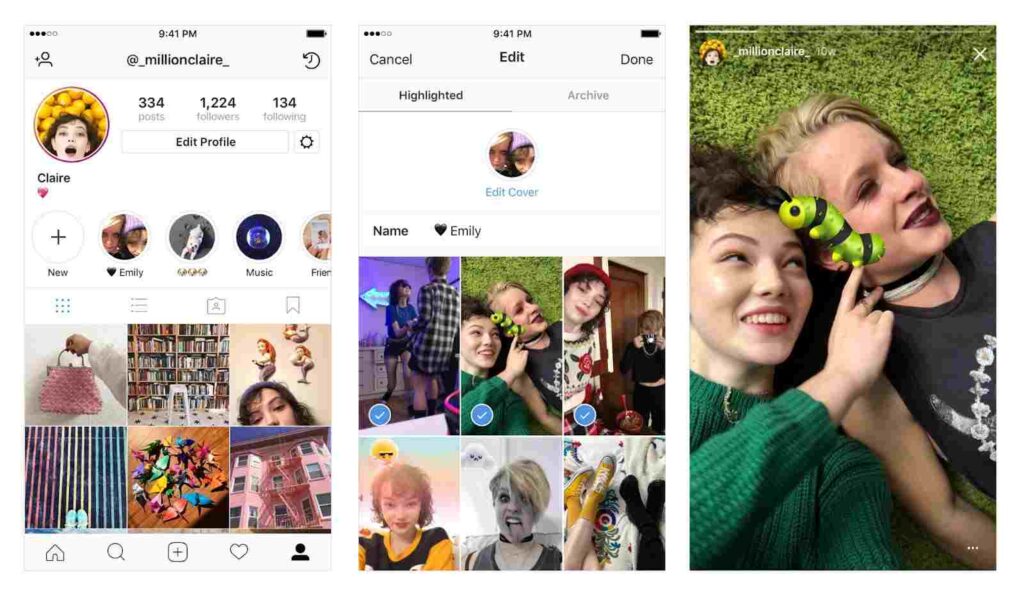 Why Should We Use Instagram Highlights
Professional Instagrammers have a much different idea.
Here is a list of reasons why we should consider IG Highlights as a new way of gathering attention on the platform;
1- Instagram Highlights enable users to create a more personalized and engaging profile.
2- Instagram Highlights serve as a great tool for brands and businesses to showcase their products, offers, and events.
3- Users can categorize their Highlights into different topics, making it easier for followers to navigate through specific content.
4- Instagram Highlights can be a more prominent way of showing your favourite or concerned subjects to your followers compared to Stories.
How to Watch IG Highlights
As you know, Instagram Highlights are located just below your bio section on your profile, showcasing selected Stories. To see other people's highlights, you can follow these steps;
1- Open your Instagram app on your mobile device or tablet.
2- Choose the user you want to see its highlights and click on the profile icon at the bottom right corner of the screen.
3- Here scroll through the user's profile until you find the section below their bio featuring circular icons with labels.
4- Now tap on the Highlight you want to view with the respective circular icon.
5- Finally, the selected Highlight will start playing automatically, just like an Instagram Story. You can swipe left or right to navigate through the content within the Highlight.
Instagram Highlights are visible to all users if they have set their account to "public" mode. For private profiles, only followers are permitted to see them.
Watching Instagram Highlights is brilliant, but let other people see yours!!! With AiGrow, you are invited to lots of engaged followers interested in what you have to say.
How to Create an Instagram Highlight on Your Profile?
Making your own Instagram Highlights is an excellent way to personalize your profile and highlight important content to your followers.
To create a new Instagram highlight, follow the guide here;
1- Open the Instagram app on your mobile or tablet device.
2- Go to your profile by clicking on the profile icon at the bottom-right corner of the screen.
3- Just below your bio, you will find a circular icon with a "+" sign. Tap on it.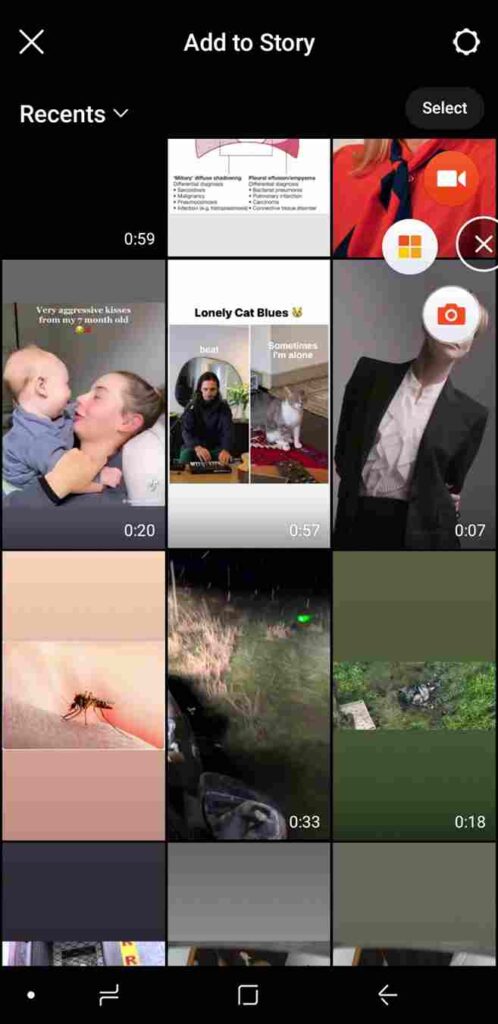 4- Choose the Stories you want to add to your Highlight. You can select Stories from your archive or create new ones.
5- Here, you can customize your Highlight. For example, you can add a name to your Highlight
using the text field at the top. You can also choose a cover photo by tapping on the image to select from your Stories or selecting an image from your phone's gallery.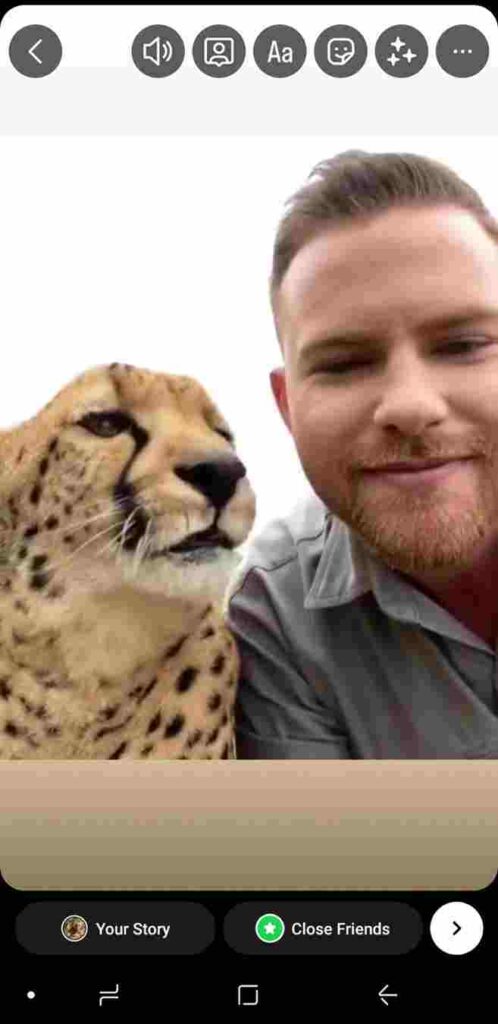 6- In the last step, click on the "Add" button to save the Highlight and make it visible on your profile.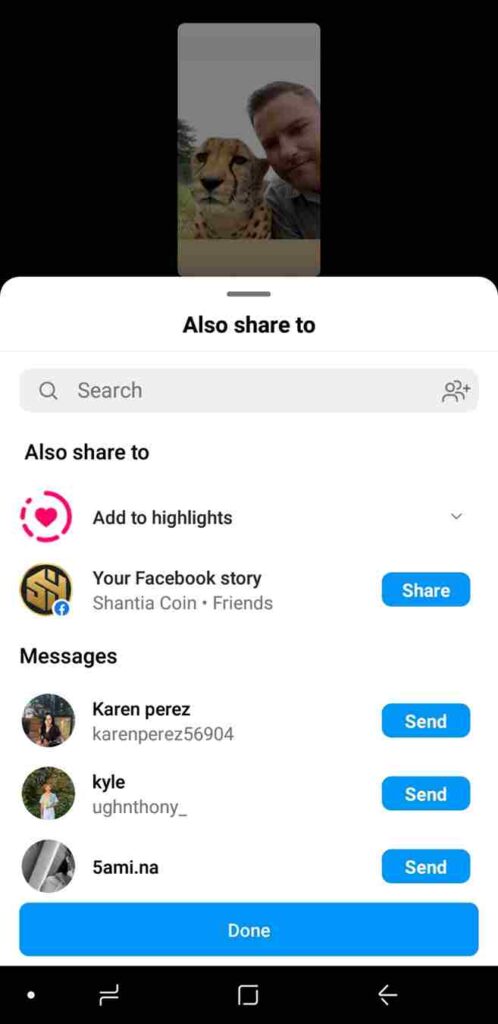 If you are not satisfied with your Instagram highlight's position, you can rearrange the order of your highlights by tapping and dragging them on your profile.
💡You May Also Like to Read: Best Follower Tracker App for Instagram: Maximize Your Instagram Growth Now
How to Hide Your Stories from Other People on Instagram
Sometimes, you need to hide your stories from your highlight section for several reasons. To make your task completed, just follow the steps below;
Open the Instagram app on your mobile device
Open the Story you want to hide
Tap on the three dots at the bottom right of the screen
Finally, select "Story Settings" and disable the option "Allow Sharing."
Your chosen Story is now hidden.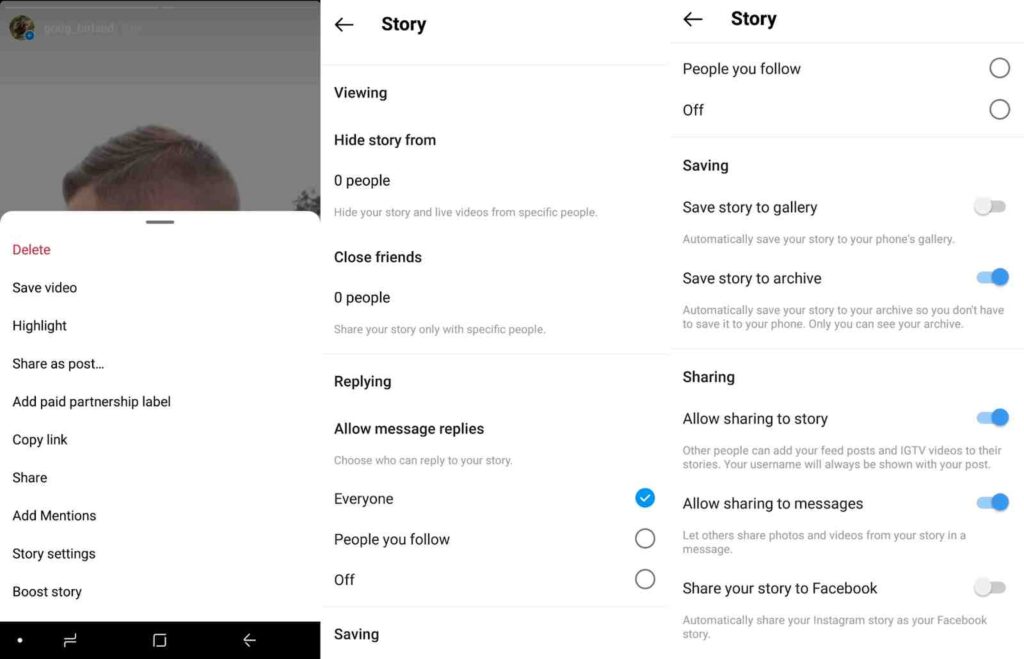 If you want to make your Highlight visible again, just do task number four in a reversed version.
You May Also Like to Read: Threads: Instagram's Text-Based Conversation App (Your Ultimate Guide)
How to Remove Your Instagram Highlight from the Profile?
If you are no longer amused with the highlights on your app, you can remove them whenever you decide. Remember that Story will be saved to your archive and not be deleted permanently. Follow these steps to remove your Highlight;
1- Open your Instagram and go to your profile.
2- Open the chosen Highlight and click on "More," which is a three-dot icon.
3- Click on the "Remove from highlight" button.
4- Finally, select "Remove Video" to confirm the act.
Instagram Story Highlights Viewer
The Instagram Story Highlights Viewer is designed to enhance the user experience by providing a convenient way to access and view these highlights. It allows users to easily browse through the different categories and watch the stories they have saved. By simply tapping on a specific highlight, users can immerse themselves in the content and relive the moments captured in those stories.
This feature is particularly helpful for businesses and influencers who want to showcase their products, services, or achievements. They can curate their highlights to tell a story or present their brand in a more organized and visually appealing manner. This not only helps engage their audience but also provides a quick glimpse into what they offer or represent.
Furthermore, the Instagram Story Highlights Viewer allows users to customize their highlights by choosing a cover image and giving each highlight a unique title. This customization feature adds a personal touch and helps users present their highlights in a more cohesive and aesthetically pleasing way.
In addition to viewing highlights, users can also interact with them. By tapping on a highlight, viewers can swipe through the individual stories within it. They can also like, comment, or share the stories just like they would with regular Instagram posts. This creates an interactive and engaging experience for both the creator and the viewers.
How to Check Your Instagram Highlights Viewers on Your App?
Remember the golden fact: someone cannot see that you viewed their Instagram highlight if their Story has been up for more than 48 hours. This means you can figure out the people who have seen your highlights 48 hours after the publication date.
Related Resource: Can You See Who Views Your Instagram? Discover How to Identify Instagram Stalkers
How to Check Instagram Highlights Viewers on Android?
To check your highlights viewers on your Android device, follow these steps;
1- Open the Instagram app on your smartphone.
2- Next, click on your profile picture in the bottom right corner.
3- You will see your list of Instagram highlights under the "Edit Profile" button in your profile.
4- Choose a highlight and tap on it to see who has viewed your highlights. You will see the activity of your Instagram highlight in the bottom-left corner of the screen.
5- You can tap on it to see the number of views and the list of individual users who have viewed your Instagram highlights.
How to Check Instagram Highlights Viewers on iPhone?
If you have an iOS device, you can check your highlights viewers by following these steps;
1- Begin by launching the Instagram application on your device.
2- Then, select your profile picture located at the bottom right corner of the screen.
3- Within your profile, the list of your Instagram highlights can be found below the "Edit Profile" button.
4- Select a particular highlight by tapping on it to access the viewers' information. The activity of your Instagram highlight can be observed at the bottom-left corner of the screen.
5- By tapping on the activity, you will be able to see the total number of views and the individual users who have viewed your Instagram highlights.
How to Check Instagram Highlights Viewers on a Desktop?
Take the steps below to check your highlights viewers on your computer or laptop;
1- Open https://www.instagram.com/ in your browser.
2- Next, click on your profile picture in the upper right corner.
3- Under your "Edit profile" option, you can now see your list of Instagram highlights. Here, select a highlight and tap on it to see who has viewed your highlights.
4- You can see the activity of your Instagram highlight in the bottom-left corner of the screen.
5- Click on your Highlight to see the number of views and the list of individual users who have viewed your Instagram highlights.
How to See Who Viewed Your Instagram Highlights After 48 Hours?
Instagram automatically removes the list of viewers when your Instagram highlight has exceeded the time limit of 48 hours from the moment it was uploaded. Although the rigid rules tell you there is no way to check your list of Instagram Highlights viewers after two days, there is a hidden way to reach the statistics, as you see here;
1- Open your Instagram app
2- Go go to your profile
3- Click on the hamburger icon on the top-right corner of the screen, and choose the "Settings and privacy" option.
4- Scroll down the page to "Account type and tools."
5- Here select "Switch to a professional account."
6- Click on "Continue."
7- Choose your account category and select "Done." Click on the "OK" button to approve the conversion. You need to be patient until Instagram sets up your profile.
8- Choose "Creator," tap "Next," and next select "Ok."
9- Since you have a professional Instagram profile now, you can open any Highlight, and you will see Instagram Insights.
Note that the insights don't provide viewer lists and view counts; you can check the reach which means the unique number of accounts who have seen the Story at least once.
What Is an Instagram Highlights Viewer?
An Instagram Highlight Viewer is a tool or application that allows users to view, download, or save Highlights from other users' profiles. These viewers provide an additional convenience layer by enabling users to explore content without relying solely on the Instagram app.
As standard, Instagram does not endorse or provide official support for features like downloading or viewing highlights by third-party apps. Therefore, you should be cautious as they may violate Instagram's terms of service or compromise your account's security.
6 Best Instagram Highlight Viewers
Now it is time to see what grateful apps and tools we have to check our (or others') highlights on Instagram.
1- StoriesIG Instagram Highlight Viewer
StoriesIG is a comprehensive online viewer for Instagram Stories, including highlights. Users can view, download, and share highlights without any limitations. It also provides an option to view profiles anonymously.
2- InSolytics Instagram Highlight Viewer
InSolytics is a complete Instagram analytics tool that also includes highlight tracking. It provides insights on highlights' impressions, reaches, and interactions, helping users gauge the effectiveness of their content. InSolytics assists in identifying the most popular highlights, making it an excellent tool for Instagram influencers and businesses.
3- HypeAuditor Instagram Highlight Viewer
HypeAuditor provides detailed analytics for Instagram profiles, including highlights. It offers in-depth information about audience demographics, engagement rates, and follower growth. HypeAuditor also provides insights into the most engaging highlights, helping users identify the content that resonates the most with their audience.
4- Mollygram Instagram Highlight Viewer
As an anonymous Instagram Highlight viewer, Mollygram is one of the best in this field. They give their customers the most professional tools to download, save, and enjoy highlights on Instagram. No account login is required.
5- IG Stories for Instagram
This Instagram Highlight viewer tool allows users to view Instagram highlights anonymously. No login or Instagram account is required for this system. IG Stories for Instagram also allows users to download, share, and repost highlights with ease.
6- InstaSuperSave Instagram Highlight Viewer
InstaSuperSave is another anonymous Instagram Highlight viewer which helps people find their beloved on the platform without getting legally punished. This platform allows you to download Instagram videos, photos, and stories to your device and share these unique moments of life.
Sometimes you need just more than something to view Instagram highlights. By joining the AIGrow community, you will get full aspects of getting fresh real followers and many, many wonderful packages exclusively for Instagram.
All packages have separate analytics, a 7×24 support team, and even an experienced account manager!!!
Conclusion
Thank you for reading. We tried to cover all essential information about Instagram Highlights in this article, including what Instagram Highlights is, how to watch Instagram Highlights, and a list of great Instagram Highlight viewers on the internet.
Instagram Highlights are a powerful feature that adds a layer of permanence to your otherwise temporary Stories. To be honest, Instagram Highlights have revolutionized the way users can share and save stories on the platform.
Creating and organizing highlights is a great way to categorize your content and engage your audience on a deeper level. So, start creating and viewing Instagram Highlights today to enhance your social media experience!
FAQs on Instagram Highlight Viewers
1- Do Instagram Highlights Remain for More than 24 Hours?
Instagram Stories disappear after 24 hours by default, but Highlights allow users to save and showcase their favourite moments or important content.
2- I Didn't Watch Someone's Instagram Story but I Watched the Highlight Can They See that I Viewed It?
If you didn't watch someone's Instagram story but watched their Highlight, they will only be able to see that you viewed it if the Story is posted before 48 hours.
As a result, they are not able to see that you viewed their Story if they added an old story to their Highlight.
3- How Many Instagram Highlights Can I Create?
You can add up to 100 photos or videos to your Instagram Stories Highlights and there's no limit to how many Instagram Stories Highlights you can create.
4- Is there any way to change the position of my favourite Highlight on the screen?
Yes, you can easily rearrange your Instagram Highlights. To do that, open your Instagram app, go to your profile, click and hold on to the Highlight you want to move, and drag it to your desired position.
5- Who can see my Instagram Highlights?
Your Instagram Highlights are visible to all of your followers unless you have a private account. If your account is private, only approved followers will be able to view your Highlights.
6- Can I edit or remove Instagram Highlights?
 Yes, you can edit or remove Instagram Highlights anytime. To edit your highlights, take these steps;
1- Go to your Instagram
2- Open your profile
3- Tap and hold on the Highlight you want to edit or remove
4- Finally, select "Edit Highlight" or "Delete Highlight" and follow the prompts.
7-What Are Instagram Story Highlights Viewers?
Instagram Story Highlight Viewers are third-party tools or applications that allow users to view and explore Instagram story highlights without necessarily being logged into their Instagram account. These viewers provide an alternative way to access and enjoy the curated collections of stories that users have saved as highlights on their profiles.
While the official Instagram app offers its own built-in feature to view story highlights, third-party viewers can provide additional functionalities and features that enhance the user experience. These viewers often offer a more user-friendly interface, allowing users to easily navigate through different story highlights and explore the content within them.
Read More: The Best Instagram Followers App (+35 Fast & Free Android & IOS Followers Apps)
8- Why can't I see someone's highlights on Instagram?
If you do not succeed in your goal to watch Instagram Highlights, there are many scenarios where this might be happening. For example, they may have deleted their IG highlights, or they've hidden their Story from you. In some cases, your target Instagram user has removed you from their close friends list. The rare reason can be Instagram's internal glitches.