Instagram has emerged as a popular choice due to its visually appealing nature and widespread user base. To harness the power of Instagram and enhance engagement with your audience, creating an Instagram wall on your website can be a game-changer.
An Instagram wall is a social media wall that displays all public Instagram photos from your account or posts with a specific Instagram hashtag wall in a visually stunning web gallery. It allows you to showcase high-quality user-generated content, promote hashtag campaigns, and increase audience engagement.
Whether planning to create an event on Instagram or a large corporate gathering, incorporating Instagram wall ideas can elevate the overall experience, increase brand visibility, and leave a lasting impression on your audience.
Stay with us to learn more about Instagram walls and social media wall ideas.
What Is an Instagram Wall?
An Instagram wall is a powerful tool that allows you to display high-quality content from Instagram on your website. It is a social wall that syncs all public Instagram photos from your account or posts with a specific Instagram hashtag and presents them in a visually appealing web gallery.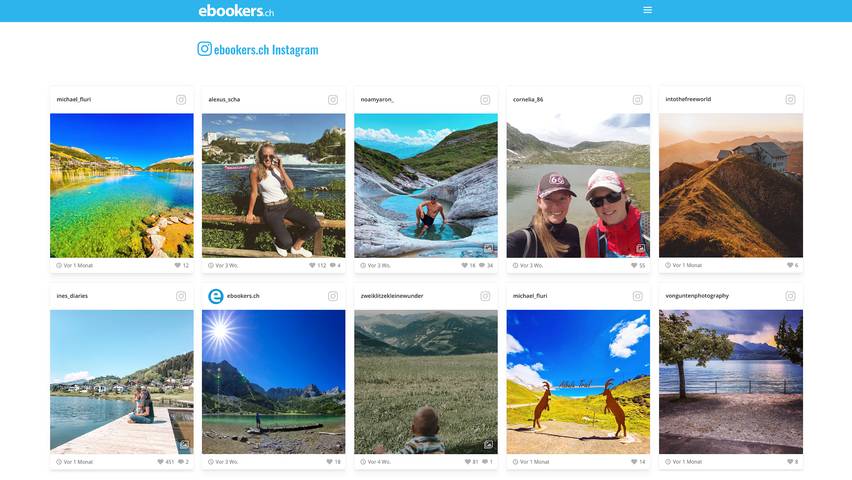 By integrating an IG wall into your website, you can showcase the great photos your customers have taken, whether showcasing your products and events or simply displaying beautiful images. This adds diversity to your website, creates a sense of authenticity, and increases web conversion with social proof.
How To Make an Instagram Wall?
EmbedFeed, Taggbox, and Everwall are three popular tools that can be used to create Instagram walls. These tools allow you to aggregate and display Instagram content stands out. Moreover, they will help you make it easy to showcase user-generated content on your website, event, or digital signage.
EmbedFeed: With EmbedFeed, you can create stunning Instagram walls by simply embedding a code snippet into your website. It offers various customization options, such as choosing specific hashtags, profiles, or locations to display content from.
Taggbox: Taggbox is another popular tool for creating Instagram walls. It enables you to aggregate Instagram posts and display them in real-time at events, conferences, or on digital signage. Taggbox offers a user-friendly interface that allows you to customize the appearance of your Instagram wall with different layouts, themes, and branding options.
Everwall: Everwall is a versatile social media wall platform that supports various social media platforms, including Instagram. It allows you to create engaging Instagram walls by collecting and displaying user-generated content in real time. Everwall offers advanced moderation features, allowing you to filter out inappropriate or irrelevant content.
Related Articles: How To Make a Collage on Instagram
Benefits of Instagram Photo Wall
An Instagram wall can be exhibited at events or embedded on websites to display user-generated material from Instagram. Here are seven key advantages:
#1: Increased Attendee Engagement
An Instagram wall encourages users to actively participate and engage with the event by sharing their experiences and photos. It creates a sense of community and fosters Instagram engagement and interaction among attendees.
#2: Enhanced Event Marketing and Promotion
An Instagram wall serves as a powerful social media marketing tool. You can generate buzz and excitement around the event by displaying user-generated content on the wall, such as photos and posts. Users become brand ambassadors by sharing their experiences on social media, which can attract more users and increase ticket sales for future events.
#3: More Fantastic Brand Visibility and Social Proof
An Instagram wall showcases the real-time social media activity surrounding the event. This not only increases brand visibility but also provides social proof. When users see your posts and photos on the wall, it validates their participation and creates a sense of pride. This, in turn, can attract more people to engage with your brand and event and promote the most up-to-date digital marketing strategy.
#4: Valuable Insights and Feedback
Event organizers can gain valuable insights into users' sentiments and feedback by monitoring the content displayed on the IG wall. It provides a direct channel for users to express their thoughts and opinions about the event, allowing you to make improvements and tailor future events to meet attendees' expectations.
#5: Increased Social Media Reach
You can expand your Instagram impression and reach by incorporating an IG wall at your event. Users are likelier to share their experiences on Instagram when they see their posts on the wall. This can increase brand exposure and get more new followers to your Instagram accounts.
#6: Real-Time Event Updates
An Instagram wall allows you to provide real-time updates and announcements to users. Whether it's changes in the schedule, special offers, or important information, you can display it on the wall to keep attendees informed and engaged throughout the event.
#7: Data Collection and Analysis
An Instagram wall allows for collecting valuable data about your user's behavior and preferences. By analyzing the content shared on the wall, you can gain insights into users' demographics, interests, and engagement patterns. This data can be used to improve future events and tailor marketing strategies.
Read More: How to Comment Gifs on Instagram
How to Customize Instagram Event Wall?
Customizing an Instagram wall for your website allows you to tailor its appearance and functionality to align with your brand and website design. Here are some key aspects of customization:
Branding: Customize the Instagram wall to reflect your brand identity by incorporating your logo, brand colors, and fonts. This ensures a cohesive and consistent visual experience for your website visitors and helps you to drive website traffic from Instagram.
Layout and Design: Choose a layout that effectively complements your website design and showcases the Instagram content. You can select from different grid or slider layouts, adjust the size and spacing of the images, and customize the overall design to match your website aesthetics.
Color Scheme: Set the color scheme of the Instagram wall to align with your brand colors. This includes choosing the background, text, and accent colors to create a cohesive look.
Moderation and Filtering: Customize the moderation settings to control the content displayed on the Instagram wall. You can filter out specific hashtags or keywords, manually approve posts before they appear, or set up automatic filters to ensure only relevant and appropriate content is showcased.
Integration with Website: Seamlessly integrate the Instagram wall into your website by embedding it in the desired location. This can be done using embeddable code provided by third-party social media aggregators or plugins specifically designed for Instagram walls.
Responsive Design: Ensure the Instagram wall is mobile-responsive, adapting to different screen sizes and devices. This allows for a consistent and optimized viewing experience for users accessing your website from various devices.
Custom Calls-to-Action: Incorporate custom Instagram calls-to-action within the Instagram wall to encourage user engagement and drive specific actions. This can include buttons or links that direct users to follow your Instagram account, explore specific products or services, or participate in contests or promotions.
You May Also Read: How to Switch Back to Personal Account on Instagram
Breaking the Mold: Alternative Ways to Gain Visibility with Instagram Walls
Instagram walls can effectively showcase your brand to your website users. By integrating your coolest Instagram feeds directly onto your website, you can provide a visually appealing and dynamic display of your brand's content. This allows your website visitors to see real-time updates, user-generated content, and a glimpse into the lifestyle and community surrounding your brand.
However, an Instagram wall may not work as effectively if you don't have a well-designed Instagram content plan for your business. Your feed may lack the necessary content to populate the wall without a consistent and engaging presence on Instagram. Furthermore, losing Instagram followers or a lack of engagement may not have the desired effect on your website users.
In such cases, it is important to build a strong Instagram presence by creating trendy social media posts, engaging with your audience, and implementing effective Instagram marketing strategies. Once you have established a solid foundation on Instagram, you can leverage an Instagram wall to showcase your brand to your website users effectively.
From Zero to Hero: Building Instagram Growth With AiGrow For Instagram Wall
AiGrow is a powerful platform that offers various features to enhance your Instagram growth. One of its key benefits is the ability to follow different Instagram feed examples, which allows you to gain inspiration and create a shoppable Instagram feed that resonates with your target audience. A well-curated feed can attract more followers and increase engagement on your page. 🌟📸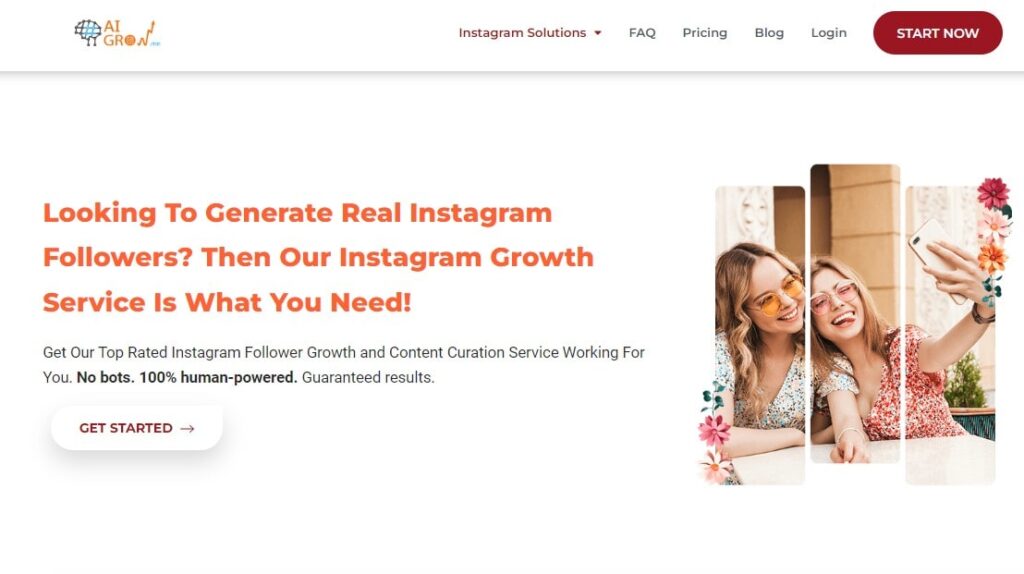 AiGrow helps you grow your Instagram followers organically, ensuring that your Instagram account aligns with Instagram community guidelines and keeping your profile safe and secure. 📈🌱
Content creation is made effortless with AiGrow. You can easily schedule your posts, ensuring a consistent flow of high-quality content that keeps your followers engaged and returning for more. And let's not forget about managing your DMs! AiGrow's managed DMs feature helps you stay on top of your messages and build meaningful connections with your audience. 💬💫
But that's not all! AiGrow goes above and beyond by providing you with a dedicated account manager. This personal guide will support you every step of the way, offering tailored recommendations, answering your questions, and ensuring that your Instagram growth strategy is on point. With their expertise, you'll be confident to achieve your goals and make your mark on Instagram. 🤝💼
Design the perfect Instagram feed with AiGRow
Aigrow Features To Upgrade Shoutout Wall Instagram
🚀 Get ready to experience the power of manual growth and dedicated account management for just $1 per day! With AiGrow, your Instagram growth is in expert hands. Let's dive into the amazing services they offer! 💪💼
📈 Instagram Growth: AiGrow's team of experts will manually grow your Instagram account, ensuring organic and authentic growth. Say goodbye to fake followers and hello to a genuine and engaged audience! 🌱✨
💬 Managed DMs: AiGrow handles your direct messages, helping you build meaningful connections with your audience. Their team will manage your DMs, ensuring timely and personalized responses that keep your followers engaged and satisfied. 💬💫
📸 Content Creation Plan: AiGrow understands the importance of captivating content. They offer a comprehensive content creation plan, helping you curate and schedule high-quality Instagram posts that align with your brand and resonate with your audience. Get ready to impress with stunning visuals and writing compelling Instagram captions! 🎨📅
🔍 Mass Unfollow: Tired of clutter on your Instagram feed? AiGrow has got you covered! Their mass unfollow feature lets you easily remove inactive or irrelevant accounts, ensuring your feed remains clean and focused on genuine engagement. Say hello to a clutter-free feed! 🚫❌
With AiGrow's manual growth, dedicated account manager, and incredible services like Instagram growth, managed DMs, content creation plans, and mass unfollowing, you'll have all the tools you need to take your Instagram presence to new heights. Get ready to see your account flourish, and your engagement soar! 🌟✨💥
Conclusion
In conclusion, incorporating an Instagram wall on your website offers numerous benefits for your brand or event. It allows you to curate and display high-quality user-generated content, increasing brand visibility and social proof.
By customizing the Instagram wall to align with your brand's aesthetics and integrating it seamlessly into your website, you create a cohesive and engaging experience for visitors.
The customization options enable you to moderate and filter the content displayed, ensuring relevance and appropriateness. Additionally, a responsive design ensures a consistent viewing experience across different devices. By leveraging the power of an Instagram wall, you can enhance audience engagement, strengthen brand connections, and create memorable experiences for your website visitors.
Instagram Wall for Events: FAQs
Q1: How To Add an Email to Instagram?
Instagram does not provide a direct option to add an email address to your profile. However, you can include your email information in your bio or contact section to make it accessible to your followers.
Q2: How To Create a Hashtag on Instagram for an Event?
Creating a hashtag for your event on Instagram is simple. Choose a unique and relevant hashtag that represents your event and is easy to remember. Include it in your event promotions and encourage attendees to use it when posting about the event. This will help you track and collect all the posts related to your event in one place.
Q3: How To Create Events on Instagram?
Instagram does not have a specific feature for creating events. However, you can promote and share information about your events through Instagram posts, stories, and captions. Use engaging visuals, compelling captions, and relevant hashtags to attract attention and generate interest in your events.