'How to add admin to Instagram on a shared business account?' seems to have become a frequently asked question!
Top Instagram influencers, brands, and business accounts are too busy to handle their Instagram accounts. So they are eager to learn how to add an admin to Instagram. An Instagram admin manages your page in this social media network, helping you to get more followers and boost your engagement rate.
Some people prefer using the best Instagram management services that provide them with a dedicated account manager. In contrast, others simply put their Instagram credential information to Instagram account managers to manage their accounts. Some people, on the other hand, use the Meta Business Suite or Business Manager.
Every method has its own advantages and drawbacks. Considering all these things and also the importance of running a business account, learning how to add admin to Instagram is a must!
In this article, you will learn how to add an admin to Instagram business account. So, stick around.
Note: Easily add admins to Instagram using AiGrow, the top-notch Instagram management service around. It's your shortcut to streamlined success in account management.
First Step on How To Make Someone Admin On Instagram Business Page
Meta Business Suite has introduced a single gateway for merging all of your business information as well as Facebook marketing activity into one location. This Business Manager tool enables you to effortlessly share asset access with your employees, external partner agencies, and vendors.
The truth is that, unlike Facebook, Instagram does not have a feature that enables you to add users to your Instagram account. So does it mean you can't add admin to Instagram? Indeed you can!
You can make someone admin on an Instagram business page, but do you know where are the business manager settings to add admin to Instagram? To use this feature, you should link your Instagram account to your Facebook and make a joint Instagram account.
So before using Meta Business Suite or Business Manager, link your Instagram to your Facebook following these steps:
Open the Instagram app and tap on your profile icon located at the bottom right corner of the screen to access your profile.
On your profile page, click on the three horizontal lines at the top right corner of the screen to open the menu.
Navigate to Settings by tapping on "Privacy and Settings."
Within the Settings menu, choose "Accounts Centre."
Connect to Facebook by tapping on "Profiles."
Then select 'Add accounts'
From the list of available platforms, choose "Facebook."
You will be prompted to log into your Facebook account if you aren't already logged in.
Instagram will request permission to access your Facebook account. Click "Continue" or "Authorize" to grant these permissions.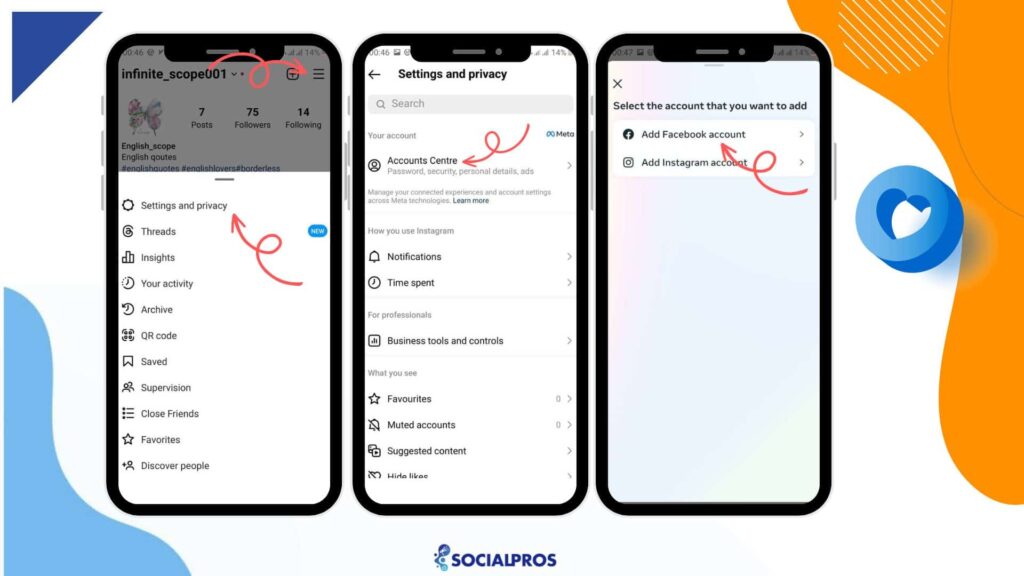 Now, you can go through the next steps and use the Meta Business Manager tool. In the next section, we will show you how to add someone to Instagram account as a manager in three different methods, including Meta Business Manager. Keep reading.
Read more on our site: The Best Instagram Unfollow App
How To Add Admin To Instagram Business Account
If you ask how do I add an admin to Instagram, using Facebook Meta Business Suite is not the only way to add an admin as an Instagram manager. There are three ways to give your Instagram admin access to the page. Here you can read about each in detail.
1. Share Your Instagram Login Information With Your Admin
If you want to learn how to add admin to Instagram, let's start with the most basic solution! The first yet most primitive method to add admin to Instagram is to share your login information with your admin.
There are many issues with this method! First, you should be able to trust the admin. And this trust stretches to both his character and his ability to manage your IG account.
What if this trust costs you the IG account on which you spent so much time and energy?! What if you start losing your hard-earned Instagram followers?
Let's imagine you even get past your trust issues and trust him fully! Since Instagram is designed for personal use, logging in from different IP addresses pushes Instagram to close your account to protect it!
So even if you know how to add admin to Instagram with this method, you will find it too risky and restrictive. Sharing credentials might violate Instagram's terms of service, leading to the suspension or termination of your account. Additionally, if the admin posts copyrighted or inappropriate content, legal issues could arise.
According to Instagram guidelines, you won't be able to add multiple users, and you'll have to continue, knowing that IG might close your account at any moment! If you are here, you have probably thought of this method. And now you're trying to understand how to add admin on Instagram in a safe way!
2. Add Admins To Instagram Via Facebook
'How do I add an admin to Instagram?' you asked. And here we are with a safe yet relatively complicated method. Read on to find out!
Instagram and Facebook are of the same blood; no one denies that. Yet despite all the similarities, Instagram does not allow us to add admin, while Facebook does.
And using the link between the two, we can learn how to add an admin on Instagram! Before going through adding Instagram to Facebook, though, I must warn you that the process will give you a headache!
Let's read how to add admin to Instagram using Facebook, shall we? Follow these steps:
Create a Facebook business manager account.
Switch to an Instagram business account.
Then, on your Facebook business manager account, find 'add partner.' When Your Facebook and business pages are connected, you can easily add admin to Instagram.
Enter your admin's ID [if you are Facebook friends]. That is how you assign your admin as your partner.
Finally, ask your admin if he has received your request.
Now ask your admin to take the following step:

First, click on 'user.'
Then, click on 'page.'
Click on 'Add.'
Then, request access to a page.
Enter the Instagram name or drop the link.
Now, click on the 'Request Access' button.
Now you will find the Request in the left bar to see the access request from your admin. Before we go any further, allow me to make something clear.
Just A Clarification on Adding Instagram to Facebook!
To clarify things, I must emphasize one thing. Usually, others ask you to link your Instagram account to your admin's Facebook business manager account.
However, I explicitly asked you to connect your Instagram business account to your own Facebook business manager account. And I recommended adding your admin's Facebook business account to your own Facebook business account as a partner.
Why? Because you don't know how things will go in the future. This way, you have your Facebook account linked to your Instagram account. And you can easily replace your admin with someone else in case things go wrong.
But if you link your Instagram account to his Facebook account, things will get complicated if you try to work separately.
The Upsides To Using This Method
On the upside, this method allows you to add multiple users to one Instagram account as admins. The other advantage is you don't need to give up your loving Instagram login information to someone else.
The Downsides To Using This Method
I was right about the headache thing, right? Using this method is complicated and demands energy and time we don't have!
I tried my best to explain it as simply as possible, though. I hope Instagram will design a feature soon enough so that we don't have to go through complicated explanations to learn how to add admin to the Instagram account.
But till then, save yourself all that headache and use a safe and user-friendly third-party tool to add your admin to Instagram and get over with it.
3. How To Add Admin To Instagram Account With AiGrow; The Best Way
So far, we have tried our best to show how to add admin to an Instagram account. But as you have probably noticed, we have failed to provide a safe, reliable, straightforward method.
But right now, we have the perfect answer to all your questions; AiGrow!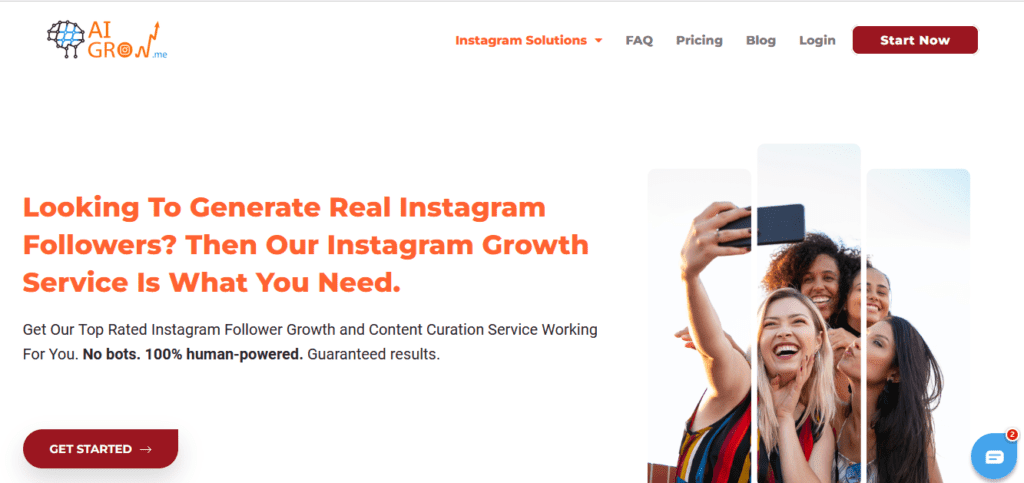 AiGrow is an all-in-one Instagram growth service on which you or your admin can manage your Instagram accounts. To add admin to your Instagram, you must sign up for free and connect your account by following the on-screen prompt!
Then you can share your email and the password for your AiGrow dashboard [and not the login information of your Instagram account] with your admin.
Now, your admin can:
And much more! But they can not do certain harmful activities, like deleting your account, unfollowing the users, or blocking them.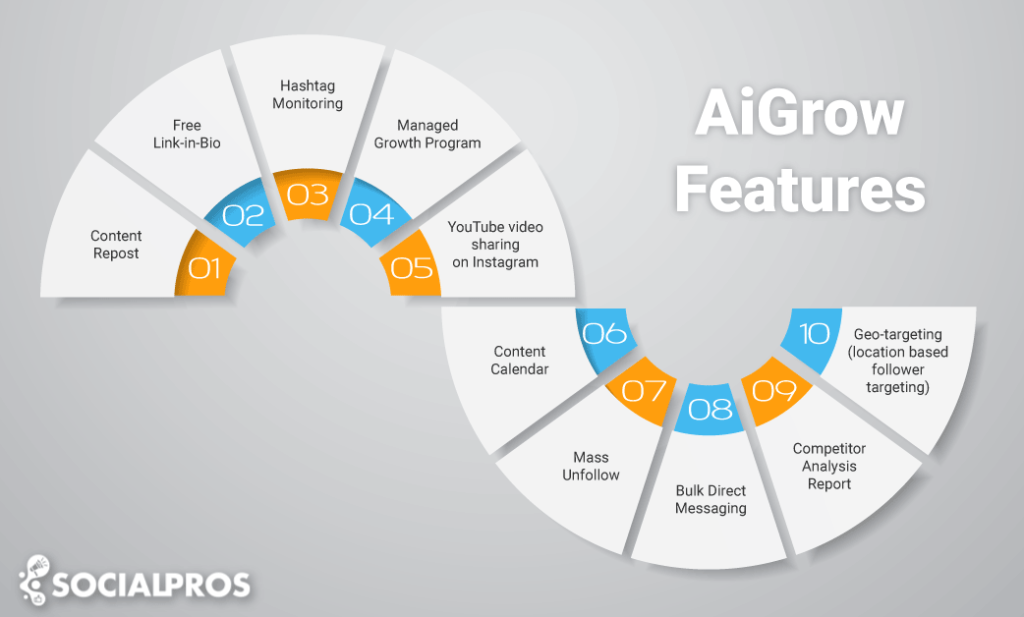 For just $1 per day, you can have a dedicated account manager handle every aspect of your Instagram account. It's a game-changing investment that will rocket your account management to new heights of efficiency and success.

And for more information on this platform's excellent features, you can read AiGrow Review.
How To Add Multiple Admins To Instagram With AiGrow
Nothing should worry you if you work as a team on your account. AiGrow puts no limitations on the number of admins!
So, knowing how to work with AiGrow means that you know how to give access to your Instagram account to as many people as you'd like but in the safest way!
Plus, because your admins have access to your AiGrow dashboard and not your account, the problem of having different IP addresses would not occur!
Are you ready to turbocharge your Instagram growth? Take the risk-free leap with AiGrow's Management Growth Service! Their belief in its effectiveness is so strong that they provide a 14-day money-back guarantee. It's a risk-free chance to observe the incredible transformation firsthand.

That's why we highly recommend you:
Why Can't Add Someone As Admin To The Instagram Account?
Encountering difficulties while trying to add someone as an admin to your Instagram account? Not to worry, here are the most common issues you might be facing and how to address them:
Facebook Business Suite Setup: If you haven't set up your Facebook Business Suite or it's malfunctioning, this could hinder the process.
Lack of Admin Access: Ensure you possess admin access within the Facebook Business Suite; lacking this can be a roadblock.
Instagram Account Integration: If you haven't added the Instagram account to the Meta Business Suite, it could impede your progress.
Account Ownership: Confirm that you're the rightful owner of the Instagram account, as this plays a pivotal role.
Invitation Issues: Double-check the email address you've invited; incorrect addresses or unaccepted invitations can pose challenges.
Navigating these hurdles efficiently will pave the way for successful admin additions to your Instagram account.
Where To Find A Trust-Worthy Admin Instagram?
AiGrow has indeed limited the possible harmful actions of your admin. And it has solved your questions on how to add admin in Instagram.
But still, it is your reputation and growth we are talking about. So, whether you're a social media influencer or a business owner trying to grow your brand, you should be picky when selecting Instagram admins.
Well, AiGrow also allows you to hire the best social media managers. AiGrow's IG managers have extensive experience managing and growing Instagram accounts.
They set an efficient strategy for growing your IG account organically and help you create 2-3 engaging posts weekly. Besides, they guarantee a certain number of followers depending upon your niche [3000-5000 new target followers].
So, using AiGrow, you can access the 1000 free Instagram followers trial to gain real followers!
Do you want a steady flow of organic followers?
FAQs On How To Add Admin To Instagram
We have covered most of your concerns and questions regarding this topic. Now, it's time to face some of the questions you have frequently asked!
Q1. How To Make Someone Admin On Instagram Group Chat?
To answer this question, you must first remember that the person who creates the group will be the admin. As the creator, if you'd like to make someone else admin, follow the steps below:
First, enter the group from your list of DMs.
Tap on that group's name once you're in the conversation thread.
Then, tap on the three horizontal lines next to each member's name.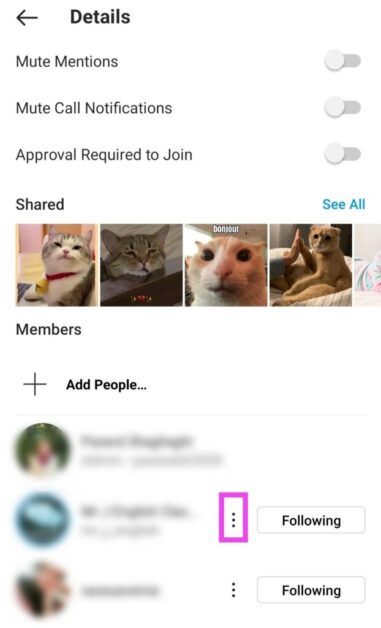 Now, choose 'Make Admin.'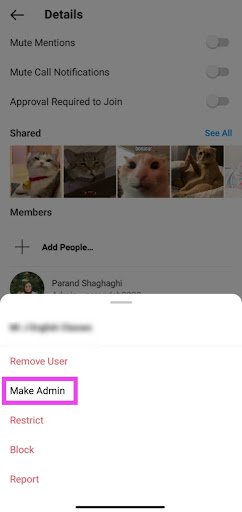 And that's it! Your new admin can remove or restrict other users.
Q2. How To Switch To A Business Account On Instagram?
We need Instagram Insights and analytics to outwit the IG algorithm and see how well our account performs. But to get access to Instagram Insights and promote our account using an admin, we need to have an Instagram business profile.
To switch to a business account on Instagram, follow these instructions:
Tap on the three horizontal lines at the top right corner of your Instagram profile feed and select 'Settings.'
From the list that appears, pick 'Account.'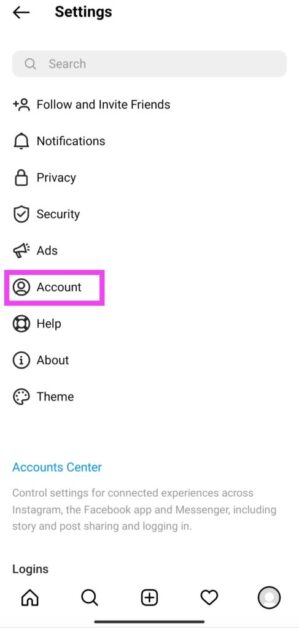 3. Now, scroll down until you get to 'Switch to Professional Account' near the bottom of the list.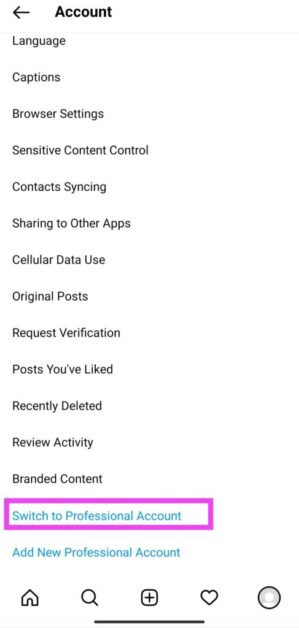 4. Once you fill in the information, you can confirm and start your business account.
As easy as that!
Q3. How To Add A Second Admin To Instagram?
You already know how to add admin to Instagram. But you might ask: 'Can you add another admin on Instagram?'
Using the first method, you can share your IG password with as many people as you'd like. Remember that the more admins enter your page, the riskier it is!
Here's the second solution: If you wonder how to add a user to Instagram account, you can do so as follows:
1. Visit the Google Play Store to download 'Facebook Business Suite'
2. Log in to your Facebook account and go to settings
3. In Settings, click on Connect Instagram. Now that your Facebook and Instagram pages are connected through the Facebook business suite, choose Edit Page Roles.
4. In page roles, you can add the person to your Instagram page as your second Instagram admin.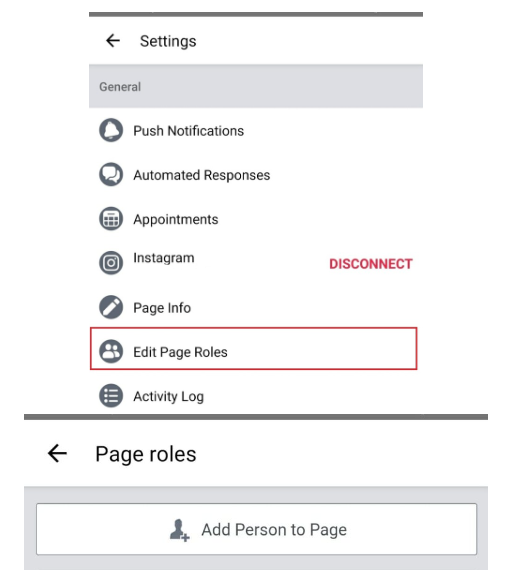 Third Solution: if you sign up on AiGrow, you can have multiple users managing your account. And it won't pose any threats because they won't have your IG password!
With AiGrow, you can add users to your Instagram account and set their access level to your IG page.
Looking for a more professional way to manage your Instagram accounts and admins?
Q4. How to Remove an Instagram Admin?
Throughout this post, you learned how to add admin to Instagram. But what if you decide to remove an Instagram admin? Are there any ways to remove an Instagram admin completely from your page or account?
To do so, follow the steps below:
1. Go to your Instagram account and tap on Settings.
2. Now, tap on privacy and security.
3. Then, select Login activity. At this point, you can see all devices on which your page is active.
4. Following that, choose your intended device and click on log out.
You can also change your Instagram password. Changing your Instagram password is the simplest way to remove your Instagram admin.
Final Words On How To Add Admin To Instagram
If you are too busy to handle your Instagram account, you can add an admin to Instagram and have them manage your account. But how to add admin to Instagram?!
Here, we tried to discuss all possible ways. We provided three answers to your question on how to make someone admin on Instagram!
The first way is to give your login information to your admin, which is not safe at all. The second way is to add admin via Facebook, but the process is a pain in the neck.
The third and best way is to add your admin to AiGrow, a free and reliable Instagram management tool. Then you can give your admins access to your dashboard, not your Instagram account. Voila!
To summarize, the best way is to add your admin to a reliable Instagram management tool and give access to your dashboard, not your Instagram account. Additionally, if you are looking for an experienced and trustworthy admin for your Instagram business account to guarantee its success and prosperity, AiGrow's account managers are the best choice.
Wondering How to Add Admin to your Instagram Account Safely and Instantly?