Blastup is an Instagram growth service that claims to offer services to fulfill everyone's desire to become influential in their field. But the question remains: Can you boost your Instagram engagement with their services? Are they the real deal, or just another dubious shortcut to fame?
As we delve into the Blastup Review 2023, we'll explore the promises, the pitfalls, and the truth behind this Instagram growth service.
Let's dive into the complete Blastup review and see if this Instagram growth service is legitimate or a scam.
Is Blastup a scam or the key to unlocking your Instagram success? Let's find out.
Blastup Reviews: Does the Company Offer What They Say?
Blastup, formerly known as Gramblast, claims to be an Instagram growth tool. Its creators claim to offer automated Instagram services to buy quality Instagram likes, followers, and views, promising unparalleled account growth acceleration.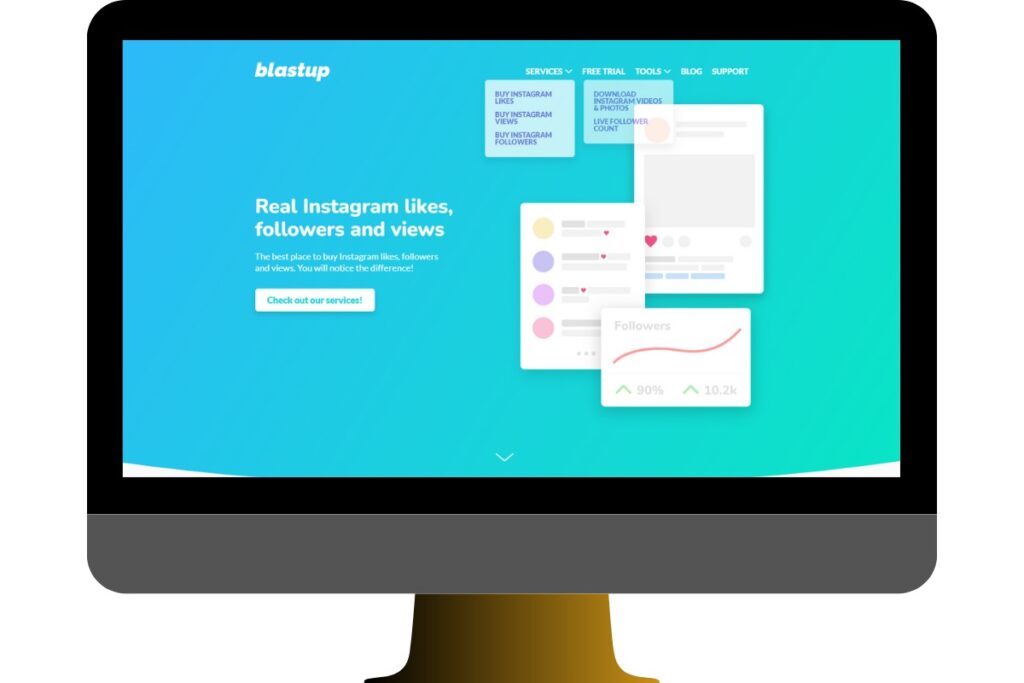 Originally bearing the name Gramblast, the company undertook a legal name change to sidestep Instagram's copyright infringement issues. Blastup has diligently informed its existing customer base about this rebranding via its website to ensure transparency.
This renaming raises skepticism about the company's practices, given the necessity for such a substantial alteration in branding to comply with copyright laws. Blastup boldly proclaims its services, allowing users to buy Instagram reel likes.
However, we all know there are no such things like this, and many other services are out there giving you more engaging followers at a better price.
It's important to note that there have been reports of negative Blastup reviews indicating concerns about receiving fake followers, which further adds to the disapproval surrounding Blastup.
Nevertheless, our commitment is to provide impartial and unbiased blastup reviews based on available information about any company.
Read More: Instafollowers Review It Is Not Safe to Use [Secrets Revealed]
Blastup Features and Services
Blastup offers a range of features to its users:
Blastup Instagram Likes
Blastup claims to help you get more likes on Instagram from real human accounts, ensuring no bots are involved in the engagement. They also boast competitive pricing for their like packages, and once payment is processed, likes are delivered promptly.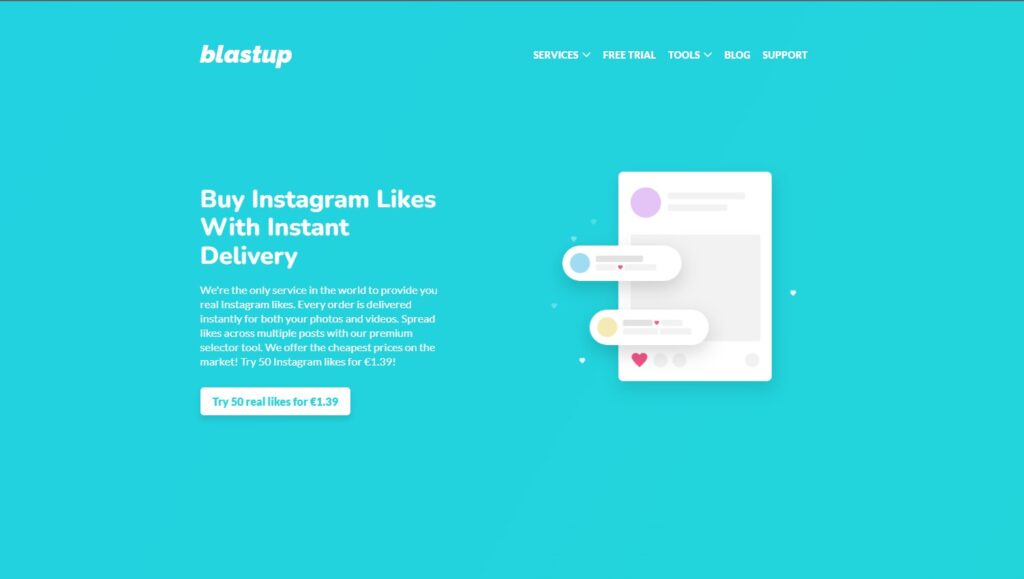 Additionally, users can adjust the speed at which the engagement is delivered using a delay feature. The company emphasizes responsive and high-quality customer support.
Blastup To Buy Followers and Views
They promise to offer the services to buy gradual Instagram followers and views for Instagram accounts. They also claim to provide 24/7 customer support to assist users with any issues or inquiries.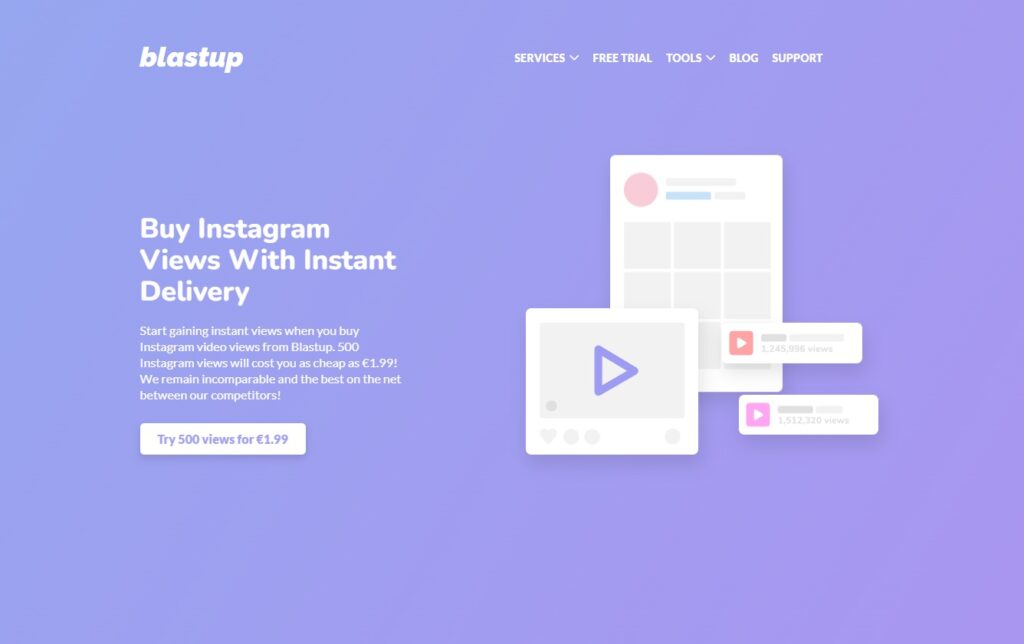 Download Instagram Videos & Photos
Blastup provides an Instasave tool that enables users to copy and paste an Instagram video or photo URL. This tool allows users to download Instagram posts for offline viewing or sharing.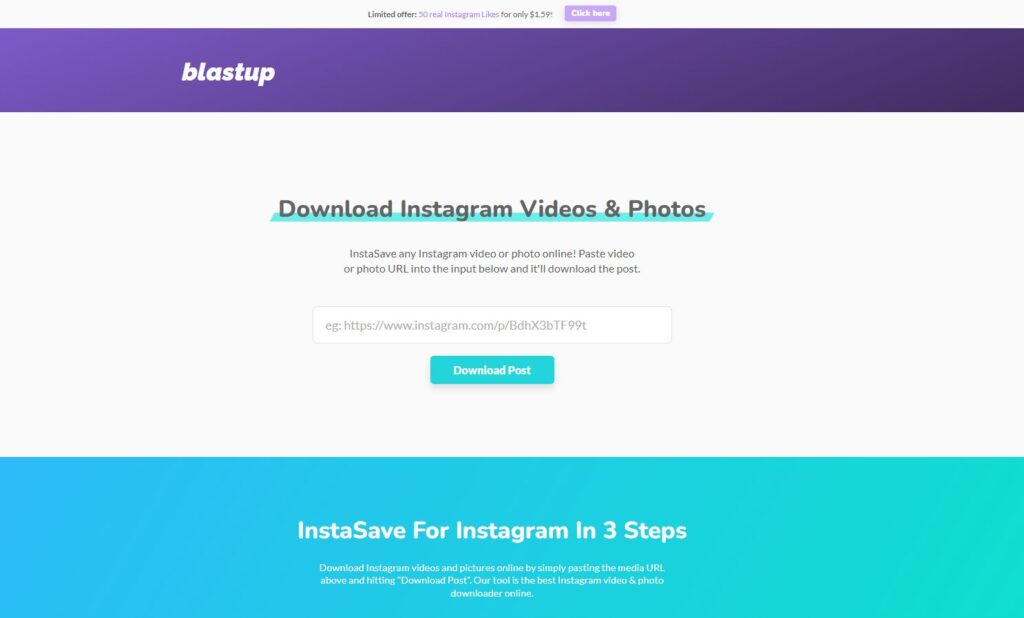 Blastup Follower Count
Blastup's Instagram follower count tool offers real-time tracking of Instagram followers and media statistics. This tool allows users to monitor the number of followers they have on their Instagram account and gain insights into their media-related metrics.
It can be a valuable resource for individuals and businesses looking to keep tabs on their Instagram growth and engagement metrics, helping them make informed decisions about their social media advertising strategies.
It's important to exercise caution when using such services, as some concerns have been raised about the authenticity and quality of engagement provided by Blastup, as mentioned in negative reviews. Users should consider these factors when deciding whether to utilize their services.
Related Article: Engagement Boost Reviews [Is It Really Going To Change Your Instagram Growth Strategy?]
Blast Up Pros and Cons
Here's a table summarizing the pros and cons of Blast Up:
| Pros | Cons |
| --- | --- |
| Legitimate Site | Very Negative Reviews |
| Safe Site | Unsatisfied Customers |
| Real Packages | May Include Fake Followers |
| | Automatic Actions |
| | No Different Packages |
Blast Up Pricing
Blastup's relatively budget-friendly pricing makes its packages accessible to many users. However, the affordability of their services raises questions about the quality and authenticity of the Instagram engagements they provide, as the adage "you get what you pay for" often holds in such cases.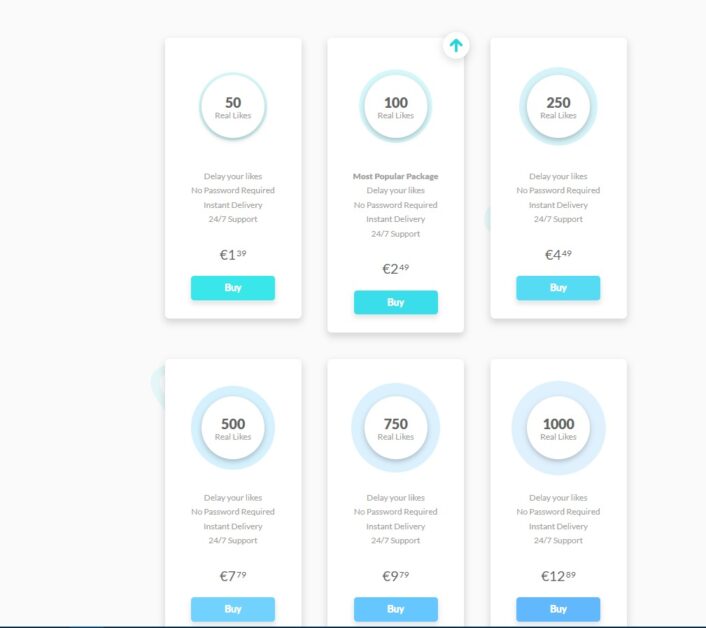 Here's an overview of the pricing options offered by Blastup:
Blast Up Likes: Packages range from 50 "real" likes for $1.59 to 2,500 "real" likes for $29.99.
Instagram Views: Prices start at 500 views for $1.99, going up to 250,000 views for $249.99.
Instagram Followers: You can buy 100 gradual Instagram followers for $2.99 or 1,000 followers for $9.99.
Auto Likes: Blastup offers monthly subscriptions for auto likes, ranging from 50 auto likes for $9.99 per month to 5,000 auto likes for $349.99 per month.
Notably, their services to buy gradual Instagram followers claim to offer "high-quality for cheap" followers, which may raise concerns about the authenticity and retention of these followers.
Furthermore, there is some ambiguity regarding the auto Blast Up likes packages, as it's unclear whether they apply to each individual post or are distributed across the entire month. This lack of clarity can be a source of confusion for potential customers.
More Info: Instagram Chat Theme [An Ultimate Guide]
Blast Up Review: Is It the Right Choice for Your Instagram Growth?
In our comprehensive assessment, we arrive at a firm conclusion: Blastup does not earn our recommendation for Instagram growth.
While their website may present an appealing façade, the substance beneath fails to deliver genuine or high-quality services conducive to growing your Instagram followers organically. Our decision is underscored by two critical reasons discouraging any endorsement of their services.
Negative BlastUp's Reviews on Trustpilot
Blastup's reputation on Trustpilot is far from stellar, painted with disappointment. An overwhelming 88% of the 41 reviews on the platform are steeped in negativity, leaving little room for optimism.

Among the disgruntled users, a recurring sentiment emerges: claims of Blastup being nothing short of a scam. One disheartened customer even asserts that purchasing 1,000 likes through the service resulted in a mere 100, with the added sting that these likes seemed invisible to the rest of the world.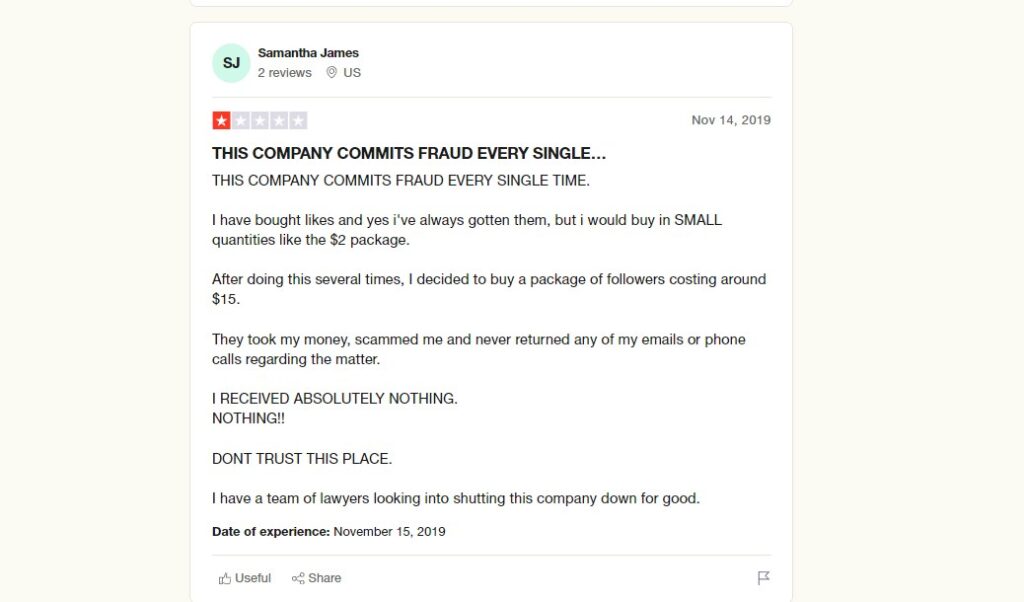 Alarming tales don't stop there, as some users report their Instagram accounts for business mysteriously vanishing into the digital abyss after engaging with Blastup.
Furthermore, the followers promised by the service appear to be ephemeral, vanishing over time, effectively rendering your investment worthless. With no prospects of refunds or guarantees in sight, these accounts of disillusionment.
Exploring Better Choices: Alternatives to Blast Up for Instagram Success
With Blastup plagued by many negative reviews and dissatisfied customers, it's become increasingly evident that their approach, which may involve questionable Instagram followers bots, fails to meet the expectations of Instagram users seeking genuine growth.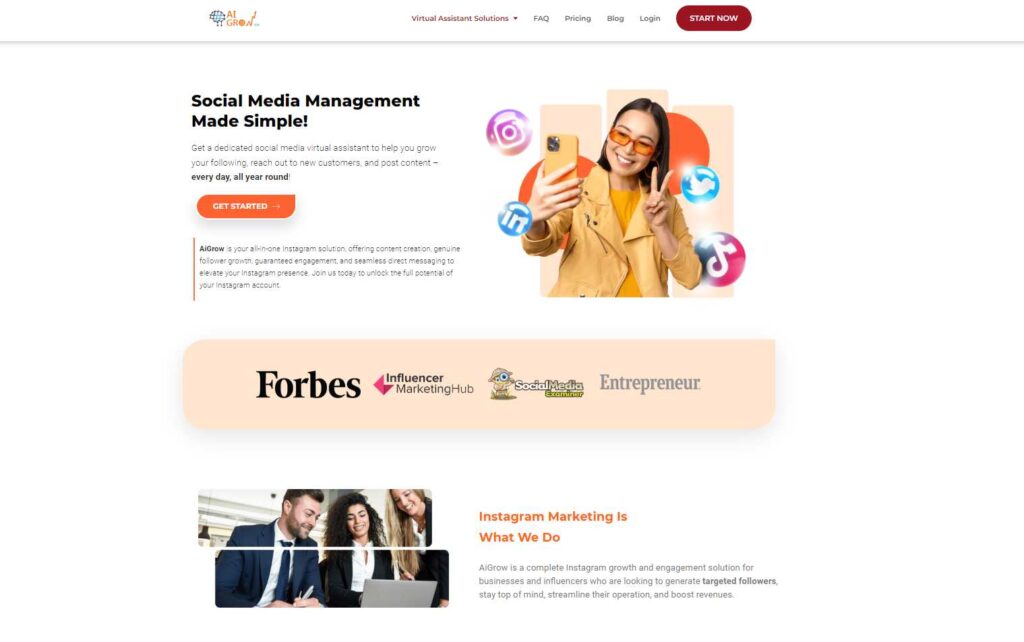 This leaves many individuals skeptical about the effectiveness and authenticity of their services.
In contrast, AiGrow offers a compelling alternative, distinguished by its commitment to manual, human-centric growth strategies. What sets AiGrow apart is the dedicated account manager it assigns to each user, ensuring a personalized and tailored approach to Instagram growth.
Unlike Blastup's Instagram automated methods, AiGrow's account managers engage in real, live meetings with users to set specific goals and develop strategies that align with individual objectives.
This human touch fosters authenticity and builds trust, making AiGrow recommended for those seeking a more authentic, effective, and hands-on approach to Instagram growth.
Instagram Growth Showdown: AiGrow or BlastUp – Who Takes the Crown?
In the Instagram growth showdown between AiGrow and Blast Up, we'll dive into the battle of Instagram services to determine which one deserves the crown as the superior choice for enhancing your Instagram presence.
| Features | AiGrow | Blast Up |
| --- | --- | --- |
| Manual Growth | ✅ | ❌ |
| Content Design Template | ✅ | ❌ |
| Content Plan Calendar | ✅ | ❌ |
| Account Manager | ✅ | ❌ |
| Analytical Reporting | ✅ | ❌ |
| Hashtag Generator | ✅ | ❌ |
| Multiple Links in Bio | ✅ | ❌ |
| Mass Unfollow | ✅ | ❌ |
| Bulk DMs | ✅ | ❌ |
| Buying Followers | ❌ | ✅ |
| Buying Views & Likes | ❌ | ✅ |
| Price | $84, $192, $168, $144 | $1.39, $8.79, $26.39, $309 |
| Trustpilot Rating | 4.5 | 1.7 |
AiGrow: Best Place To Buy Reel Views
AiGrow is your ultimate Instagram growth solution, designed to boost your Instagram presence with a human touch. With AiGrow, you'll experience real engagement from dedicated account managers committed to helping you succeed on Instagram. Also, AiGrow helps you to buy gradual Instagram likes.
Here's what sets AiGrow apart:
Dedicated Account Manager: A dedicated account manager will work closely with you to understand your goals and tailor an Instagram marketing strategy to achieve them.
Live Meetings: AiGrow offers live meetings with your account manager to discuss progress, answer questions, and refine your Instagram growth strategy.
Different Packages, Different Prices: AiGrow offers a range of packages to suit your specific needs and budget. Whether you're a beginner or an Instagram pro, there's a package for you.
Affordable Account Management Service: With AiGrow, you can have a dedicated account manager for as low as $1 daily. This cost-effective solution ensures you get the attention your Instagram account deserves.
Real Engaging Followers: AiGrow doesn't just allow you to buy gradual Instagram likes and followers; they bring you real, engaging followers who can help boost your visibility and interaction on Instagram.
Organic Instagram Views: As your account manager brings you real Instagram followers, you'll also see an increase in organic Instagram views. This organic growth can lead to more visibility and engagement with your content.
Let's grow your Instagram page together.
Aigrow Service and Pricing
AiGrow provides an array of hands-on services, each accompanied by a dedicated account manager, designed to enhance your Instagram presence significantly.
Covering organic follower growth, content creation (content marketing strategy), and strategic DM management, their approach prioritizes authenticity and engagement throughout your Instagram journey.
Organic Follower Growth: Genuine and Real Followers
AiGrow's Organic Follower Growth service is tailored to connect you with authentic followers genuinely interested in your content.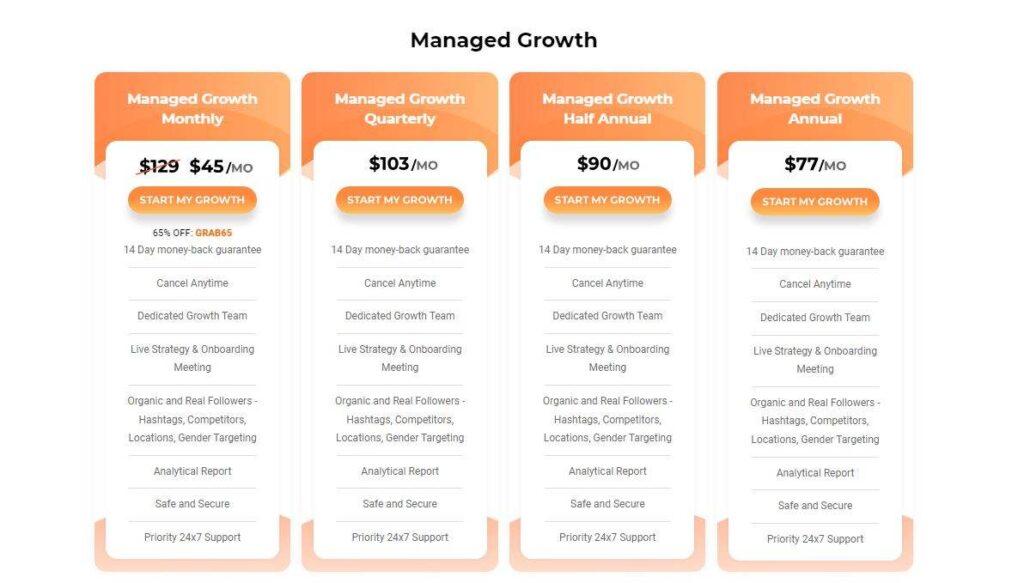 Through a strategic blend of tactics, including top Instagram hashtag optimization, competitor analysis, location targeting, and gender-specific outreach, they ensure your growth is real and precisely tailored to your target audience.
What truly sets AiGrow apart is its approach – you'll have a dedicated account manager who manually engages with followers, fostering lasting and meaningful connections.
With AiGrow, you can be confident that your follower count and engagement will increase and remain steady over time, eliminating the common issue of follower drops.
Efficient Unfollowing: A Streamlined Follower List
AiGrow's Efficient Unfollowing service is about maintaining a clean and relevant follower list. With dedicated account management, you can efficiently unfollow over 3,000 accounts while adhering to Instagram's daily limits.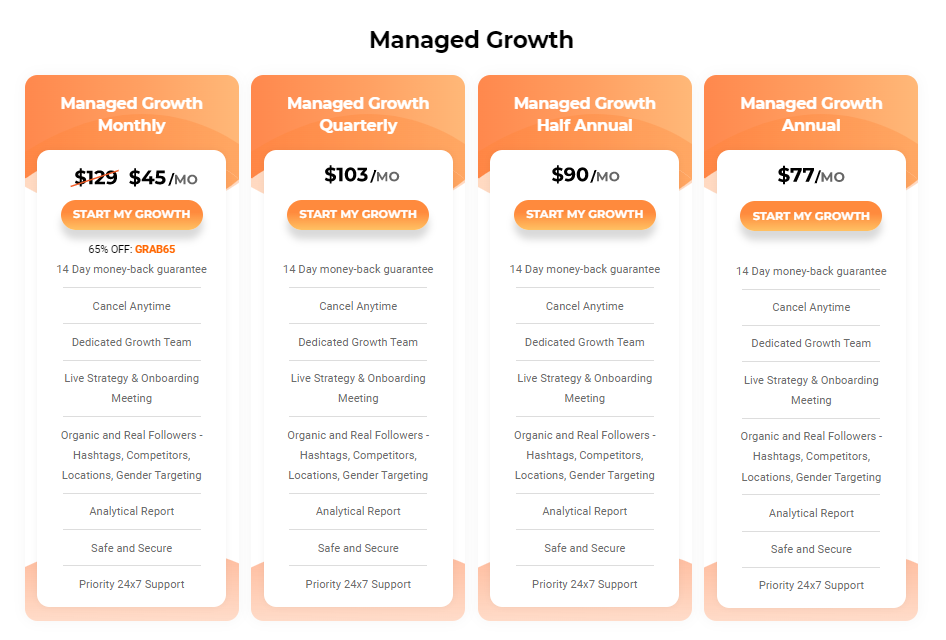 What distinguishes this service is its complete avoidance of bot actions, ensuring your account complies with Instagram guidelines.
This service proves especially valuable for purging ghost followers and fine-tuning your follower list, ultimately enhancing your overall Instagram experience.
Tailored Content Creation: Elevating Your Visual Presence
AiGrow understands the pivotal role of captivating content in sustaining an engaging Instagram presence. Their Tailored Content Creation service offers a holistic solution, encompassing content creation, a content plan calendar, customizable content design templates, and the option to craft content for your feed and stories (up to four times a month).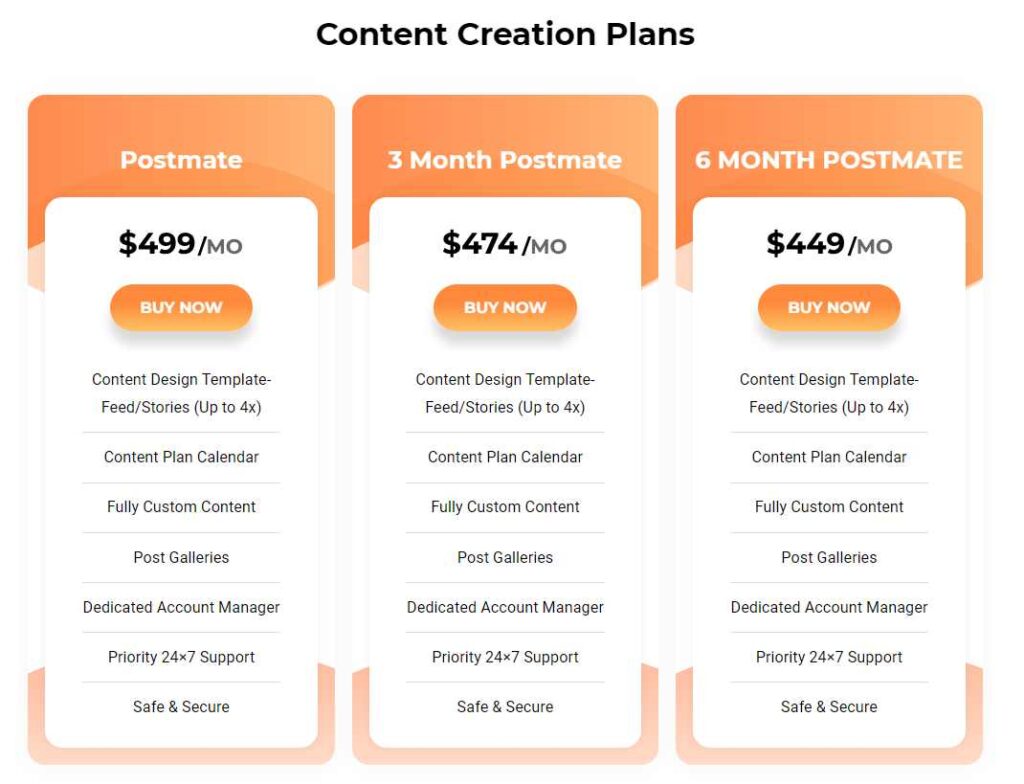 With AiGrow's expertise, you can enhance the visual appeal and consistency of your Instagram content, leaving a lasting impression on your audience.
Strategic DM Management: Personalized Engagement
Engaging with your audience through Direct Messages holds immense potential for building meaningful relationships. AiGrow's Strategic DM Management for Instagram takes this engagement to the next level by implementing smart targeting techniques based on influencers, hashtags, locations, competitors, and custom accounts.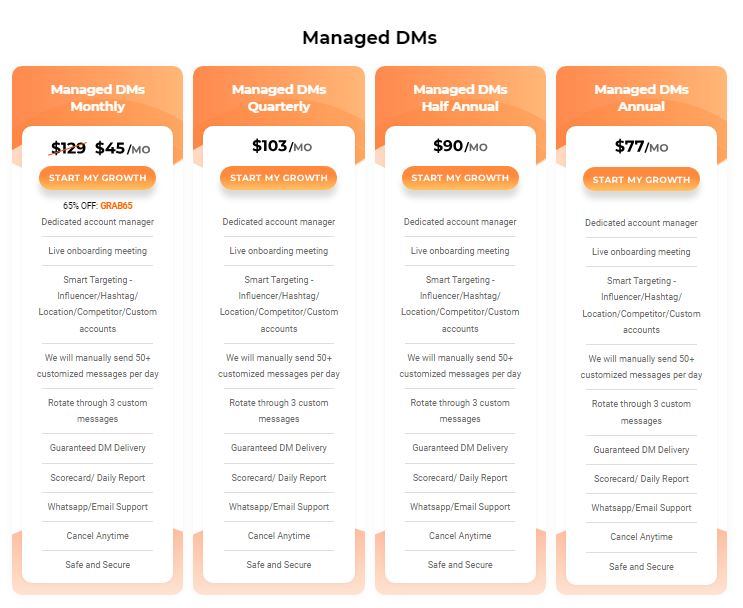 Their team sends over 50 customized messages daily, ensuring a personalized approach to your interactions. You can rotate through three distinct custom messages, and AiGrow guarantees the successful delivery of your DMs.
With additional benefits like a scorecard and daily reports, you can remain well-informed and fully control your DM engagement strategy.
Click here and start boosting your engagement.
Conclusion on Blastup Review
In conclusion, while Blast Up may seem like a viable option for Instagram growth, it's crucial to weigh its pros and cons carefully. While it offers some legitimacy and real packages, it also carries the weight of negative reviews and the potential inclusion of fake followers.
Moreover, its limited range of services and automatic actions may not cater to the diverse needs of Instagram users seeking authentic and meaningful growth.
Considering the better alternative of exploring services like AiGrow, which emphasizes organic and manual strategies, along with the support of a dedicated account manager, might prove to be a more effective and reliable approach to achieving success on Instagram.
FAQs About Blastup Review
Q1: Is Blastup's Instagram Growth Service Reliable for Improving Engagement?
No, it often compromises the quality and authenticity of interactions through automated methods.
Q2: Can the Use of Blastup's Service Harm My Online Credibility and Reputation?
Absolutely. Engaging with Blastup can significantly impact your credibility and reputation due to the inauthentic nature of the interactions it generates.
Q3: Do Blastup's Tactics Risk Violating Platform Policies?
Using Blastup's automated interactions can lead to policy violations on social media platforms like Instagram.
Q4: Does Using Blastup's Service Pose Data Privacy and Security Risks?
Certainly, sharing sensitive account information with Blastup can expose you to potential data breaches and unauthorized access.
Q5: Is Blastup's Service Worth the Investment?
The short-term gains often do not outweigh the long-term consequences, including policy violations and reputational damage.
Q6: Can Blastup's Tactics Affect My Content's Visibility in Algorithms?
Yes, platforms can detect inauthentic engagement patterns, which may lead to reduced content visibility.
Q7: Will Blastup's Service Hinder Opportunities for Organic Growth and Genuine Connections?
Indeed, relying on Blastup's artificial tactics can limit opportunities for building authentic relationships and connecting with a genuine audience.