To achieve popularity on Instagram, it is of utmost importance to select an Instagram growth service that is reliable and credible. The one that guarantees the acquisition of genuine and engaged followers.
However, with numerous online companies claiming to enhance Instagram growth, it becomes imperative to comprehend the distinguishing features of a reputable Instagram growth service and the potential risks associated with untrustworthy ones.
This ManagerGram review will provide you with valuable insights into the safety and risks of their service, empowering you to make an informed decision.
Want to Grow Your Instagram Followers 100% Organically and Safely?
What Is Managergram
Managergram is an online all-in-one growth plan aimed at enhancing your popularity on various social media platforms, including Instagram, YouTube, and TikTok.
They claim to provide a solution for boosting engagement by targeting followers who are genuinely interested in your content. Their platform promises to give your content the attention it deserves, allowing you to increase your reach and visibility.
With Managergram, you can expect features such as free auto Instagram likes and automatic followers on Instagram to amplify your online presence and enhance your social media growth. By utilizing their services, they assert that you can effectively increase your engagement and get more followers. However, it is crucial to exercise caution and thoroughly evaluate the reliability and effectiveness of such services before engaging with them.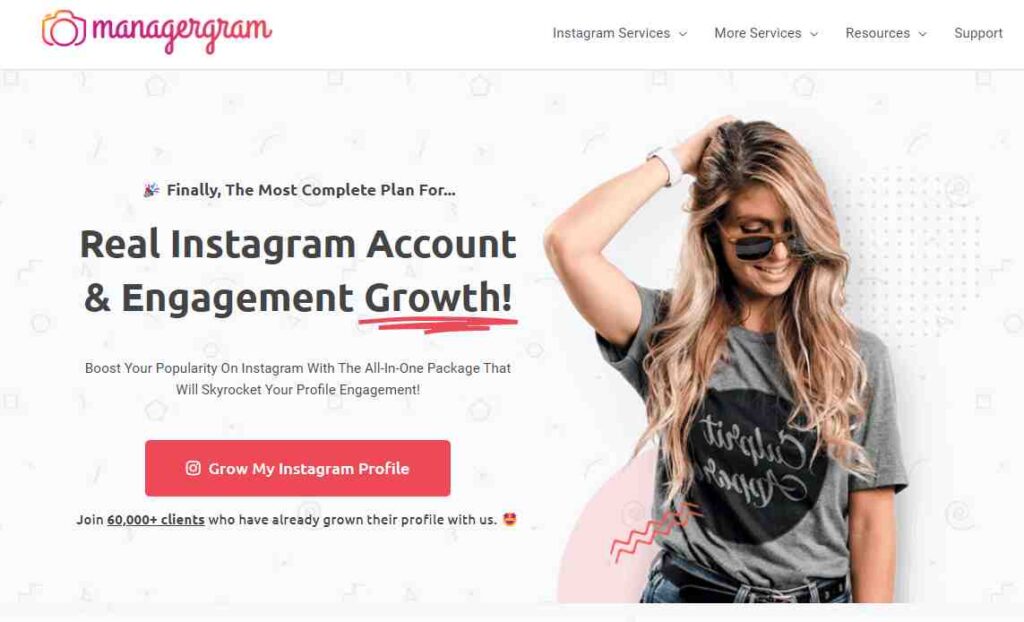 Manager Gram emphasizes their ability to handle your IG account and promises success in Instagram engagement. They claim to attract genuine engagement from interested followers. However, there's a lingering doubt – could they be relying on bots? To uncover the truth about Manager Gram', let's dive deeper into this review. Discover whether buying automatic Instagram likes or views leads to authentic growth or merely artificial numbers.
Manager Gram: How Does It Work?
To get started with Managergram, follow these simple steps:
Visit the Managergram website.
Choose the package that suits your needs, such as buying automatic Instagram likes or automatic Instagram followers.
Enter the required information, including your Instagram account details.
Complete the checkout process and make the payment.
After the purchase, your package will be activated within 24 hours.
log in to your Managergram account using your credentials, which you can set up during the registration process.
Once your package is activated, you can start benefiting from the automatic Instagram likes or followers as per the package you selected.
Please note that while the website mentions activation within 24 hours, it doesn't specify the exact delivery timeline for your order.

Managergram Features
Manager Gram offers an all-in-one solution for growing your Instagram account and boosting engagement. Here are some of its key features:
Automatic Instagram Views: Receive high-quality views on your Reels and Stories without any effort.
Instagram Manager Service: Let Manager Gram handle the promotion of your posts, saving you time and energy.
Automatic Instagram Likes: Gain real likes on your posts automatically, enhancing your engagement.
Youtube Growth Plan: Managergram offers a range of services specifically designed to enhance your YouTube presence. These services include YouTube views, comments, subscribers, shorts views, likes, and watch time. By utilizing Managergram, they promise to boost your visibility, engagement, and overall performance on the platform.
TikTok Growth Plan
30-Day Money Back Guarantee
Buy YouTube Views
Managergram TikTok Grow plan
Managergram Pricing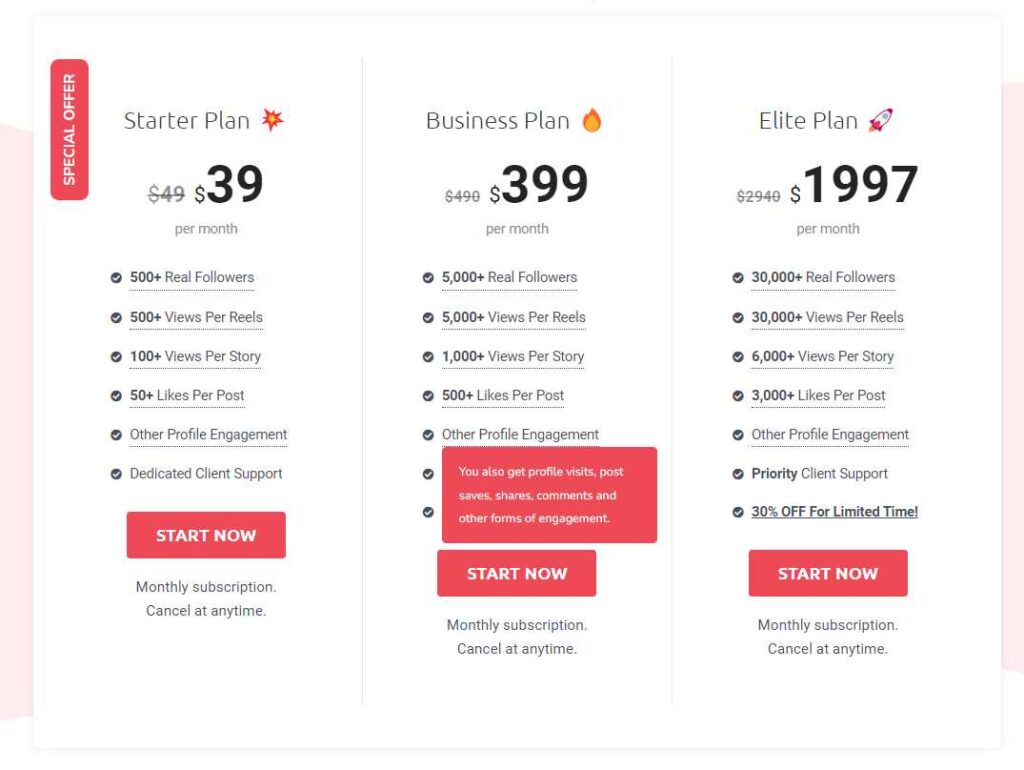 Managergram offers a range of packages with different pricing options tailored to your Instagram needs. Here is an overview of their pricing for Instagram packages:
Instagram Followers:
500 monthly Instagram followers: $13
1,000 monthly Instagram followers: $25
5,000 monthly Instagram followers: $125
10,000 monthly Instagram followers: $250
Instagram Likes:
50 automatic Instagram likes: $12.50 monthly
100 automatic Instagram likes: $25 monthly
200 automatic Instagram likes: $50 monthly
1,000 automatic Instagram likes: $250 monthly
Instagram Comments:
10 Instagram comments: $5
100 Instagram comments: $30
500 Instagram comments: $60
1,000 Instagram comments: $100
These prices reflect the cost of the respective packages, providing you with an idea of the investment required for boosting your Instagram engagement using Managergram's services.
Managergram Reviews
Managergram has received negative reviews from dissatisfied customers, highlighting significant issues with their service.
One customer reported paying for 5000 views but receiving nothing after waiting for three days. To make matters worse, the company charged their card for additional fake add-ons that were never delivered.
Despite canceling the order and having a pending transaction, the customer couldn't obtain a refund! This unfortunate experience highlights the fraudulent practices employed by Managergram, leaving customers feeling scammed and robbed of their hard-earned money.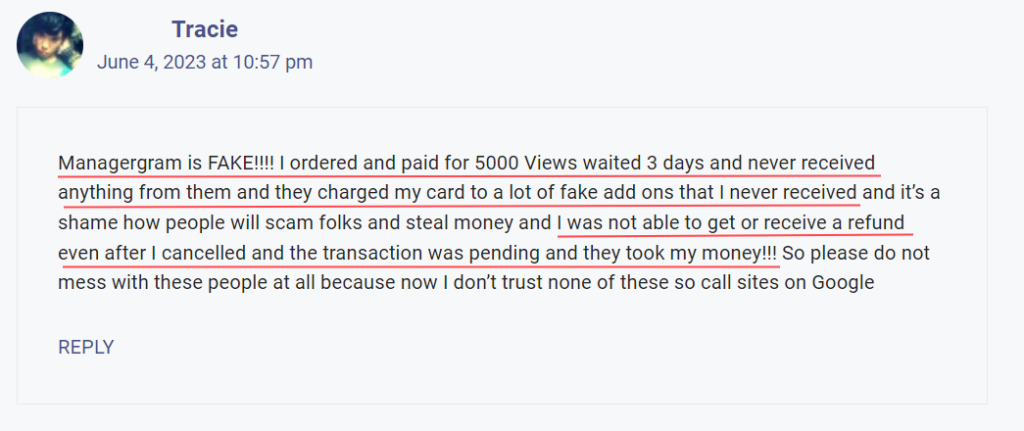 The lack of customer service further compounds the problem, with complaints about incorrect package enrollment and a complete lack of response from the company. This poor customer service and fraudulent behavior have led customers to file fraud claims with their credit card companies. These negative experiences shed light on the unreliability of Managergram as a service for sustainable growth or engagement rate on Instagram. Evidently, their claims of providing automatic Instagram services are misleading and should be approached with caution.

Furthermore, we came across more negative reviews regarding this Instagram growth service, which further increased our doubts and suspicions about the baseless claims on their website. In continuation, we will proceed to examine some of these negative Managergram reviews.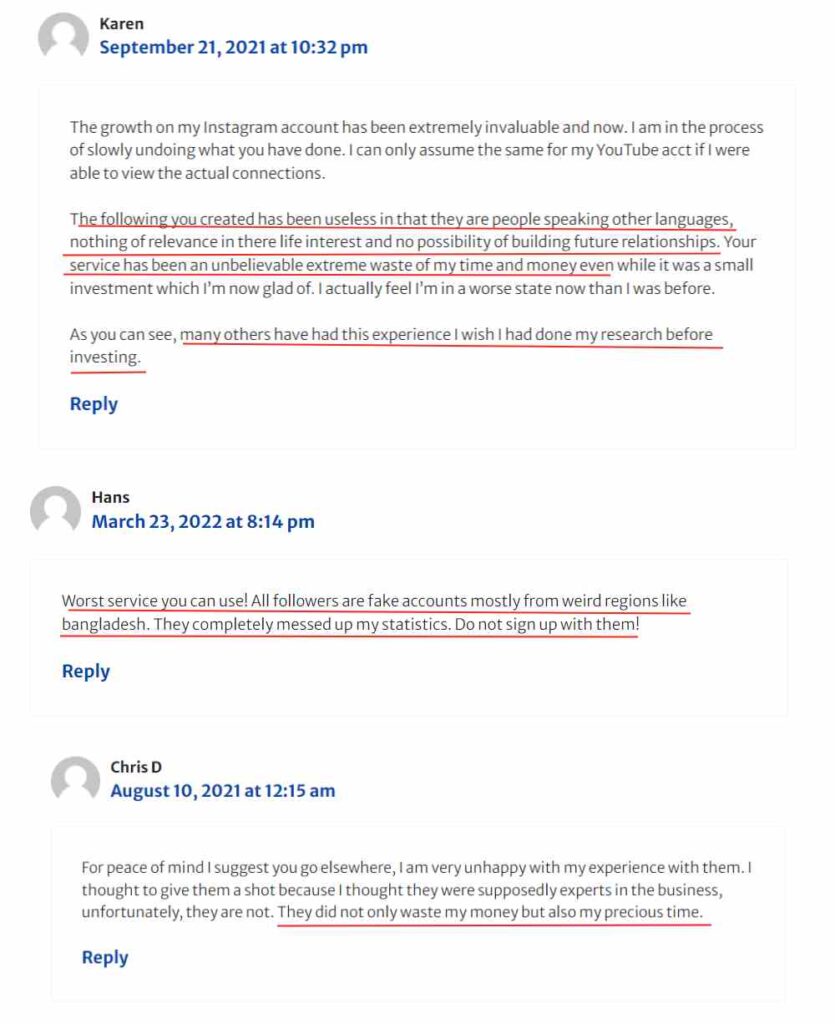 We have come to understand that Managergram had a presence on Trustpilot in the past, but the reviews were overwhelmingly negative, leading the company to remove its page from Trustpilot. Given this information, would you trust such a company? Are you willing to risk your Instagram account's destruction or suspension? Therefore, we strongly advise against using this service and recommend finding a better and more secure alternative. If you're looking for a safer and superior option, continue reading this article where we will introduce you to a better alternative.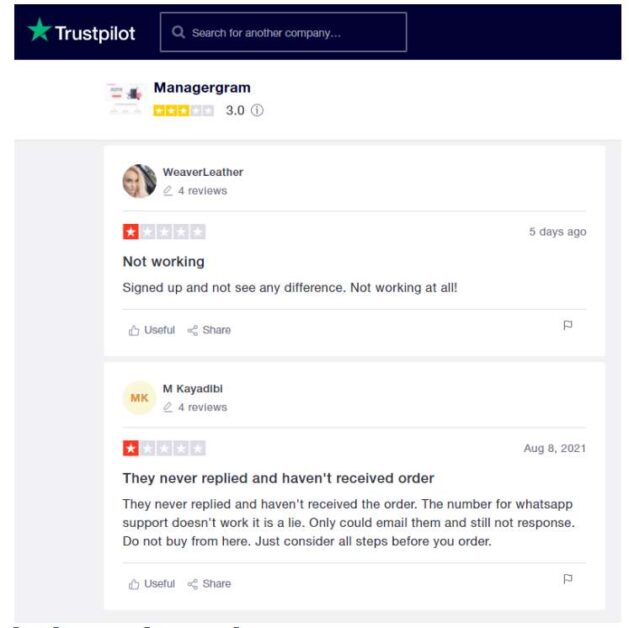 Managergram Pros & Cons
Now, let's evaluate its pros and cons to make a more informed decision.
Pros
Secure Website Protocol: Managegram operates using the HTTPS secure website protocol, ensuring a safe and encrypted connection for users. This feature helps protect sensitive information and enhances overall security.
Transparent Packages and Prices: Managegram provides visible packages and prices, allowing users to understand and compare their service offerings easily. This transparency helps customers make informed decisions based on their specific needs and budget.
Cons
The inclusion of the word "Gram" in the service name "Manager Gram" violates Instagram's copyright regulations. Instagram explicitly prohibits the use of terms like "Instagram," "IG," "Insta," or "Gram" in app names, as well as the unauthorized usage of their name, logo, or stylized font. Therefore, Managergram may face potential consequences for disregarding these guidelines.
Managergram offers poor customer service. Manager Gram lacks 24/7 customer support, as advertised on the website. It may result in delayed responses or difficulty accessing assistance during urgent situations.
Questionable Reviews: Some negative Managergram reviews raise concerns about the authenticity or reliability of the services. It is important to approach these reviews with caution and conduct additional research to make an informed decision.
Absence of Email or Phone Form: Managergram does not provide an email or phone form for direct contact. This can make it challenging to reach out for support or address specific inquiries effectively.
Unverified Payment Gateways: this service does not utilize verified payment gateways, which may raise concerns about the security and legitimacy of their payment processes. Verified payment gateways offer added protection for customers during transactions.
One significant drawback of Manager Gram is the lack of real reviews, which hinders the assessment of its credibility. Without genuine Manager Gram reviews, potential users are left uncertain about the platform's reliability and effectiveness. It's advisable to explore trustworthy sources such as Managergram Trustpilot or Managergram Reddit for more insights.
Managergram lacks essential contact information such as an email and phone form, indicating a lack of accountability and effective communication.
AiGrow: Top Alternative
If you've been searching for an organic Instagram growth service that goes beyond Managergram and delivers more sustainable and guaranteed results, look no further than AiGrow.
With AiGrow, you'll have a dedicated Instagram account manager who will implement tailored growth strategies based on your preferences and needs.
AiGrow offers a range of useful tools, including a hashtag- generator, scheduler service, link-in bio feature, and bulk DM management, enabling you to run an engaging Instagram account effortlessly.
Unlike other services, AiGrow takes a proactive approach by unfollowing non-reciprocal followers, creating a more natural and enticing profile that attracts genuine engagement.
Rest assured, AiGrow is 100% safe, and you won't have to worry about the risk of your Instagram account being shadowbanned or suspended. Experience targeted followers and genuine engagement with AiGrow, your ultimate Instagram followers manager.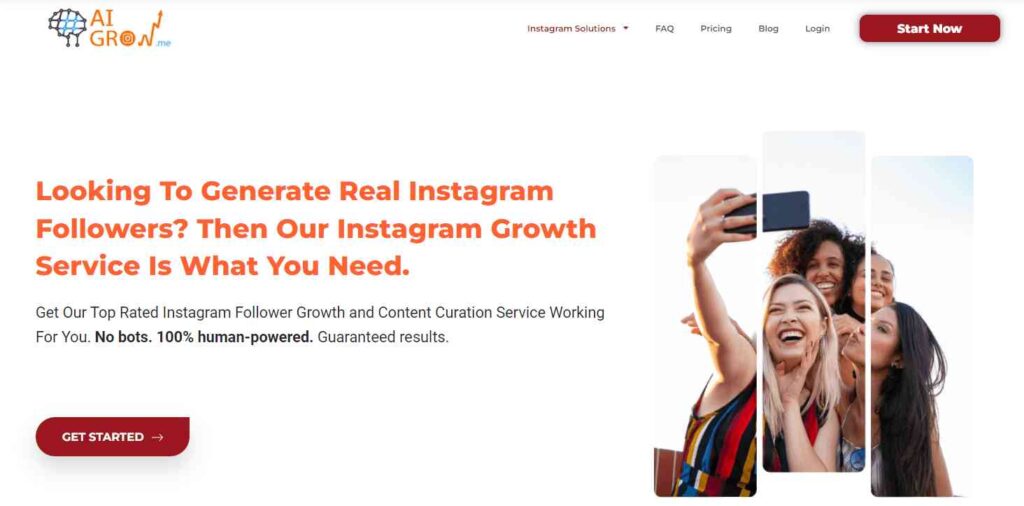 AiGrow Features
AiGrow offers a comprehensive set of features to facilitate account growth and audience targeting on Instagram. These include:
Manual Instagram growth service: AiGrow employs a team of experienced professionals who manually engage with potential followers, ensuring organic and targeted growth.
Mass unfollow tool: With AiGrow, you can easily identify and unfollow users who don't follow you back within a specified time frame. This helps maintain a balanced follower-to-following ratio and encourages genuine engagement from other users.
Bio-link tool: AiGrow provides a convenient bio-link feature, allowing you to optimize your Instagram bio by directing visitors to multiple external links of your choice. This helps drive your Instagram traffic to your website and increases overall conversion rates.
Give AiGrow a Try Now to Grow on Instagram
AiGrow Reviews
AiGrow has established itself as a reputable provider of Instagram growth services, consistently meeting the needs and expectations of its customers. The impressive Trustpilot score of 4.2 out of 5 is a testament to the trust and satisfaction customers place in AiGrow.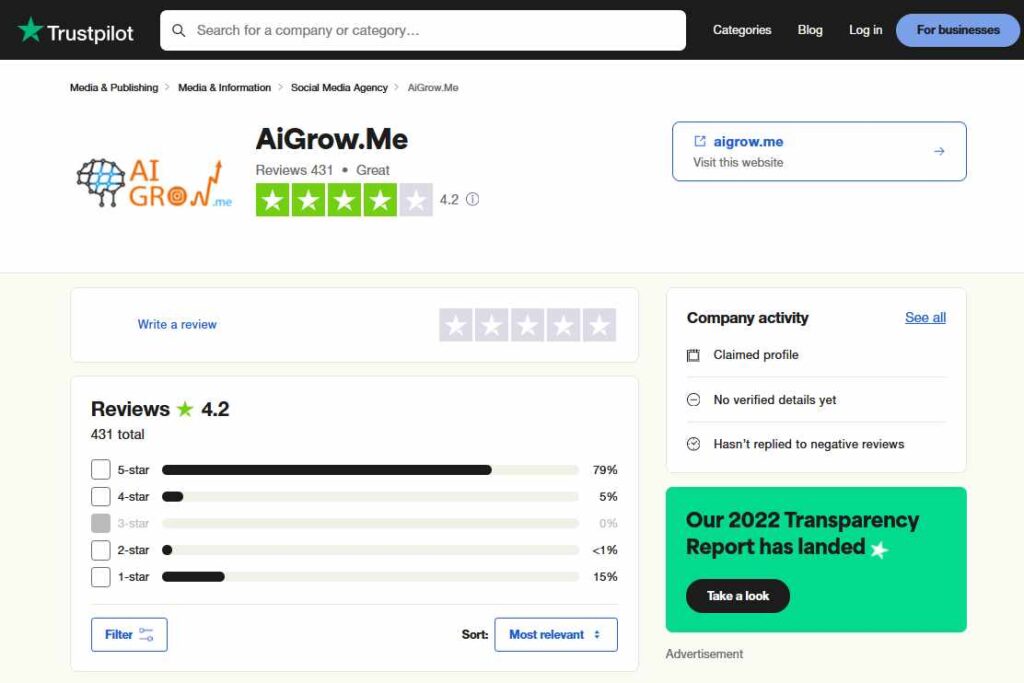 Customers rave about the exceptional service provided by AiGrow's dedicated team of experts. Their commitment to customer satisfaction is evident in the positive feedback and high ratings they consistently receive.
If you're searching for a reliable and effective solution to grow your Instagram account, AiGrow is the ideal choice. Their 14-day refund policy offers you the opportunity to try their services with complete peace of mind.
Join the countless individuals and businesses who have achieved their Instagram growth goals with AiGrow. Still hesitant? Take a moment to watch this video and witness firsthand the success stories of those who have benefited from AiGrow's organic Instagram growth services.
It's time to unlock the full potential of your Instagram account with AiGrow's proven strategies and expertise.
How Does AiGrow Work
AiGrow simplifies growing your Instagram account with its user-friendly dashboard and comprehensive features. Here's how it works:
Sign up for free on AiGrow: Getting started is quick and easy. Click here to sign up on AiGrow for free.
Choose a plan: AiGrow offers a range of packages to cater to your specific needs. Select the plan that aligns with your goals and preferences.
Meet your dedicated account manager: Upon signing up, AiGrow's team will gather information about your business and objectives. One of their experienced experts will then reach out to you to discuss and establish personalized plans and strategies.
Start right away: Once the setup is complete, AiGrow's growth managers, designers, and content planners will immediately begin working on your Instagram account, implementing effective manual growth strategies.
Stay informed: AiGrow keeps you updated every step of the way. You'll receive daily and weekly reports that provide insights into the actions taken on your account, allowing you to track progress and understand the exact activities performed.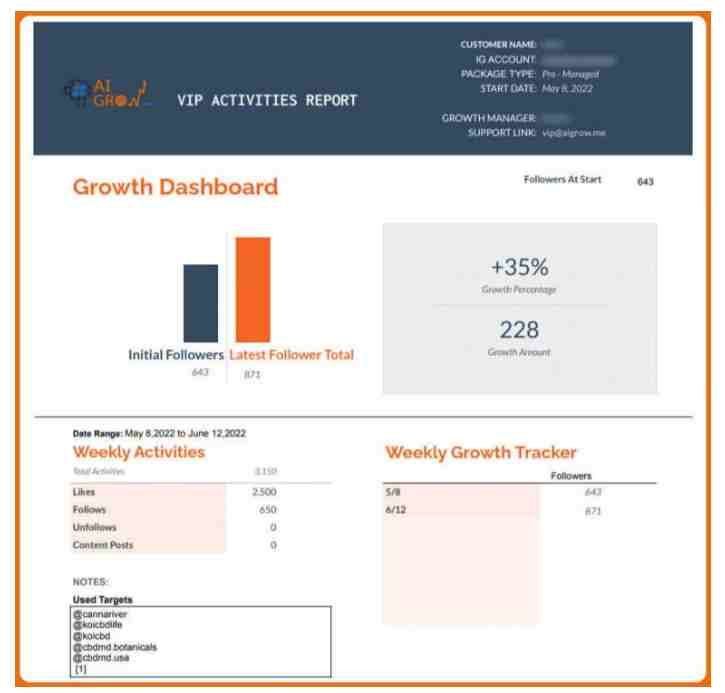 With AiGrow's seamless process and transparent reporting, you can confidently embark on your Instagram growth journey and witness its positive effects on your account's reach and engagement.
Manager Gram Vs. AiGrow; Final Verdict
| | | |
| --- | --- | --- |
| | Manager Gram | AiGrow |
| Organic Instagram Growth | ❌ | ✅ |
| Professional Account Manager | ❌ | ✅ |
| An Instagram bot | ✅ | ❌ |
| Targeted Followers | ❌ | ✅ |
| Sustainable engagement | ❌ | ✅ |
| Manual Instagram Growth Service | ❌ | ✅ |
| Safety | ❌ | ✅ |
| Content design template (feed/stories) | ❌ | ✅ |
| Instagram Scheduler | ❌ | ✅ |
| Instagram Unfollow app | ❌ | ✅ |
| Powerful DM Marketing | ❌ | ✅ |
| Analytical reporting | ❌ | ✅ |
| Giveaway picker | ❌ | ✅ |
| Hashtag generator | ❌ | ✅ |
| Link in the Bio Tool | ❌ | ✅ |
| Bulk post-delete plans | ❌ | ✅ |
| Review on Trustpilot | ❌ | ✅ |

Give AiGrow a Try and See the Results!
Final Thoughts About Manager Gram
Based on the evidence and observations gathered, it is clear that Manager Gram (managergram.com) lacks crucial features, making it an unreliable option for your Instagram growth service. The absence of essential features suggests a lack of commitment to their client's satisfaction and success. Our investigation revealed that there are no ManagerGram reviews on Trustpilot, and Scamadviser has assigned a mediocre trust score of 50% to the website, identifying suspicious elements.
Negative reviews and unfavorable social media references further contribute to the overall poor reputation of this service. Moreover, Manager Gram's infringement of Instagram's copyright raises serious concerns about their ethical practices.
Considering the dubious nature of other violations and risks associated with this service, we strongly advise against using Manager Gram for buying Instagram followers.
FAQs on Managergram
Q1. How can I obtain a discount code for Manager Gram?
When visiting the website https://managergram.com/, a pop-up will appear prompting you to provide your email address. By entering your email, you will receive a 10% discount for using this service.
Q2. Is Managergram Safe? 
Managergram is considered an unreliable and illegitimate platform for social media growth based on numerous user reports. With recent aggressive algorithm changes by Instagram, relying on bots or automated tools for Instagram account growth can lead to severe consequences. Instagram strongly opposes Instagram bot activity, and engaging with them puts your account at risk of suspension or permanent ban.
Q3. Why Should You Not Use Instagram Growth Services That Sell Instagram Followers or Likes?
Using Instagram growth services like Manager Gram that sell Instagram followers or likes comes with several risks and drawbacks. Here are the reasons why you should avoid such services:
1. Inauthentic Engagement: Buying Instagram followers or likes may give you a quick boost in numbers, but these are typically low-quality or fake accounts. They won't provide genuine engagement or contribute to the growth of your account organically.
2. Risk of Account Suspension: Instagram actively monitors and penalizes accounts that engage in artificial activities, including buying followers or likes. Your account may be flagged, suspended, or even permanently banned, jeopardizing your online presence.
3. Lack of Targeted Audience: Purchased followers or likes are unlikely to be genuinely interested in your content or become potential customers. Building a loyal and engaged audience requires targeting the right demographics and attracting followers who have a genuine interest in your niche.
4. Unsustainable Growth: Buying followers or likes offers temporary results that are not sustainable in the long run. It doesn't contribute to building a loyal community or establishing credibility within your industry.
Instead of relying on these risky practices, consider using organic Instagram growth services like AiGrow. Organic Instagram growth services focus on growing your Instagram account organically and safely, targeting real users who are genuinely interested in your content. They employ strategies such as targeted engagement, content optimization, and community building to ensure sustainable growth and meaningful interactions on your Instagram profile.
Read More From SocialPros: